Air Fryer Crab Sticks — If you love a tasty snack or are looking for an excellent air fryer snack or appetizer, this is one of the best, and air frying is so much fun!
If you love TikTok, make these today. They are a simple recipe that is a great alternative to potato chips! Perfect for seafood lovers! The whole family will love this viral recipe! I hope you try today!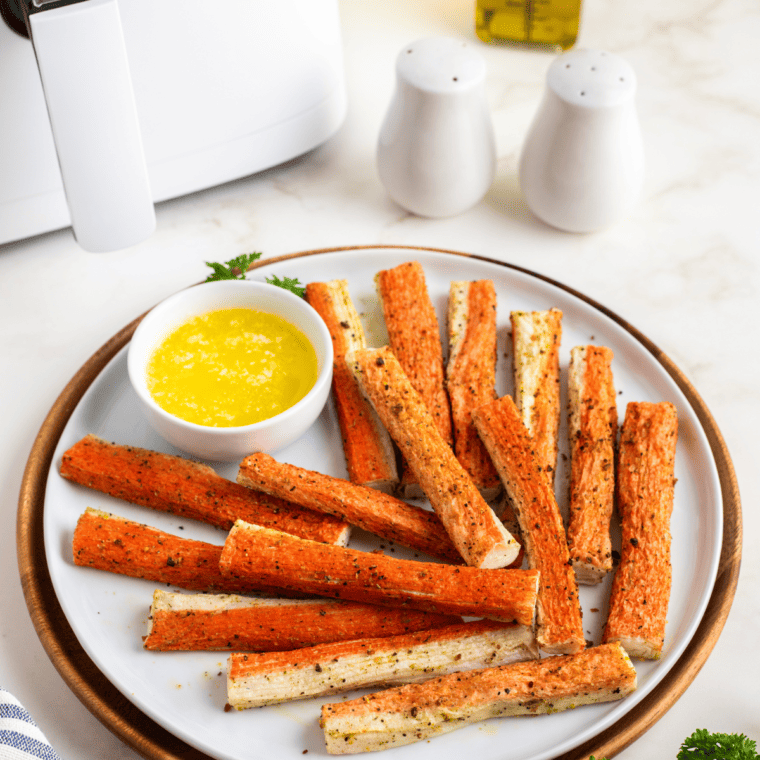 The Best Air Fryer Crab Bites Recipe
Air Fryer Crab Sticks –If you're looking for a delicious and easy-to-make seafood dish, look no further than air fryer crab sticks! These little beauties are a cinch to make and are always crowd-pleasers. They're perfect for any occasion – from casual get-togethers to formal dinners. So fire up your air fryer and try these crab sticks today!
Air fryers have been all the rage lately, and for good reason! They make it easy to cook delicious meals without using a lot of oil. This week, I decided to try making crab sticks in my air fryer, which turned out amazing! If you're looking for an easy way to enjoy your favorite seafood snack, then be sure to check out this recipe.
What Is Imitation Crab?
If you're like most cooks, you probably buy imitation crab without ever giving it a second thought. But what is imitation crab, exactly? And is it really all that different from the real thing?
Imitation crab, also known as Krab, is a type of seafood made from surimi, a Japanese word meaning "groundfish." Imitation crab is typically made from white fish like pollock or cod, which are ground up and combined with other ingredients to create a seafood-like texture. While imitation crab may not be the most traditional item on your Thanksgiving table, it's definitely worth considering as an option this year! Check out these recipes that will help you incorporate imitation crab into your holiday feast.
Cooking Air Fryer Imitation Crab
Cooks, have you ever wondered why you should make imitation crab in the air fryer? There are a few reasons. First, the crab is cooked evenly and doesn't stick to the cooking surface. Second, it requires no added oil, so it's healthier than traditional methods. Finally, it's quick and easy to make! So what are you waiting for? Start cooking some imitation crab in your air fryer today!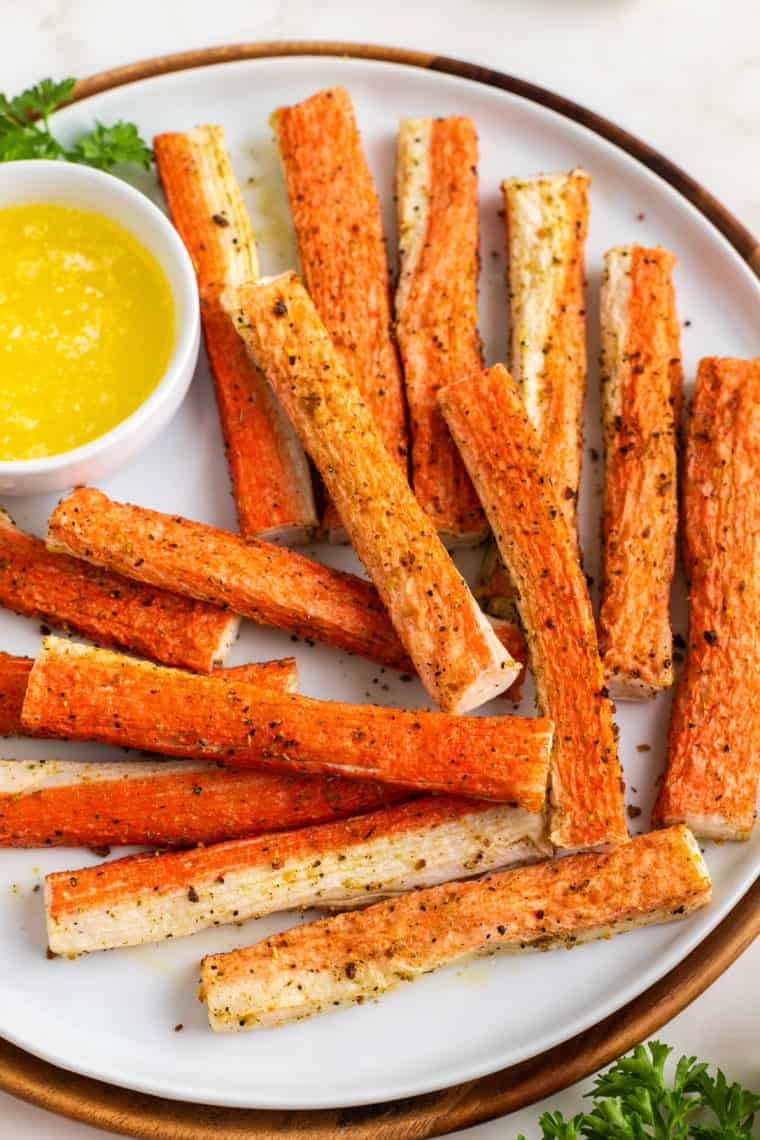 What Are Crab Chips?
Do you love crab? What about chips? If you answered yes to both questions, you'll love crab chips! Crab chips are made from real crab meat that is mashed up and formed into thin, chip-like shapes. They're a great snack for people who love seafood, and they're also a healthy option because they're low in calories and high in protein. Plus, they taste delicious! If you've never tried crab chips before, now is the time. You won't be disappointed!
Ingredients Needed For Air Fryer Crab Chips
Looking for a delicious and easy appetizer to make in your air fryer? Look no further than these crab chips! They are simple to make and require only a few ingredients. So, gather up your supplies and get started on this tasty dish. You won't regret it!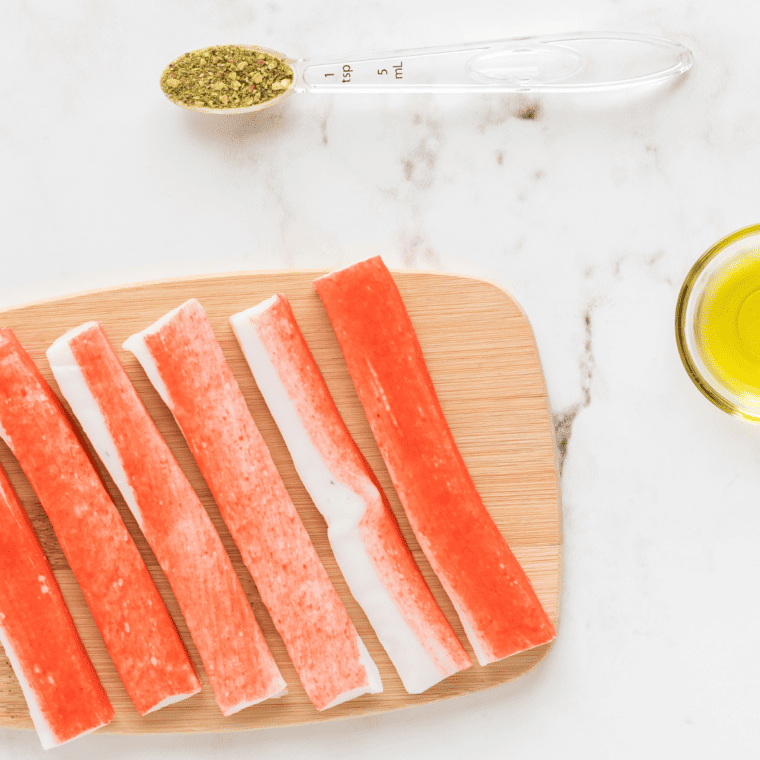 Remember the step-by-step directions and detailed ingredient list are below in the printable recipe card at the bottom of the post, as well as the nutritional information.
Imitation Crab: The primary ingredient. You can use fresh crab, crab sticks, lump crab, or crab flakes.
Seasonings: You can use salt, black pepper, or garlic powder!
Olive Oil or Cooking Spray: Ensure your imitation crab is coated. Otherwise, it will not crisp up. You can also use melted butter or garlic butter.
​How To Make Imitation Crab Bites In Air Fryer
Are you looking for an easy and delicious snack? Look no further! Our Crab Bites are perfect for a hearty appetizer, side dish, or mid-day snack. These bites have all the flavor of seafood without being deep-fried in oil.
Plus, they're made quickly and efficiently in your air fryer! We will guide you through our step-by-step recipe so you can easily make your homemade crab bites anytime. So, grab some fresh jumbo lump crabmeat, follow along with our directions below – and get ready to enjoy some crispy snacks tonight!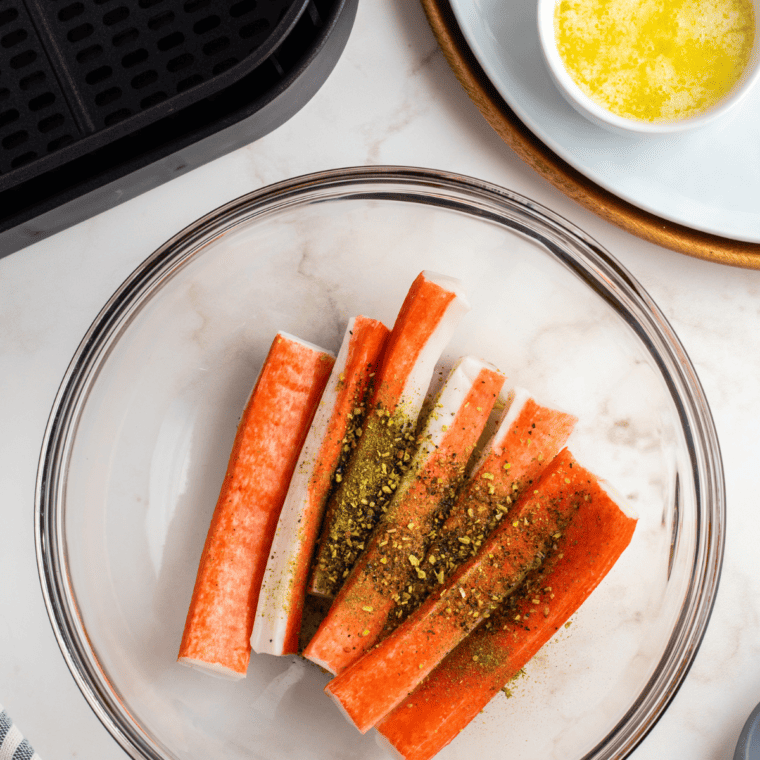 Step One: Prepare The Crab Sticks
Using a sharp knife, cut the crab sticks into thin pieces or small bites. Add the crab, olive oil, and seasonings to a large mixing bowl and toss well to coat.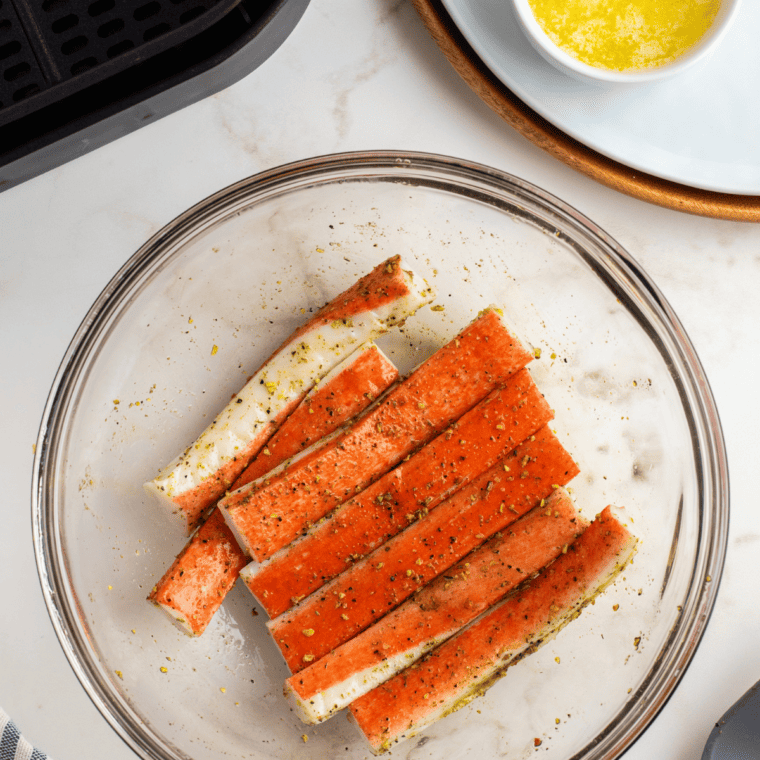 Step Two: Air Fry Crab Sticks
Set the crab into the air fryer basket in a single layer, set the air fryer temperature to 320 degrees F, and cook time for 8-10 minutes. Shake the basket several times during the cooking process. Remove when the crab is golden brown. Keep a close eye on the crab sticks as they cook up.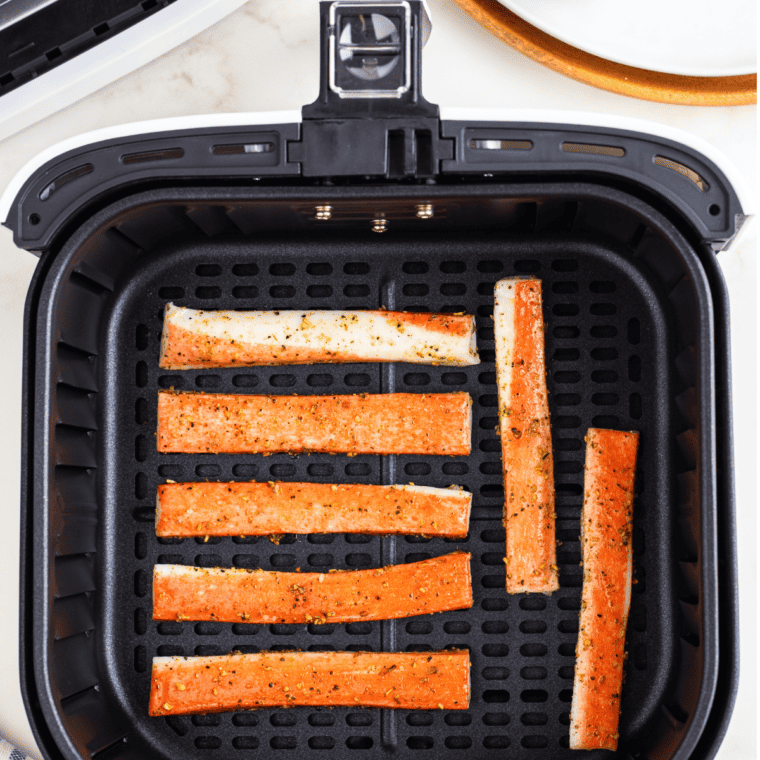 Step Three: Serving
Serve with your favorite dipping sauce or garlic butter.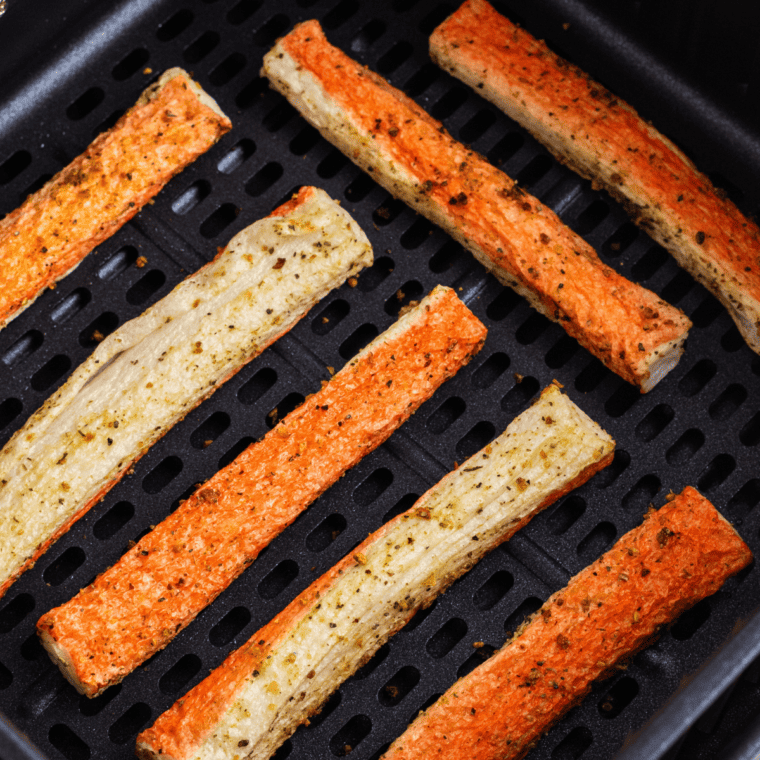 Pro Tips For Cooking Crab Bites In Air Fryer
High-Quality Crab Meat: Always choose high-quality crab meat, preferably lump or jumbo lump, to ensure the best flavor and texture for your crab bites.
Avoid Overmixing: Gently fold the ingredients to ensure you don't break up the crab meat too much. This ensures your crab bites have nice chunks of crab and a great texture.
Uniform Size: When forming the crab bites, aim to make them a consistent size to ensure even cooking. Using a small cookie scoop or tablespoon can help with consistency.
Preheat the Air Fryer: While some recipes may not require it, preheating the air fryer ensures a crispy exterior, improving your crab bites' texture.
Spacing is Key: Don't overcrowd the air fryer basket. Give each crab bite enough space so the hot air can circulate them, ensuring even cooking and a crispy crust.
Oil Mist: Lightly spray the crab bites with cooking oil spray or oil mist. This helps achieve a golden-brown crust.
Flip Halfway: For even cooking and browning, consider flipping the crab bites halfway through the cooking process.
Temperature Check: If unsure about doneness, you can use a food thermometer. While crab meat is already cooked, you aim for the filling to be heated through and cohesive, usually around 145°F (63°C).
Customize Seasoning: Crab pairs well with a variety of seasonings. Don't be afraid to add a sprinkle of Old Bay, garlic salt, cajun seasoning, curry powder, a dash of cayenne for heat, or some fresh herbs for a unique twist.
Serve Immediately: Crab bites are best served hot and fresh from the air fryer to enjoy their crispy exterior and tender inside. Pair with your favorite dipping sauce for an enhanced flavor experience!
Remember, the air fryer is a powerful tool that can deliver fantastic results with minimal oil. As with any cooking method, the more you practice, the better you'll become at gauging cooking times and temperatures for perfect results. Enjoy your air-fried crab delights!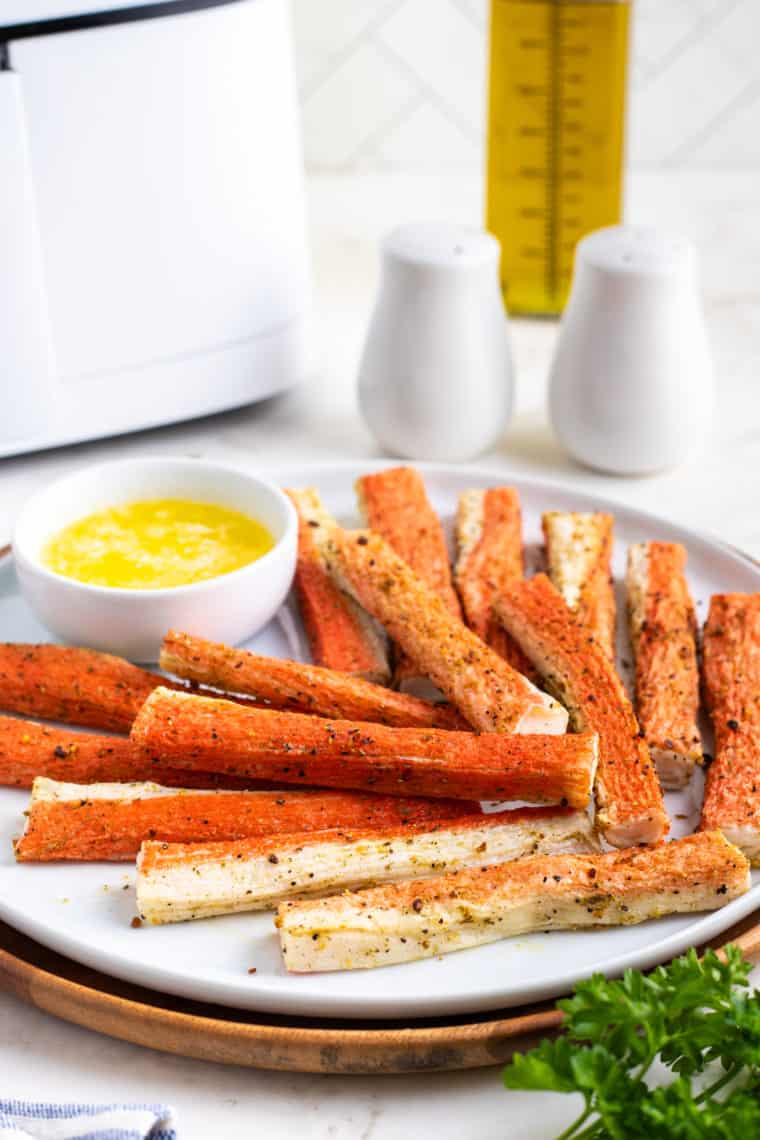 Can I use canned crab meat for this recipe? Yes, you can use canned crab meat. Ensure it's well-drained to remove any excess moisture and pick through it to remove any shells or cartilage.
How long do the crab bites take to cook in the air fryer? Typically, crab bites take about 10-12 minutes at 375 degrees F (190°C) in an air fryer, but this can vary depending on their size and the specific air fryer model.
Can I make these crab bites gluten-free? Absolutely! Use different seasonings that are gluten-free.
Do I need to preheat my air fryer? While some models may not require preheating, doing so can lead to more consistent and quicker cooking results. If your air fryer has a preheat setting, it's recommended to use it.
How should I store leftover crab bites? Store any leftovers in an airtight container in the refrigerator for up to 3 days. Reheat in the air fryer or oven to retain crispiness.
Can I freeze the crab bites? You can freeze the uncooked crab bites on a baking sheet until solid, then transfer them to a freezer bag. When ready to cook, you can air fry them straight from the freezer, adding a few extra minutes to the cooking time.
What dipping sauces go well with crab bites? Tartar sauce, aioli, cocktail sauce, lemon juice, dijon mustard, and spicy mayo are great options. Feel free to get creative with your dips!
Can I use imitation crab meat? While real crab meat is recommended for the best flavor and texture, you can use imitation crab meat as a budget-friendly alternative. Just be aware that the taste and texture may vary.
Are these crab bites keto-friendly?To make them keto-friendly, replace traditional breadcrumbs with almond flour or crushed pork rinds and ensure other ingredients align with your keto guidelines.
Can I add other seasonings to the crab mixture? Absolutely! Feel free to customize the seasoning to your preference. Old Bay seasoning, paprika, cayenne pepper, or finely chopped herbs can all add a unique twist to the recipe.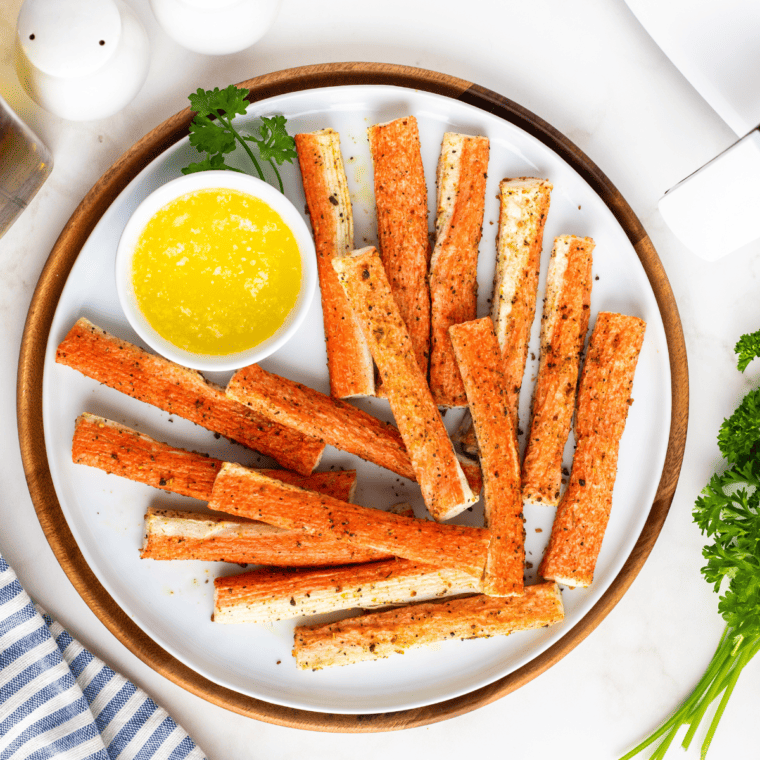 More Air Fryer Recipes
AIR FRYER FROZEN BREADED SHRIMP
AIR FRYER SHRIMP AND VEGETABLES
Don't Forget To Pin!
As we wrap up our deep dive into the world of Air Fryer Crispy Crab Sticks, it's clear that this is more than just a recipe; it's a culinary adventure. The magic of the air fryer combined with the rich, savory flavors of crab creates a dish that's both simple to prepare and utterly irresistible.
In today's busy world, having recipes like this—delicious, quick, and easy—is a godsend. Whether hosting an impromptu gathering or enjoying a quiet night in, these crab sticks are bound to be a hit. Their crispy exterior, tender crabby interior, and the accompanying dipping sauces elevate the snacking experience to gourmet levels.
So, next time your seafood cravings kick in, remember this recipe.
If you love our recipe for Air Fryer Crab Bites, take a little bit of time, leave a recipe rating below.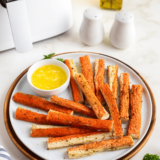 Air Fryer Crab Sticks
Description
If you love crab sticks, you're going to love air fryer crab sticks. They are quick and easy to make, and they taste delicious. Best of all, you only need a few simple ingredients. So, gather up your supplies and get ready to make some amazing crab sticks. You'll be glad you did!
Ingredients
6

ounces

imitation crab sticks

,

or lumps, or flakes

2

teaspoons

olive oil

1

teaspoon

garlic and herb seasoning
Instructions
In a large bowl, add your imitation crab, olive oil, and seasonings, and toss well to coat.

Set the crab into the air fryer basket and set the temperature to 320 degrees F, and cook for 8 to 10 minutes. Shake the basket several times during the cooking process. Remove when the crab is crispy.
Equipment
Air Fryer

Cooking Spray

Parchment Paper,

optional
Nutrition
Serving:
1
Serving
Calories:
20
kcal
Carbohydrates:
1
g
Protein:
1
g
Fat:
1
g
Saturated Fat:
0.2
g
Polyunsaturated Fat:
0.2
g
Monounsaturated Fat:
1
g
Cholesterol:
3
mg
Sodium:
59
mg
Potassium:
25
mg
Fiber:
0.3
g
Sugar:
0.03
g
Vitamin A:
16
IU
Vitamin C:
1
mg
Calcium:
16
mg
Iron:
0.4
mg