Air Fryer Cookies & Cream Pizzokie — If you're looking for a fun and easy way to make pizza at home, give this Air Fryer Cookies & Cream Pizzokie recipe a try! The cookies and cream flavor is delicious, and it's a great way to use up any leftover cookies you may have. Plus, this recipe is perfect for parties or gatherings – everyone will love it!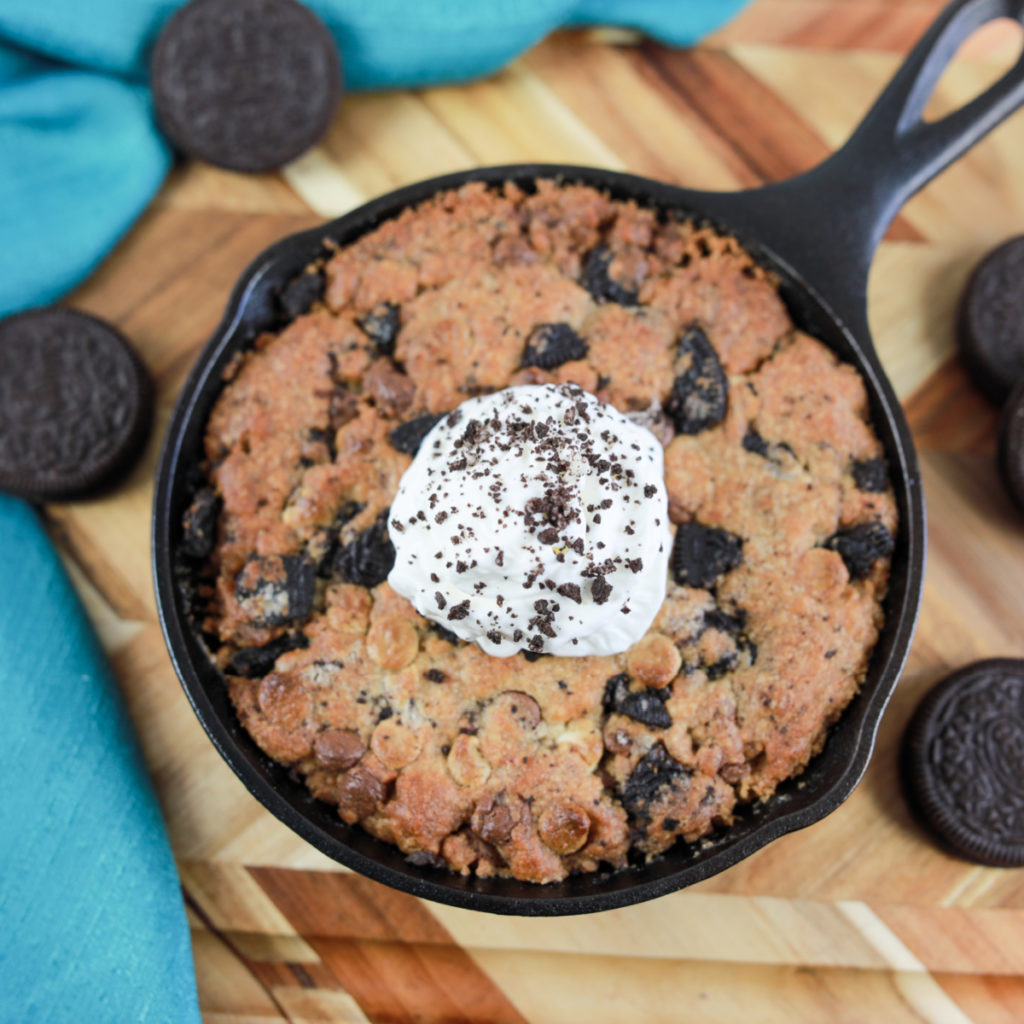 Cooking doesn't have to be complicated. There are a lot of recipes that are so easy you can make them in your air fryer. Today, we will show you how to make cookies and cream pizzokies. These little pizzas are the perfect size for a snack or dessert, and they're sure to please everyone who tries them. Plus, they're effortless to make – all you need is an air fryer and a few essential ingredients. Ready to get started? Let's go!
What Is An Air Fryer?
If you're like me, you're always on the lookout for kitchen appliances that can help make your life easier. Years ago, I started to use my air fryers and got hooked. So, what is an air fryer? It's a small appliance that uses hot air and convection to cook food. This means that you can use it to fry foods without oil! Air fryers are often used for cooking chicken wings, French fries, and other snacks, but they can also be used to cook more complex dishes. Today, I made an amazing Air Fryer Dessert! I hope you check out all of the recipes on my website, which I have been sharing since 2017!
What Is A Pizzokie?
Few things are as versatile and universally loved as pizza when it comes to food. Whether you're a New York-style fan or prefer something with a little more cheese, everyone can find a pizza they love. But what about when you want the deliciousness of pizza, but as a dessert? That's where pizzokies come in!
These ingenious little treats take all of the best parts of pizza and put them into a perfect format for anyone looking for an air fryer dessert! Pizzokies are a delicious new dessert that combines the best of both worlds. They are easy to make and taste amazing. Keep reading to learn how to make your own Air Fryer Cookies & Cream Pizzokie at home!
The Best Air Fryer Cookies & Cream Pizzokie
Pizzokie is one of those desserts that always seems to be a hit. It's easy to make, and you can customize it with your favorite flavors. This version, which combines air-fried cookies and cream pizza crusts with Nutella, whipped cream, and chocolate chips, takes things up a notch. Plus, it's perfect for any occasion—whether you're serving a crowd or just looking for an indulgent treat. Give it a try!
Ingredients Needed For Air Fryer Cookies & Cream Pizzokie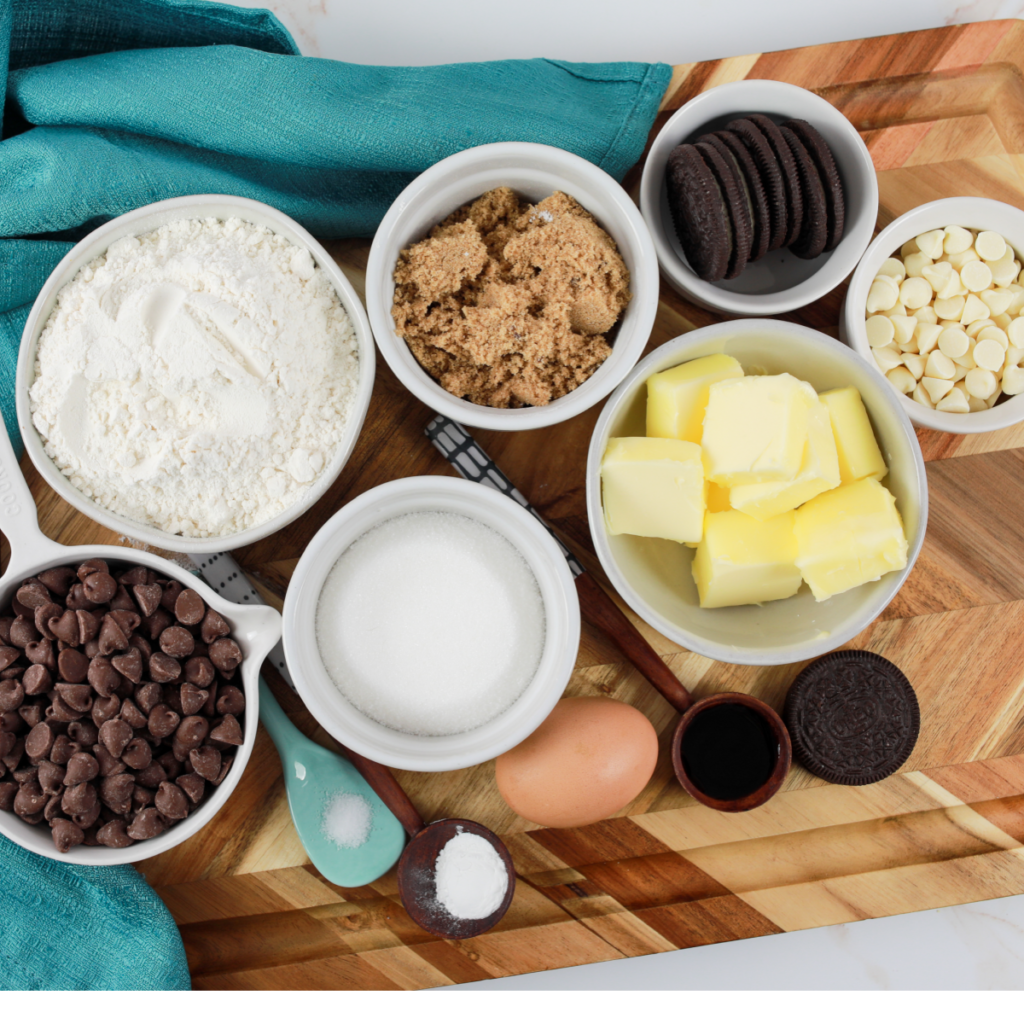 Here are some simple ingredients to make an amazing Air Fryer Dessert:
Butter
Granulated Sugar
Brown Sugar
Pure Vanilla Extract
Egg
All-Purpose Flour
Baking Powder
Salt
Chocolate Chips
Oreos
White Chocolate Chips
How To Make Air Fryer Cookies & Cream Pizzokie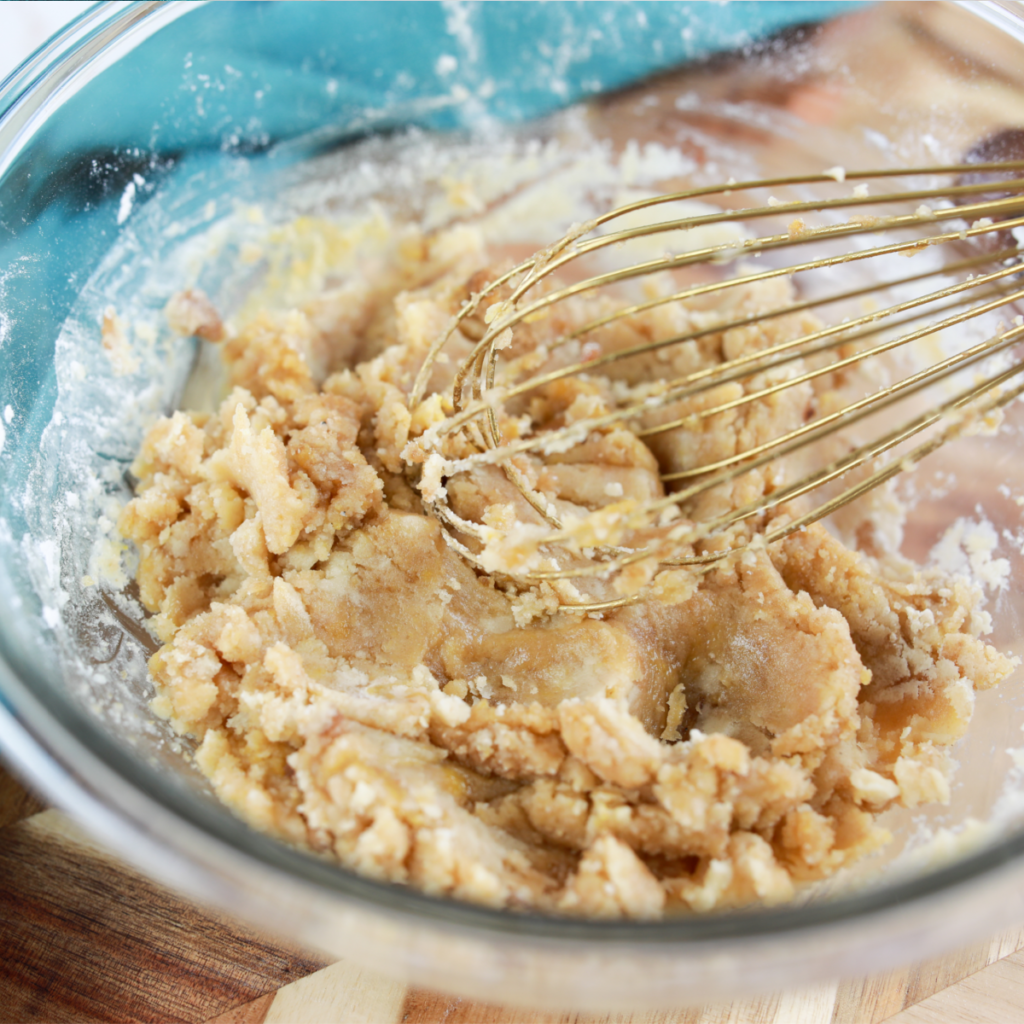 Add the flour, baking soda, salt, butter, sugar, brown sugar, egg, and vanilla in a large bowl.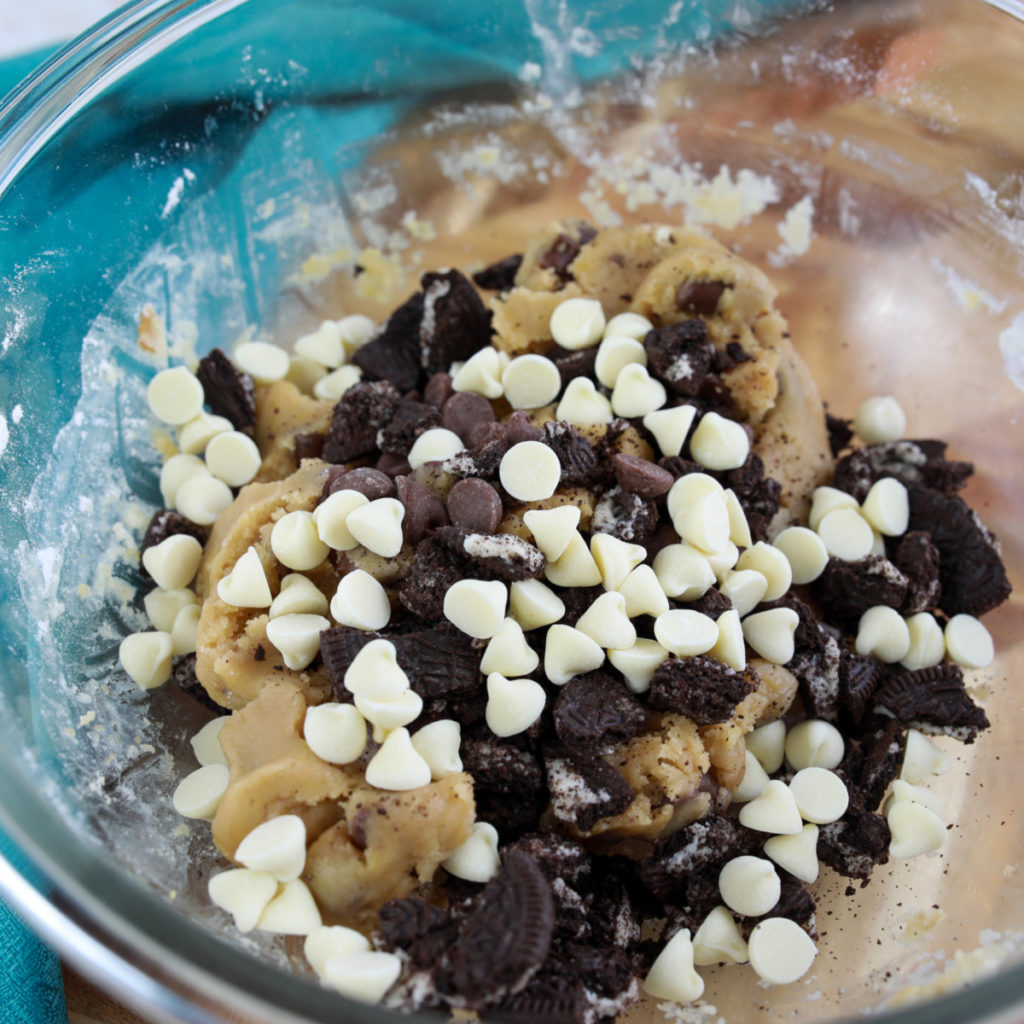 Mix until everything is well combined, then fold in the milk chocolate chips, white chocolate chips, and crushed Oreo Cookies.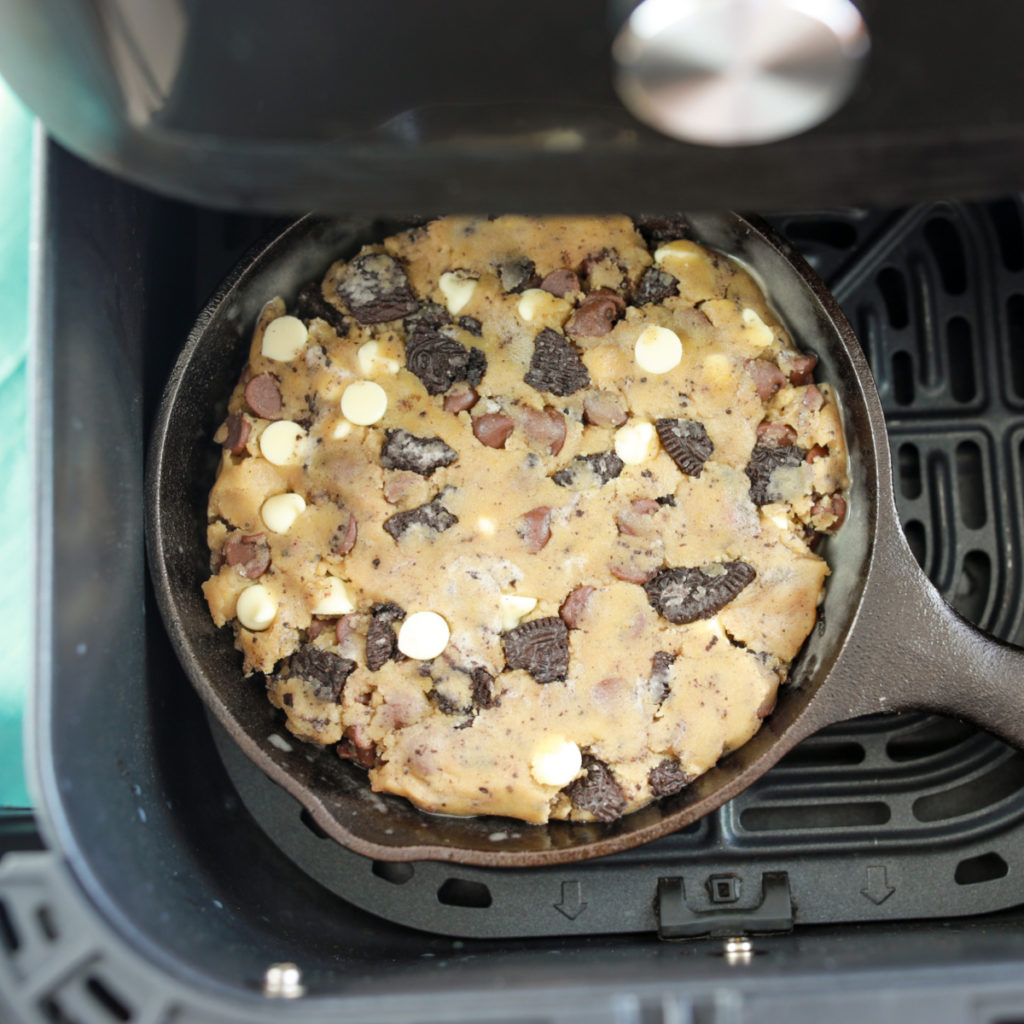 Mix until the add-ins are evenly distributed. Generously spray your pan or skillet with olive oil spray or cooking spray. Press your cookie dough into the prepared pan.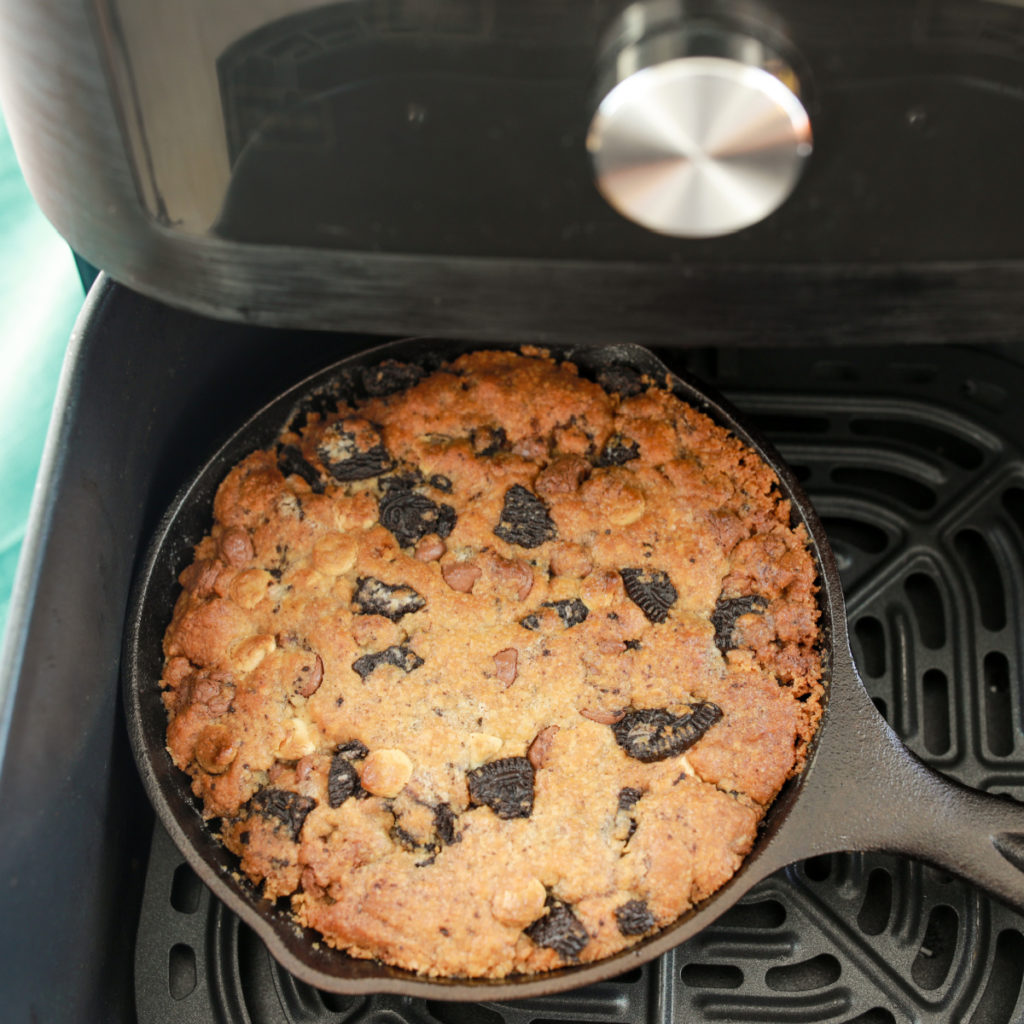 Set the pan into the air fryer and set the temperature to 320 degrees F for 12 minutes. (air fryer setting)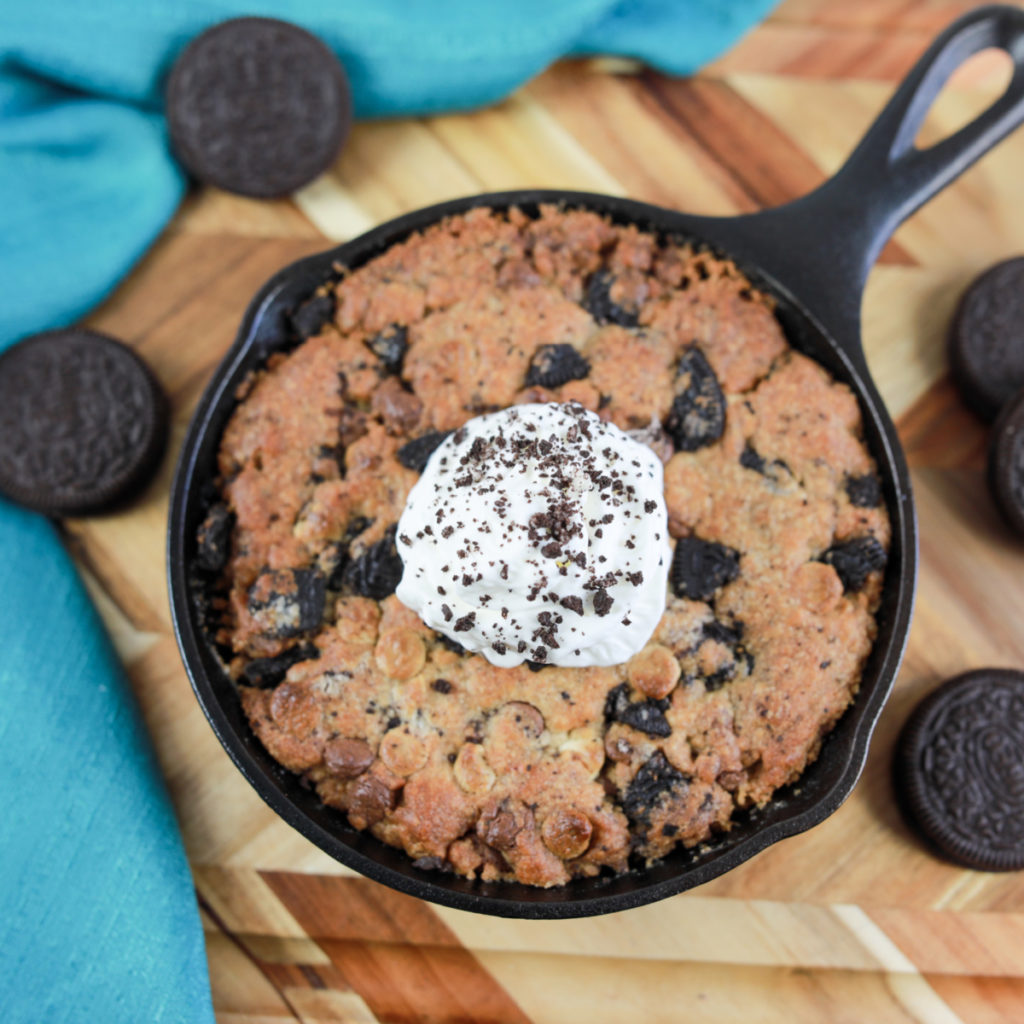 Ingredient Notes For Air Fryer Cookies & Cream Pizzokie
Eggs: To get the best results, use room-temperature eggs to blend into cookie dough. It's better than cold ones because their consistency will be much easier and smoother with no lumps!
Pure Vanilla Extract: If you're looking for a way to give your cookies an extra special flavor, look no further than vanilla! The natural sweetness in this extract will make them pop and stand out from all other kinds.
Brown Sugar: Soft brown sugar is the best for your cookies because it won't harden when you store them. If there are any crystals in this bag, give me a call, and I'll break down what's wrong!
All-Purpose Flour: A scale is the most accurate way to measure your flour. We recommend fluffing up the dough before packing it into cups and leveling them off using knife tricks!
Recipe Notes:
How To Make This Recipe Gluten-Free
Does your recipe include all-purpose flour? Don't worry; you can still make it gluten-free. There are several gluten-free substitutions that you can use in place of all-purpose flour.
You can add Gluten-Free Oreo Cookies. Some of my favorites are Nabisco's Gluten-Free Chocolate Sandwich Cookies or Trader Joe's Gluten-Free Sandwich Cookies.
When Do You Know When Your Skillet Cookie Is Done?
The skillet cookie is a great way to make an old classic new again! The key thing you need for this recipe? A cast-iron pan. When cooked right, these cookies have the perfect crunch and chew described by name; they're also easy enough for even the novice air fryer user.
When the skillet cookie has a lightly browned top and is no longer soft, it's ready to be removed from your air fryer.
Can I Make This Cookie Ahead Of Time?
Yes, you can easily make this ahead of time, but since the air fryer cookies in less than 12 minutes, it's a better option to make this a fresh dessert. But, if you want to make it ahead of time, you can easily do that as well.
These are best eaten within 24 hours, but they still taste great after a day! You can make these before and store them for three days at room temperature or until just before serving.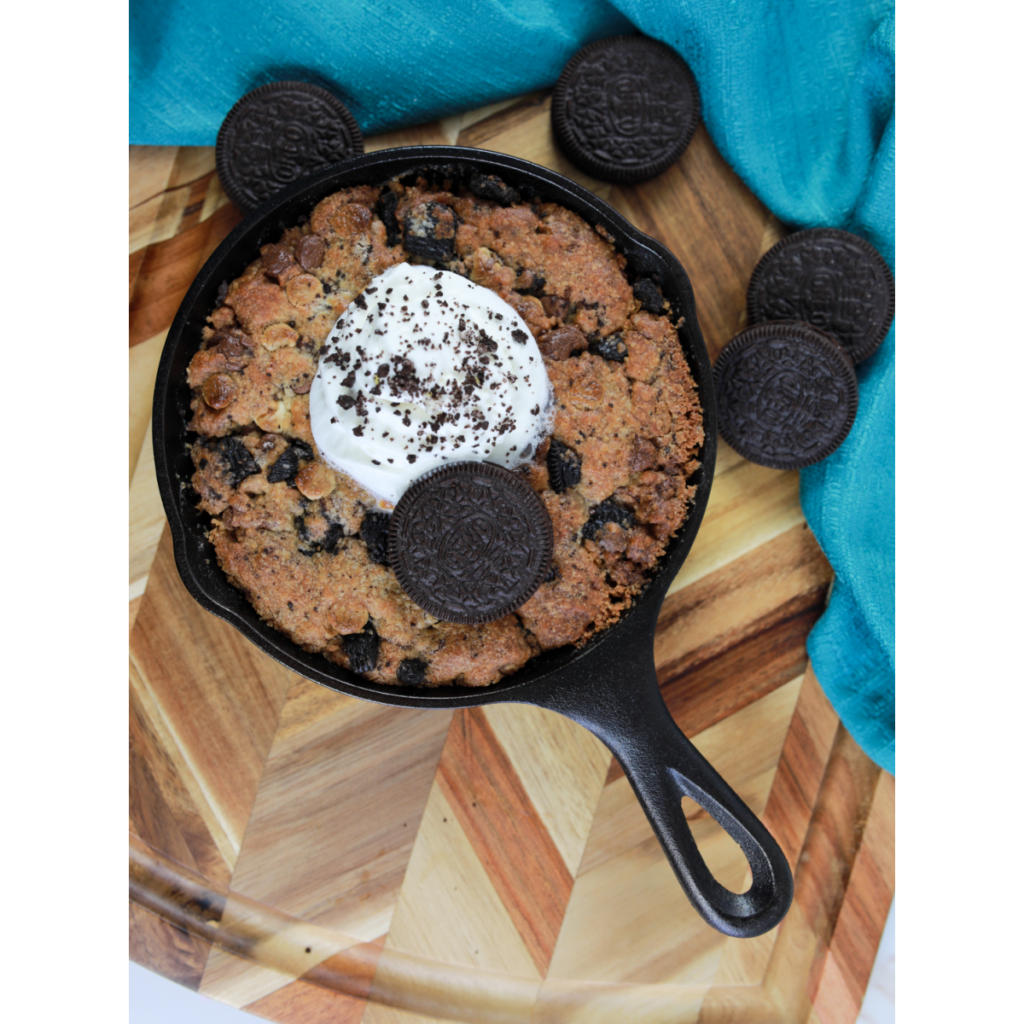 Can I Freeze This Cookie Dough?
This recipe is like an open invitation for all your cookie cravings. You can freeze the skillet dough raw or baked, but we think it tastes best when tightly wrapped in saran wrap and stored away at room temperature (2-3 months).
What Cast-Iron Pan Can I Use In This Recipe?
You may be surprised to learn that I use cast iron pans in my air fryer. Before doing so, make sure you check with the owner's manual on what types of cookware are compatible! A couple of my favorite cast iron pans to use with my air fryer are:
More Air Fryer Cookie Recipes:
Be sure to tag @ForkToSpoon on Instagram, if you share a picture on Instagram! Let's get social, you can follow me: on Youtube, Instagram, Facebook, Pinterest or join one of our Facebook Groups: Air Fryer Recipes and Tips
Don't Forget To Pin: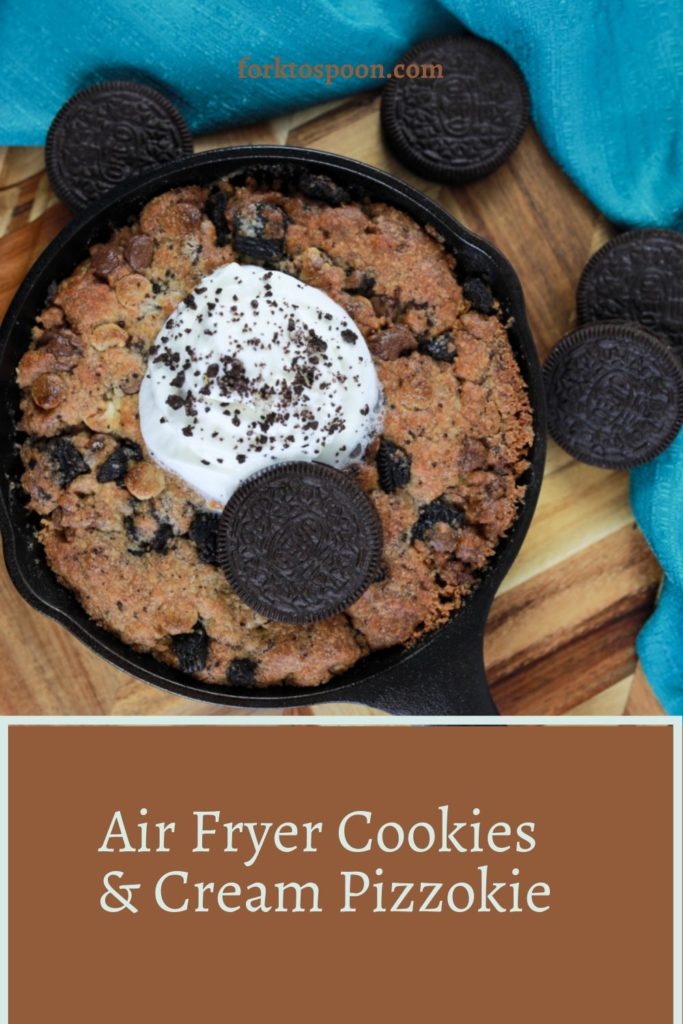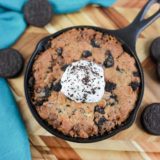 Air Fryer Cookies & Cream Pizzokie
Description
If you're looking for a no-fail dessert that will WOW your guests, look no further than this Air Fryer Cookies & Cream Pizzokie! It's simple to make and is sure to be a hit with everyone.
Ingredients
1/2

cup

butter

,

melted

1/2

cup

granulated sugar

1/2

cup

brown sugar

1

teaspoon

pure vanilla extract

1

large

egg

1 1/2

cup

all-purpose flour

1/2

teaspoon

baking powder

1/2

teaspoon

salt

1 1/4

cup

chocolate chips

5

regular

Oreos

,

crushed

1/2

cup

white chocolate chips
Instructions
Add the flour, baking soda, salt, butter, sugar, brown sugar, egg, and vanilla in a large bowl.

Mix until everything is well combined, then fold in the milk chocolate chips, white chocolate chips, and crushed Oreo Cookies.

Mix until the add-ins are evenly distributed. Generously spray your pan or skillet with olive oil spray or cooking spray. Press your cookie dough into the prepared pan.

Set the pan into the air fryer and set the temperature to 320 degrees F for 12 minutes. (air fryer setting)
Equipment
Air Fryer

Cast Iron Pan,

See Blog Post for Ones I recommend
Nutrition
Serving:
1
g
Calories:
906
kcal
Carbohydrates:
126
g
Protein:
8
g
Fat:
43
g
Saturated Fat:
26
g
Polyunsaturated Fat:
2
g
Monounsaturated Fat:
9
g
Trans Fat:
1
g
Cholesterol:
123
mg
Sodium:
591
mg
Potassium:
180
mg
Fiber:
1
g
Sugar:
87
g
Vitamin A:
783
IU
Vitamin C:
0.1
mg
Calcium:
119
mg
Iron:
3
mg