Air Fryer Cinnamon Sugar Pizza Bites — Move over, pizza rolls. There's a new tiny pizza in town and it's WAY more delicious. These Air Fryer Cinnamon Sugar Pizza Bites are the perfect appetizer or snack for when you're craving something savory and sweet. Made with just a few simple ingredients, these little dessert bites will be your new go-to recipe!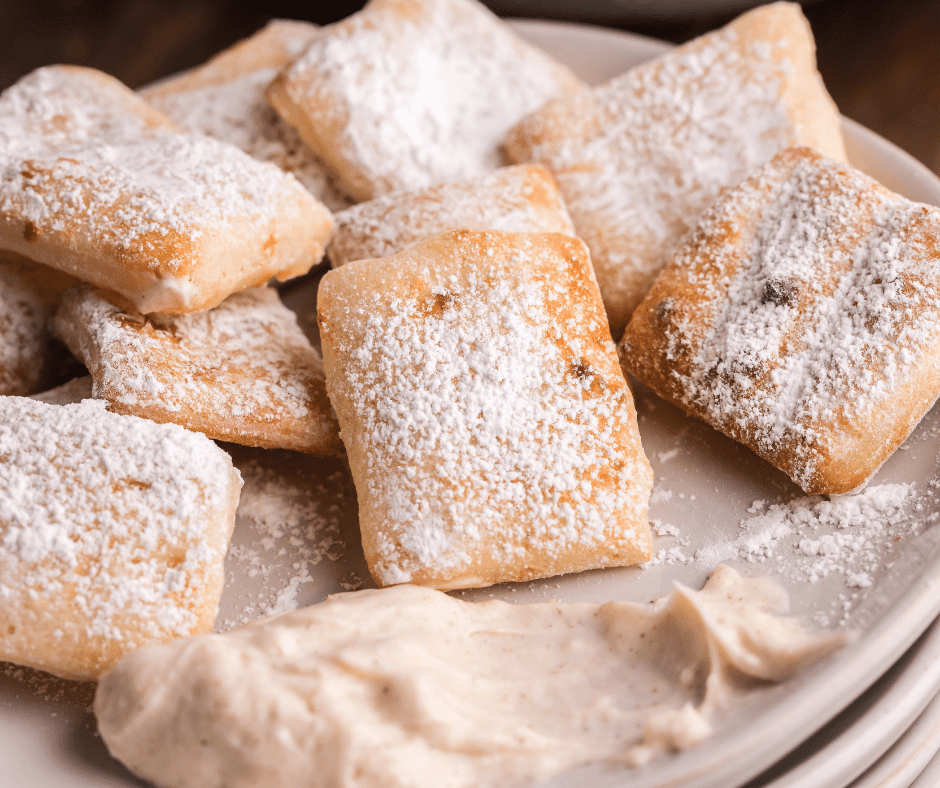 Does your family love pizza as much as mine does? My kids could eat it every day and never get tired of it. But, I don't always have time to make a full-sized pizza. That's where these Air Fryer Cinnamon Sugar Pizza Bites come in! They are the perfect size for a quick and easy snack or dinner. Plus, they are SO delicious!
Cinnamon Bites Recipe – Cinnamon Sugar Bites
Are you looking for an easy cinnamon sugar bite recipe that is perfect for any occasion? Look no further than this delicious and simple recipe. These bites are perfect for parties, potlucks, or any other gathering. They are also a great snack to have on hand when you're feeling a little bit hungry. So what are you waiting for? Get started on this amazing recipe today!
Easy Cinnamon Pizza Bites
If you love cinnamon and pizza, you're going to love these easy cinnamon pizza bites! They're the perfect party appetizer – and they're so simple to make that even beginner cooks can master them. Just roll out some dough, top with cinnamon sugar, and enjoy!
Who doesn't love pizza? Especially when it's easy to make and doesn't require a lot of ingredients. These cinnamon pizza bites are the perfect appetizer for any party or get-together, and they're sure to be a hit with everyone. Plus, they only take about 15 minutes to make, so they're the perfect last-minute addition to your menu. Ready to try them out? Keep reading for recipe instructions.
Ingredients Needed For Air Fryer Cinnamon Sugar Pizza Bites
You will need a few key ingredients to make these Air Fryer Cinnamon Sugar Pizza Bites. First, you will need some pizza dough. I like to use store-bought pizza dough because it is easy and convenient, but you could also make your own if you prefer.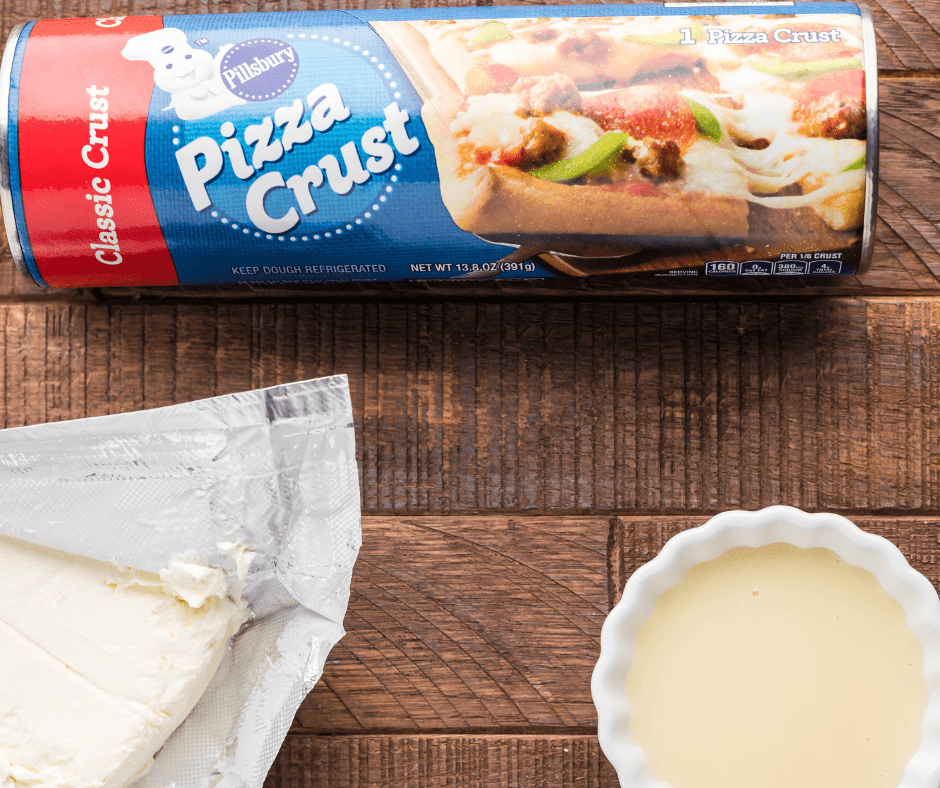 Pizza Dough: Use either homemade or store-bought pizza dough. You can also use gluten-free pizza dough, for a simple gluten-free air fryer dessert.
Sweetened Condensed Milk: Adds some sweetness to the pizza dough.
Cinnamon Sugar: If you can not find this in the grocery store, you can make your own, by combining granulated sugar, with ground cinnamon.
Powdered Sugar: Great for serving!
How To Cook Cinnamon Sugar Pizza Bites In The Air Fryer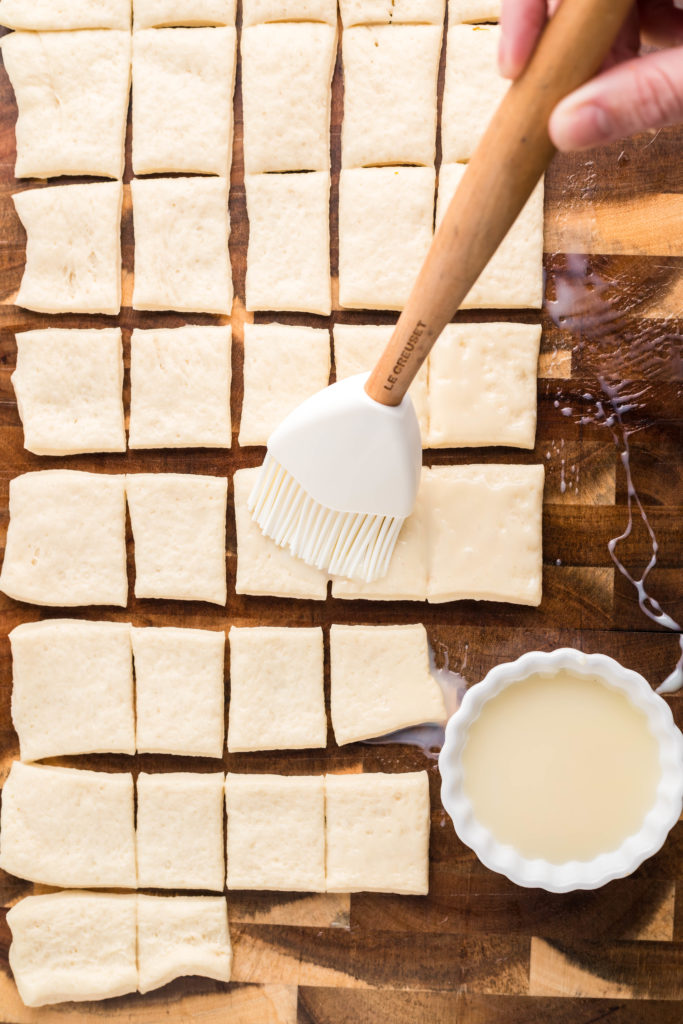 Preheat the air fryer to 390 degrees F for 5 minutes. Remove dough from the can and spread out onto a lightly floured wooden cutting board.
Use a pizza cutter to cut dough into 1" pieces. Brush the pieces with sweetened condensed milk.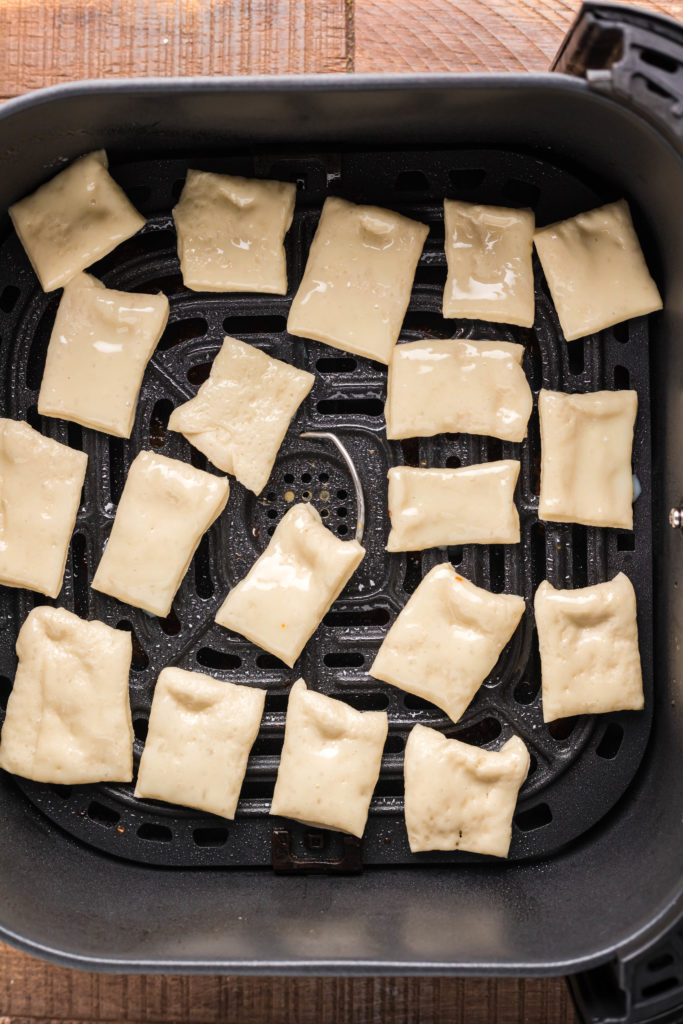 Add dough Nuggets to the air fryer basket in a single layer. Cook for 6 minutes
Remove dough Nuggets from the air fryer. Serve dough Nuggets with cinnamon sugar and a sprinkle with powdered sugar. Enjoy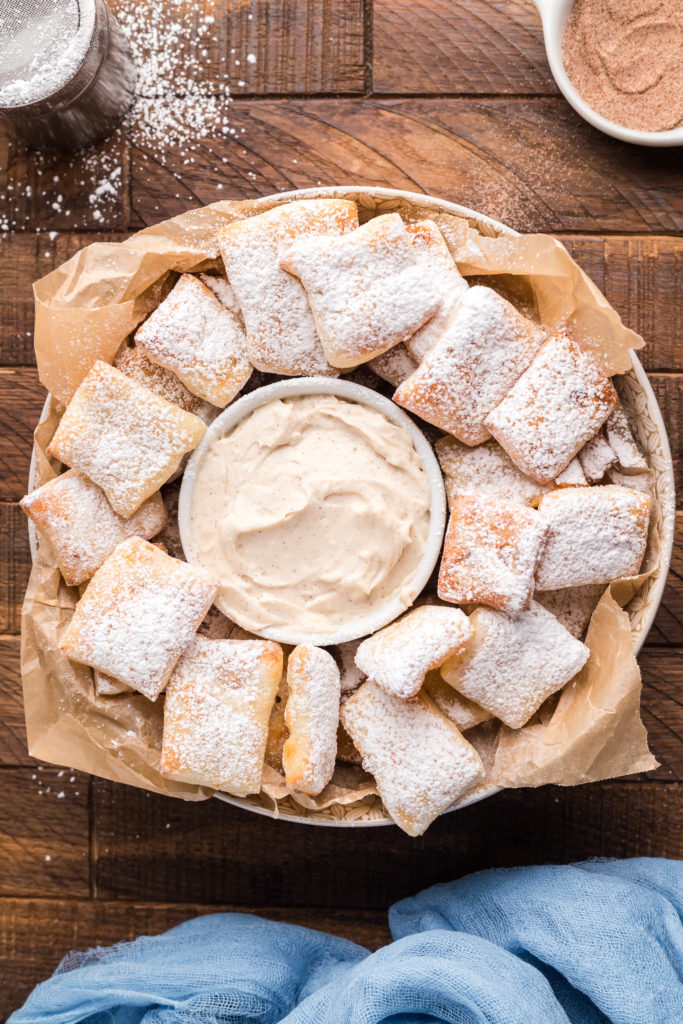 Variations to the Recipe
This is such a great and easy recipe, here are some simple variations, to try!
Bake: Cook these in an oven! Prepare the recipe as directed below, place your baking sheet into a preheat your oven to 400 degrees F, and cook for 12 to 15 minutes.
Fry in OIl: You can fry these in vegetable oil, at 360 degrees F, and cook until the pizza bites are golden brown.
How To Store
These pizza bites are a delicious treat that you can enjoy right away or store for up to four days in an airtight container. For best results, keep the pizza bites are room temperature.
However, I don't recommend freezing them because they do not defrost well, and you will end up with mushy pizza bites. These are easy enough to make when you get a craving!
What To Serve With Cinnamon Sugar Pizza Bites
Cinnamon sugar pizza bites are the perfect party food! They're easy to make and everyone will love them. But what do you serve with them? Here are some ideas that will wow your guests.
Caramel Sauce
Chocolate Sauce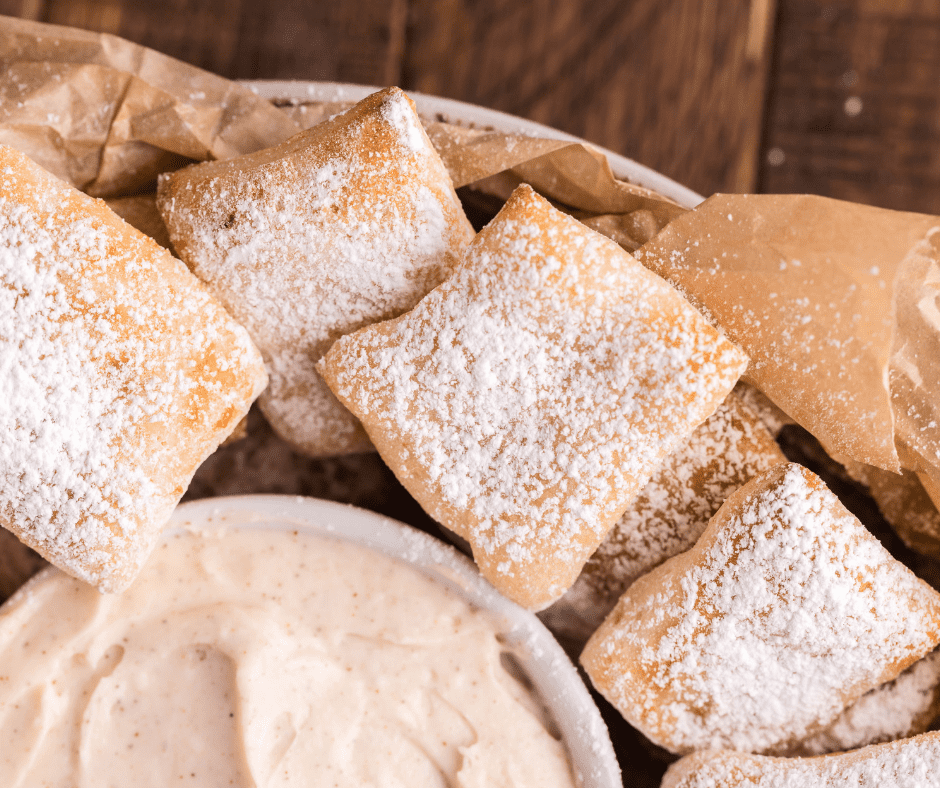 More Air Fryer Dessert Recipes:
Do you love your air fryer? If so, you're going to love our newest collection of dessert recipes. From chocolate cake to funnel cake, we've got something for everyone. So get your air fryer ready and let's get baking!
AIR FRYER CINNAMON ROLL MONKEY BREAD: Warm up your kitchen with a batch of delicious cinnamon roll monkey bread! This air fryer recipe is easy to follow, and the results are mouthwatering. The perfect sweet snack for any occasion!
AIR FRYER BAVARIAN CREAM DONUTS: Who doesn't love a delicious donut? Traditional-style donuts are usually deep-fried, which can be quite messy and greasy. But with an air fryer, you can make delicious donuts at home without all the mess! Today, we're going to show you how to make Bavarian cream-filled donuts using an air fryer. They're perfect for a weekend breakfast or brunch!
AIR FRYER CINNAMON SUGAR PIZZA: Do you love pizza, but not the calories? Well, have we got the perfect solution for you – air fryer cinnamon sugar pizza! This recipe is simple to make and so delicious, that you'll never want to order out again! Trust us, your waistline will thank you!
Don't Forget To Pin: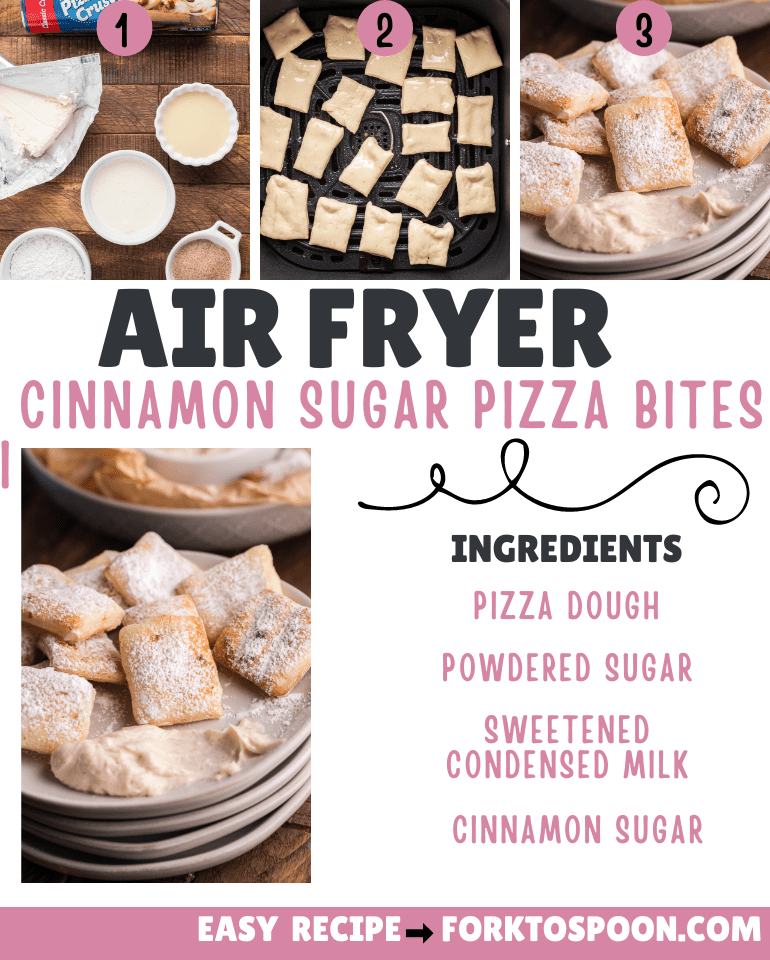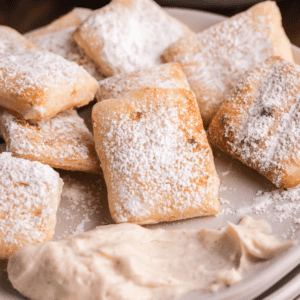 Air Fryer Cinnamon Sugar Pizza Bites
Description
Is there anything better than pizza? How about pizza bites?! These Air Fryer Cinnamon Sugar Pizza Bites are the perfect appetizer or snack. They're easy to make, and they taste amazing. You're going to love them!
Ingredients
1

package

pizza dough

2

tablespoons

sweetened condensed milk

2

tablespoons

cinnamon sugar

1/4

cup

powdered sugar
Instructions
Preheat air fryer to 390* for 5 minutes

Remove dough from the can and spread out onto a lightly floured wooden cutting board.

Use a pizza cutter to cut dough into 1" pieces. Brush the pieces with sweetened condensed milk.

Add dough Nuggets to the air fryer basket in a single layer. Cook for 6 minutes

Remove dough Nuggets from the air fryer. Sprinkle with ground cinnamon and powdered sugar
Nutrition
Serving:
1
g
Calories:
162
kcal
Carbohydrates:
33
g
Protein:
4
g
Fat:
2
g
Saturated Fat:
1
g
Polyunsaturated Fat:
0.4
g
Monounsaturated Fat:
0.1
g
Cholesterol:
2
mg
Sodium:
360
mg
Potassium:
19
mg
Fiber:
1
g
Sugar:
12
g
Vitamin A:
13
IU
Vitamin C:
0.1
mg
Calcium:
14
mg
Iron:
1
mg