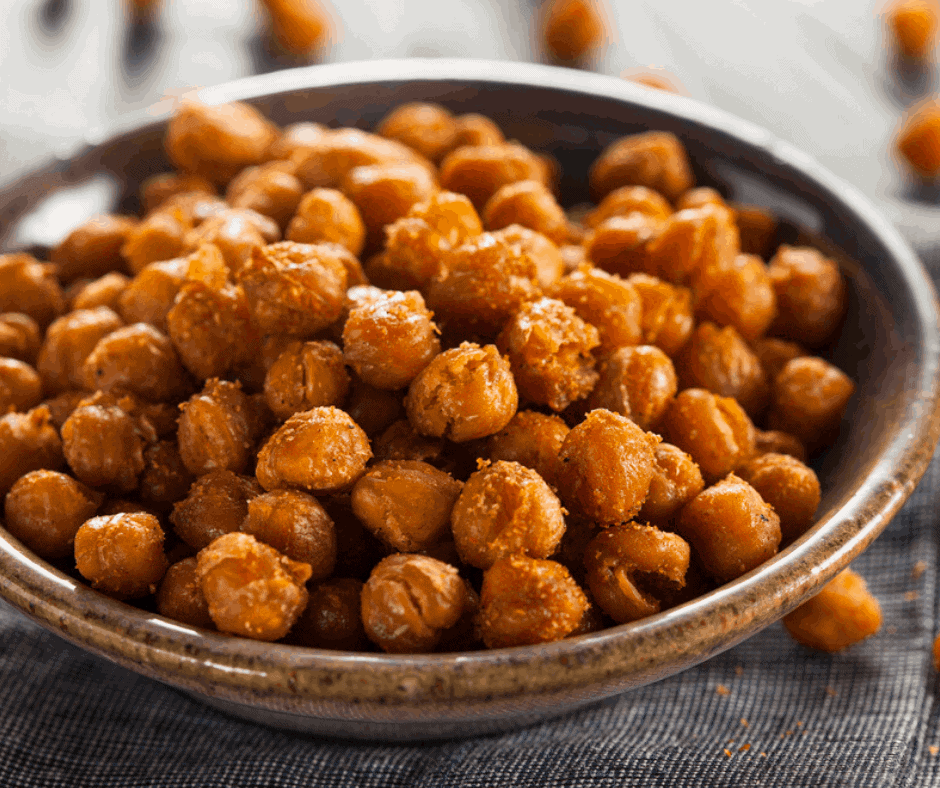 How about this for a healthy snack. Air Fryer Cajun Roasted Chickpeas. If you went through a supermarket 4 years ago, you would never guess that as you fast forward into the future. Ther would be dedicated space to roasted chickpeas. Now, if you head to Whole Foods, you will see a bag of roasted chickpeas selling for about $5.00.
Today, I am giving you an easy way to make roasted chickpeas in the air fryer. Today's batch is Air Fryer Cajun Roasted Chickpeas.
They are quickly becoming one of the most favorite snacks of people looking for alternatives to chips.  They are full of protein and give you that crunch that you are looking for. There are so many ways to flavor chickpeas, and I started doing many flavors due to my youngest, who really loves them.
If you are looking for even more Air Fryer Chickpea Recipes, some of my favorites are AIR FRYER EXTRA CRISPY SPICED CHICKPEAS, AIR FRYER SPICY ROASTED CHICKPEAS, AIR FRYER, EASY CRISPY CHICKPEAS, and AIR FRYER SESAME SEED ROASTED CHICKPEAS.
What are Chickpeas?
You probably saw chickpeas in the grocery store, They go by a few names, gram, Bengal gram, Garbanzo, garbanzo bean, and Egyptian beans.  Chickpeas are legumes that are used in the many Mediterranean, Middle Eastern, and Indian cuisines. They are round, beige in color, and when roasted, or air-fried they become crunchy.
One of the most common questions I get asked if people can not find chickpeas in the store is can I use Garbazono beans inside? YES, they are the same thing.
Why Are Chickpeas So Good For You?
The reason why everyone is air frying a batch of chickpeas is they are incredibly great for you! They are packed with protein, fiber, and other nutrients. This is a great source of protein for vegetarianism, which is important for bone, muscle, and even skin health. One cup of chickpeas is equal to about one-third of the adult's protein need per day. This helps you reduce diabetes, helps in bone health, helps lower blood pressure and other health ailments.
Chickpeas and Weight Loss:
These are great for helping you lose weight. Both the protein and the fiber found in chickpeas help you feel full and help you with weight control.
Air Frying Chickpeas, Tricks For Getting Them Crunchy-
I have been air frying chickpeas for several years; I can give you some basic hints that helped me get crunchy chickpeas.
Drain the chickpeas. I like using canned chickpeas, they are rather inexpensive, and they are easy to store in the pantry. Drain them well, leave them for about 30 minutes in a colander, let them get as dry as they can.
After you drain them, place them out to dry on a kitchen towel, leave them for about 20-30 minutes, let as much moisture from the beans get out, this is one of the secrets to get CRUNCHY air fryer chickpeas.
Then they need to be coated with olive oil. If the recipe calls for 2 tablespoons of olive oil and you notice they are dry before you add them to the air fryer, they will NEVER get crunchy. So use your own judgment and add more olive oil. Make sure that every chickpea is coated in olive oil; this will help them crisp up.
Season, season, and season them more. I always add extra seasoning; I like mine flavorful. So, they come out of the air fryer, I am still adding more seasoning, as you eat them, do you think they need more salt? Add more salt.
Storing Air Frying Chickpeas-
Now that bad news, you made a great batch, and you didn't eat them all. What do you do? The first thing, they will stay good for about a day in a sealed container. But, they will slowly start to lose their crunchy, so by the second day, toss them, and make a new batch.
Here are some of My Other Favorite Air Fryer Chickpeas Recipes–
Ingredients Used In Air Fryer Cajun Roasted Chickpeas-
C

anned chickpeas

Olive

 oil
Salt
Garlic powder
Paprika
Black pepper
Onion powder
Cayenne pepper
Oregano
Thyme
How to Make Air Fryer Cajun Roasted Chickpeas-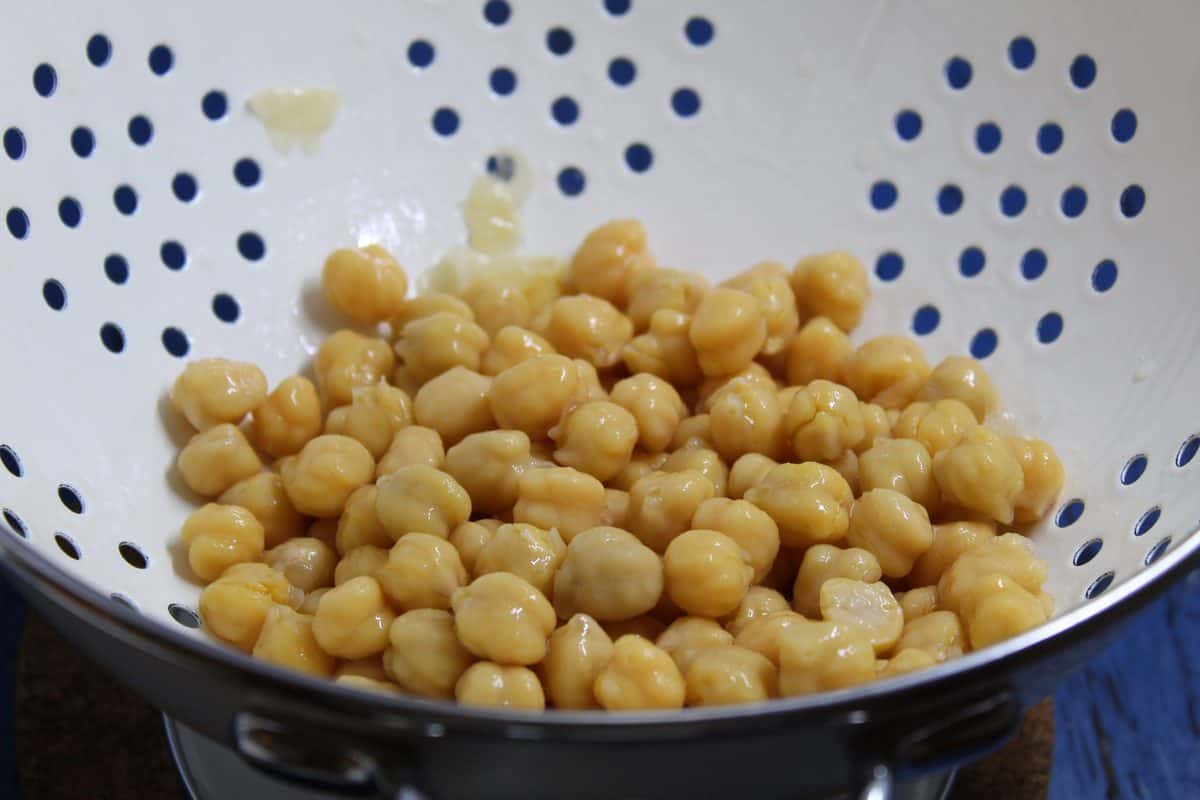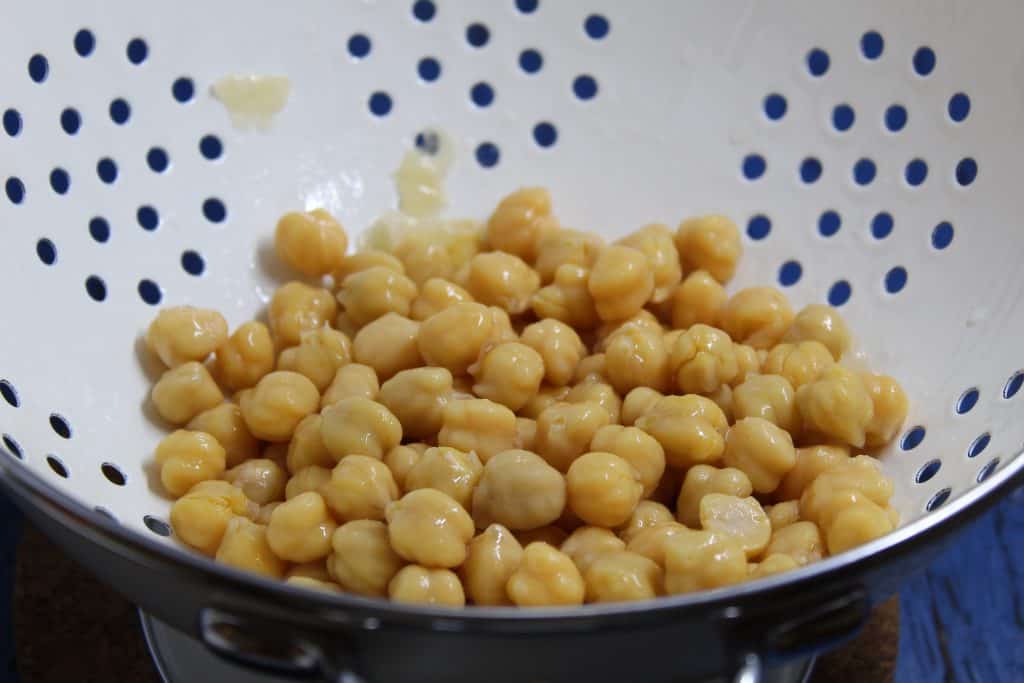 Start by draining the chickpeas. Second, drain them really well, Third,  place them on a kitchen towel for about 20-30 minutes, to get most of the liquid out. After they are well-drained, add your olive oil, make sure they are well coated, and then toss on your seasoning.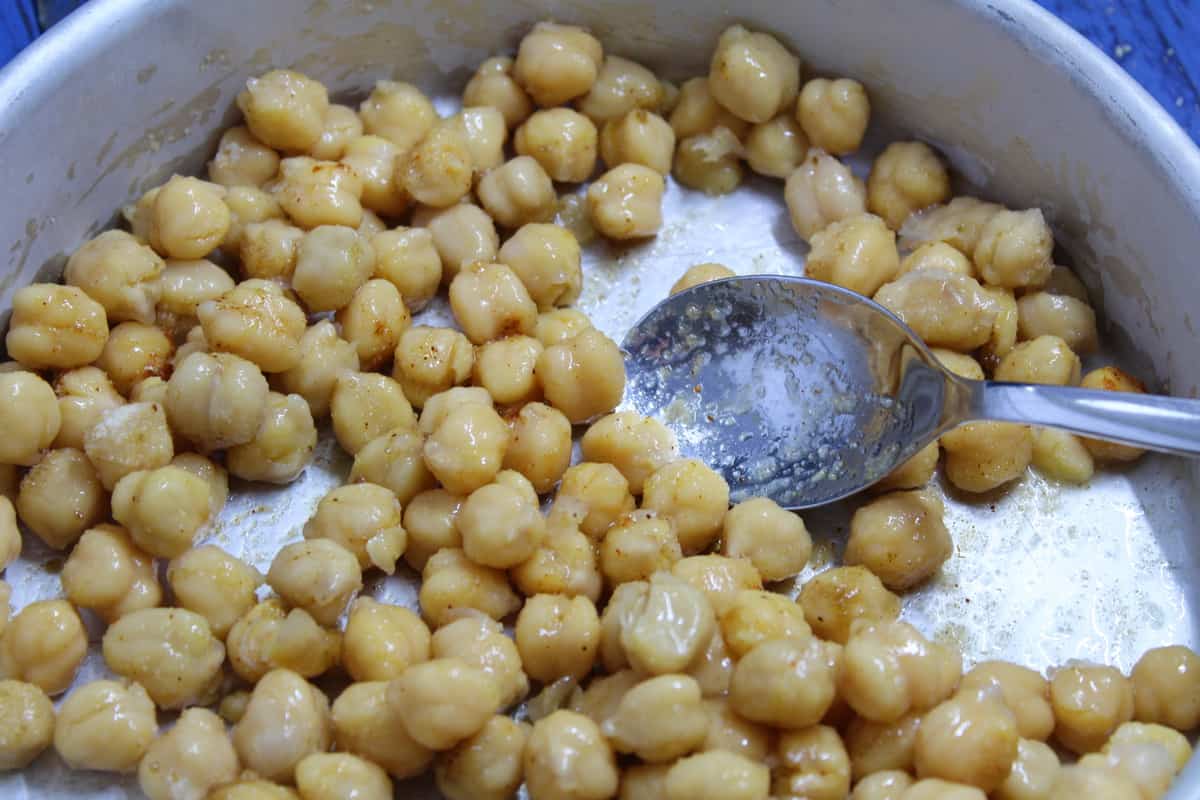 Then mix. Follow the directions in the recipe below.
A great set for any air fryer, which really increases the items you can make in your air fryer–
Don't Forget to Pin,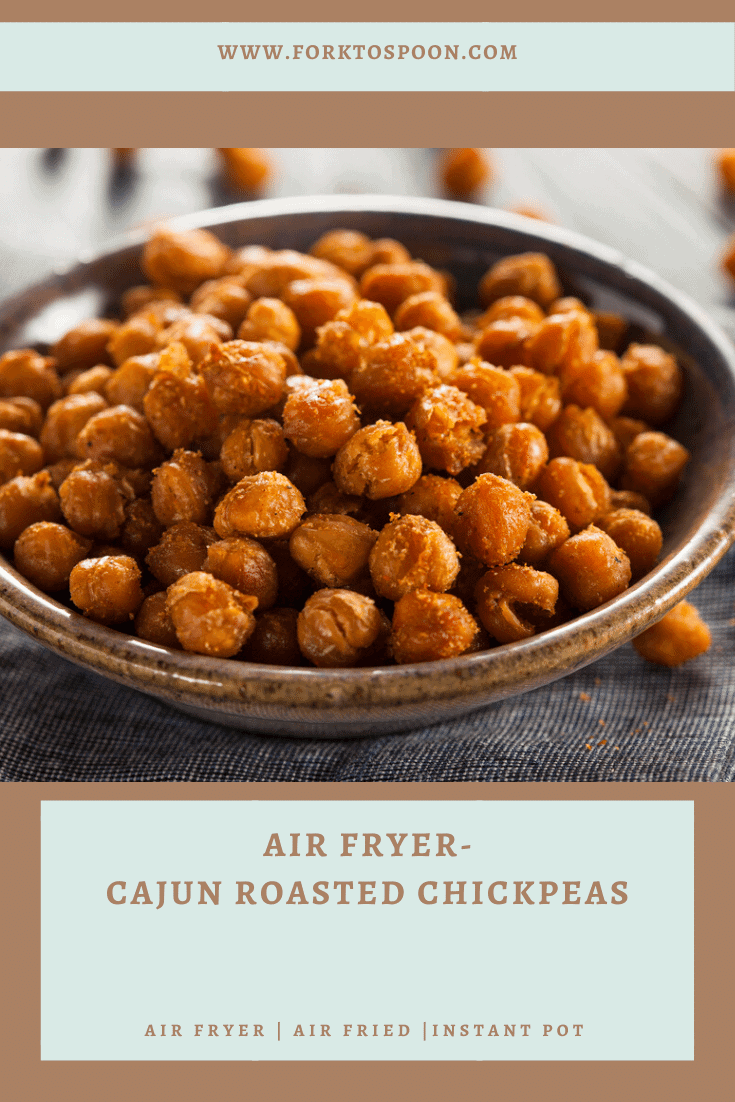 Yield: 4 Servings
Air Fryer Cajun Roasted Chickpeas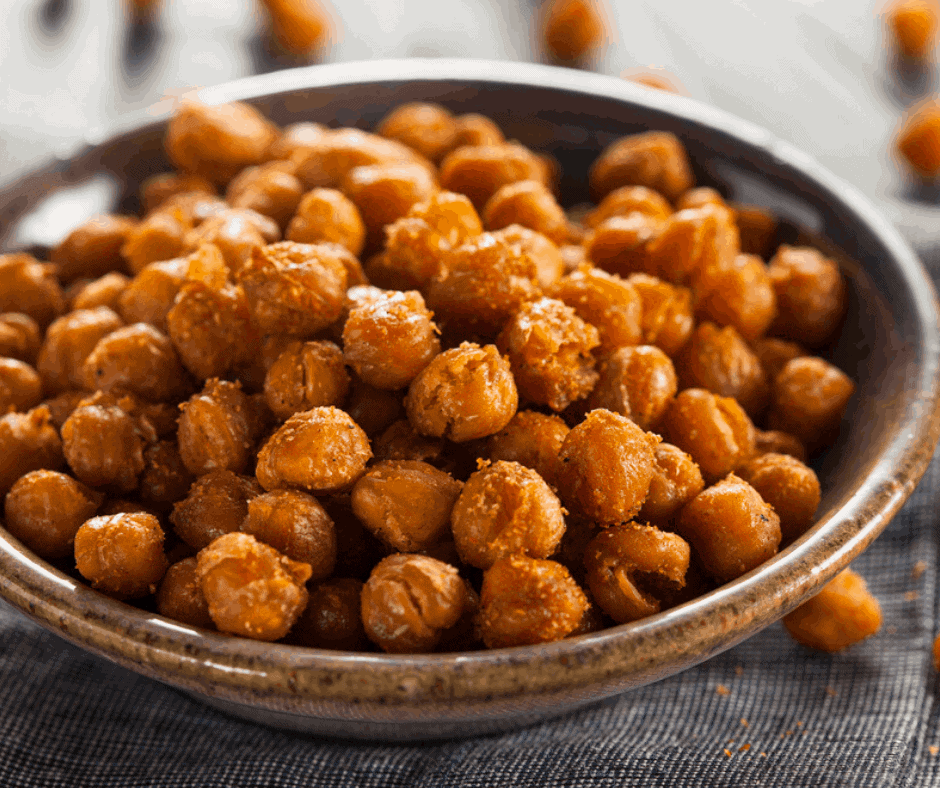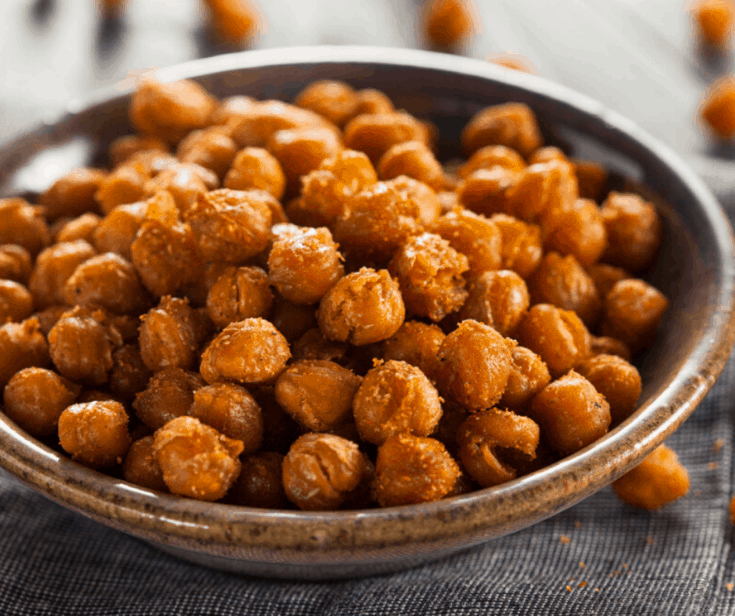 This is a really & healthy snack, add some herbs and toss it onto the air fryer for a great and healthy snack alternative. 
Ingredients
15 ounces canned chickpeas
2 tablespoons oil
2 teaspoons salt
2 teaspoons garlic powder
2 teaspoons paprika
1 teaspoon black pepper
1 teaspoon onion powder
1 teaspoon cayenne pepper
1 teaspoon oregano
1 teaspoon thyme
Instructions
Start by draining the chickpeas. Make sure they are fully drained.
Mix in the oil, and then mix in the spices.
Then spread the chickpeas into the air fryer basket, set the 350 degrees F temperature, and set the 8 minutes. Shake the basket after 4 minutes.
When the time is up, pour into a bowl. Add some additional salt (about 1/2 teaspoon) and enjoy it!
Plate, serve, and enjoy!
Nutrition Information:
Yield:
4
Serving Size:
1
Amount Per Serving:
Calories:

224
Total Fat:

10g
Saturated Fat:

1g
Trans Fat:

0g
Unsaturated Fat:

8g
Cholesterol:

0mg
Sodium:

1321mg
Carbohydrates:

27g
Fiber:

8g
Sugar:

5g
Protein:

8g