If you have ever wanted to enjoy restaurant-style pizza in the comfort of your home, then look no further! This easy homemade mini pizza in your air fryer is a quick and delicious way to make everyone's favorite food, pizza!
If you love my recipe for air fryer naan pizza, try my recipe for Air Fryer Oyster Crackers, Air Fryer Puff Pastry Pizza, and Air Fryer Cinnamon Rolls!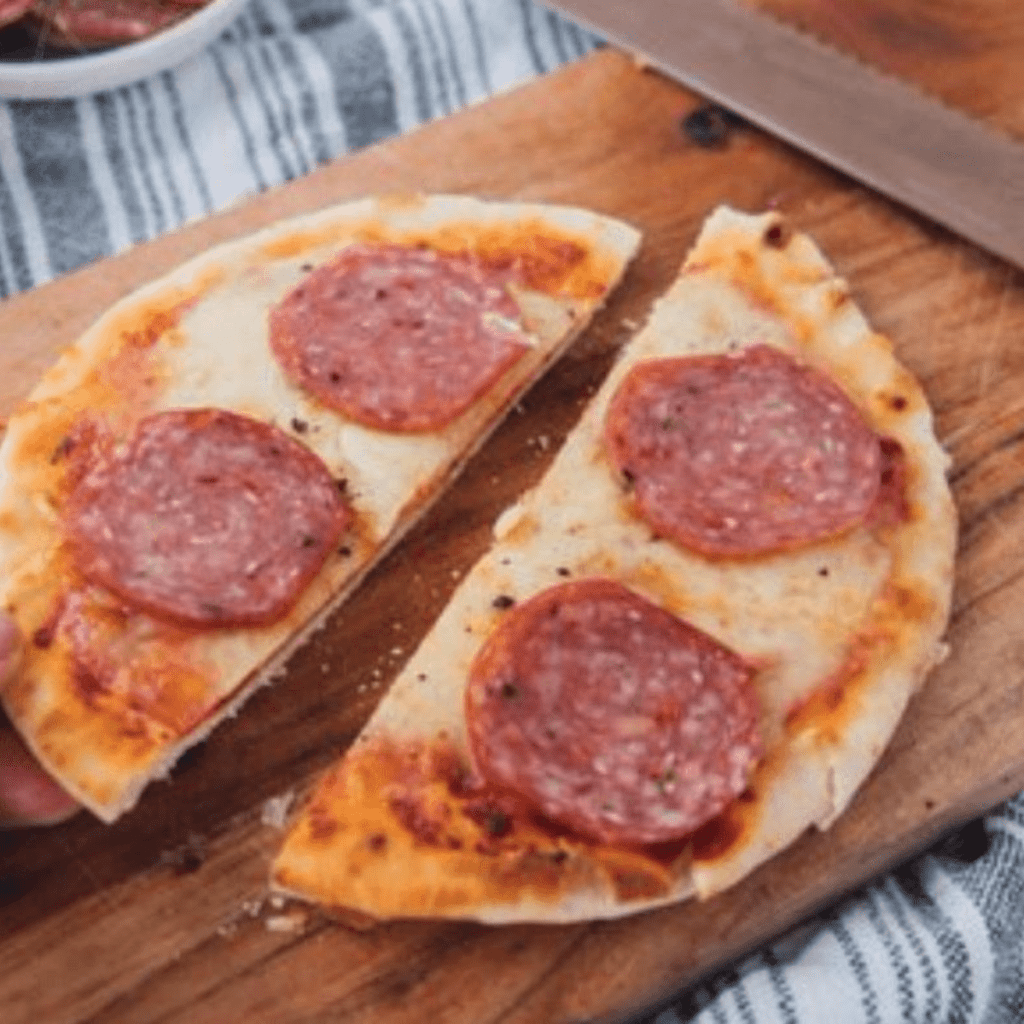 The Best Air Fryer Naan Pizza Recipe
Air fryer naan pizza is a quick and easy meal that can be prepared in just a few minutes. Naan bread is a perfect alternative to traditional pizza dough, and when topped with your favorite pizza toppings and cooked in an air fryer, it results in a crispy and delicious pizza that's ready in no time. In this response, I'll provide a recipe for the best air fryer naan pizza that you can customize with your favorite toppings. Whether you're looking for a quick dinner or a fun party appetizer, this recipe is sure to be a hit.
This is one of my kid's favorite recipes, who doesn't love personal pizzas, for a quick lunch or a delicious snack? Next time when you are looking for something a little different, remember this delicious air fryer naan pizza recipe.
Ingredients Needed For Homemade Mini Pizza In Air Fryer
Making a delicious homemade mini pizza in an air fryer is easier than you may think. With the right ingredients and a few simple steps, you'll be enjoying your own hot, crispy pizzas in no time! In this blog post, we'll walk you through exactly what ingredients you need to have on hand to make these tasty treats at home. We will also provide expert tips so that anyone can recreate restaurant-style mini pizzas any day of the week. Keep reading to learn everything there is known about creating perfect miniature pies with just an air fryer and some pantry staples!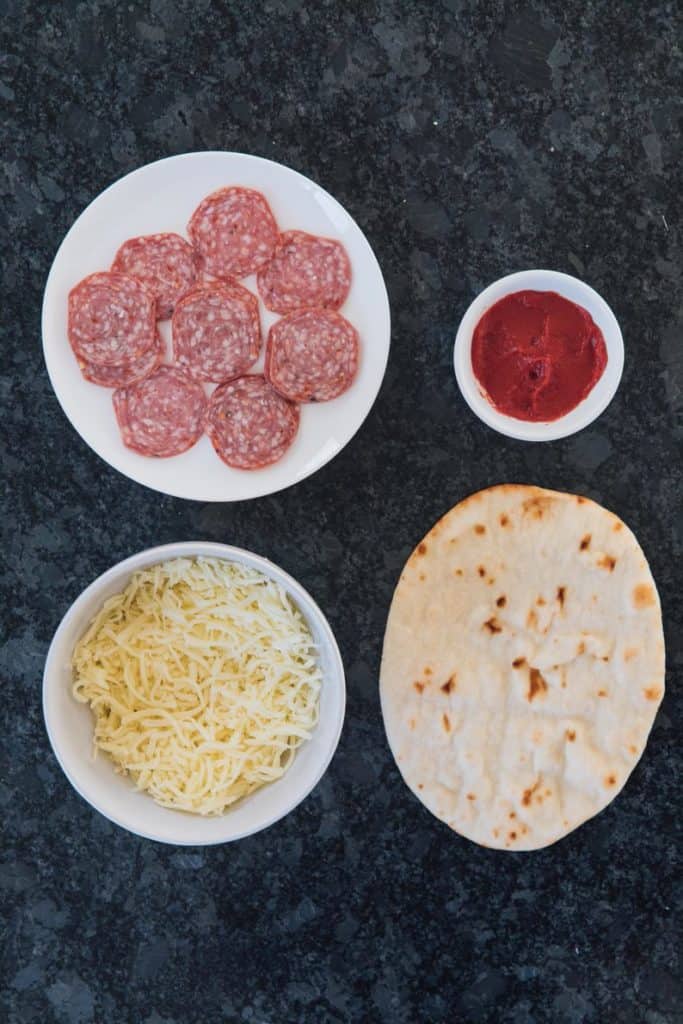 Remember the step-by-step directions are below in the printable recipe card, at the bottom of the page, as well as the nutritional information.
Naan: Use regular, whole wheat naan, garlic naan, mini, gluten-free, keto-friendly, or low-carb! Even homemade naan bread, his recipe is for everyone! The size of your pizza will depend on how large your air fryer is! You can find mini nana at Aldi, Trader Joe's, Target, and of course on Amazon! Another great option is pita bread. Mini naan bread are perfect for smaller air fryers.
Pizza Sauce: Use either tomato sauce, BBQ sauce, or even your favorite pasta sauce, or marinara sauce.
Mozzarella Cheese: Ues any of your favorite cheese, I love using fresh mozzarella cheese! Another great option is shredded Parmesan cheese or cheddar cheese.
Toppings: Add your favorite toppings, I love using pepperoni and diced tomatoes!
How To Make Naan Pizza In Air Fryer
Naan pizza is a delicious and satisfying meal option for almost any time of day! With the simple addition of your favorite toppings, you can craft up this savory dish right in the comfort of your own home –thanks to an air fryer. In this blog post, we will cover how to make naan pizza quickly and safely with an air fryer so that you can enjoy all its cheesy goodness while saving on time, energy, and effort. From selecting the best ingredients to ensuring crispiness without overcooking toppings or burning crusts—we've got all the tips and tricks you need from start to finish. So read on if you're ready for some tasty delivery-style takeout made fresh in your kitchen!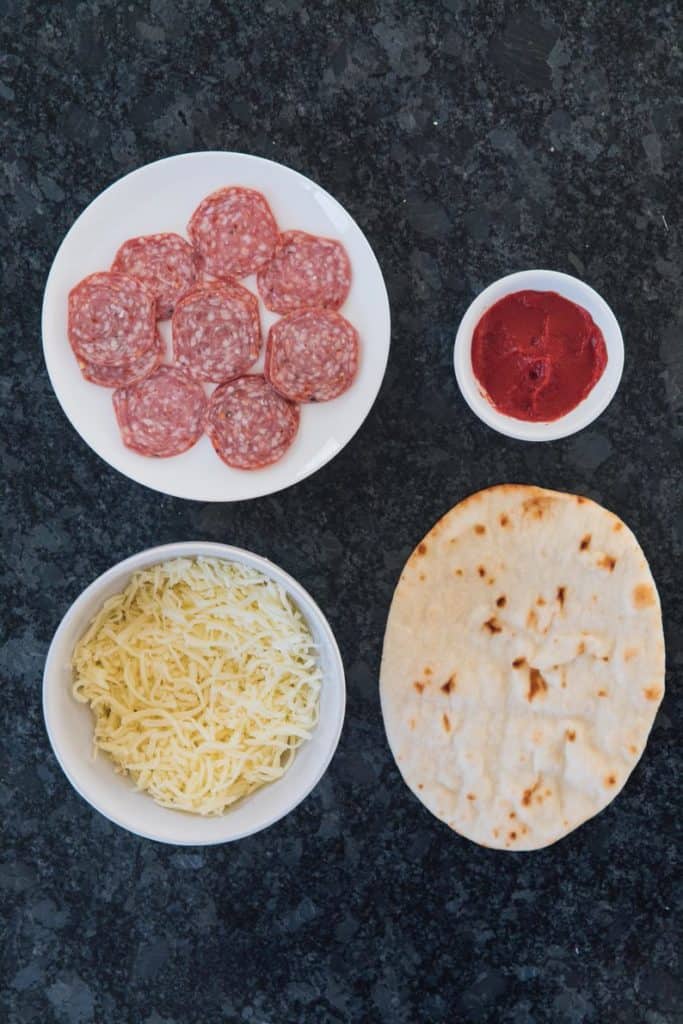 Step One: Prepare Your Delicious Air Fryer Pizza
Spread the naan bread with tomato or pizza sauce. Sprinkle shredded mozzarella cheese on top, and add any of your toppings.
How Long To Cook Naan Pizza Air Fryer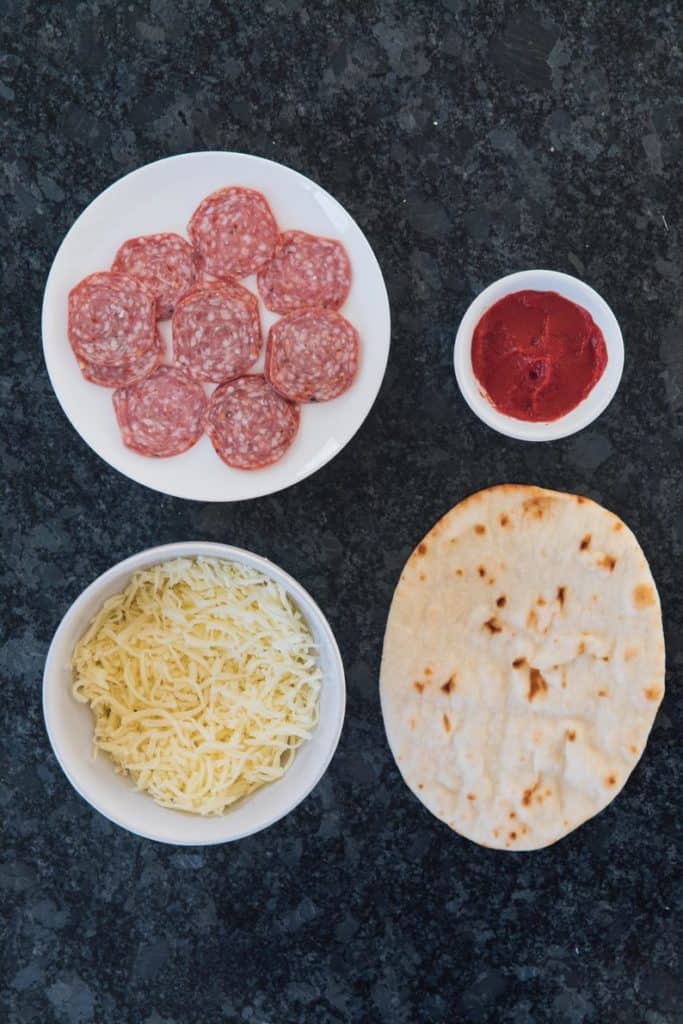 Step Two: Air Fry The Crispy Pizza
Preheat the air fryer to 400 degrees F. Put flatbread into an air fryer basket and cook for 5-7 minutes or until the cheese has completely melted.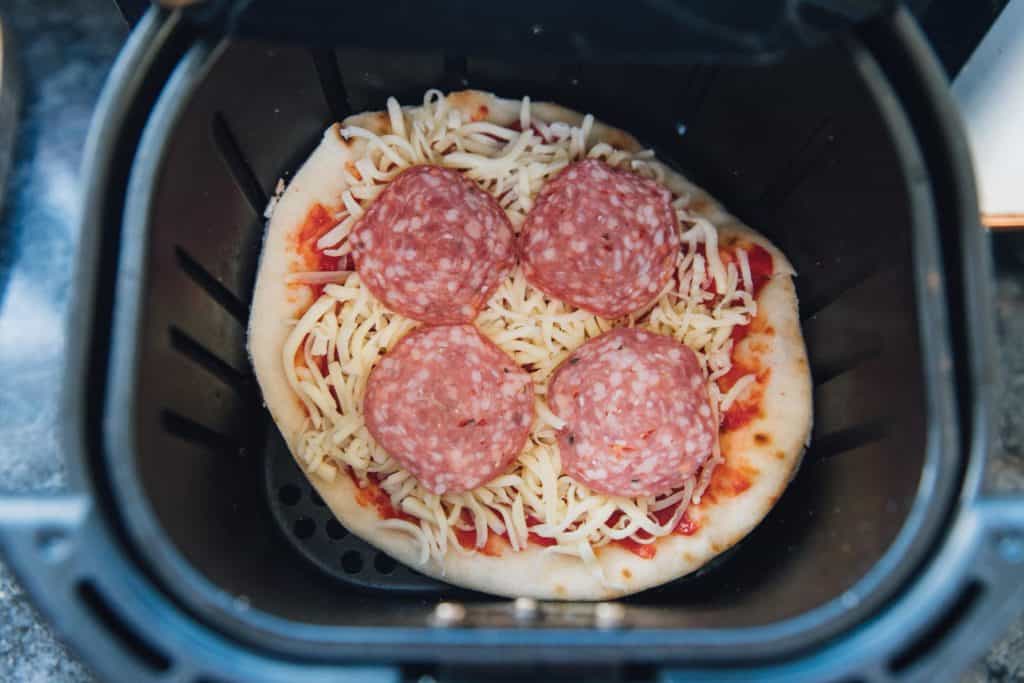 Step Three: Serving
Remove flatbread from the basket, and top with fresh basil and salt and pepper to taste. Serve hot.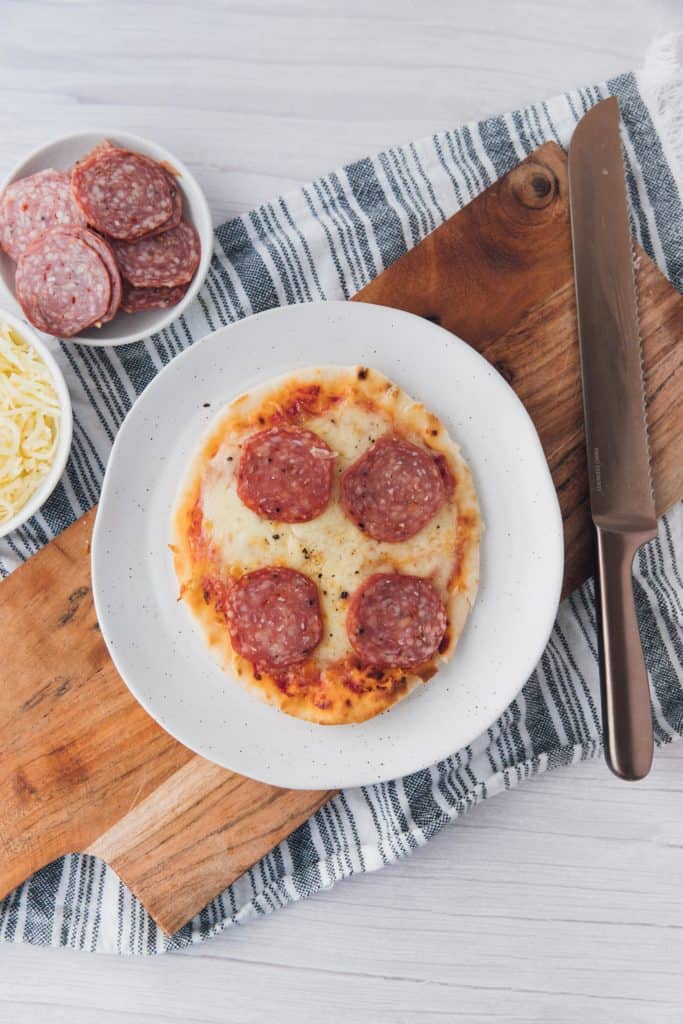 Pro Tips For The Best Air Fryer Naan Pizza
Looking for an easy and delicious way to make pizza at home? Air fryer naan pizza is the perfect solution! With just a few simple ingredients, you can have a delicious and healthy pizza in no time. Follow these pro tips for the best air fryer naan pizza every time.
Use high-quality naan bread as the base for your pizza to ensure a crisp crust.
Pre-cook any meat or vegetable toppings before adding them to your pizza to prevent the naan from getting soggy.
Experiment with different sauces, such as pesto or BBQ, for added flavor.
Sprinkle a little bit of water on the naan before cooking to help create a crispier crust.
Let the pizza cool for a few minutes before serving to allow the toppings to set.
Top with fresh herbs or red pepper flakes for an added kick of flavor.
Use a spatula to carefully remove the pizza from the air fryer basket for easier serving.
Enjoy your homemade air fryer naan pizza with a side of marinara sauce for dipping.
Don't be afraid to get creative with your toppings – try out different combinations or add in some diced pineapple for a fun twist on traditional pizza flavors.
Parchment Paper; For a great way to eliminate cleanup, line your air fryer basket with parchment paper.
Store any leftovers in an airtight container and reheat them in the air fryer for a quick and easy lunch.
Frequently Asked Questions
Can You Use Air Fryer For Pizza
Yes, an air fryer is a great appliance for making pizza. Air fryers circulate hot air around the food, which helps to cook the pizza quickly and evenly. The result is a crispy crust and perfectly melted cheese that you would expect from a traditional oven-baked pizza. Plus, using an air fryer for pizza can save you time and energy since it heats up faster and consumes less energy than a conventional oven.
Air Fryer Naan Pizza Variations and Toppings Ideas
Air fryer naan pizza is a versatile and delicious meal that you can customize with a variety of toppings, the air fryer is perfect for making individual pizzas. Here are some ideas for variations and toppings to try: REmemebr you can use any of your favorite toppings of your choice.
Margherita naan pizza: Top your naan bread with tomato sauce, fresh mozzarella cheese, and fresh basil leaves for a classic and simple margarita pizza.
BBQ chicken naan pizza: Spread BBQ sauce on your naan bread, top it with shredded chicken, red onions, red peppers, and vegan mozzarella cheese, and bake it in the air fryer for a tasty and tangy barbecue chicken pizza.
Veggie naan pizza: Load up your naan bread with sliced bell pepper, mushrooms, onions, Italian seasoning, olive oil, and cherry tomatoes for a healthy and flavorful veggie pizza.
Meat lover's naan pizza: Top your naan bread with pepperoni, cooked sausage, and bacon bits for a hearty and meaty pizza.
Hawaiian naan pizza: Spread tomato sauce on your naan bread and top it with sliced ham, pineapple, and mozzarella cheese for a sweet and savory Hawaiian pizza.
Greek naan pizza: Spread hummus on your naan bread and top it with sliced tomatoes, red onions, kalamata olives, and feta cheese for a Mediterranean-inspired pizza.
Breakfast naan pizza: Top your naan bread with scrambled eggs, bacon, and cheddar cheese for a delicious and easy breakfast pizza.
By trying out these variations and toppings ideas, you can create a unique and tasty naan pizza that suits your taste preferences. Feel free to experiment with different toppings and sauces to create your own custom naan pizza recipe.
Is naan and pizza dough the same?
Naan and pizza dough are not the same, although they do have some similarities.
Naan is a traditional flatbread that originated in India and is made with flour, water, salt, and yeast. Naan dough is typically stretched or rolled out, then baked in a tandoor oven or on a griddle, resulting in a soft and chewy bread that's perfect for dipping or wrapping around other foods.
Homemade pizza dough, on the other hand, is typically made with flour, water, salt, yeast, and sometimes olive oil or sugar. It's kneaded and then left to rise, resulting in a crust that is crispy on the outside and chewy on the inside.
While naan and pizza dough have different origins and ingredients, naan can be a good substitute for pizza dough if you're looking for a quick and easy way to make pizza. The texture of naan is similar to pizza crust, and it's already pre-cooked, which means you can use it as a ready-made base for your pizza toppings.
Can you heat naan in an air fryer?
Sure, you can use your air fryer to cook all sorts of things – chicken, fish, and French fries. But can you heat up naan in an air fryer? The answer is yes – and it's surprisingly easy! In just a few minutes, your naan will be hot and crispy. So if you're looking for a quick and easy way to heat up your naan, the air fryer is the answer. Give it a try today!
Can you put aluminum foil in an air fryer?
Yes! You can' be careful that you don't have any foil that touches the heating element, otherwise what may become a fire hazard!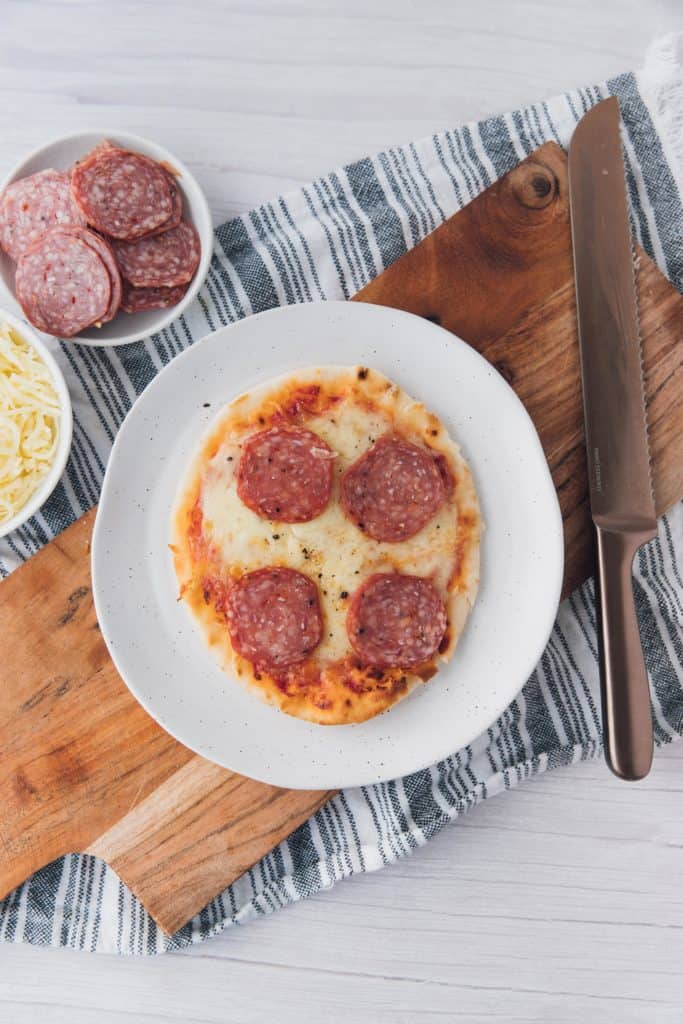 Storing Leftover Naan Pizza
Let the pizza cool to room temperature, and then place it into an airtight container or wrap it tightly in saran wrap, or plastic wrap. The leftover pizza will last in the refrigerator for 2-3 days.
Reheat the pizza in the air fryer with a cooking time of 2-3 minutes, at 400 degrees F.
More Air Fryer Recipes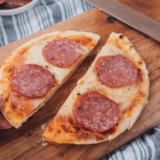 Air Fryer Naan Pizza
Description
This is one of my kid's favorite lunches. Today, I used a whole wheat pita bread, as that is the only ones they had in stock in the grocery store, so it does appear darker than if you were using a loaf of regular white naan bread,
Ingredients
1

piece

naan bread

,

regular or mini

2

tablespoons

pizza sauce

,

or tomato sauce

1/4

cup

mozzarella cheese

,

shredded
Instructions
Spread the naan bread with pizza asuce.

Sprinkle the pizza sauce with the shredded mozzrealla chees, and then add your toppings.

Preheat the air fryer to 400˚F. Put flatbread into an air fryer basket and cook for 4 minutes or until the cheese has completely melted.

Remove flatbread from basket, top with fresh basil and salt and pepper to taste. Serve hot
Nutrition
Serving:
1
g
Calories:
466
kcal
Carbohydrates:
61
g
Protein:
16
g
Fat:
16
g
Saturated Fat:
6
g
Polyunsaturated Fat:
0.3
g
Monounsaturated Fat:
2
g
Cholesterol:
32
mg
Sodium:
1165
mg
Potassium:
110
mg
Fiber:
2
g
Sugar:
5
g
Vitamin A:
319
IU
Vitamin C:
2
mg
Calcium:
224
mg
Iron:
0.4
mg