I love this air fryer cauliflower recipe! It takes a budget-friendly vegetable and turns it into crispy cauliflower that the entire family will love!
Benefits of eating cauliflower
For some reason, cauliflower has gotten a bad reputation over the years and I am here to tell you that it's for no reason. A few reasons to try serving cauliflower are:
The nutritional content! This vegetable has a lot of vitamins and minerals your body needs to function.
Cauliflower is a vegetable that is KETO-friendly and low-carb.
It is one of the most budget-friendly vegetables on grocery store shelves. If you are on a budget and want to feed your family well, then try this recipe.
Why use an air fryer to make roasted cauliflower?
It's no secret that I love this appliance. In a few minutes, a couple of ingredients in an air fryer basket can turn into an easy side dish that everyone will love.
Your air fryer can make any meal within minutes, even a healthy snack like cauliflower bites.
The hot air will give this vegetable crispy edges and bold flavor all from a handful of ingredients. Plus, you use less oil, making it healthier than traditional ways of cooking cauliflower.
Where can you serve this delicious side dish?
To me, this roasted cauliflower recipe is the perfect side dish for any heavy meal that you want to compliment. Some of my favorite recipes to pair these with are:
Preparing the Cauliflower
I love this healthy vegetable side dish primarily because the prep work is so minimal.
For this recipe, you can use either a fresh head of whole cauliflower or a bag of prewashed cauliflower florets.
For the head of the cauliflower, break off the green leaves and use a sharp knife to remove the core (also known as the stem). Next, cut the remaining cauliflower into bite-sized pieces and you are ready to go.
For cauliflower that is already cut, you might need to break apart a few of the bigger pieces so that they are easier to eat.
Once your cauliflower is prepped, all you need is a few extra ingredients before you are ready to serve.
Ingredients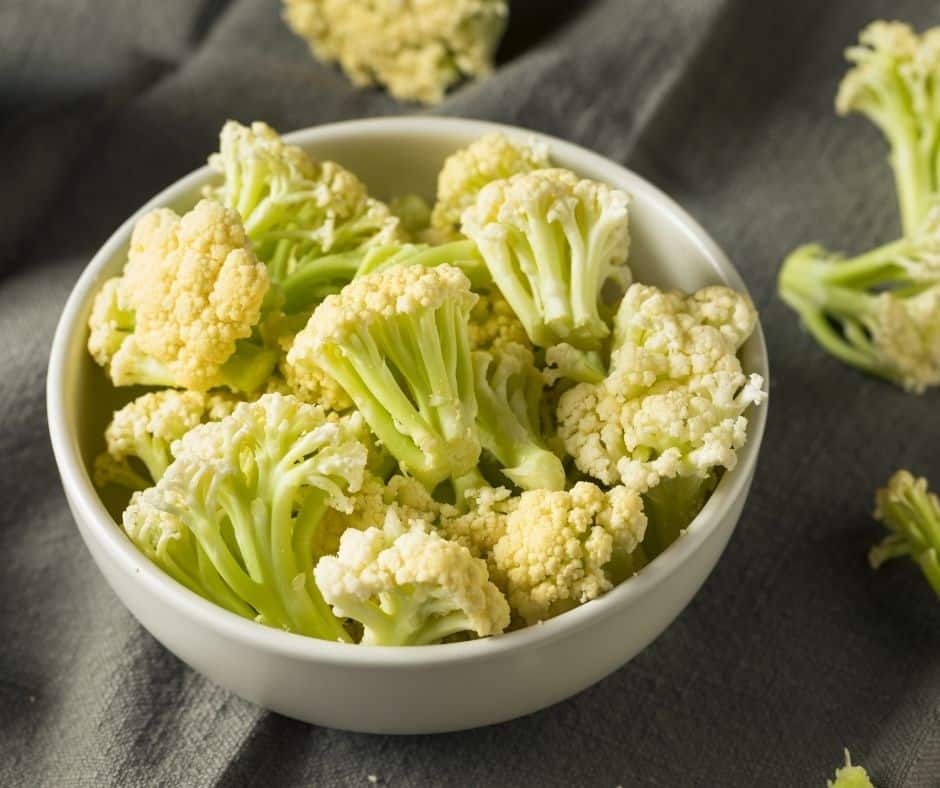 If you ask me, easy recipes require very few ingredients. Here is all you need to make air fryer roasted cauliflower:
1 head of cauliflower diced into cauliflower florets (I like to cut them until they are bite size since large florets are more difficult to chew)
olive oil or avocado oil
salt
To cook air fryer roasted cauliflower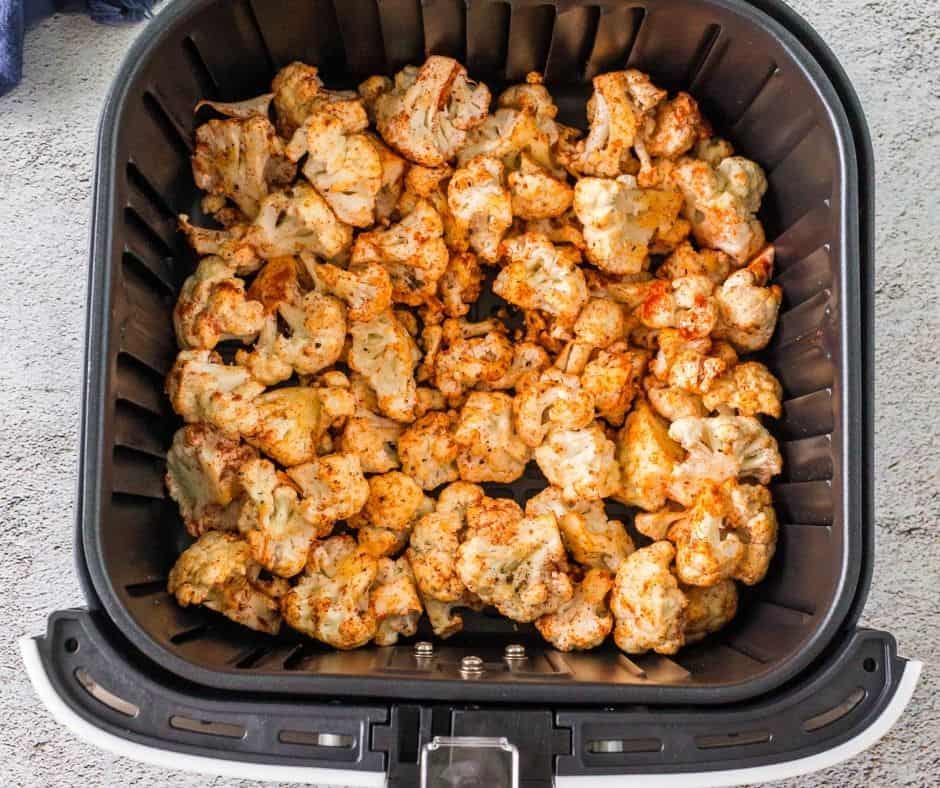 Prep: Prepare the cauliflower by dicing it into bite-sized pieces
Prepare Dry cauliflower with paper towels. Place in a small bowl and toss with oil and salt.
Cook: Place in the air fryer basket. Don't forget to rearrange so the vegetable is in a single layer The cooking time for this recipe can vary, based on the size of your cauliflower pieces. I found that 15 minutes is perfect if you cook at 400 degrees F and shake the basket about halfway through. This gives the vegetable a nice, even crispy coat.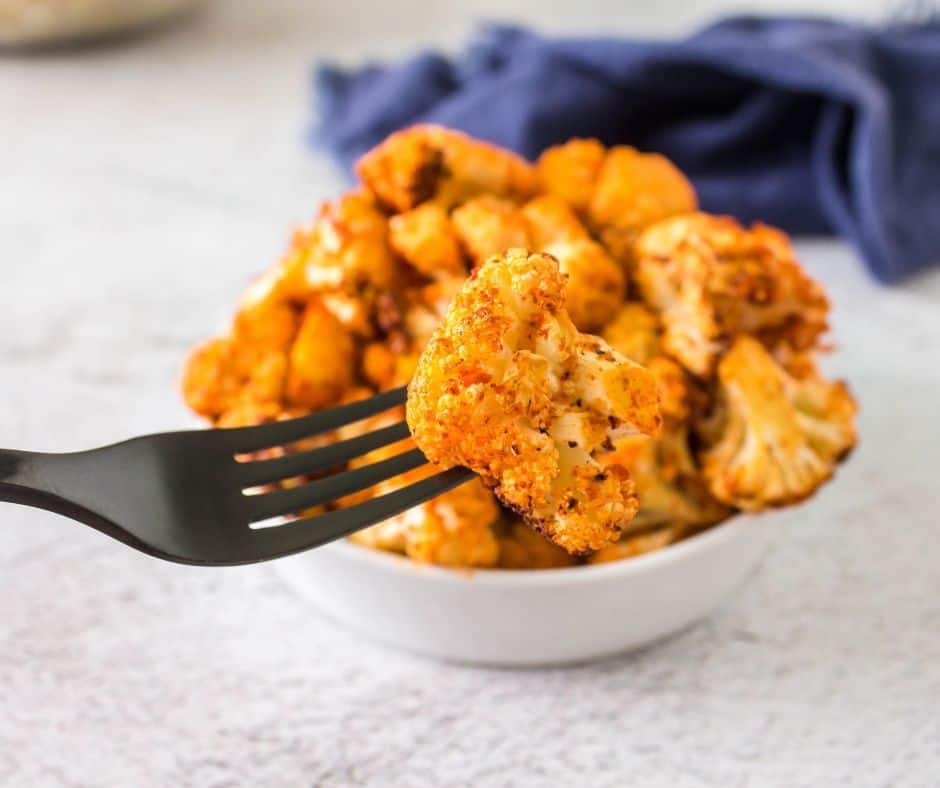 Spruce up this great side dish
This is one of the easiest recipes to add your own signature flavors to make it your own. Here are a few ideas that you could try to make roasted cauliflower unique to you and your family:
For seasoned cauliflower, a great way is to make an easy seasoning blend. I love to mix black pepper, onion powder, and garlic powder in a large bowl and mix in the fresh cauliflower before cooking. For a little bit of spiciness, try adding in red chili powder.
Don't stop at just making cauliflower. Try this recipe with other favorite vegetables like air fryer broccoli or sweet potato.
Make it cheesy! Immediately after you pull the cauliflower from your air fryer, sprinkle some fresh parmesan cheese on top. Serve once it has melted on top of the warm veggie.
If you happen to have picky eaters, I recommend that you serve it with your favorite dipping sauces to make it less threatening. This can be a ranch, barbeque sauce, or some garlic butter. If you want to go above and beyond, here are my personal go-to sauces
Storing leftover roasted cauliflower
When you aren't sure how much cauliflower to cook, you might end up with leftovers.
Here is my advice- don't throw them out. In fact, storing any extra air fryer roasted cauliflower is easier than you think. Here's what you need to do:
When you are storing, let the cauliflower cool to room temperature then store in an airtight container in the fridge. They should last for around 3 days and are the perfect quick snack.
Whenever you are ready to reheat, just add the cauliflower back into the air fryer and heat until warmed through. This only takes a minute or two!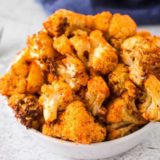 Air Fryer Roasted Cauliflower
Description
If you're looking for a delicious, healthy, and easy side dish to make this weekend, look no further than Air Fryer Roasted Cauliflower. This dish is simple to prepare and takes just minutes to cook in the air fryer. Plus, it's loaded with vitamins and antioxidants, making it a perfect addition to any meal. Give it a try!
Ingredients
1

head

cauliflower florets

3

teaspoons

garlic powder

2

tablespoons

sesame seed oil

1

teaspoon

salt

1/2

teaspoon

black pepper
Instructions
Break up the cauliflower into florets, dispose of the stems.

Add the sesame oil, garlic powder, salt, and pepper, and mix well.

Toss the coated cauliflower into the air fryer basket.

Set the time for 10 to 15 minutes at 400 degrees F.Half-way through the cooking process, shake the basket. (use air fryer setting)

Remove from the air fryer, plate, serve and enjoy!
Nutrition
Serving:
1
g
Calories:
70
kcal
Carbohydrates:
2
g
Protein:
0.4
g
Fat:
7
g
Saturated Fat:
1
g
Polyunsaturated Fat:
3
g
Monounsaturated Fat:
3
g
Sodium:
583
mg
Potassium:
31
mg
Fiber:
0.3
g
Sugar:
0.1
g
Vitamin A:
1
IU
Vitamin C:
0.1
mg
Calcium:
3
mg
Iron:
0.2
mg
Don't Forget To Pin: