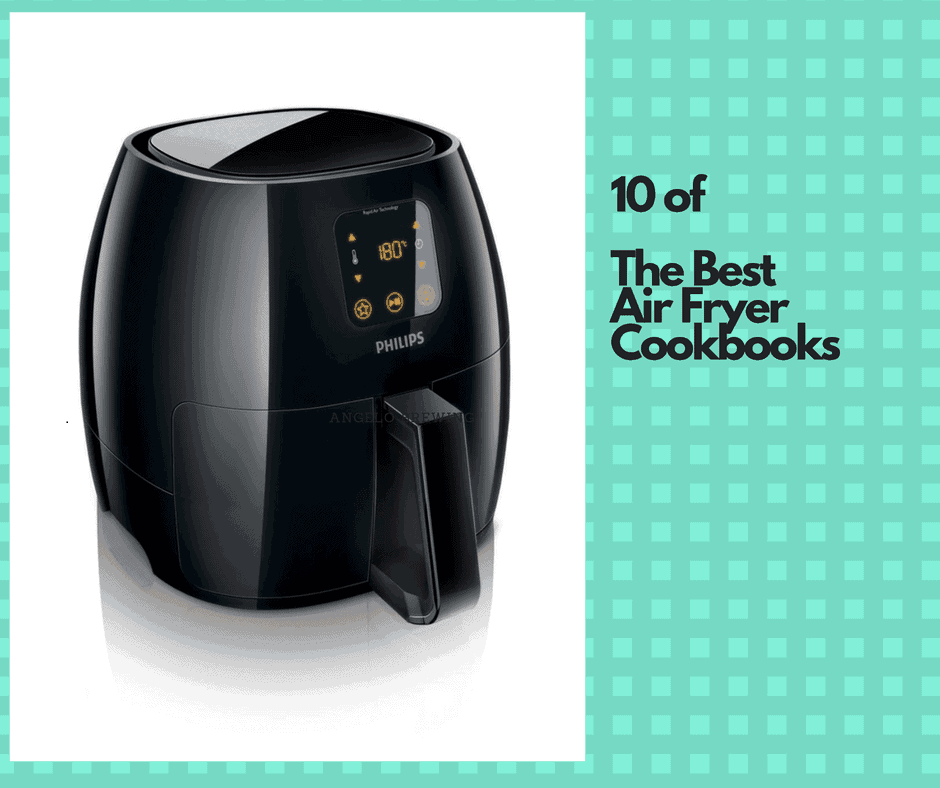 Top 10 Air Frying Cookbooks Everyone needs a great Air Fryer Cookbook. Here are some of my favorites, from the basic to the advanced.
New To Air Frying?
Wanting to know where to even start?  This is the book for you! It will help navigate the journey, provides a chapter on how to start air frying, some helpful charts and tools. And then give syou 75 recipes to get you started.
If you are looking for a basic cookbook with a real recipe for real people, look no further than, this one comes with charts, and other helpful information to get you started if you are a true beginner.
Charts for both frozen and fresh foods will be given, as well as a basic overview of how to use your air fryer! This is a great read, adn would make an excellent reference book, as you continue and start your air fryer adventures!
The owner here, owns ForkToSpoon.com which has over 2,500 recipes on Air Frying! Tried and true, from everything from Cookies, Bacon to Pies!
Check it out, and make sure you check out the website, for some great tips and tricks!
Here are my picks for the Some Other Air Fryer Cookbooks.
Air Frying is all of the rages; it's also a very simple way to eat healthily. With some of these cookbooks, you will be on your way to great awesome meals, desserts, appetizers, and more!
Put your Air Fryer to good use with some handy and delicious recipes from our very own Allison Waggoner! "In the Kitchen" Air Fryer Cookbook is choc-a-block full of healthy and yummy recipes .


The Air Fry Everything! cookbook creates fried food fast without the added fat, calories, or guilt. Created by The Blue Jean Chef, Meredith Laurence, .
The Blue Jean Chef turns her culinary genius onto the latest hot cooking appliance trend―air frying!
When you think "air fryer," you probably don't think of mixed berry muffins for breakfast, tuna zucchini melts for lunch or spicy Thai beef stir-fry for dinner. 
"Presents a collection of the chef's recipes adapted for hot air frying methods, including such dishes as Cajun chicken fries, bacon-wrapped onion rings, Asian whole roasted chicken, barbecue pork roast, crab cakes, and baked apples." This is a great southern style cookbook. 
The Only Air Fryer Cookbook You'll Ever Need Includes a PDF file with photos of all the recipes  Hot Air Frying: A Surprising Way to Cook Your Food Whether you are yet to buy an air fryer or you already own one, it is good to know its basic function and features. First and foremost, reading the manufacturer's instructions for operation and cleaning is a must. 
Frying, baking, roasting, grilling―there's nothing your air fryer can't do. Although your air fryer is healthier than a deep fryer, not all air fryer recipes are truly healthy―,, especially for your heart.
Linda Larsen grew up loving fried foods, but as an adult, she needs to eat food that is healthy and nourishing. Today, the author of the bestselling The Complete Air Fryer Cookbook uses her air fryer to cook meals that are just as delicious as her fried favorites―and good for her heart, too.
With My Philips AirFryer Cookbook, you will easily get a nutritious, flavor-packed, family and figure-friendly meal on the table any night of the week. Rebecca Dunlea shares 100 dishes that come together in a snap in your air fryer.
Do you own an exciting Air Fryer?
Do you want to be able to use it to its optimum capabilities and produce delicious and healthy food?
You can do it with the help of this amazing new book, which provides you with stunning recipes, complete with full-color photographs of each one to show you what kind of dish it is and what the completed one should look like.
Don't Forget To Pin-