This milkshake recipe made it easier to "Taste The Rainbow" With three simple ingredients, you can bring a unique, new, and refreshing twist to a beloved classic! We spent a lot of time perfecting (TASTE TESTING!) this recipe to get the ratios just right and hit a home run. Perfect for a summer day or an evening treat, a Skittles Strawberry Milkshake will not disappoint!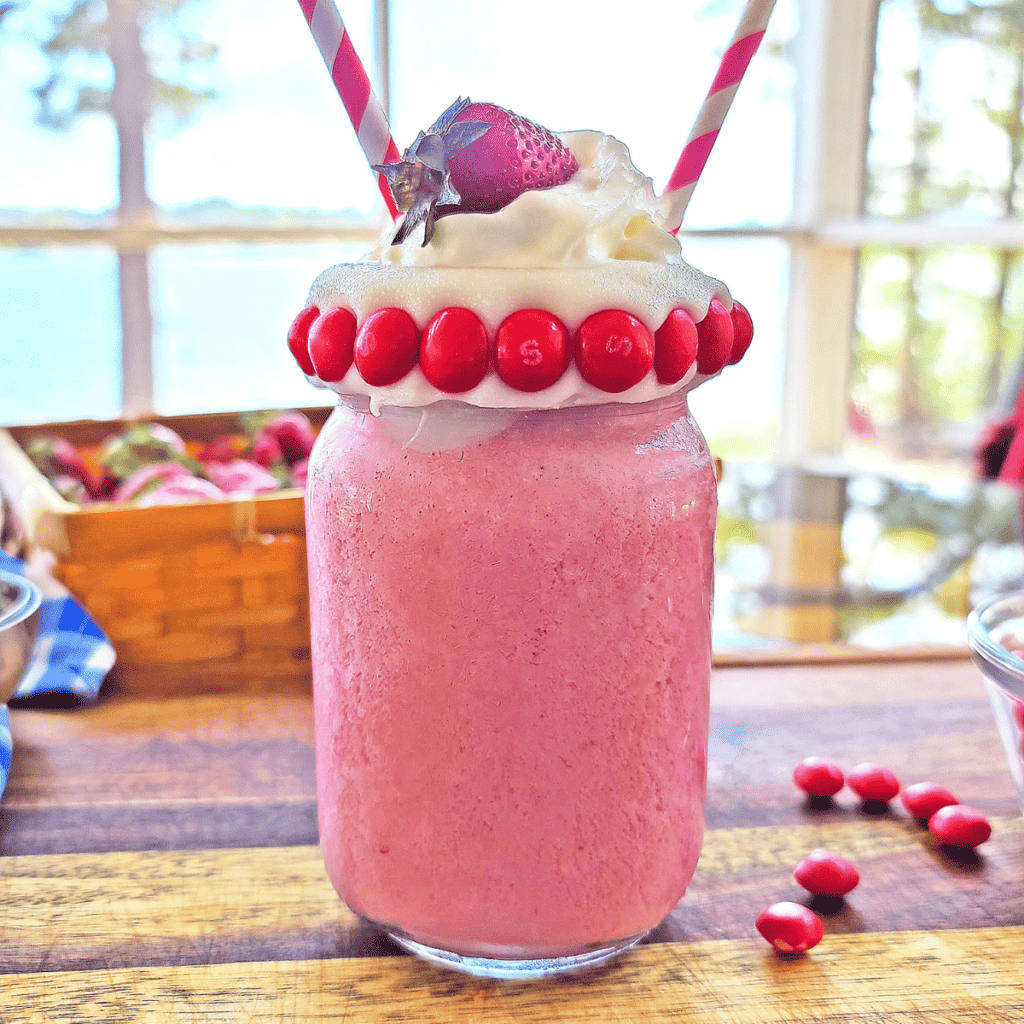 With summer fast approaching, I wanted to make this amazing and delicious milkshake, which my kids and I had a great time making, giving you my recipe for an easy and delicious Skittles Strawberry Milkshake.
If you love the strawberry season as much as I do and love Skittles, you will go ga-ga over this milkshake! Easy to make and absolutely delicious.
I love cooking with my kids, and this was a great and easy recipe. And what kid can resist a great milkshake with homemade strawberries, whipped cream, and a healthy scoop of Skittles?
If you are looking for some other great and easy homemade pantry items, some of my favorite recipes for summer are LUCKY CHARMS RAINBOW BARS, and ZAXBY'S CHICKEN FINGERS DIPPING-ZAX SAUCE.
The Best Skittles Milkshake Recipe
Indulging in a milkshake is a delightful experience, but have you ever considered taking it to the next level? Enter the world of Skittles milkshake recipe, a unique twist on the classic treat that adds a touch of warmth and extra creaminess.
With the perfect combination of rich ice cream, velvety milk, and optional toppings, Skittles milkshakes are a mouthwatering delight that will leave you craving more. Step into the realm of milkshakes and prepare to be whisked away on a deliciously unforgettable journey.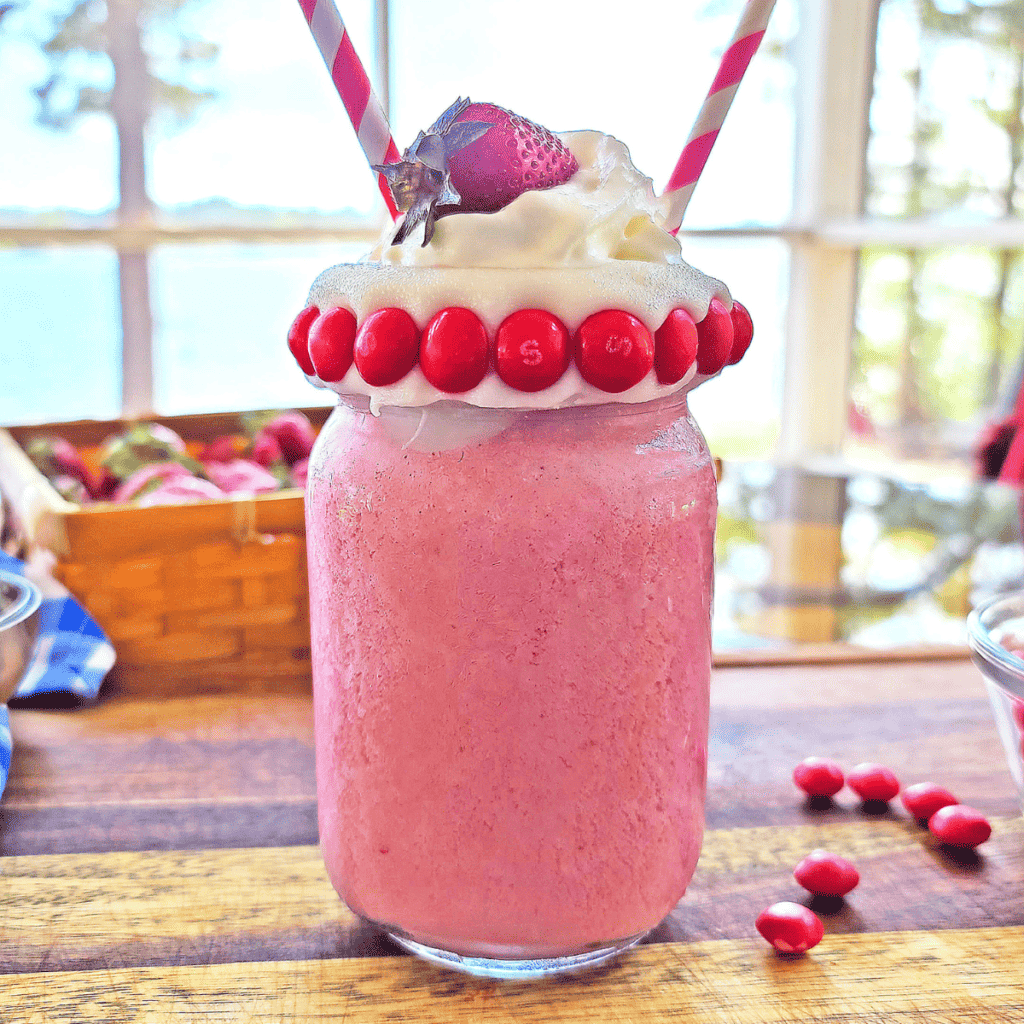 Why You Will Love This Easy Skittle Milkshake Recipe

There are several reasons why you'll fall in love with this easy skillet milkshake recipe:
Unique and fun: Skillet milkshakes bring a unique twist to the classic milkshake experience. The process of preparing and serving the milkshake in a skillet adds an element of novelty and makes it a conversation starter at parties or gatherings.
Creamy and indulgent: The combination of creamy ice cream and milk creates a luscious and velvety texture that melts in your mouth. The warmth from the skillet adds an extra dimension of richness to the milkshake, making it an indulgent treat that satisfies your sweet tooth.
Customizable flavors: This recipe allows you to use your favorite ice cream flavor and create a milkshake that suits your taste preferences. Whether you prefer classic vanilla, rich chocolate, or adventurous flavors like cookies and cream or salted caramel, the choice is yours.
Quick and easy: With just a few simple ingredients and minimal prep work, this skillet milkshake recipe is incredibly easy to make. It's a fantastic option for when you're craving a delicious treat but doesn't want to spend too much time in the kitchen.
Versatile toppings: The optional toppings allow you to customize your skillet milkshake and take it to the next level. Whether you prefer a dollop of whipped cream, a drizzle of chocolate syrup, or a sprinkle of colorful sprinkles, you can get creative and add your favorite toppings for an extra burst of flavor and visual appeal.
Cozy and comforting: Enjoying a warm skillet milkshake on a chilly day or as a cozy evening treat brings a sense of comfort and warmth. Combining the warm milkshake and the comforting flavors creates a soothing experience that can lift your spirits and make any moment extra special.
This easy skillet milkshake recipe is a delightful and satisfying treat that will captivate your taste buds and provide a unique milkshake experience. Try it for yourself and discover why it's a recipe you'll love to make again and again.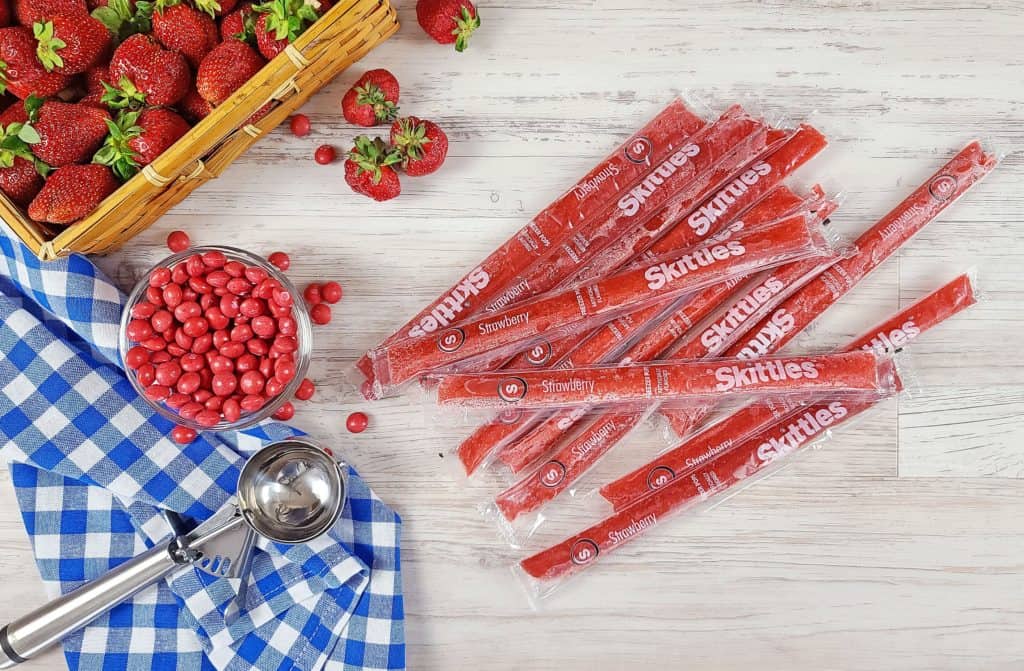 Ingredients Needed Skittles Strawberry Milkshake
Homemade Style Vanilla Ice Cream
Strawberry Skittles Freeze Pops (Frozen)
Fresh Strawberries
White Chocolate Almond Bark
Strawberry Skittles
Whipped Cream
How To Make Skittles Strawberry Milkshake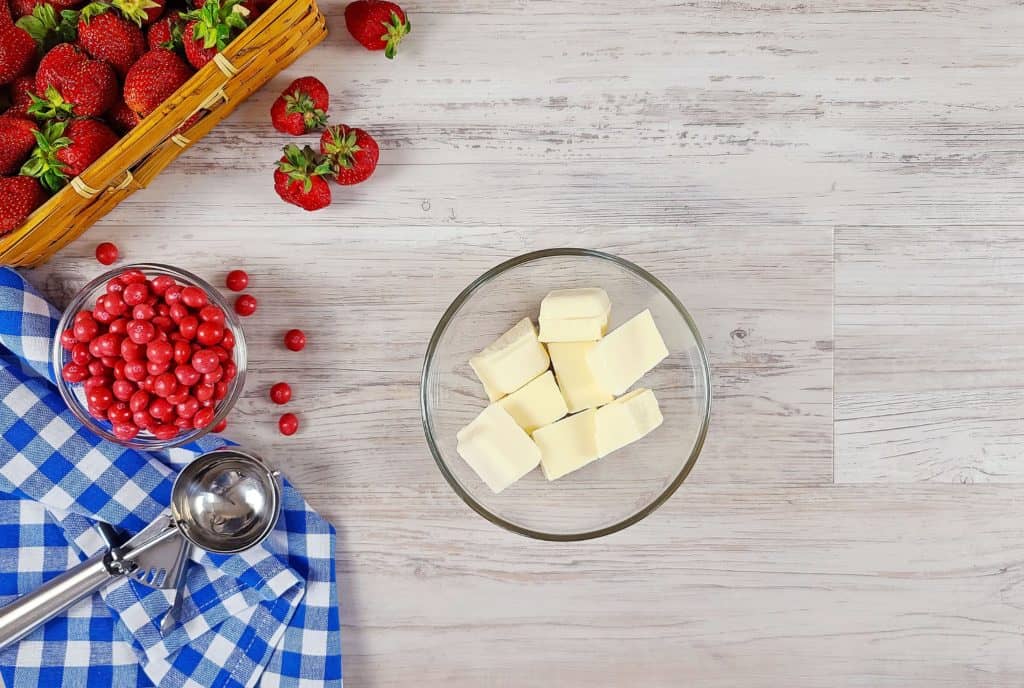 In a small to medium-sized bowl, melt 9 oz. of white chocolate almond bark in the microwave. Melt the chocolate in 15-30 second intervals, stirring in between, until the chocolate is smooth and creamy. Set the chocolate aside and let it cool. We want the chocolate to have the consistency of slightly melted peanut butter…NOT super runny. Runny chocolate will not allow us to attach the strawberry Skittles to the glass.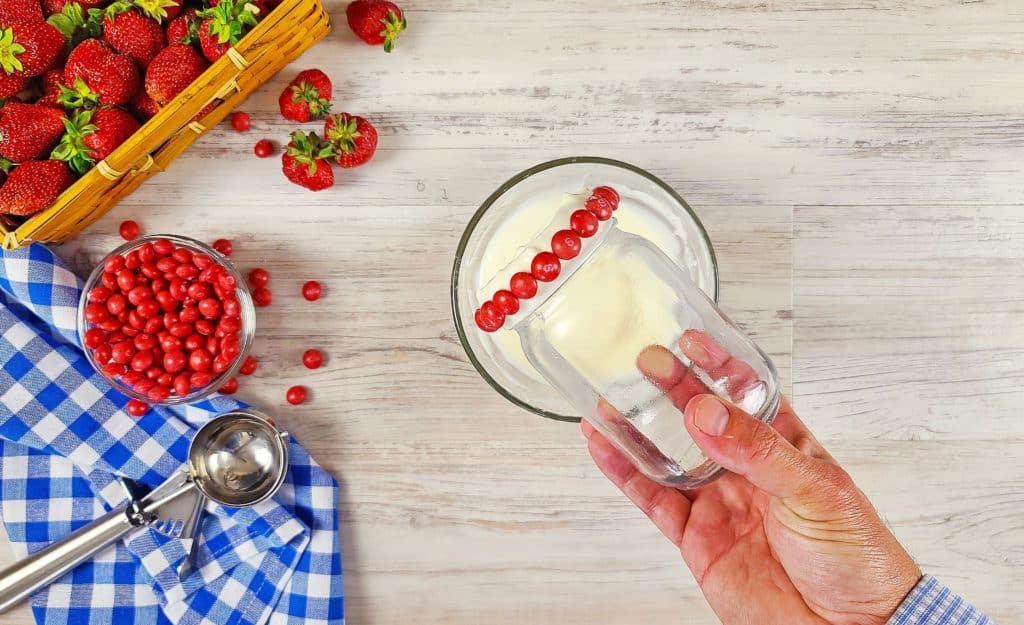 Just as soon as the chocolate has cooled enough so that it isn't running all over the place, dip the rim of your favorite milkshake glass into the chocolate. Evenly submerge the rim so that you have around ¼ to ½ in. of chocolate around the top of the glass.

Once you have coated the rim of the glass in white chocolate, gently place some strawberry Skittles side-by-side around the rim and set the glass in the refrigerator to cool and allow the chocolate to set.
Tips To Make This Perfect:
Pro Tip: As you pull the glass out of the chocolate, tilt it at a 45-degree angle and slowly rotate the glass so that the chocolate runs around the rim of the glass as it cools and does not drip down the inside or outside of the glass. If it does slightly run, simply wipe it off before it cools.
Pro Tip: Make sure that your hands are completely dry as you handle the Skittles. The red candy coating of a Skittle is VERY sensitive to moisture and will run if it gets wet. So, make sure your fingers are dry so that you don't get red dye on your fingers or the white chocolate.
Pro Tip: Do not place the glass and Skittles in the freezer to cool. The freezer will cause the glass and Skittles to frost once they are removed from the freezer, and the red candy coating of the Skittles could run.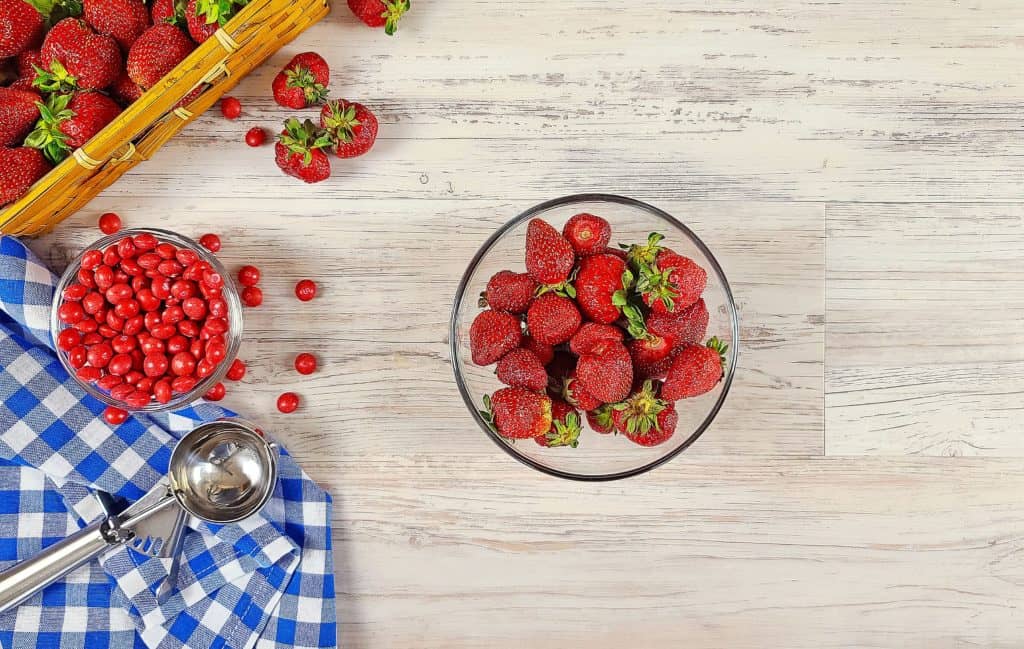 Slice and quarter 1 ½ cups of fresh strawberries and place them in a small bowl and set aside.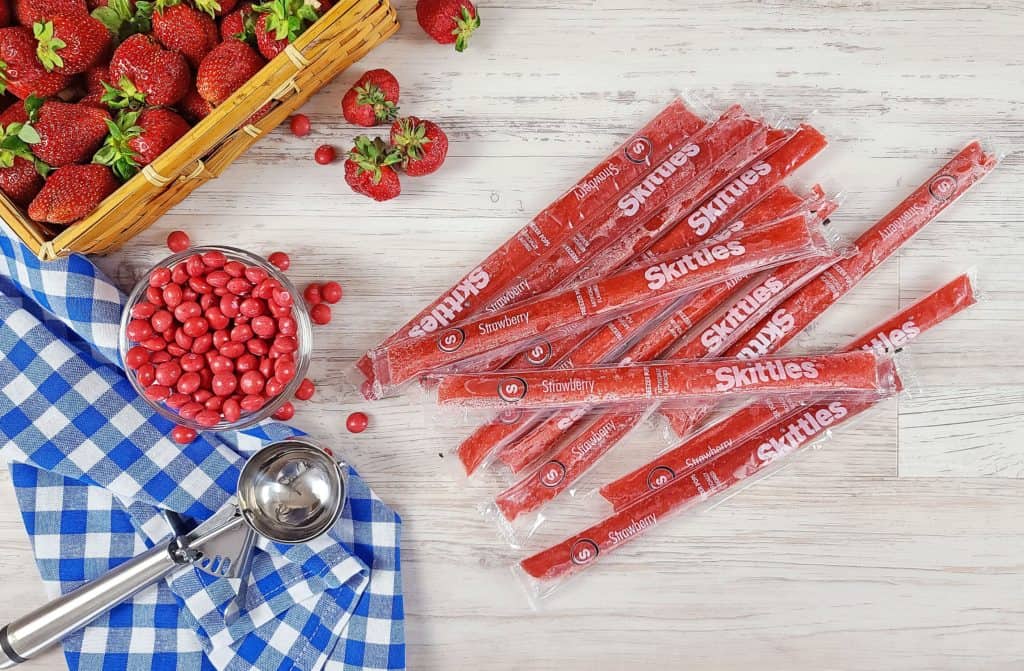 Having prepared the strawberries, remove 12 strawberry Skittles freeze pops from the freezer and gently crush them with a meat tenderizer or edge of the counter. Cut open the end of each frozen pop and push the contents into a medium-sized bowl.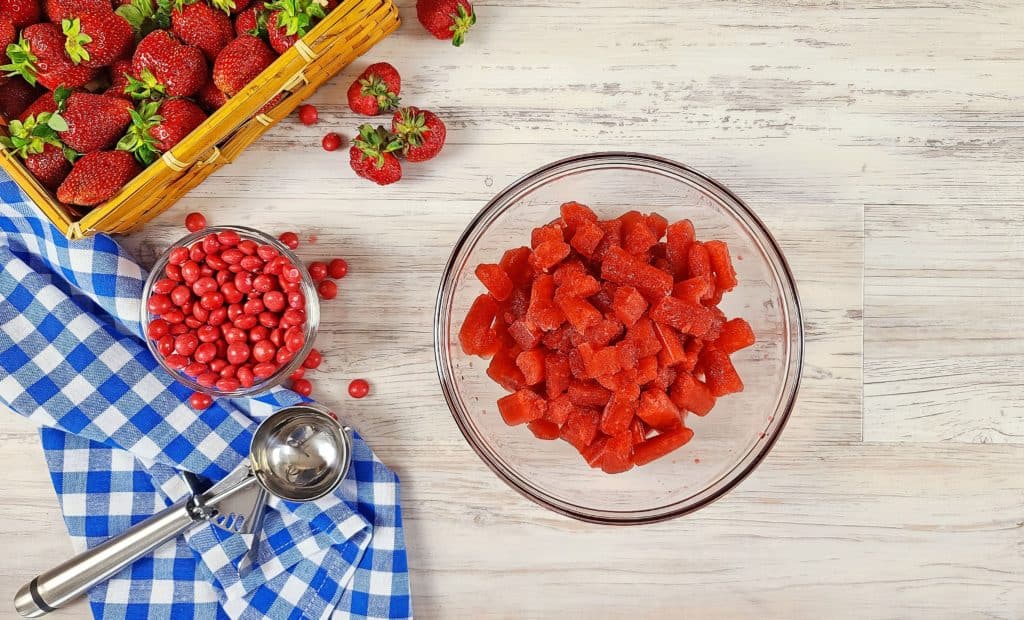 Some Tips:
Only use frozen freeze pops. Using thawed freeze pops will add too much liquid to the milkshake and will make it runny.
To separate the strawberry Skittles freeze pops from the other flavored Skittles freeze pops in the sheet, flex the freeze pop back and forth several times before attempting to pull it apart from the adjoining pops.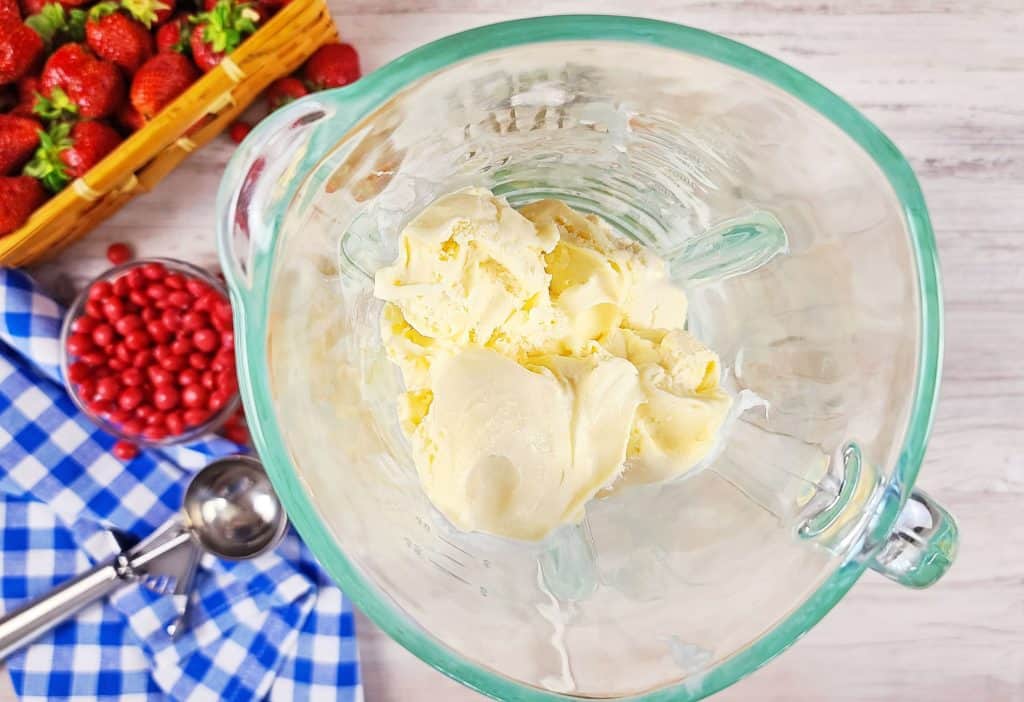 In a blender, add 2 cups of homemade-style vanilla ice cream (approximately 8 scoops) and the crushed Skittles freeze pops. Blend the ice cream and freeze pop until the milkshake is an even pink color.
Tips:
Use homemade-style vanilla ice cream. Its creamier and heavier vanilla taste will complement the strawberry Skittles freeze pops more so than regular vanilla ice cream.
DO NOT over-blend the milkshake at this point. You want the milkshake to be very thick. Adding the strawberries to the milkshake in the next step will thin out the milkshake.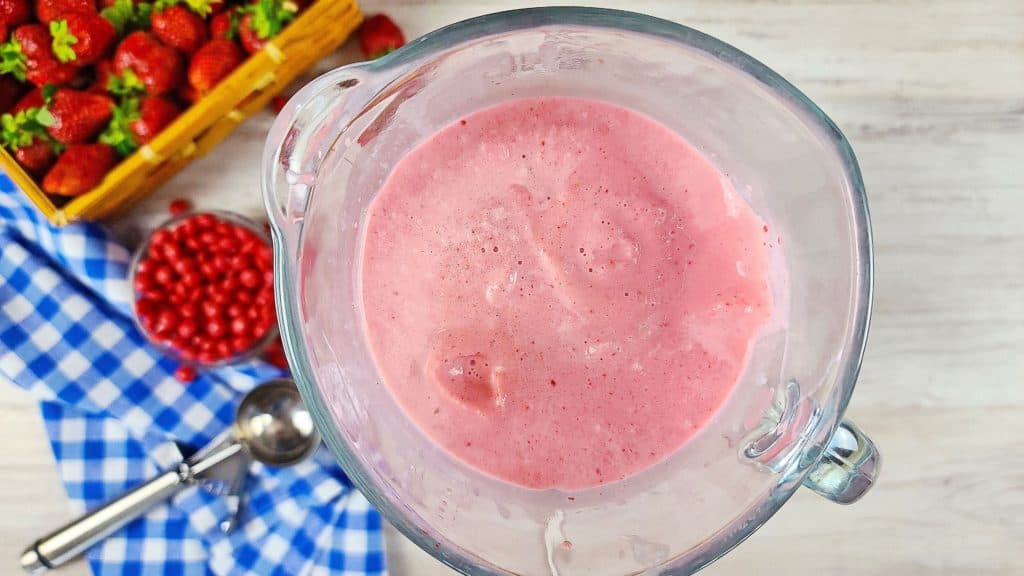 Once the milkshake is a nice, even pink color, add the cut and quartered strawberries to the blender and blend them with the milkshake. Blend the milkshake until you reach your favorite milkshake consistency!
Now that we are in the home stretch remove the chocolate and skittles topped milkshake glass from the refrigerator and pour your amazing creation into it!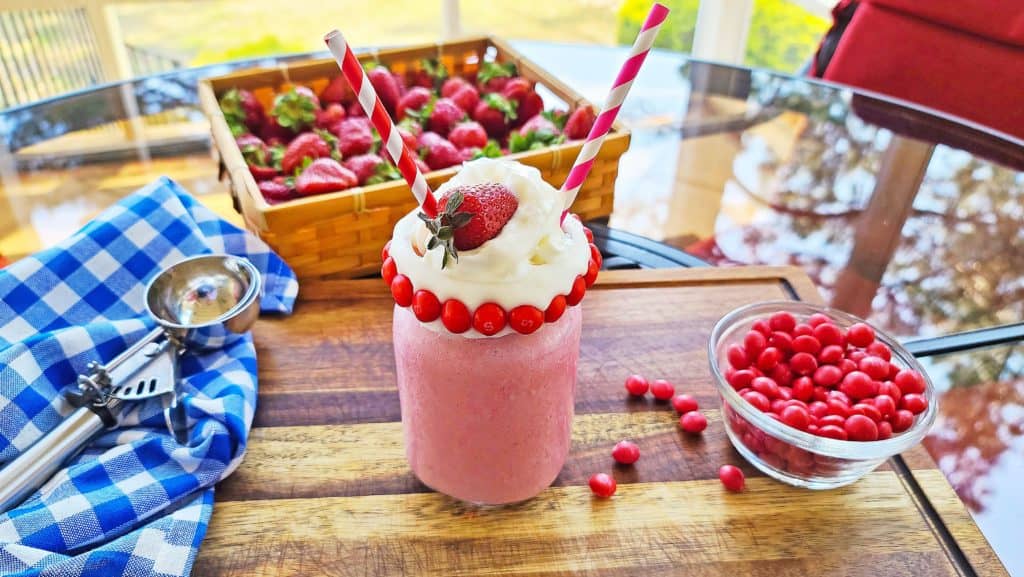 Pro Tips For The Best Skittles Milkshake Recipe
Use quality ice cream: Opt for high-quality ice cream with a rich and creamy texture. Premium brands or homemade ice cream can elevate your milkshake's flavor and overall experience.
Experiment with flavors: While classic flavors like vanilla and chocolate are always popular, don't hesitate to get creative with different ice cream flavors. Consider unique options like cookies and cream, mint chocolate chip, or salted caramel to add exciting twists to your milkshake.
Add mix-ins: If you enjoy added texture and flavor in your milkshakes, consider incorporating mix-ins such as crushed cookies, chocolate chips, or chopped nuts. Add them to the milkshake mixture, stirring gently until well combined.
Serve immediately: Milkshakes are best enjoyed right after preparation while they are creamy. Serve them in individual mugs or glasses and immediately top them with your favorite toppings for maximum enjoyment.
Get creative with toppings: Enhance your milkshake's visual appeal and flavor by adding a variety of toppings. Whipped cream, chocolate syrup, caramel drizzle, sprinkles, crushed cookies, or a cherry on top can make your milkshake even more enticing.
Share and enjoy: Milkshakes are a wonderful treat for friends and family. Serve them as a delightful dessert or a fun party drink that everyone can enjoy together.
Some Items Needed To Make This Recipe:
Don't Forget To Pin Skittles Strawberry Milkshake–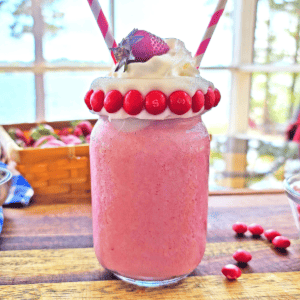 Skittles Strawberry Milkshake
Description
This milkshake recipe just made it easier to "taste the rainbow!" With just 3 simple ingredients, you can bring a unique, new and refreshing twist to a beloved classic! We spent a lot of time perfecting (TASTE TESTING!) this recipe to get the ratios just right and hit a home run. Perfect for a hot summer day or an evening treat, a strawberry Skittles milkshake will not disappoint!
Ingredients
Milkshake:
4

cups

Homemade Style Vanilla Ice Cream

12

Strawberry Skittles Freeze Pops frozen

1 1/2

cups

strawberries

,

halved and quartered
Serving:
1/4

cup

Strawberry Skittles

9

ounces

White Chocolate Almond Bark

,

melted

1

cup

Whipped Cream

1

cup

Strawberries
Instructions
In a small to medium-sized bowl, melt 9 oz. of white chocolate almond bark in the microwave. Melt the chocolate in 15-30 second intervals, stirring in between, until the chocolate is smooth and creamy. Set the chocolate aside and let it cool. We want the chocolate to have the consistency of slightly melted peanut butter…NOT super runny. Runny chocolate will not allow us to attach the strawberry Skittles to the glass.

Just as soon as the chocolate has cooled enough so that it isn't running all over the place, dip the rim of your favorite milkshake glass into the chocolate. Evenly submerge the rim so that you have around ¼ to ½ in. of chocolate around the top of the glass. Pro Tip: As you pull the glass out of the chocolate, tilt it at a 45-degree angle and slowly rotate the glass so that the chocolate runs around the rim of the glass as it cools and does not drip down the inside or outside of the glass. If it does slightly run, wipe it off before it cools.

Once you have coated the rim of the glass in white chocolate, gently place some strawberry Skittles side-by-side around the rim and set the glass in the refrigerator to cool and allow the chocolate to set. Pro Tip: Make sure that your hands are completely dry as you handle the Skittles. The red candy coating of a Skittle is VERY sensitive to moisture and will run if it gets wet. So, make sure your fingers are dry so that you don't get red dye on your fingers or the white chocolate. Pro Tip: Do not place the glass and Skittles in the freezer to cool. The freezer will cause the glass and Skittles to frost once they are removed from the freezer, and the red candy coating of the Skittles could run.

Slice and quarter 1 ½ cups of fresh strawberries and place them in a small bowl and set aside.

Having prepared the strawberries, remove 12 strawberry Skittles freeze pops from the freezer and gently crush them with a meat tenderizer or edge of the counter. Cut open the end of each frozen pop and push the contents into a medium-size bowl. Pro Tip: Only use frozen freeze pops. Using thawed freeze pops will add too much liquid to the milkshake and will make it runny. Pro Tip: To separate the strawberry Skittles freeze pops from the other flavored Skittles freeze pops in the sheet, flex the freeze pop back and forth several times before attempting to pull it apart from the adjoining pops.

In a blender, add 2 cups of homemade style vanilla ice cream (approximately 8 scoops) and the crushed Skittles freeze pops. Blend the ice cream and freeze pops until the milkshake is an even pink color. Pro Tip: Use homemade style vanilla ice cream. Its creamier and heavier vanilla taste will complement the strawberry Skittles freeze pops more than regular vanilla ice cream. Pro Tip: DO NOT over-blend the milkshake at this point. You want the milkshake to be very thick. Adding the strawberries to the milkshake in the next step will thin out the milkshake.

Once the milkshake is a nice even pink color, add the cut and quartered strawberries to the blender and blend them with the milkshake. Blend the milkshake until you reach your favorite milkshake consistency!

Now that we are in the home stretch, remove the chocolate and skittles topped milkshake glass from the refrigerator and pour your amazing creation into it!

For the PERFECT presentation, top your strawberry Skittles milkshake with fresh whipped cream, and of course…add a strawberry on top!Insert a straw and "taste the rainbow!"
Nutrition
Serving:
1
Serving
Calories:
1392
kcal
Carbohydrates:
161
g
Protein:
19
g
Fat:
77
g
Saturated Fat:
47
g
Polyunsaturated Fat:
3
g
Monounsaturated Fat:
21
g
Cholesterol:
166
mg
Sodium:
331
mg
Potassium:
1320
mg
Fiber:
7
g
Sugar:
146
g
Vitamin A:
1385
IU
Vitamin C:
150
mg
Calcium:
662
mg
Iron:
2
mg