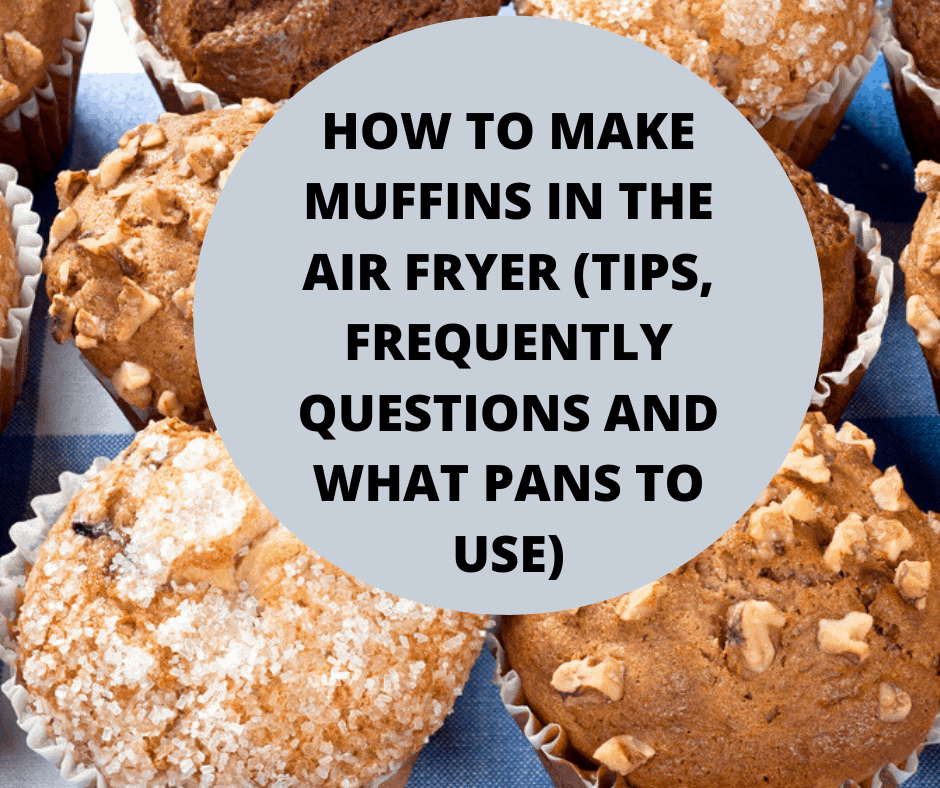 There are some common questions that come across in our air fryer group, and I wanted to take a few minutes and address them, todaý's topic, How To Make Muffins In the Air Fryer (Tips, Frequently Questions and What Pans to Use)–Making Muffins in the Air Fryer
Common Questions:
Can Silicone Molds Be Used in The Air Fryer?
Yes, anything that is ovenproof, can be used in the air fryer. It can be glass, ceramic, metal, or silicone. I have had success with silicone molds, metal disposable cupcake molds, and really good success with silicone molds.
Here are some suggestions:
Some Common Questions About Making Muffins in The Air Fryer.
Can You Bake in the Air Fryer?
Yes, absolutely. Although all of the temperatures and times will need to be adjusted. Prepare the pans, as you would normally, spray with non-stick cooking spray. You will also have to adjust the recipes so that you only fill the air fryer sized pans (Sometimes, cake mix and brownie mix, prepared will need to be split between two pans) With muffins it doesn't matter that much.
What Can I Bake In An Air Fryer?
Anything that you can bake in a regular oven. Including,
Cookies
Cakes
Pies
Brownies
Cornbread
Cupcakes
Quickbreads
Donuts
Pastry
The choices are endless
Can You Use Paper Muffin Cups in An Air Fryer?
Yes, however, be really careful. Several members of our Air Fryer Group have had experiences where the paper, got caught in the heating element and caused a fire. For this reason, I really suggest that you purchase a metal pan or use a silicone muffin pan.
How Do You Convert Baking Time To Air Fryer?
The general rule of thumb is to reduce the temperature by 25 degrees F, and the cooking time from 15% to 25%.
What Dishes Can Go Into The Air Fryer?
You can use anything that is oven safe. Anything that can go into the oven can go into the air fryer. This includes glass, metal, ceramic, or silicone. Be careful as to glass, some glass is not oven safe. Always check with the manufacturer, to see if the item is oven safe.
Can I Put Aluminium Foil in An Air Fryer?
Yes. But be careful not to restrict airflow. Never block all of the baskets, and make sure it is carefully weighted down to avoid it blowing into the heating element.