This is one of the simplest recipes ever, but the taste is fabulous. This actually is going to be a regular series on my blog, because as I recently discovered, there are so many boxed mixes that do fabulous in the Air Freyr. I didn't even know before today, that Williams Sonoma has a huge section of their website dedicated to this. They have amazing flavors such as Pineapple Brown Sugar, doesn't that sound fabulous, to strawberry. So, maybe I will try them all LOL.
I am not a great baker. I love a good baking hack because my family loves dessert, but I've never been that good with it. I prefer cooking. But, I have been really experimenting with the air fryer.
The one word of caution about baking in the air fryer is it's more complicated to bake in the air fryer because it will really depend on your air fryer. What works in one of my air fryers does not work in my other air fryer.  My little tip for this, is that I usually set it for a temperature, and then I take it out and look at it, does it need more time, how much time? If it's sort of golden brown, I usually check on it a LOT in the last 5 minutes of baking/air frying. Basically, because I don't want to eat up with burnt food. So, use your common sense while baking and don't' be afraid to experiment. Most of my greatest recipes have started out as experiments.
My mother used to make these for breakfast and early morning sports games, nowadays I make Quick Bread. Quick breads are great because they can be prepared ahead of time, and they freeze amazingly. Quick bread comes in a huge amount of variety and they are super easy to whip up and create a fast and somewhat healthy breakfast or snack. (They also make a wonderful dessert)
Check out more of my baking recipes, found here–
To be successful at making the batter for loaves of bread in the Air Fryer:
Combine all of the dry ingredients into a large mixing bowl. In most quick loaves of bread, this will include flour, baking soda, baking powder, and salt. Whisk them all together.
Whisk the wet ingredients in another bowl. This usually includes milk, oil, and eggs.
Then combine the two together and mix until all of the dry ingredients are gone, scrape the bottom of the pan. To make sure that when you fill the cake pan, you do not come across any flour, that has not to be absorbed into the wet ingredients.
Be careful not to over mix the batter, as you will increase the level of gluten and the bread will become tough.
Don't Forget to Pin:
Kitchen Items Used: (Note: Affiliate links are included in this post)
Instant Pot, Air Fryer, Vortex
J.A. Henckels 6-Inch High Carbon Stainless Steel Chef's Kitchen Knife
 Stainless Steel Measuring Cups, 5 Piece Set
Hudson Essentials Stainless Steel Measuring Cups Set-6 Piece Stackable Set with Spout
Anchor Glass Measuring Set–This is one of the handiest tools in the Kitchen 
OXO Good Grips 12 Inch Stainless-Steel Locking Tongs
Don't Forget To Pin–
Print
How to Make Banana Bread in the Instant Pot Vortex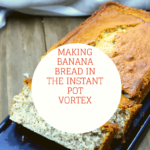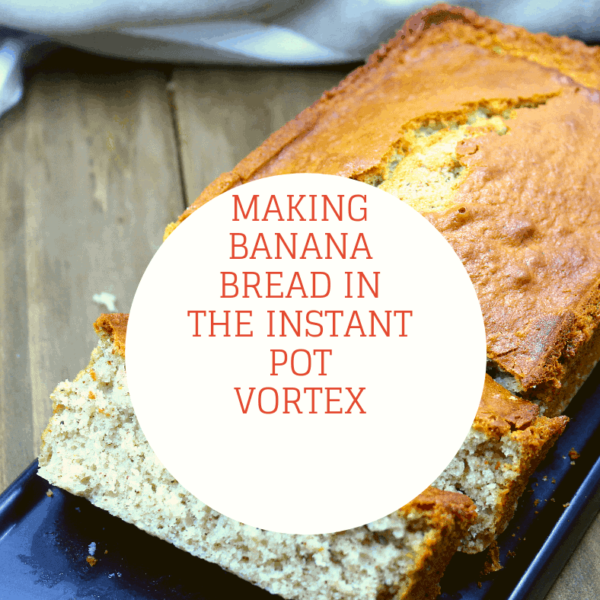 Easy Box mix, can be adapted for any Pressure Cooker, Instant Pot, Air Fryer or Convection Oven.
Instructions
This is the mix, I picked out at the store, it's one of my favorites.

Make the mix, per the instructions on the box.

Oil your air fryer safe pan, see my link in the comments for the one I used.

Pour your batter into the pan.

Plate into the Vortex. (notice no racks)

Set your temperature to 330 degrees for 25 minutes.

After 25 minutes, do the toothpick test, make sure it's cooked before you remove. If you need additional time, add it, otherwise, remove and let cool.

See the bottom, it's cooked all the way through.

Plate, serve and enjoy!