Copycat Freddy's Fry Sauce — Have you ever craved the sweet, tangy taste of Freddy's Fry Sauce but don't have a restaurant near you to satisfy your craving? No problem!
We're here with an easy recipe to make at home so that you can enjoy this salty-sweet condiment any time. This copycat recipe is simple and quick to make yet packs the same delectable flavor as the original. Whether you love dipping your frys in seasoned ketchup or want an easy way to spruce up burgers and sandwiches, this Copycat Freddy's Fry Sauce will hit the spot!
What Is Freddy's Fry Sauce
Freddy's Fry Sauce is a popular condiment and dipping sauce that is commonly associated with Freddy's Frozen Custard & Steakburgers, a fast-food restaurant chain in the United States. The sauce is often served alongside their fries and other menu items.
Freddy's Fry Sauce is a unique blend of mayonnaise and ketchup with additional seasonings and flavorings. The exact recipe for the sauce is a closely guarded secret, so below, we give you our version based on the information, I have found.
What Does Freddy's Fry Sauce Taste Like?
The resulting sauce has a tangy and slightly sweet flavor with a creamy texture. It is often described as combining Thousand Island dressing and traditional fry sauce. Freddy's Fry Sauce has gained a dedicated following among restaurant chain customers, and many people enjoy its distinctive taste with fries, burgers, and other fried foods.
Ingredients Needed For Copycat Freddy's Fry Sauce Recipe
Ah, Freddy's Fry Sauce. Those two little words can make any fan of the restaurant chain instantly start craving the signature flavor that has made it so beloved! If you're one of those fans who can't get enough, then here's some welcome news: With just a few ingredients, some simple steps, and a bit of patience, you can easily recreate your very own copycat version of this creamy, tangy condiment right at home! Read on to learn more about the exact ingredients needed for Freddy's Fry Sauce recipe.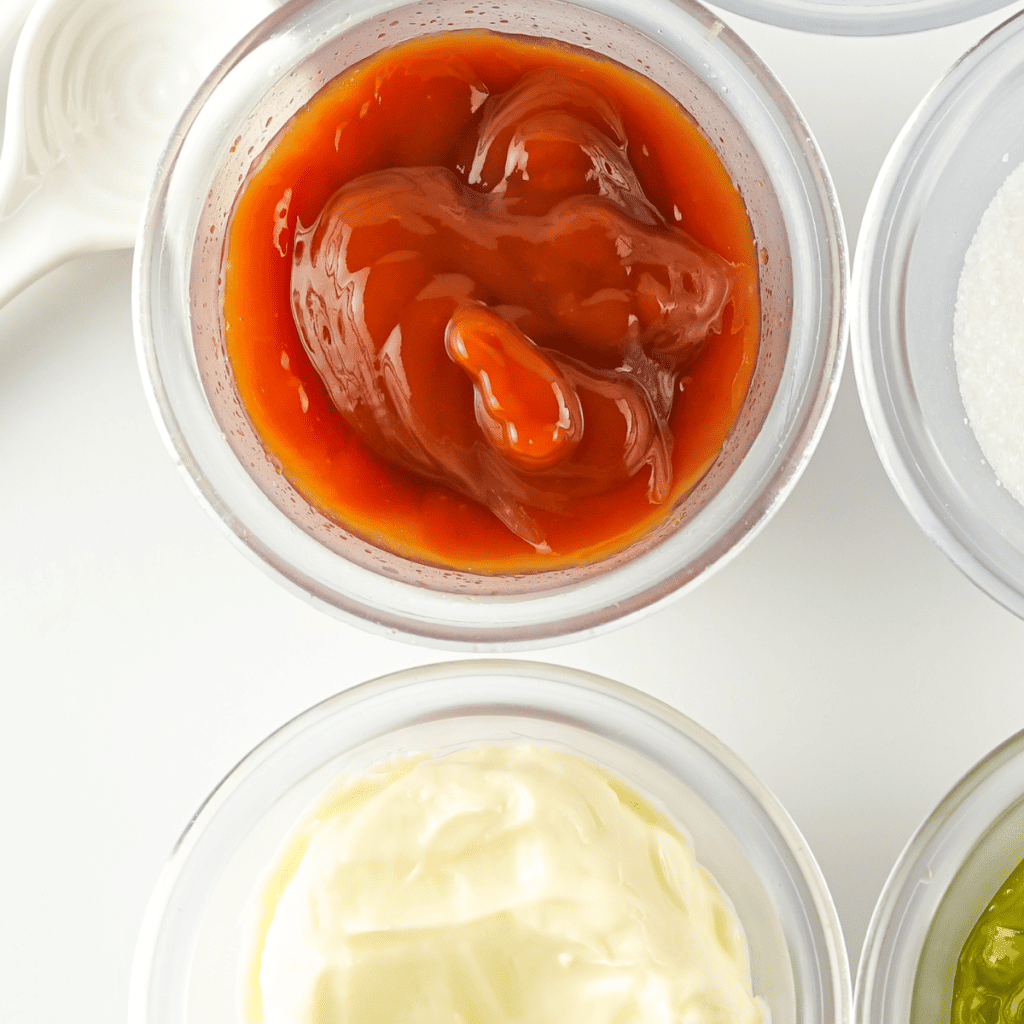 Remember the step-by-step directions and detailed ingredients list is below in the printable recipe card at the bottom of the page, as well as the nutritional information.
Mayonnaise: Most commonly used is Duke's Mayo.
Ketchup: Use regular ketchup, homemade or store-bought
Pickle Juice: Buy pickle juice on Amazon or at Wal-Mart.
How To Make Freddys Fry Sauce
If you've ever been to a restaurant with Freddy's Fry Sauce on the menu, you know it's one of those deliciously indulgent items you can't resist. Whether drizzled over your french fries or as a dipping sauce for chicken tenders, this tangy condiment will surely bring joy to any meal.
But why wait until your next meal when you can make Freddy's fry sauce right in your kitchen? With just a few simple ingredients and easy-to-follow instructions, this delicious creation is yours to take! So turn up the heat and get ready – it's time to learn how to make Freddy's fry sauce at home!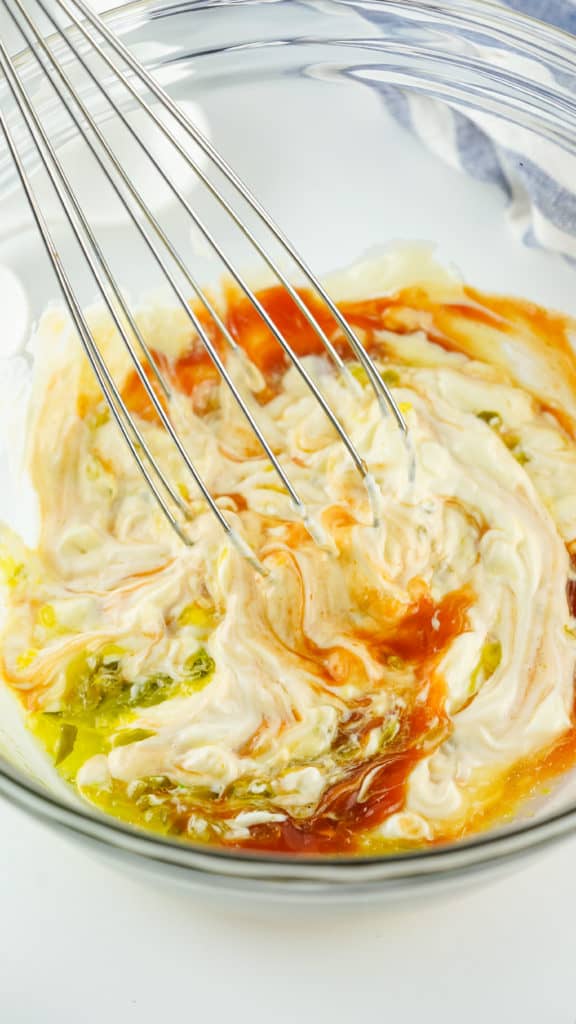 Step One: Mix Ingredients
In a large mixing bowl, add all ingredients together, whisk, and mix until smooth.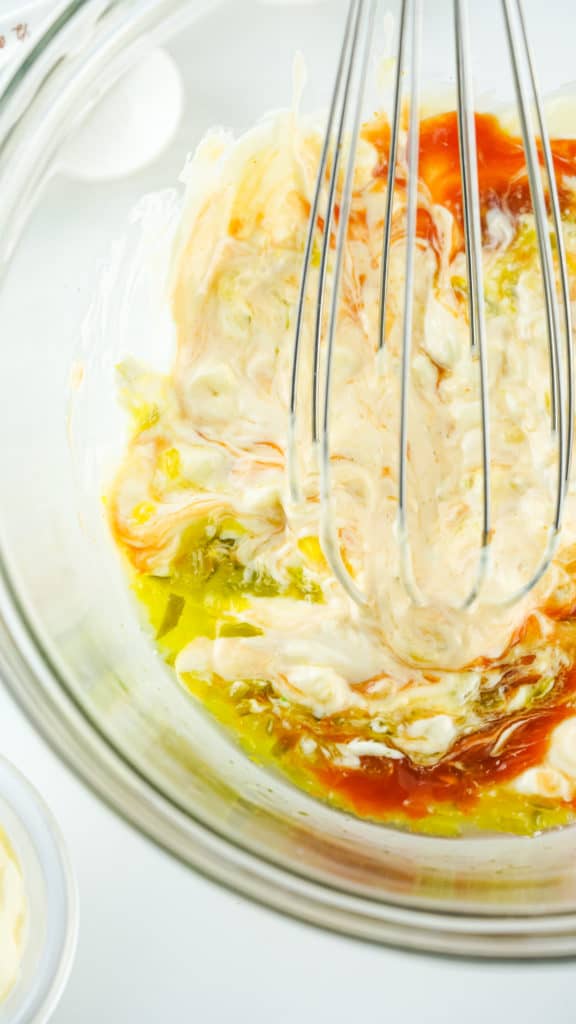 Step Two: Refrigerate
Cover and refrigerator for at least 30 minutes before serving.
Step Three: Serving
Serve with your favorite French Fries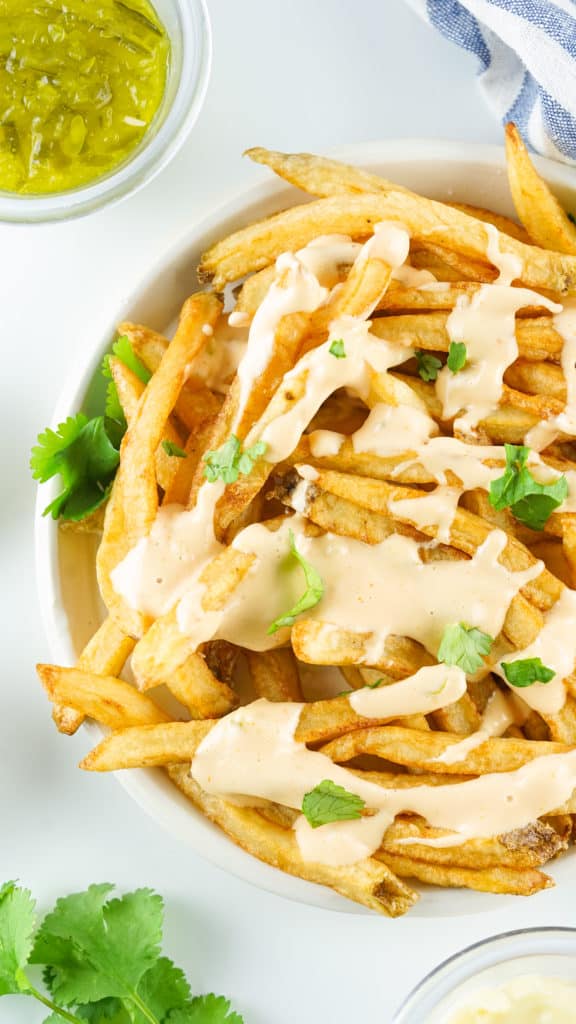 Pro Tips For Copycat Freddy's Fry Sauce
If you're looking to recreate a copycat version of Freddy's Fry Sauce at home, here are some pro tips that might help you achieve a similar flavor:
Essential Ingredients: Start with a base of mayonnaise and ketchup. The ratio of these two ingredients can vary depending on your taste preferences. A typical starting point is equal parts mayonnaise and ketchup.
Tangy Element: Add a tangy component to the sauce. Worcestershire sauce is often considered a critical ingredient in Freddy's Fry Sauce. You can add a teaspoon or two and adjust to your liking. Some vinegar, such as apple cider or white vinegar, can add an extra tangy kick.
Flavor Enhancers: Enhance the sauce's flavor with additional seasonings and spices. Garlic powder, onion powder, paprika, and black pepper are commonly mentioned as potential ingredients. Experiment with small amounts of these spices until you achieve the desired taste. Remember, a little can go a long way, so start with small quantities and adjust gradually.
Sweetness: Freddy's Fry Sauce has a subtle sweetness to it. You can add a touch of sweetness by incorporating a small amount of sugar or honey into the sauce. Start with a teaspoon and adjust according to your preference.
Texture Adjustments: If you prefer a thinner consistency, add a milk or water splash to the sauce. On the other hand, if you want a thicker sauce, reduce the amount of liquid ingredients or increase the amount of mayonnaise.
Mix and Let It Sit: Once you've combined all the ingredients, mix them thoroughly to ensure a consistent sauce. Afterward, refrigerate the sauce for at least an hour to allow the flavors to meld together. This resting period can enhance the overall taste of the fry sauce.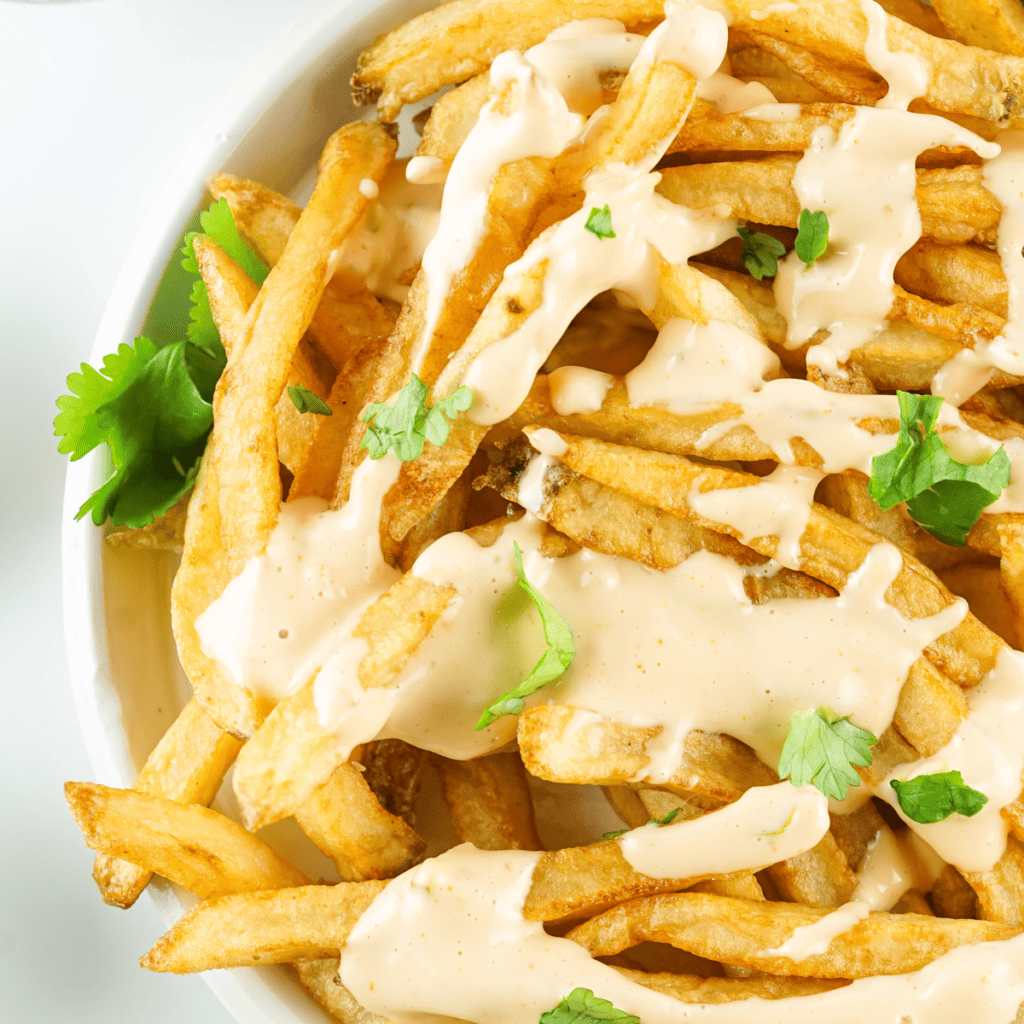 Frequently Asked Questions
What is fry sauce?
Fry sauce is a popular condiment and dipping sauce commonly served with french fries. It combines various ingredients, typically including mayonnaise and ketchup, along with other flavorings and seasonings.
Where did fry sauce originate?
The exact origin of fry sauce is unclear and varies depending on the region. It has been associated with different places, including Utah, Idaho, and certain parts of the Midwest United States. Different variations of fry sauce can be found in different cultures worldwide.
Is fry sauce the same as Thousand Island dressing?
While fry sauce and Thousand Island dressing share some similarities, they differ. Fry sauce typically has a more straightforward ingredient list and a tangier flavor profile. Thousand Island dressing usually contains additional ingredients like pickles, onions, and sweet relish.
Can I buy fry sauce at the store?
Many stores, especially in regions where fry sauce is popular, sell pre-made fry sauce. Some national brands also produce their own versions of fry sauce that can be found in supermarkets or online. Additionally, some restaurants and fast-food chains may sell their signature fry sauce for customers to purchase.
Can I customize the fry sauce to my taste?
Absolutely! Fry sauce recipes can be customized based on personal preferences. You can adjust the ratios of mayonnaise and ketchup, experiment with different seasonings, or add ingredients like hot sauce, Worcestershire sauce, or spices to create your unique variation.
What are some other uses for fry sauce?
While fry sauce is most commonly associated with fries, it can be used as a versatile condiment for various foods. It can be a tasty dip for onion rings, chicken nuggets, or fried pickles. It can also be used as a burger sauce or spread on sandwiches for added flavor.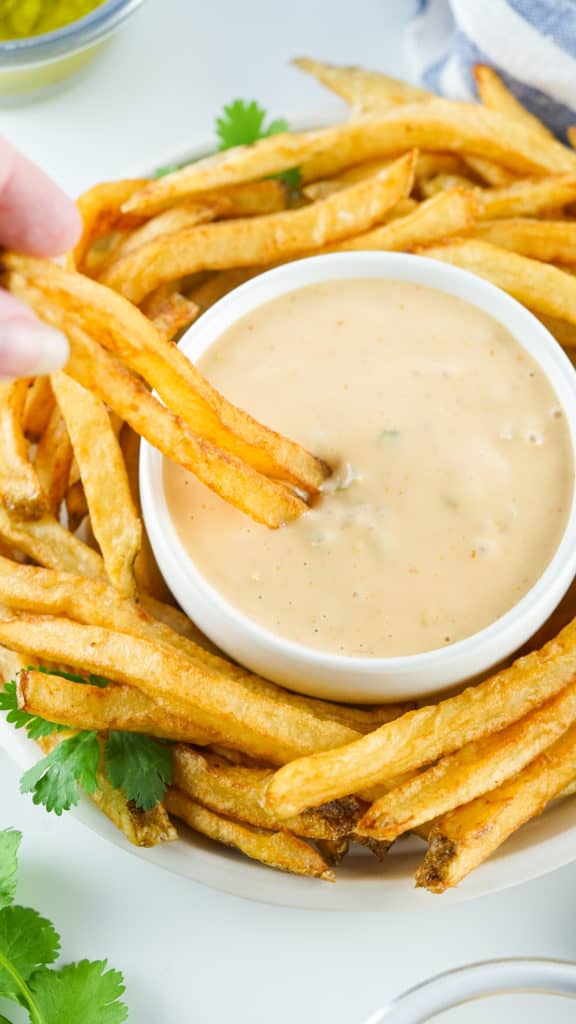 More Homemade Pantry Items
CORN AND BLACK BEAN SALSA: Mmm, salsa. This delicious, crowd-pleasing condiment is perfect for any party or get-together. It's easy to make and can be tailored to fit any palate. Today, we will show you how to make simple corn and black bean salsa. So grab your cutting board and knife, and let's get started!
FRESH MANGO SALSA: Mango salsa is one of those dishes that can be made a million different ways but is always delicious. It's the perfect appetizer for any party and can also be eaten as a main course with some chips and a side salad. Plus, it's really easy to make, so there's no excuse not to try it!
MANGO HABANERO SALSA: Mango habanero salsa is a delicious, spicy condiment that is perfect for adding flavor to your favorite dishes. This salsa is easy to make and can be customized to your liking. It's the perfect way to spice up any meal!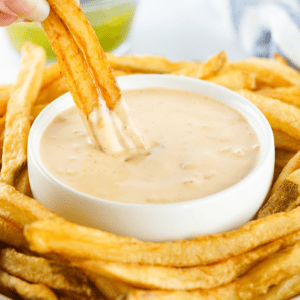 Copycat Freddy's Fry Sauce
Description
Copycat Freddy's Fry Sauce — Have you ever craved the sweet, tangy taste of Freddy's Fry Sauce but don't have a restaurant near you to satisfy your craving? No problem!
Ingredients
1/2

cup

mayo

3

tablespoons

ketchup

1

teaspoon

pickle juice

1

teaspoon

Lawry's seasoning Salt
Instructions
Add all ingredients together in a large mixing bowl, whisk, and mix until smooth.

Cover and refrigerator for at least 30 minutes before serving.

Serve with your favorite French Fries
Nutrition
Serving:
1
Serving
Calories:
101
kcal
Carbohydrates:
2
g
Protein:
0.2
g
Fat:
10
g
Saturated Fat:
2
g
Polyunsaturated Fat:
6
g
Monounsaturated Fat:
2
g
Trans Fat:
0.03
g
Cholesterol:
6
mg
Sodium:
440
mg
Potassium:
19
mg
Fiber:
0.02
g
Sugar:
1
g
Vitamin A:
38
IU
Vitamin C:
0.2
mg
Calcium:
2
mg
Iron:
0.1
mg