The best way to make homemade french fries without deep frying is to use your air fryer. Want to make it taste better? Try these air fryer spam french fries.
Traditional crispy fries require you to cut potatoes as an easy side dish. Recently, I learned of a new way to make crispy french fries with spam, instead of potato starch and I have to tell you, it is one of my favorite air fryer recipes now!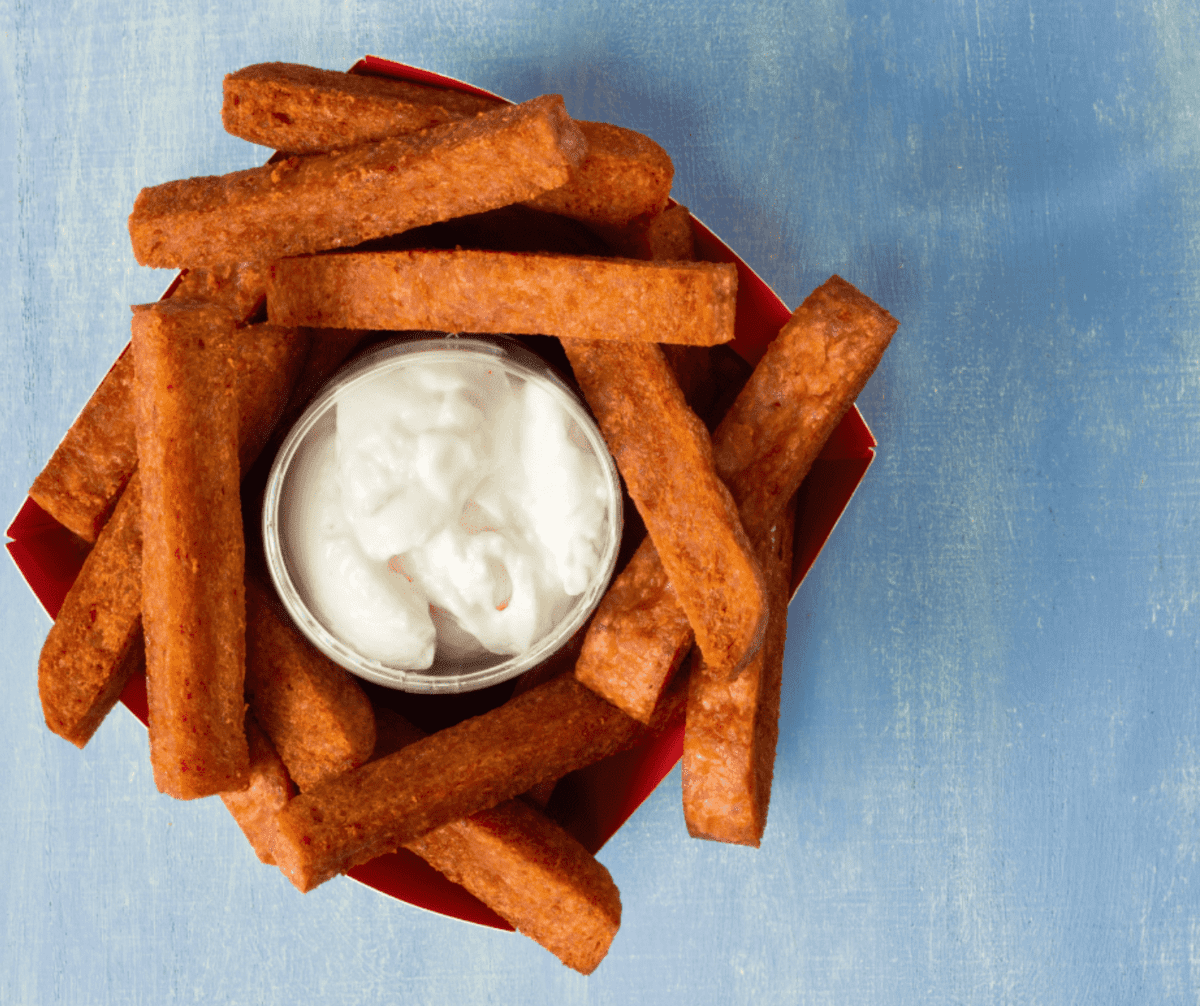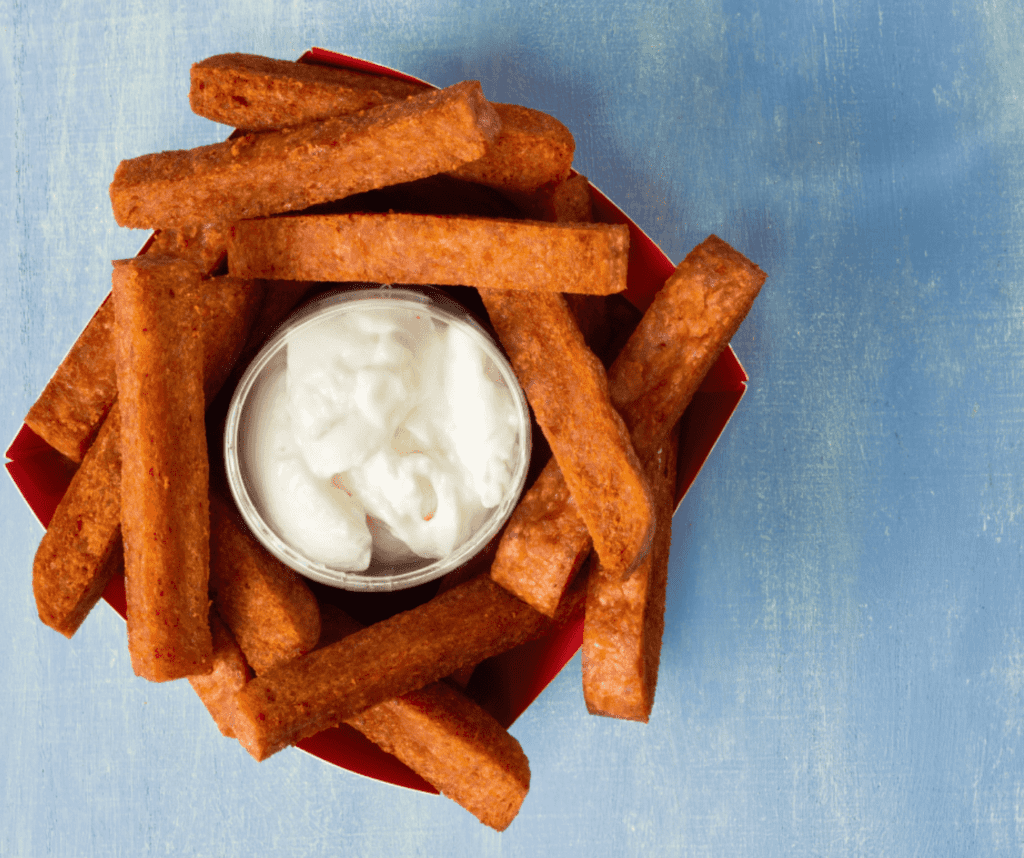 What is spam?
The first time I made this was for an online community all about air frying when a question was raised about how to use leftover spam. When I learned that you can take air fryer spam and turn it into one of my favorite foods, I knew I had to try it!
A can of spam is one of the world's most popular meat products that can be picked up at your local grocery store. In many cultures, spam is used as luncheon meat or as pork chops.
It is a can of meat that is shape and texture are the perfect combinations to mold and coat into fries. 
Why use an air fryer?
I have done the research- the air fryer makes a crispy, savory fry that everyone loves!
Using an air fryer is one of the best choices, in my opinion! When you are making a quick snack like these air fryer spam french fries, why not use a kitchen appliance that is quick, easy, and makes a healthier alternative?
When french fries are made, they require a ton of oil and can make a real mess- not to mention the nutritional information that comes with that. When you are using ½ gallon of vegetable l to fry food, the calorie content is going to jump.
Best dipping sauce
What is a good french fry recipe without some delicious dipping sauce? Crispy spam fries taste amazing on their own or with a sauce like:
Because this recipe is made with meat that is already flavored, it should be said that dips aren't entirely necessary to serve. Still, I think that it's always nice to have a cup of dip on the side to take this snack up a notch. 
How to cook spam fries
Cooking spam fries are an easy snack that will help the entire family stay full for longer. 
Step One: Remove meat from the can and slice it into long rectangles to resemble french fry shapes. Remember, a small amount goes a long way, and freeze for a couple of minutes, until they are just solid
Step Two: Dip the frozen spam fries into the egg then the breadcrumbs coat the air fryer basket with olive oil spray (vegetable oil spray works as well) Cook for 5-8 minutes at 350 degrees F
Tips for the best spam fries
There are a few ways to make these fries a guaranteed hit every single time you make them. Here are a few tips and tricks that I have picked up along the way to make the best spam fries:
Make sure you can watch your snack the entire time that it is in the air fryer since the cooking time can vary based on how large your spam fries are cut (the thinner your fries are, the less time to cook).
When you are prepping your fries, make sure to arrange your coating station wisely. I would definitely encourage you to set your dipping bowls on top of a few paper towels to make cleaning easier.
I think you can experiment with your fry flavoring by adding additional seasonings like simple salt and black pepper to the breadcrumbs to add more flavor.
The best choice for this easy recipe is to serve it as soon as it is out of the air fryer. They are warm, crispy, and just taste better!
Like most air fryer recipes, place your air fryer fries in a single layer to make the most delicious french fries that won't stick together. 
For seasons when my family is more active- like my kids are in sports- this recipe is a great one to keep in my back pocket. The higher protein count will help with muscle recovery so they aren't too sore for school.
How do you store air fryer spam french fries?
This recipe is perfect to make in batches of 2 or 3 for a quick and hearty snack.
Once the fries are made according to the recipe card below, lay the fries out on parchment paper on top of a cookie sheet. Make sure they are not touching.
Place the cookie sheet in the freezer for 4 hours (or until the fries are completely frozen) and store it in an airtight container. They should last for up to 3 months. 
To reheat, place the frozen fries in the air fryer at 350 degrees F for 3-5 minutes.
Air Fryer Spam French Fries
Air Fryer Spam French Fries –Have you ever had spam french fries? If not, you're in for a real treat! This easy recipe only takes about 30 minutes to make, and it's a great way to use up any leftover spam. Plus, the air fryer gives these fries a delicious crispy coating. So if you're looking for a quick and easy weeknight meal, be sure to try out this recipe!
Course:
Appetizer, Appetizers, Side Dish, Snacks
Keyword:
Air Fryer Easy Side Dish, Air Fryer Spam French Fries, cooking spam in an air fryer how long do you cook spam in an air fryer spam fritters air fryer spam recipes spam chips preheat air fryer how to use an air fryer best oil for air frying
Ingredients
1

package

Spam

1

large

egg

1/2

cup

breadcrumbs
Instructions
Start by cutting up the Spam into French Fry shapes.

Set them in the freezer for 10 minutes.

Then dip them in the beaten egg, and breadcrumbs, then place them in your air fryer basket. Spray them with cooking spray.

Set the time for 5 minutes at 350 degrees. Flip them and air fry for another 4-5 minutes.
Nutrition Facts
Air Fryer Spam French Fries
Amount Per Serving (1 g)
Calories 72
Calories from Fat 18
% Daily Value*
Fat 2g3%
Cholesterol 47mg16%
Sodium 120mg5%
Potassium 45mg1%
Carbohydrates 10g3%
Protein 3g6%
Vitamin A 68IU1%
Calcium 32mg3%
Iron 1mg6%
* Percent Daily Values are based on a 2000 calorie diet.