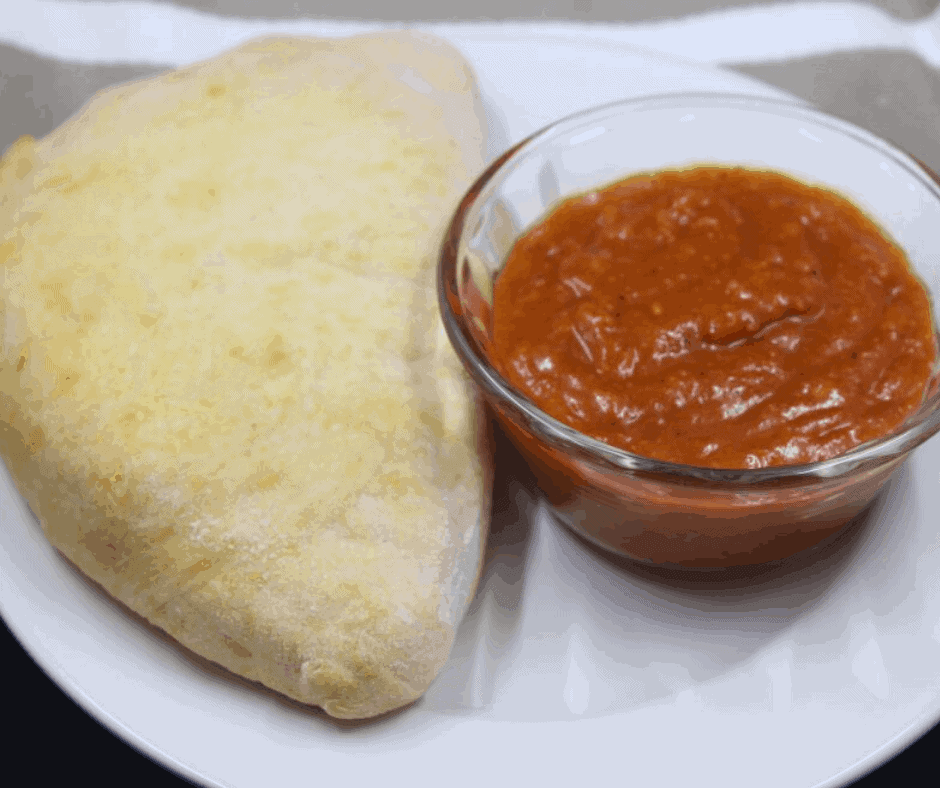 Pepperoni Calzone at home that is filled with cheese, sauce, and pepperoni. This air fryer pepperoni calzone curbs those pizza cravings. Skip the frozen pizza, and make a calzone that will win over the kids and adults.
If you are looking for more family-friendly meals, check these out. Chicken patty sandwiches, steak bites, or even whip up these taco cups for a Taco Tuesday dinner.
I had a wonderful childhood; I grew up in the North End of Boston, which, if you have never been to the North End, is lined up with Italian restaurants, which serve both traditional Italian food and pizza. We always grabbed a pizza on Friday nights, on the way to friends, movies, or just handing out.
Pizza night was and is always on Friday nights at our house. It provides a fast and easy clean-up meal, which makes a perfect meal for them on-the-go. It's one of the easiest and versatile meals for parties and
crowds.
What Is Calzone?
Pretty easy to explain; they are basically folded up pizzas that are folded in half. They come in so many ways to fill them, just like pizzas!
So, grab your favorite pizza toppings and fill them. Typically calzones have either been baked, but with the air fryer, which does a great job of crisping them up!
Air Fryer Pepperoni Calzone
Now that I own an air fryer, I can make a homemade pizza in less than 10 minutes. One of the main issues with making pizza in an air fryer is how do you stop the toppings from just flying around in the air fryer? After experimenting for a while, I found an easy solution for everyone, if you put the toppings underneath the cheese, they fly around less, or use a trivet, which will keep all the toppings in place.
This would make an excellent idea for a pizza party. Since you are making individual pizzas, what would be better than inviting your friends over and having them create and cook their own creations in the air fryer?
My kids love pizza, and they have always loved pizza, ever since they were toddlers. Pizza is the ultimate fast food in America, and if you are armed with an air fryer.
How To Make Air Fryer Calzone
Ingredients
Pizza Sauce
Mozzarella Shredded Cheese
Pepperoni Slices
How To Prepare Air Fryer Calzone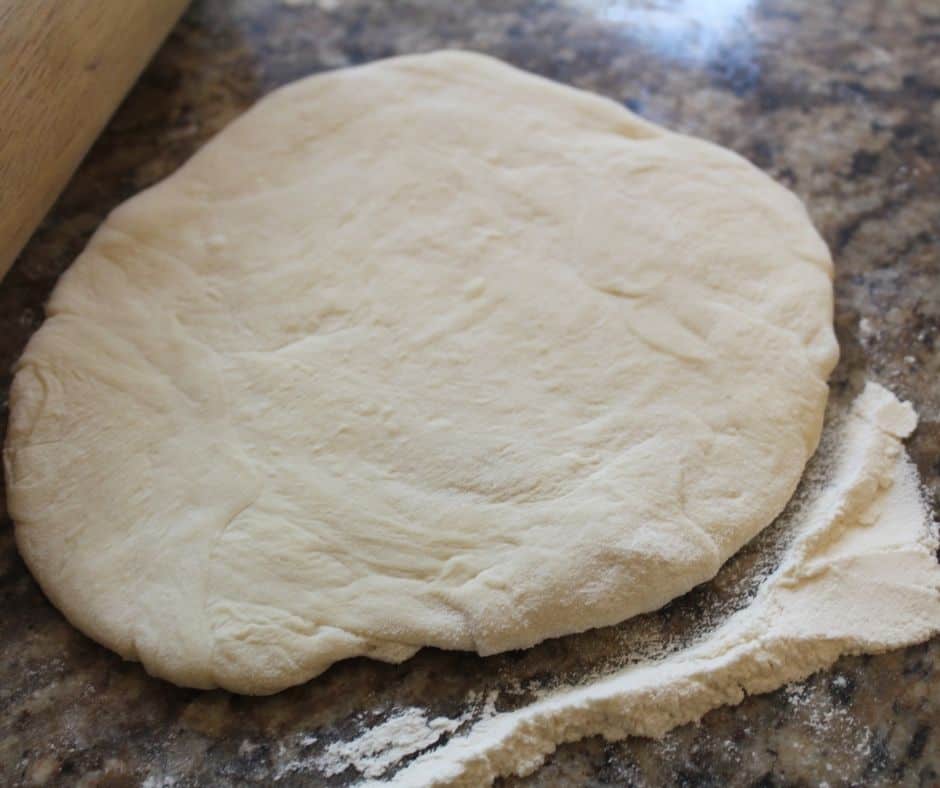 Start by rolling out your dough on a floured surface. Cut the dough to have enough dough to wrap the filling, or use a biscuit cutter to make mini calzones.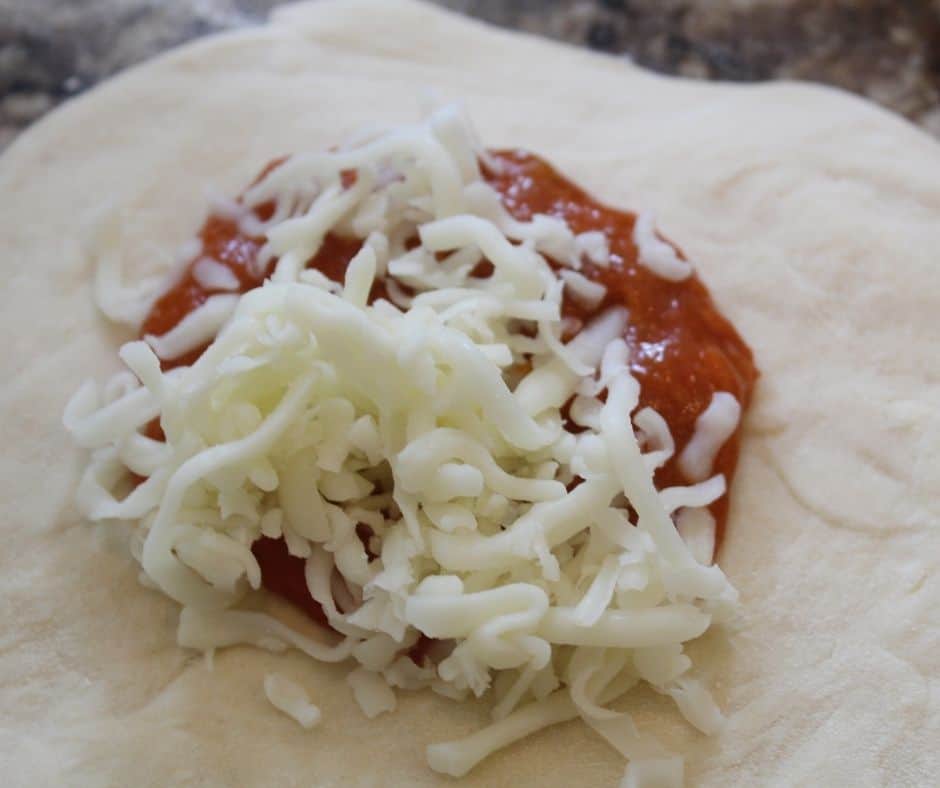 Add pizza sauce (it will depend on how big the calzones are). Sprinkle on the cheese (again, it will depend on how big the calzone is)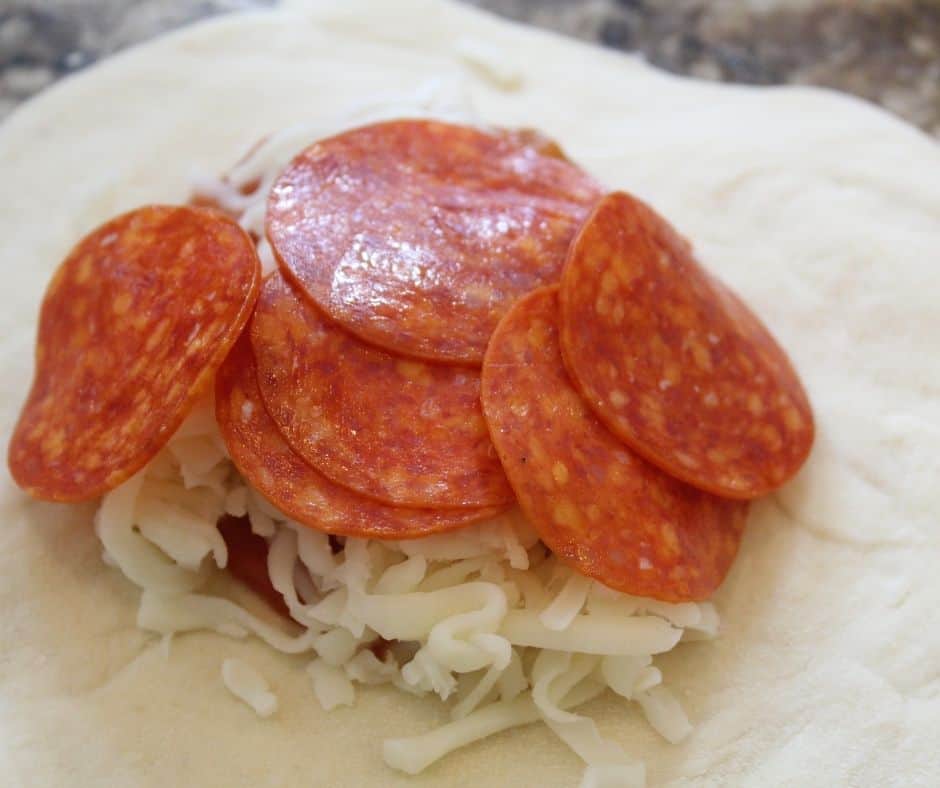 Add the pepperoni (again, it will depend on how big the calzone is)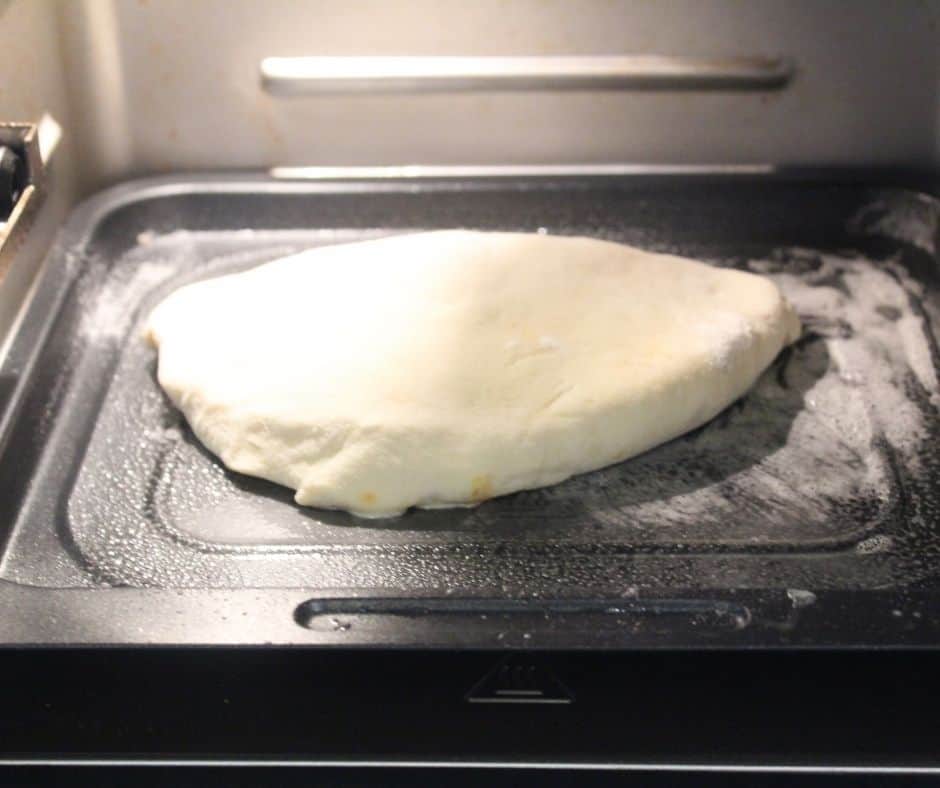 Spray your air fryer basket/tray with non-stick cooking spray or olive oil spray.  Place your calzone on the tray and insert the tray into the air fryer.
What Should I Dip My Calzone In?
Set your temperature to 275 degrees F for 12 Minutes. After 12 minutes, flip and add another 4 minutes. Make sure it's cooked all the way through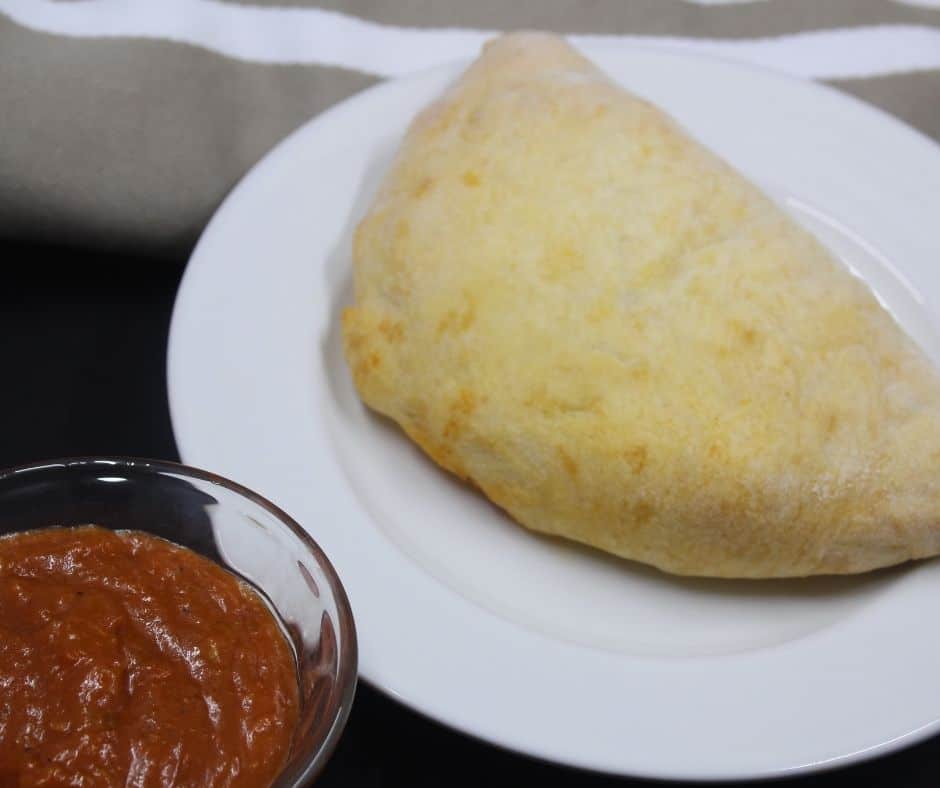 Homemade Crust VS Store-Bought Pizza Dough
One of the hardest things to do when making pizza is the pizza dough, I use a basic dough, and I tweaked it over the years, it was my Grandmother's recipe, and I'm sure she got it from someone else (that's how most recipes used to be passed on, before the internet).
You can use your favorite homemade pizza dough or buy refrigerated pizza dough if you would like. It is all about personal preference.
Because pizza dough only contains yeast, water, flour, salt, and olive oil, it's a very economical meal. The best flour to use in pizza dough is a high protein; this will give the dough a nice bite to it; the flour you use will make or break your pizza.
This one of my favorite pizza flour. I can't tell you how awesome it is, try it for yourself.
Variations To Calzones
There is a lot of debate over Calzone vs Stromboli. The only real difference is that the calzone is folded in half, and a stromboli is almost like a sandwich. This great article gives you a great definition, which is worth a read if you love to learn about food. 
Meat | Consider adding in some ground beef, Italian sausage, Canadian bacon, etc. You can use any meat you want, or go simple and make a meatless calzone.
Vegetables | Looking for a supreme style pizza? Here you can chop up and add in mushrooms, peppers, onions, etc. I do recommend if you want a softer vegetable, then to saute the veggies in a pan on the stove for a few minutes with a little bit of oil. Otherwise, they can have a bit of a crunchy texture.
Sauce | Go ahead and buy your favorite pizza sauce or make homemade. Either route, it is all about what
you prefer on flavor.
Should I Invest In A Pizza Pan
The only other thing I would recommend for anyone looking to make a ton of pizza's in the air fryer, or make them every week, is to invest in a good quality pizza pan. I like this one, but it will depend on the size of your air fryer.
My Air Fryer is a 5.8 quart (I own several of them). If you do not possess an air fryer pizza pan, you can put the unbaked pizza into the air fryer basket.
Do You Flip Calzones Half Way Through In Air Fryer
Yes, you will want to flip your calzones halfway through cooking. This will ensure you get an even cook, and you can check the doneness. If you want, brush with some butter and sprinkle on some Italian seasoning for added flavor.
What Should I Dip My Calzone In?
Traditionally they are served with marinara sauce. But my oldest son loves dipping them into butter, garlic, and cheese dip.
Grab whatever your favorite dipping sauce is, and dip away!
How Long To Cook Frozen Calzone In Air Fryer
Put the frozen calzones into the air fryer and set the temperature to 400 degrees F, air fryer sitting. Air Fry until heated through, about 12 to 15 minutes.
The same answer goes and the same recipe will go for the question: Can Leonetti's Calzones Be Put In Air Fryer
How Long To Cook Refrigerated Calzone In The Air Fryer
This is a great time to pull out your air fryer when you grab some refrigerated calzones in the prepared section of the grocery store. I would heat them at 350 degrees F, air fryer setting for about 5-8 minutes.
Storage and Freezing
If you have leftover calzones, you can let them cool down on a cooling rack. Then transfer them into an airtight container and store in the fridge for a few days. Reheat in the microwave or even the air fryer.
If you plan to freeze some of your pepperoni calzones, go right ahead. Allow them to cool fully, then place in a freezer airtight container—store for up to three months. Then warm up from frozen in the microwave for a quick lunch, dinner, or even after school snack.
You can also wrap each calzone in aluminum foil and then place it in a freezer bag if you would like. Then for lunches, you can place them in the fridge and let them thaw overnight. Then your kids can pack them for school, etc.
Tips for Making Air Fryer Pizza Calzones
Make sure that you batch cook your calzones. Don't stuff your air fryer, or you will get an uneven cook.
If you want to make the dough more golden brown, brush with butter or spritz with your oil spray.
Don't overstuff the calzones.
Ensure that you seal all the edges well so they don't pop open as it cooks.
Some Helpful Products Used In Making Air Fryer Pepperoni Calzone Recipe– (affiliate link included)
Don't Forget to Pin–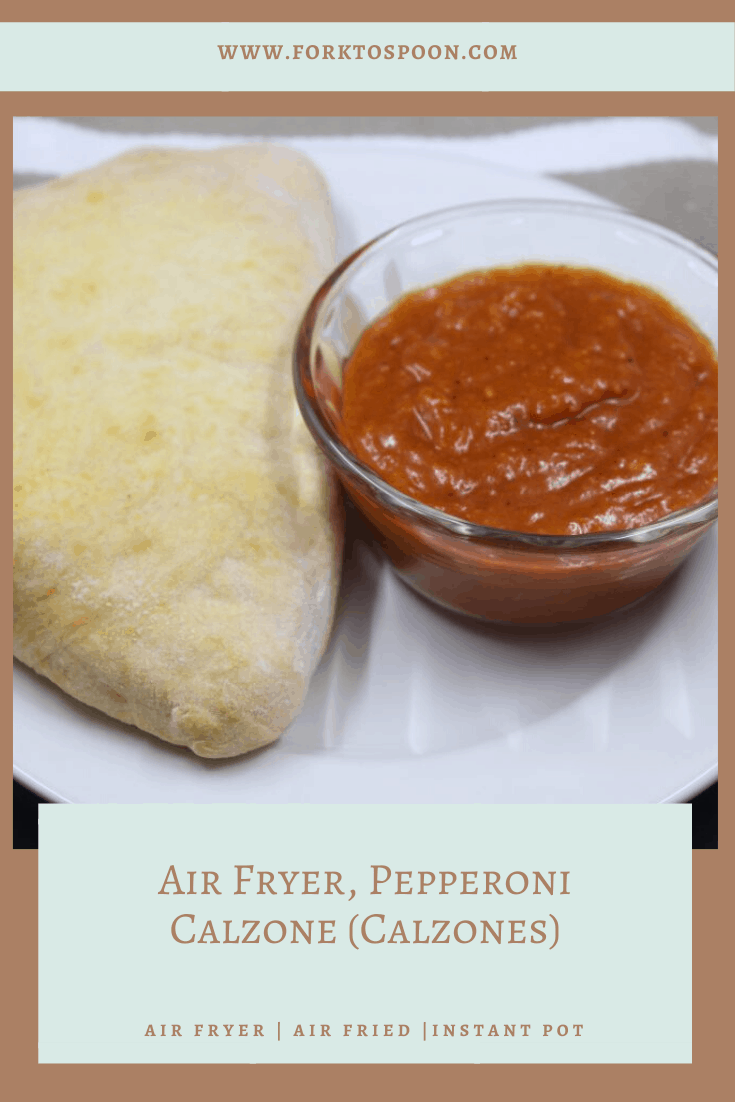 Print
Air Fryer Pepperoni Calzone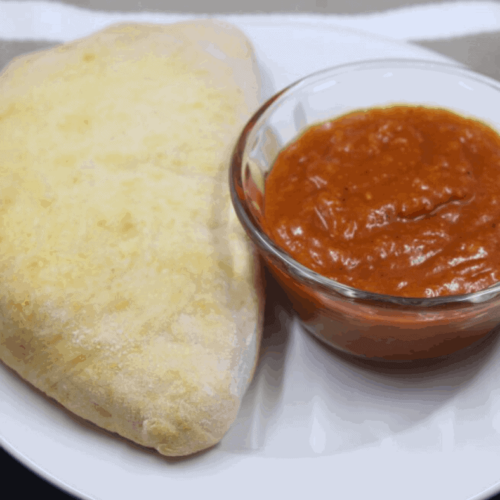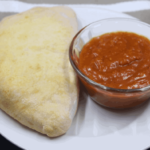 Such an easy and fun recipe. It can be stuffed with almost anything; today, I made a traditional Italian pepperoni calzone.
Author: ForkToSpoon.com
Prep Time:

5

Cook Time:

16

Total Time:

15

Yield:

2

servings

1

x
Category:

Pizza

Method:

Air Fryer

Cuisine:

American, Italian
Scale
Ingredients
1

package pizza dough

1 cup

pizza sauce

8 ounces

mozzarella shredded cheese

6 ounces

sliced pepperoni
Instructions
Start by rolling out your dough on a floured surface.
Cut the dough to have enough dough to wrap the filling, or use a biscuit cutter to make mini calzones.
Add pizza sauce (it will depend on how big the calzones are)
Add the cheese (again, it will depend on how big the calzone is)
Add the pepperoni (again, it will depend on how big the calzone is)
Spray your air fryer basket/tray with non-stick cooking spray or olive oil spray.
Place your calzone on the tray and insert the tray into the air fryer.
Set your temperature to 275 degrees F for 12 Minutes. After 12 minutes, flip and add another 4 minutes. Make sure it's cooked all the way through
Plate, serve, and enjoy!
I cut mine in 1/2
Keywords: Air Fryer Calzone