If you love hand pies, then you're going to love this recipe for Air Fryer Hand Pies Strawberry Cream Cheese! These little pies are so easy to make and they taste amazing. The strawberry cream cheese filling is creamy and delicious, and the pie crust is crispy and buttery. You're going to love these!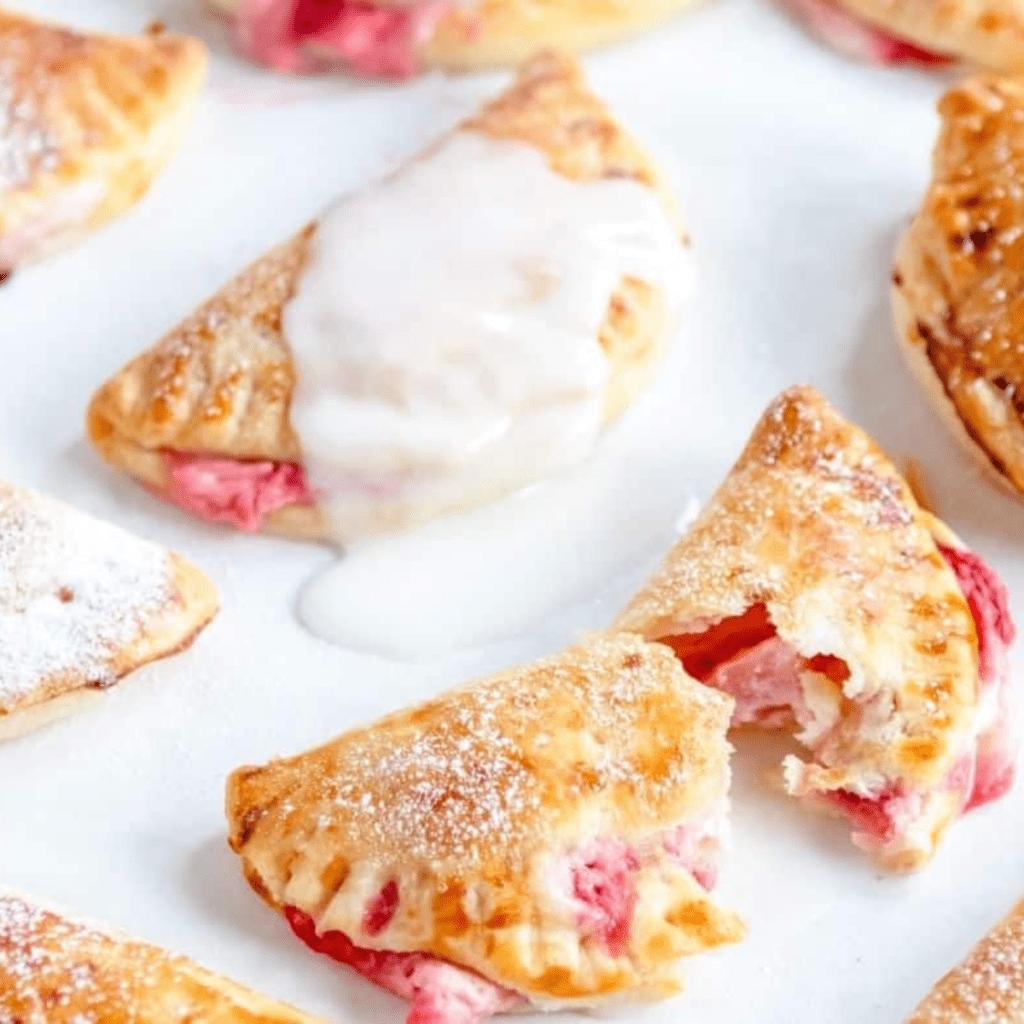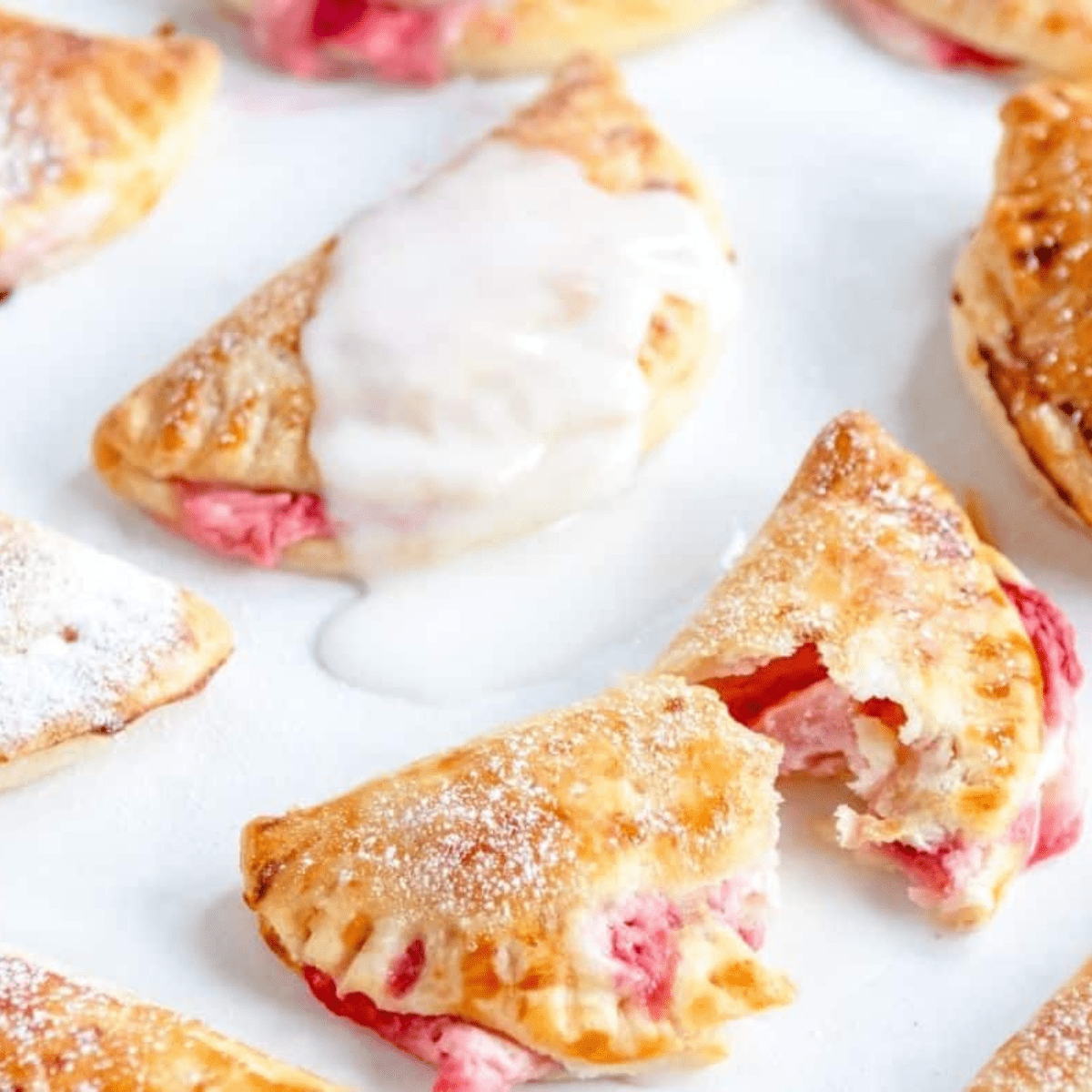 Air Fryer Hand Pies Strawberry Cream Cheese — Here is an Air Fryer hand pies recipe loaded with cream cheese and strawberries with a flaky pie crust. A must-make for cheesecake lovers.
Air Fryer Hand Pies are a simple and delicious way to serve up a strawberry dessert. This strawberry cream cheese pie is a mini hand pie that is loaded with sweetness. Grab some premade pie crust, and get to baking.
Air Fryer Hand Pies
Hand pies are great for that single-serve dessert. Whip these up for bake sales, summer cookouts, birthday parties, or even for the holidays. A strawberry cream cheese pie that is a single-serve treat.
Where do hand pies come from?
Hand pies are pasties are a recipe that has been around for so long. You will find that depending on where you live, you might call these bite-size pies. England in the 19th century is where you can back-date the first-hand pie.
Why Make Strawberry Hand Pies In The Air Fryer?
If you're anything like me, you love hand pies. They're the perfect little snack, and they always hit the spot. But what's even better than regular hand pies? Strawberry hand pies made in the air fryer! Here are three reasons why you should try this recipe
Air fryers cook food evenly and quickly, so your hand pies will be perfectly golden brown all over.
The air fryer produces less mess than traditional frying methods, so cleanup will be a breeze.
The strawberry filling is sweet, juicy, and delicious – perfect for summertime snacking! So what are you waiting for?
Try this recipe today!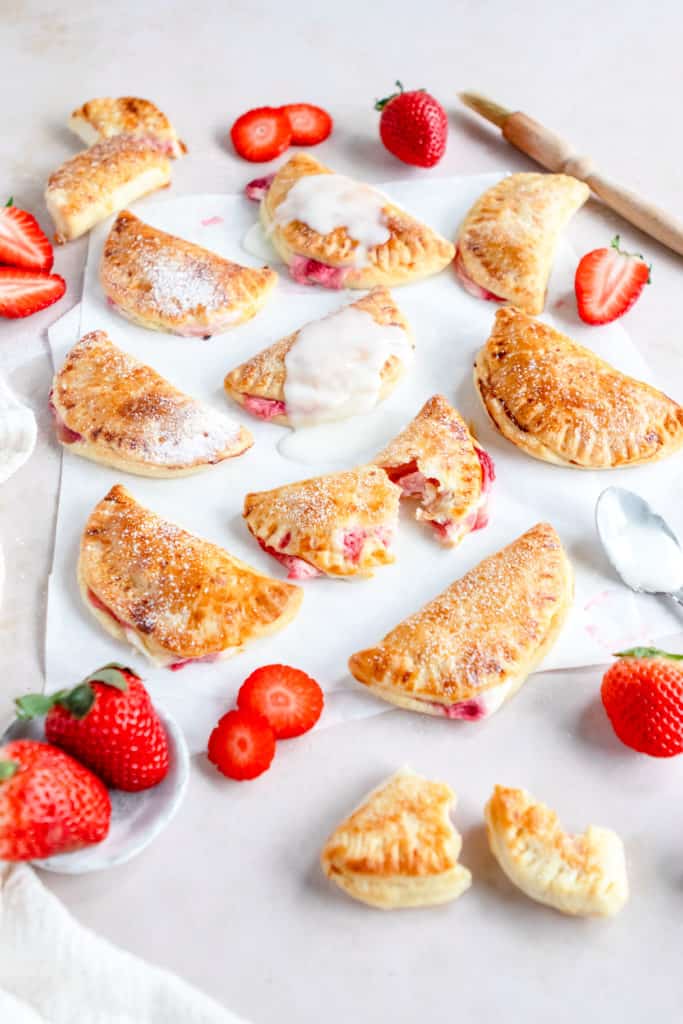 Ingredients For Air Fryer Strawberry Hand Pies
Pie Crust: You can use store-bought or homemade. This is a great recipe, to switch gluten-free pie crust for a tasty gluten-free snack or dessert!
Strawberries: Use fresh, make sure to wash them and then dry them, before making this recipe.
Cornstarch: This will help make the strawberry filling.
Granulated Sugar: If you want a diebetic-friendly recipe, you can use Splenda or another sugar alternative.
Cream Cheese: You can use low-fat or regular cream cheese.
Powdered Sugar: A great way to make a quick frosting or icing.
Egg white: The egg wash will help crisp the hand pie.
Vanilla Extract: Adds some flavor to the icing!
How to Cook Strawberry Hand Pies In Air Fryer
The first thing you want to do is preheat the air fryer for these strawberry cheese pies. Then spritz the tray with oil to prevent sticking.
Then in a bowl, you can add the cream cheese, and beat it on high for 3 minutes. You want the cream cheese to become pretty fluffy in texture.
Next, you will slowly add your powdered sugar and vanilla. Mix until it is nice and creamy.
In a different bowl cut up your strawberries and then mix with granulated sugar and cornstarch. Coat all the berries.
Now you will fold in the strawberries with the cream cheese mixture.
Roll out the dough, and cut out circles with a cookie cutter. Scoop around 2 tablespoons of the mixture and place in the center of the pie crust.
Top with pie crust, brush with egg wash, and lightly go over with an egg wash. Bake in the air fryer as directed.
Allow the pies to cool a bit, frost then serve.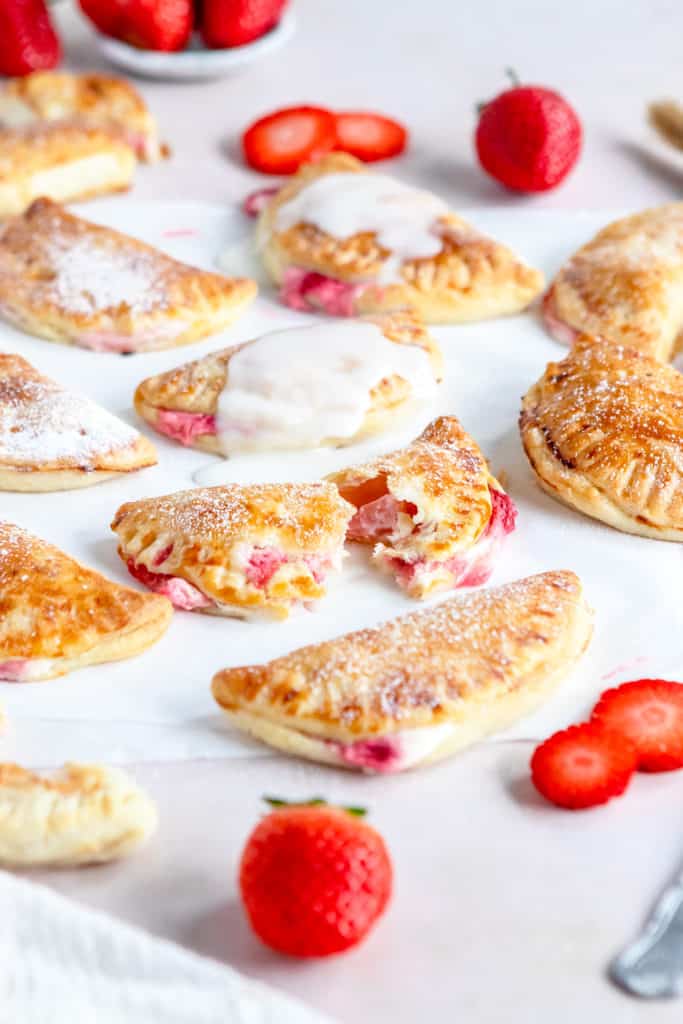 Can I use frozen strawberries in this recipe?
Go right ahead and use frozen berries in this recipe if you want. You will want to just cut up the berries and then toss them in the bowl with cornstarch and sugar.
The only thing with frozen berries is they have more water to them, so they can be a little soggy as they melt down a bit.
Can you make pies in an air fryer?
Don't underestimate the air fryer. It is a great device to cook pies in it. You can make whole pies or mini pies like this recipe. The biggest thing is just to watch your pies, so they don't overcook.
If you find your crust is looking to brown too fast, place a tent of aluminum foil over the crust of the pie. This allows you to cook the pie, without overcooking and drying out the crust.
Tips For Making Air Fryer Pies
Leave room in between each pie that you cook. If they touch the dough will not fully cook.
You can dust the pies with some granulated sugar for a fun twist of sweetness.
Go ahead and change up the fruit used in these mini air fryer pies. You can use any fruit or a blend of fruit.
Create a glaze to drizzle on top of cool pies, or serve them plain or dusted with powdered sugar.
Storage Of Air Fryer Hand Pies Strawberry Cream Cheese
If you have any leftover pies, you can store them for 4-5 days. I like to store my pies in the fridge, as it will extend the shelf life of the fruit.
If you don't want to eat all the pies right away, you can place them in a single layer in a freezer bag and freeze your pies. Place wax paper in between layers if you plan to stack them.
Freeze for 3-4 months. When you want one, remove it and let it quickly thaw on the counter or reheat in the microwave.
More Cheesecake Recipes To Try
Cheesecake Egg Rolls – If you are a fan of cheesecake desserts- try this cheesecake egg roll recipe. Tons of flavor, creamy cheesecake flavor in every single bite.
Air Fryer Chocolate Cheesecake – Here is a chocolate lover's dessert. This is a delicious chocolate cheesecake recipe.
Cheesecake Tacos – Check out these cheesecake tacos that are going to blow your mind. Crispy shell, creamy cheesecake, with fruit topping.
Don't Forget To Pin: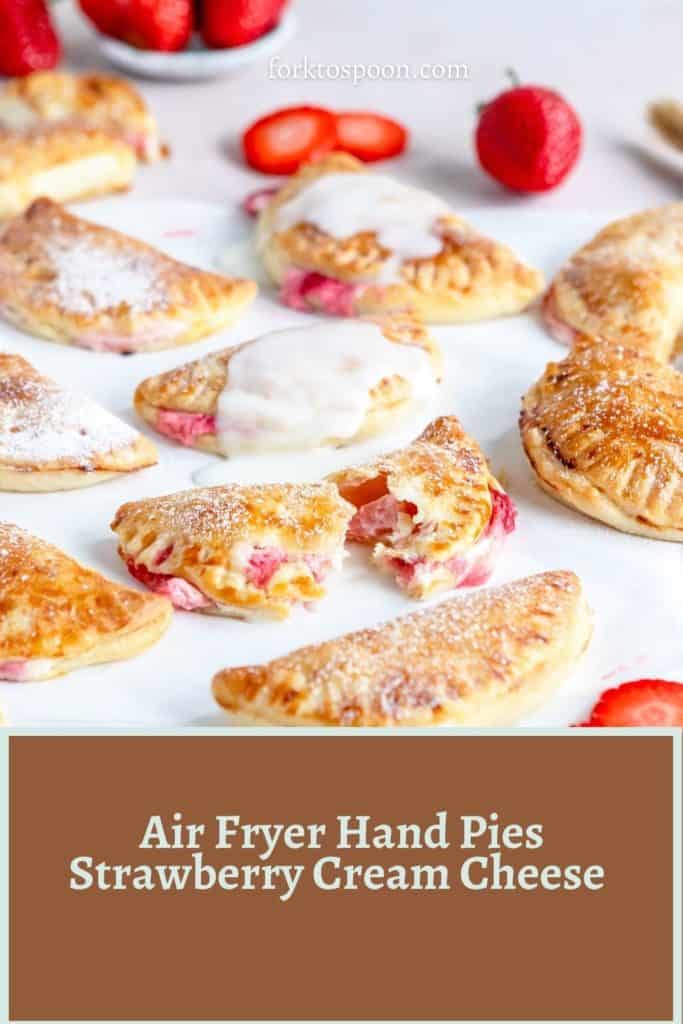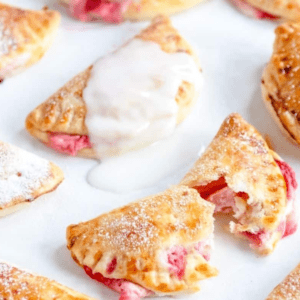 Air Fryer Hand Pies Strawberry Cream Cheese
Description
Here is an Air Fryer hand pies recipe loaded with cream cheese and strawberries with a flaky pie crust. A must make for cheesecake lovers.
Ingredients
1

refrigerated

pie crust

1

cup

strawberries

,

chopped

2

tablespoons

white sugar

1

tablespoon

cornstarch

8

ounces

cream cheese

1/2

cup

powdered sugar

1

teaspoon

vanilla flavoring

1

large

egg white
Icing: Powdered Sugar and Milk
Instructions
Start by preheating the Air Fryer to 380 degrees F, air fryer setting. Then spray your basket with cooking spray.

In a large bowl, mix the cream cheese until smooth.

Once your cream cheese is smooth, fold in the powdered sugar and vanilla extract.

In another small bowl, mix the diced strawberries, sugar, and cornstarch., mix until the strawberries are coated.

Fold the strawberries into the cream cheese mixture.

On a lightly floured surface, roll out the pie dough. Use either a cookie cutter or biscuit cutter to cut out the circle for the hand pies.

In the center of each circle, add 2 tablespoons of cream cheese filling.

Fold the circles in half.

Make your egg wash in a small bowl, mix the egg white, and use a pastry brush, brush the edges with the egg white.

Use a fork tine to crimp the edges to seal.

Using your pastry brush, brush some egg white on top.

Add the hand pies into the air fryer basket, and set the temperature for 9 minutes, flipping halfway.

Let cool slightly before removing.
Equipment
Air Fryer,

Air Fryer Basket or Air Fryer Oven
Nutrition
Serving:
1
g
Calories:
154
kcal
Carbohydrates:
14
g
Protein:
2
g
Fat:
10
g
Saturated Fat:
6
g
Polyunsaturated Fat:
0.5
g
Monounsaturated Fat:
3
g
Cholesterol:
29
mg
Sodium:
97
mg
Potassium:
73
mg
Fiber:
0.4
g
Sugar:
12
g
Vitamin A:
383
IU
Vitamin C:
11
mg
Calcium:
31
mg
Iron:
0.1
mg