3-Ingredient Mango Smoothie — Have you been looking for the perfect mango smoothie recipe? Today, I will show you how to make this delicious smoothie in less than 5 minutes!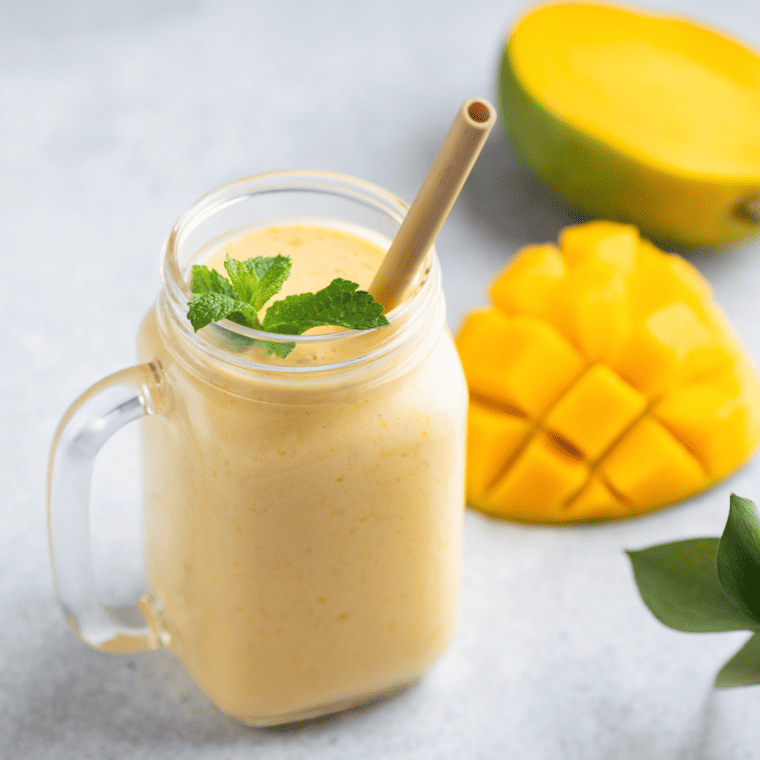 The Best 3-Ingredient Mango Smoothie
Indulge in a tropical treat with this simple yet luscious 3-ingredient mango smoothie. The perfect blend of sweet mangoes, creamy yogurt, and a splash of almond milk transports you to a sunny beach with every sip. It's refreshing and the easiest way to bring sunshine to your day!
Ingredients Needed For 3-Ingredient Mango Smoothie
Dive into a refreshing escape with the simplest ingredients on hand! Crafting the perfect mango smoothie doesn't require a long list of items. With just three key components, you can whip up a tropical delight that's both nutritious and delicious. Let's explore the essentials for this 3-ingredient mango smoothie.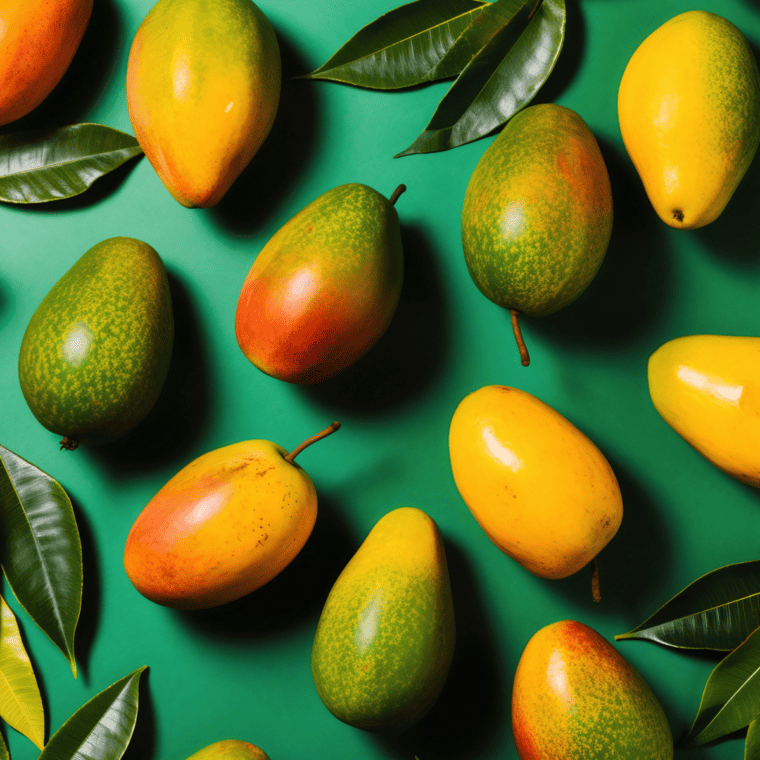 Remember the step-by-step directions and detailed ingreint list are below in the printable recipe card, at the bottom of the post, as well as the nutritional information.
Mangoes: The star of the show, mangoes provide a sweet, luscious base and a vibrant tropical flavor. Rich in vitamins, especially vitamin C, and antioxidants, they're delicious and nutritious.
Yogurt: Adding a creamy texture and a slightly tangy contrast to the sweet mangoes, yogurt is also a great source of probiotics and protein that ensures your smoothie is satiating and gut-friendly.
Ice cubes are the chill factor in your smoothie, making it refreshingly cold and adding a slushy texture. They also help achieve perfect consistency without diluting the vibrant mango flavor.
How To Make Easy Mango Smoothie With Only Three Ingredients
Get ready to embark on a tropical escape from your kitchen with this easy mango smoothie recipe!
Combining the rich, luscious flavors of ripe mangoes with the creaminess of yogurt and the refreshing chill of ice, this 3-ingredient delight promises a summery freshness in every sip.
Whether you're looking for a quick breakfast option, an afternoon pick-me-up, or a light dessert, this mango smoothie is both effortless and exquisite. Let's blend up some sunshine!
Preparation: Start by gathering your ingredients. Make sure the mango is ripe and juicy for the best flavor. If you're using fresh mangoes, peel and dice them. Frozen mango chunks work perfectly, too, and provide a colder, thicker texture to the smoothie.
Blending: In a blender, combine the mango chunks, yogurt, and ice. Blend until the mixture is smooth and creamy. Depending on your blender and the mango's ripeness, you may need to pause and stir a couple of times to ensure everything is blended evenly.
Serving: Pour the smooth mango mixture into a glass. Garnish with a slice of mango or a sprig of mint for a touch of color and extra flair.
Enjoy: Sip and savor the tropical flavors of your homemade mango smoothie. It's a refreshing treat that is perfect for any time of the day.
Note: Add a drizzle of honey or a splash of vanilla extract to the mix before blending for extra sweetness or to cater to personal preferences.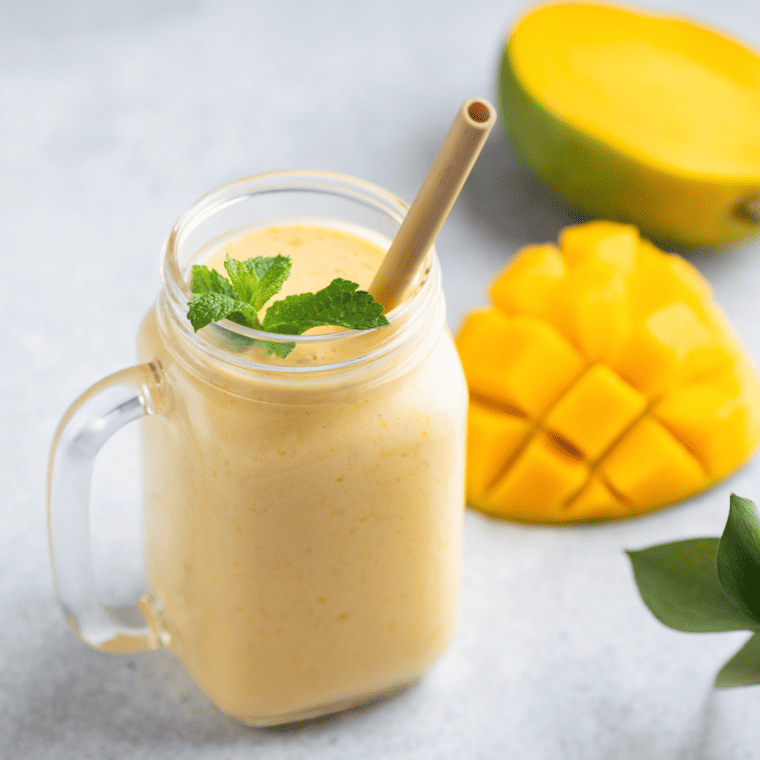 Pro Tips For Easy Mango Smoothie
Ripe Mangoes: Ensure your mangoes are ripe for maximum sweetness and flavor. A ripe mango will give slightly when pressed and have a fragrant aroma at the stem.
Chilled Ingredients: Cold yogurt and frozen mango chunks can make your smoothie instantly chilled, eliminating the need for too much ice, which can water down the taste.
Blend Gradually: Start your blender on a low setting and gradually increase the speed. This helps break down the mango chunks evenly and gives a smoother texture.
Consistency: If your smoothie is too thick, you can add a splash of milk or fruit juice to thin it out. If it's too thin, add more mango chunks or a few ice cubes to achieve the desired thickness.
Flavor Enhancements: While the 3-ingredient mango smoothie is delicious on its own, consider adding a pinch of salt, a splash of vanilla extract, or even a squeeze of lime juice to enhance its flavors.
Garnish: For an elegant touch, garnish with fresh mint leaves, chia seeds, or coconut flakes before serving.
Variations: Feel free to add fruits like bananas, strawberries, or pineapple to create a tropical blend. Just remember to adjust the proportions to avoid overpowering the mango flavor.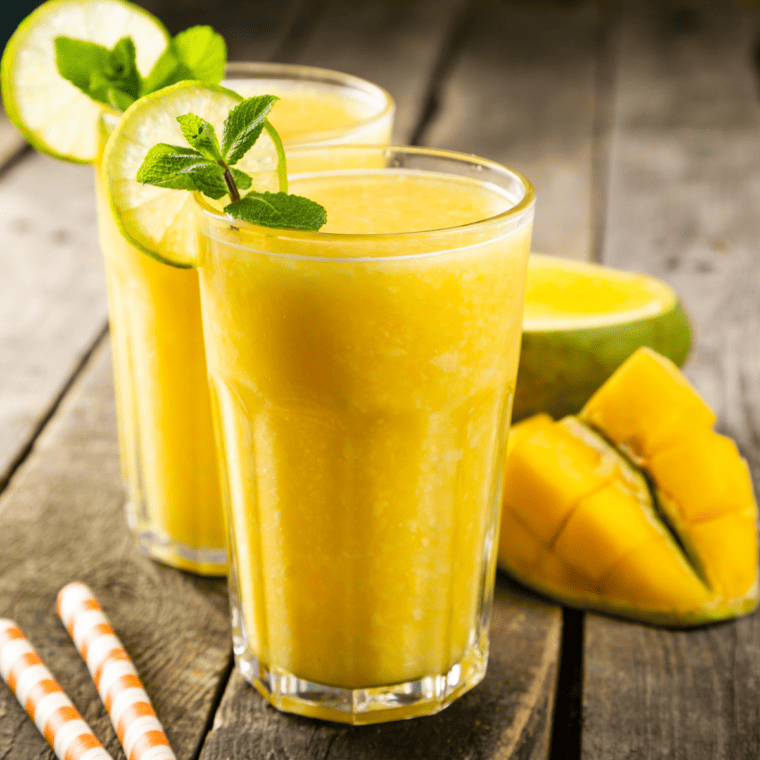 Can I use fresh mango instead of frozen?
Yes, you can use fresh mango. However, using frozen mango gives the smoothie a thick and frosty texture. Add a few ice cubes to get that chilled effect if using fresh mango.
Is it necessary to use Greek yogurt?
No, you can use any yogurt of your choice. Greek yogurt is thicker and adds creaminess to the smoothie, but regular or plant-based yogurt will work.
Can I make this smoothie vegan?
Absolutely! Replace the Greek yogurt with a vegan yogurt alternative or plant-based milk like almond, soy, or coconut milk.
How can I sweeten my smoothie further?
If your mango isn't sweet enough, add a sweetener, such as honey, agave nectar, or a sugar alternative.
How long can I store the mango smoothie?
It's best enjoyed fresh, but you can refrigerate it in an airtight container for up to 24 hours. Just give it a quick stir or shake before drinking.
Can I add protein powder to this smoothie?
Yes, you can add protein powder to increase its protein content. However, this may alter the taste and consistency, so you might need to adjust the other ingredients accordingly.
Is this smoothie gluten-free?
Yes, the basic 3-ingredient mango smoothie is gluten-free. However, always check your ingredients' labels, especially if you're adding any additional items or using flavored yogurts.
Can I add other fruits or ingredients?
Definitely! This recipe is versatile. You can add bananas, strawberries, or other fruits. Chia, flax, or oats can also be added for extra nutrition.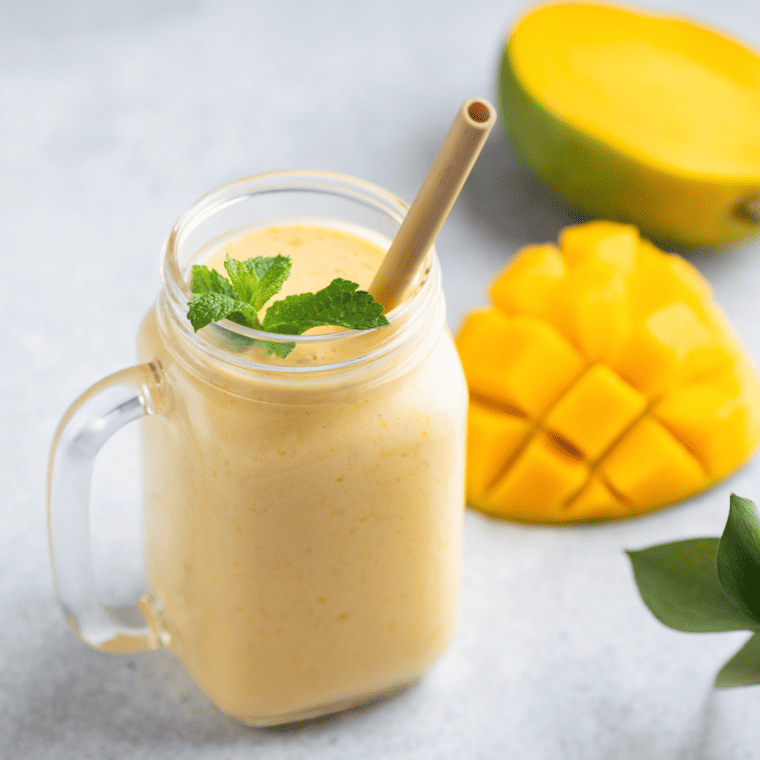 More Easy Smoothie Recipes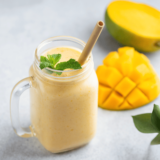 3-Ingredient Mango Smoothie
Description
This delightfully refreshing 3-Ingredient Mango Smoothie is a tropical treat that's perfect for a quick breakfast or afternoon snack. With the natural sweetness of mango, the creaminess of Greek yogurt, and the cool hydration from almond milk, it's a drink that's both delicious and wholesome!
Ingredients
1

cup

frozen mango chunks

1/2

cup

Greek yogurt

1

cup

almond milk

,

or any milk of your choice
Instructions
In a blender, combine the frozen mango chunks, Greek yogurt, and almond milk.

Blend on high until smooth and creamy.

Pour into a glass and enjoy immediately!
Notes
You can adjust the consistency by adding more milk for a thinner smoothie or more mango for a thicker consistency.
This recipe serves 1, but you can easily double or triple the ingredients for more servings.
Customize it further by adding protein powder, chia seeds, or other fruits of your choice.
If using fresh mango, consider adding a few ice cubes to achieve a frosty texture.
Nutrition
Serving:
1
Serving
Calories:
98
kcal
Carbohydrates:
15
g
Protein:
6
g
Fat:
2
g
Saturated Fat:
0.1
g
Polyunsaturated Fat:
1
g
Monounsaturated Fat:
1
g
Trans Fat:
0.01
g
Cholesterol:
3
mg
Sodium:
181
mg
Potassium:
209
mg
Fiber:
2
g
Sugar:
13
g
Vitamin A:
895
IU
Vitamin C:
30
mg
Calcium:
215
mg
Iron:
0.2
mg