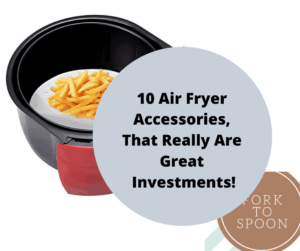 10 Air Fryer Accessories, That Really Are Great Investments!
As air fryers, become more and more common, everyone is thinking of a new way to cash in on your new love for your air fryer, here I, a seasoned air fryer user, and recipe developer tell you the top 10 10 Air Fryer Accessories, That Really Are Great Investments!
The most important. I always find it really funny that everyone is shocked when I recommend an air fryer accessory kit, my question to them, did you buy an oven without pans? Sure, you will have some pans that you can use in the air fryer, remember everything that is over safe is GENERALLY (not always) air fryer safe. That's the general rule that I give to everyone, the two things that scare me, and I wouldn't use it is glass. Because I haven't always had the best luck with glass in my oven. And the last thing that I want to do is break one of my fair fryers.
An air fryer accessory kit, everyone needs at least one. You will say, no I have the same size pans already, but pretty soon, you will want the set, because it's awesome, to have the perfect pan when you go to make something.


This is my favorite set because it has everything, you should need, for any day that you are cooking in your air fryer,

EVOO Oil Sprayer, this is something that you shouldn't even start air frying until you purchase one. You will always need to "glaze" your food with a touch of olive oil, and you can't use the PAM sprays, in your air fryer, read about that here.
Now, there are cheaper sprayers out there, but they don't work, I bought about 4, for about $10, each before my friend said, you should have just bought this one and handed me one, and that was back in 2017, I have had it for about 3 years, yes it's more expensive, but it works.
NOTE: ANY Oil Sprayer that you purchase needs to be FOOD SAFE!!
Here are the important details:
Evo Non-Aerosol Oil Sprayer dispenses any cooking oil and vinegar in unique fan pattern without any harmful propellants or chemicals for healthy foods

Made from BPA-, Latex-, and DEHP-free plastic; won't clog or shatter; reusable; 100-percent recyclable; bottle colors identify contents at a glance

Consistently dispenses 1.35-milliliters per trigger pull; unique fan pattern covers more cooking surface using less oil; perfect for portion control

Healthier and more economical than using the aerosol cooking spray; compact for easy storage; perfect for people with smaller hands and cooking with kids
Parchment Liners, there is nothing like food not getting stuck in the basket. While the bleached liners are must cheaper, I have to say that I am really fond of the unbleached liners, these are my favorite and are a deal at $5.99 for 100. Which is great, since I seem to be using one per recipe, and it's way cheaper than an SOS pad, and my time to clean it. The best thing about it is that you can simply toss it.
Here are the important details:
? PLENTY PREPARED HOLES – Vancens air fryer liners are professionally designed for the air fryer. All holes combined with how the air fryer works. Enough and proper holes help to speed up the steam circulation in air fryers or steamers, bring you a good taste.

? EASY TO CLEAN – NO-STICK air fryer cleaning tools keep your hollowware free from food residue, clean up in a breeze. Also keep your bread, dumplings, buns, dim sum integrity, and nice look. Cook saver!
Grill Pan, this is something that I really love, basically because I have two teenagers and they could eat a burger every day. This is a great accessory if you are a fan of burgers, steak, chicken, and even seafood.
Here are the important details:
COMPATIBLE with Small to Medium Air Fryer Models with an inner basket size of 6.7 X 6.7 inches and 7.5 inches diagonally including Phillips, NuWave Brio, Chefman, Emerald, Maxi Matic Elite Platinum, Secura, Black Decker, Tidylife, Habor, Gourmia, CRZDEAL, COSORI, Della, Bella, Best Choice Products, Comfee, Nattork, Smith & Hanks and much more!

✅ GRILL, SEAR, ROAST, AND FRY LIKE A PRO The perforated holes allow airflow and heat to be distributed evenly. Allows grease and oils to drip away from your food through the perforated holes. Perfect for grilling steak, chicken, salmon, pork, turkey, fish, vegetables and more

✅ KEEP FOOD FROM FALLING The perforated surface of this grill pan allows you to cook smaller and thinner pieces of food that would have otherwise fallen through the grates, all while distributing heat evenly. The raised sides allow you to maximize the cooking surface of your pan by allowing you to place more food in the corners and not worry about it falling out.
Silicone Oven Mitts, here is my question do you take pans out of the hot oven without mitts? No, so why would you think that you don't need any to take HOT pans out of the air fryer? This is my pick, I love these, they make grabbing the pans easily.
Here are the important details:
SAFE MATERIAL: Made of food-grade and BPA free silicone, you can wear X-chef oven mitts to directly contact with food, taking out boiling egg in the kitchen or roasted steaks on the grill.

DUAL LAYER: Inner soft and comfortable cotton lining protects you from high temperatures and prevents sweaty hands. Hook design enables convenient storage and hanging after cleaning.

UP TO 446℉: X-Chef silicone oven gloves protect you from hot burns and scalds with its heat insulation up to 446℉ whether you cook in the kitchen or barbeque outdoors.

NON-SLIP & EASY CLEAN: Engraved heart design offers a firm grip and prevents dishes from slipping. Simply wear them to wash with warm soapy water like washing your own hands.

ONE SIZE FITS ALL: With its 4mm thickness, X-chef kitchen cooking gloves fit most hands, small or large, to hold or hand pans, baking sheets, pots, and more.
Air Fryer Silicone Tongs
These are great to get things in and out of the Air Fryer. And with this pair, the food doesn't slip back in.
Great for making sure all of the food you prepare is safe.
This is one of the best things for sliding out your air fryer when you are ready to cook. Done with your air fryer, just slide it back!
These have hundreds of purposes, think egg bake or mini muffin
Making a cake in the air fryer has never been easy, now you don't need to worry about the inside of the cake being cooked, all you need is a bundt cake.