Ninja Foodi Whole Chicken Recipe (Ninja Foodi Roast Chicken) –If you're looking for an easy and delicious way to cook a whole chicken, look no further than the Ninja Foodi! In this recipe, we'll show you how to roast a chicken in the Ninja Foodi, and we'll give you some tips on how to make it even more delicious. So get your Ninja Foodi out and let's get started!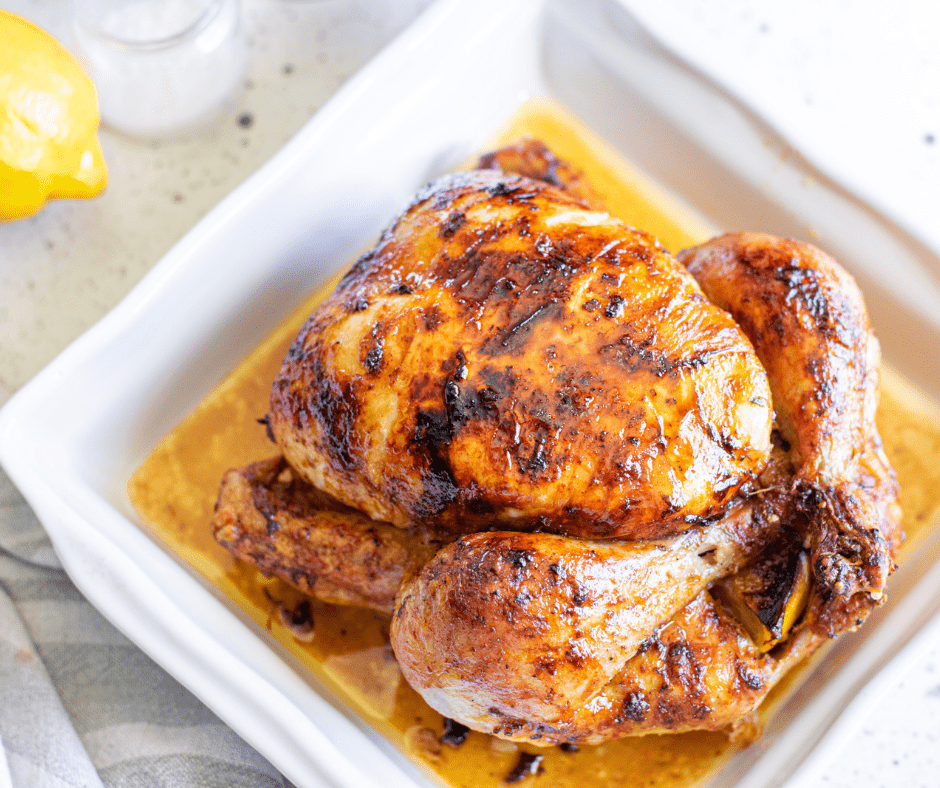 Do you want to make a delicious roast chicken in your Ninja Foodi? This Ninja Foodi Whole Chicken Recipe is easy and so flavorful! The whole chicken will cook perfectly in the air fryer basket, and the flavor of the herbs and spices will permeate through every juicy bite. You can serve this roast chicken for dinner or for a crowd-pleasing party dish. Enjoy!
What Is The Ninja Foodi?
The Ninja Foodi is the latest appliance to hit the kitchen scene, and it's quickly gaining popularity among home cooks. So what is this appliance, and what can it do?
The Ninja Foodi is a combination pressure cooker and air fryer. It cooks food quickly and evenly, making it a great option for busy families. Plus, the air fryer function gives you crispy results without using a lot of oil. Whether you're looking for a new way to cook your favorite recipes or want to try something new, the Ninja Foodi is definitely worth considering.
Why You Will Love Making A Roast Chicken In The Ninja Foodi!
There is nothing better than Ninja Foodi Roast Chicken!
If you're someone who loves to cook, the Ninja Foodi is an appliance you'll definitely want to add to your repertoire. The best part about this little machine is that it can do so many things – including making a delicious roast chicken! Here are just a few of the reasons why you'll love making a roast chicken in the Ninja Foodi:
It's incredibly easy to use – anyone can do it!
The chicken comes out moist and flavorful every time
You can have a roasted chicken dinner on the table in no time at all!
There are endless possibilities for recipes you can make with a Ninja Foodi roast chicken – from simple to complex.
So what are you waiting for? Get cooking! Your perfectly cooked Roasted Chicken in Ninja Foodi awaits you!
Whole Chicken in Ninja Foodi Benefits
Are you looking for a delicious, healthy meal that is easy to prepare? Just imagine cooking a whole chicken in your Ninja Foodi. You can roast it, bake it, or even grill it. And the best part is that there are so many delicious recipes that you can make using a whole chicken. Plus, cooking a whole chicken is a great way to save money. So what are you waiting for? Get your Ninja Foodi out and start cooking!
Roast Chicken (Ninja Foodi) Ingredients
Your roasted chicken in a Ninja Foodi, requires a few ingredients. Most of which are already in your pantry!
Whole Chicken: The Ninja Foodi can fit up to a Whole Chicken 5 pounds (for the Ninaj Foodi 6.5 quart)
Minced Garlic: Adds some great flavor.
Olive Oil: Keeps your chicken moist, as it air fries up.
Lemon: Adds great flavor.
Honey: Adds some sweetness to the sauce.
Seasonings: Garlic Powder, Cayenne Pepper, Smoked Paprika, Onion Powder, Black Pepper, and Thyme
How to Make Whole Chicken in Ninja Foodi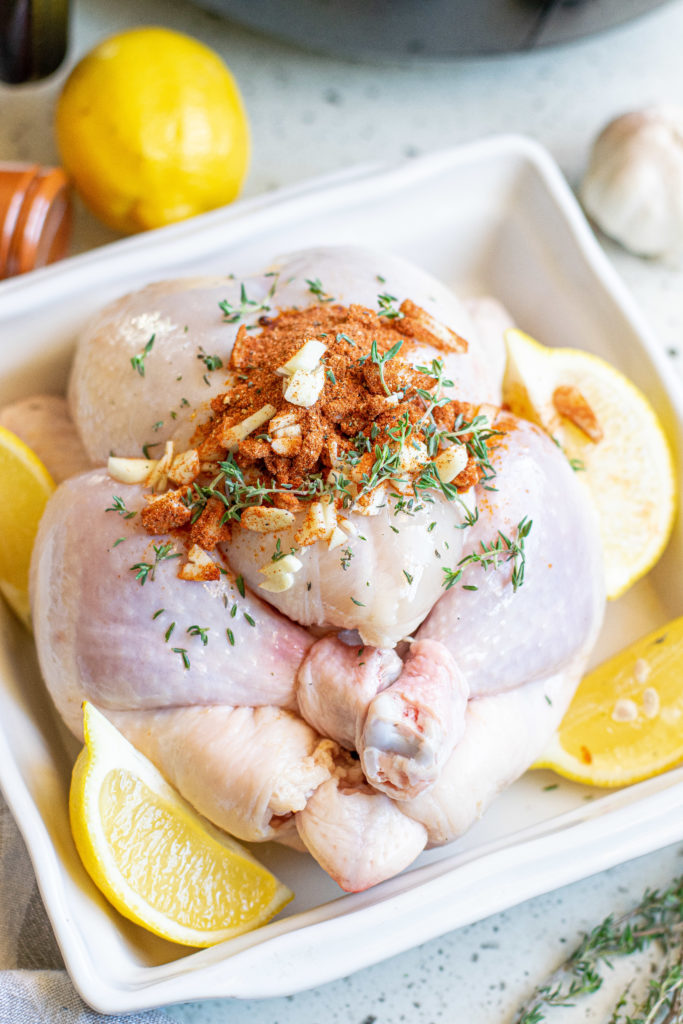 Start by cleaning your chicken, remove the package of heart/gizzards, liver, etc. and run water through it, until it comes out clean.
In a small bowl, mix garlic, cayenne pepper, smoked paprika, onion, salt, and pepper. Transfer mix on the whole chicken with garlic, thyme, and oil. Rub and season the chicken on, under the skin, and in the cavity with the help of your fingers. Place lemon in the cavity.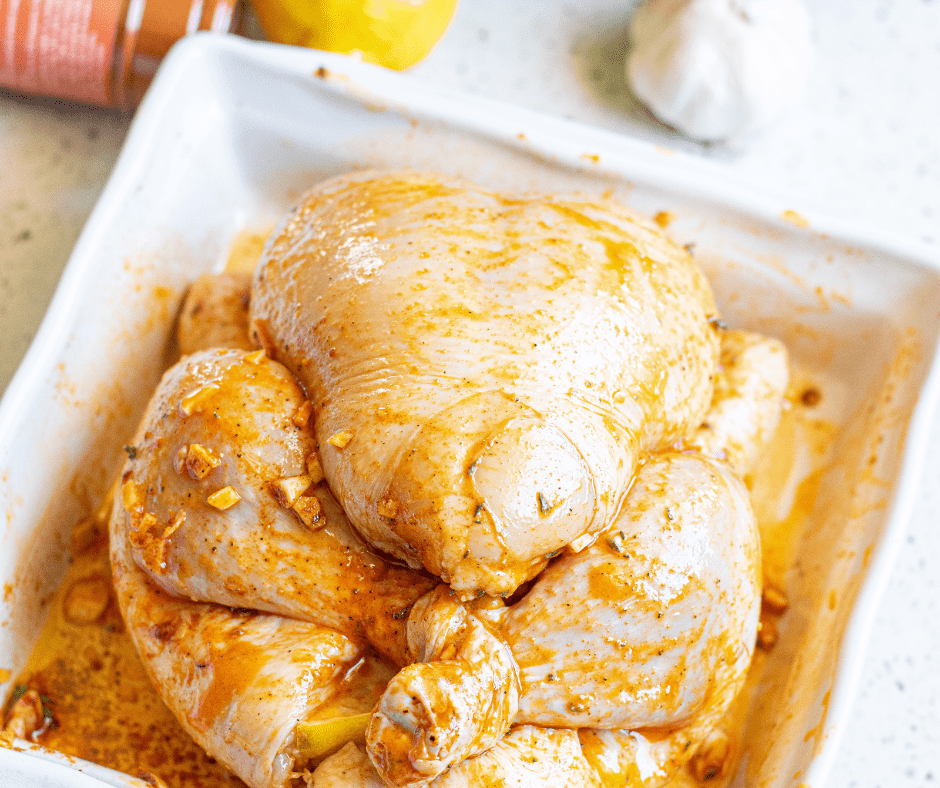 Pour 1 cup of water into the Ninja Foodi, if it does not have water, it will not come to pressure. Put your chicken into the Ninja Foodi Basket, breast side down, and lock that into the pressure cooker.
Use the Pressure cooker lid, and set the time for 25 minutes. (HIGH) Make sure that the vent is in the sealed position. Press the start button. Let the pressure naturally release, then add more of the rub, the olive oil, and honey to the chicken, and put the air fryer lid on. Set for another 10 minutes. When the chicken is done, remove it and let sit, as the juices will distribute through the chicken, as you allow it to cool down.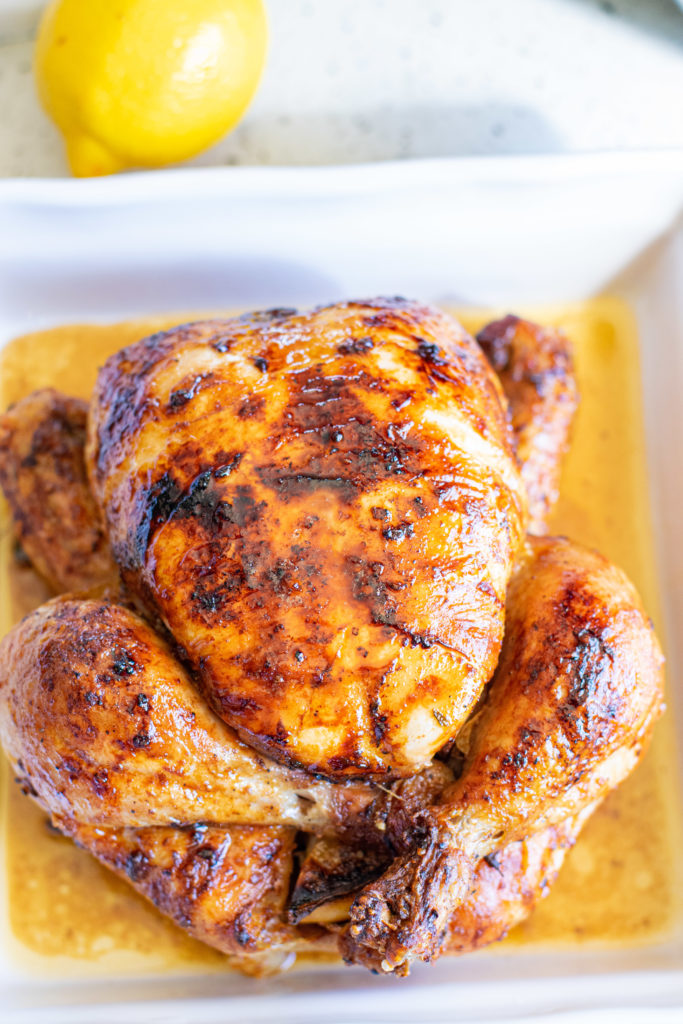 How to Make Ninja Foodi Gravy
Whether you're serving up a Thanksgiving feast or just want some extra gravy to slather on your turkey sandwiches, this Ninja Foodi gravy recipe is sure to please. It's easy to make and packed with flavor.
The honey, seasonings, and lemon juice will give you the perfect gravy! There is nothing easier and more delicious!
Here is how to make Ninja Foodi Gravy!
Pour all of the drippings into a small saucepan.
Then mix in 2 tablespoons of melted butter.
Saute for a couple of minutes, or until it starts to thicken.
If you want your gravy a bit thicker, make a cornstarch slurry by mixing 1 tablespoon and 1 tablespoon into a small cup or bowl, then mix into the gravy.
Stir until the cornstarch slurry is mixed in.
Roasted Chicken Oven Directions
For some reason, oven-roasted chicken always seems to be the hardest dish to get just right. You want it to be juicy and flavorful, but you don't want it to be overcooked or dried out. So what's the trick? Follow these simple oven-roasted chicken directions, and you'll have perfectly cooked chicken every time.
Preheat your oven to 425 degrees F.
Prep your whole chicken, per the instructions below.
Place the chicken into a roasting pan, breast side up.
Set the timer for 35 to 45 minutes, and baste the chicken, as it cooks up.
Remove the chicken, when the internal temperature reaches 165 degrees F.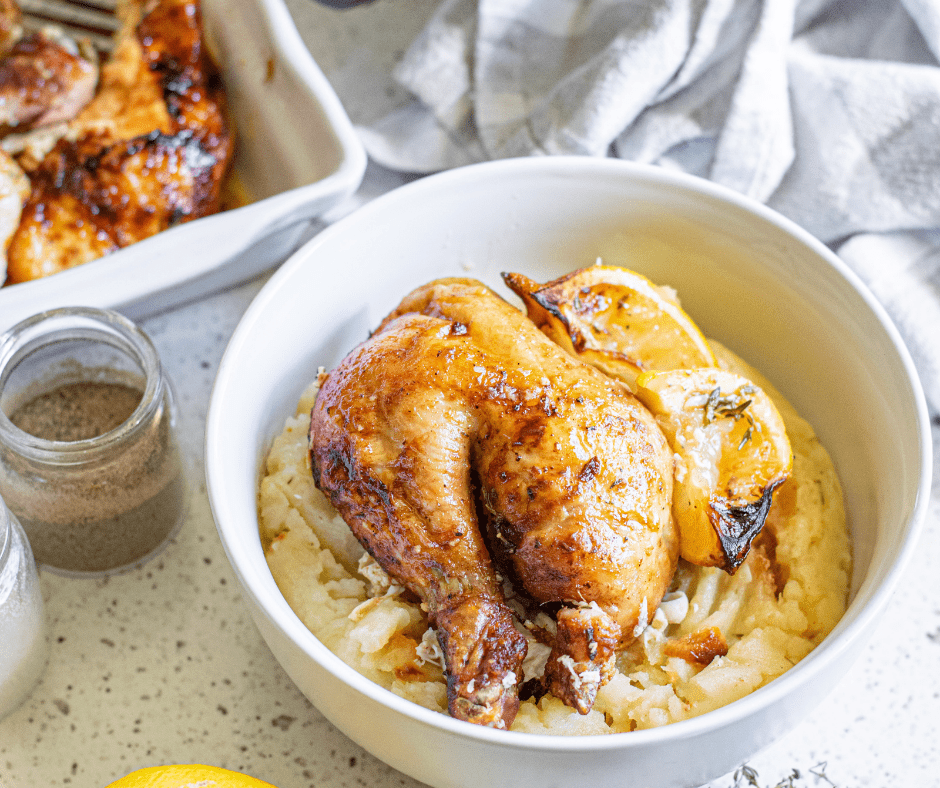 How cook Ninja Foodi whole chicken from frozen?
Ninja Foodi is a popular kitchen appliance that can cook whole chicken frozen in just minutes. Here's how to do it: First, place the frozen chicken at the bottom of the Ninja Foodi. Then, pour 1 cup of water into the bottom of the Ninja Foodi. Close and lock the lid, and set the cooking time for 60 to 70 minutes on high pressure. After the chicken is cooked release the pressure by turning the valve to "venting." The cooked chicken can then be carved and served!
Leftover Chicken Recipes
Looking for some creative ways to use up leftover chicken? You're in luck! From sandwiches to salads to stir-fries, we've got a delicious recipe for every occasion. So grab that last piece of chicken and let's get cooking!
Air Fryer Buffalo Chicken Egg Rolls: Do you love buffalo chicken egg rolls? I know I do! And they're so easy to make in your air fryer. You only need a few ingredients, and they cook up in just minutes. Serve them as an appetizer at your next party, or enjoy them for lunch or dinner. They're always a crowd-pleaser!
Air Fryer Pad Thai Chicken Egg Rolls: Looking for a fun and easy way to enjoy Pad Thai? These Air Fryer Pad Thai Chicken Egg Rolls are the perfect solution! They're healthy, delicious, and great for a quick snack or dinner. Plus, they're really easy to make – you'll have them on your table in no time! So what are you waiting for? Try these amazing Air Fryer Pad Thai Chicken Egg Rolls today!
Don't Forget To Pin: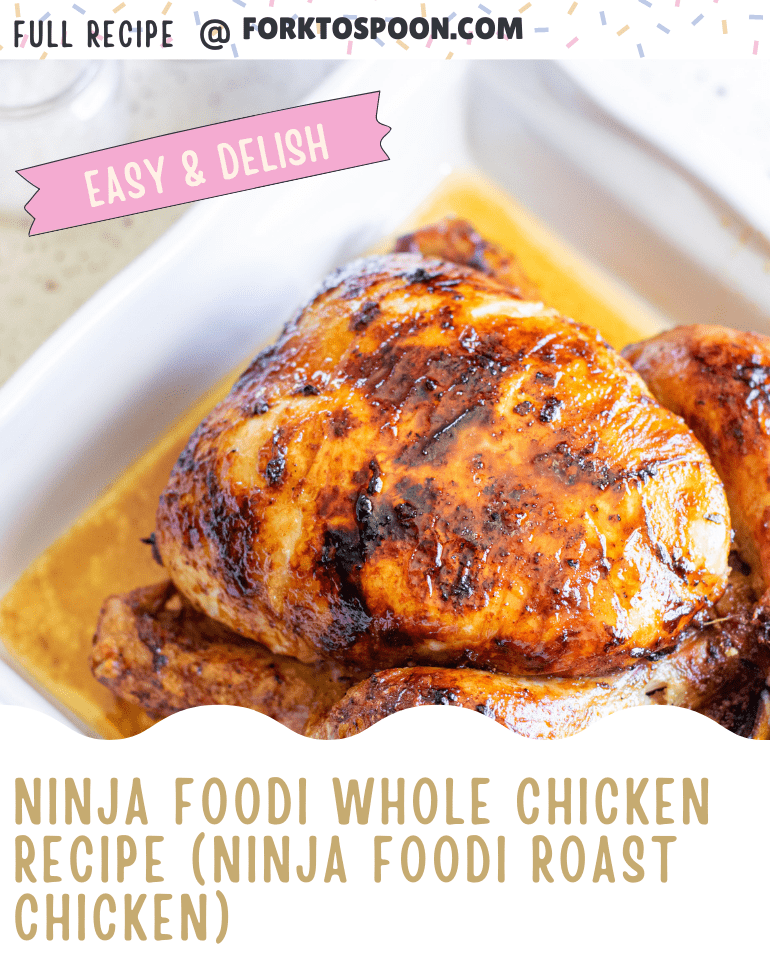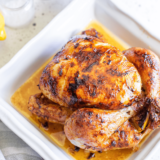 Ninja Foodi Whole Chicken Recipe (Ninja Foodi Roast Chicken)
Description
Want to make a delicious roast chicken but don't know how? This Ninja Foodi whole chicken recipe is perfect for beginners. Just follow these simple steps and you'll have a succulent and crispy bird ready to eat in no time! Plus, this recipe is healthy and affordable – perfect for busy families on a budget. So what are you waiting for? Give this easy roast chicken recipe a try today!
Ingredients
2-5

pounds

whole chicken

1

teaspoon

garlic powder

1

teaspoon

cayenne pepper

1

teaspoon

smoked paprika

1

teaspoon

onion powder

1

teaspoon

salt

1/2

teaspoon

black pepper

2

teaspoons

garlic

,

minced

4

sprigs

thyme

,

diced

2

tablespoons

olive oil

1

large

lemon

,

quartered

2

tablespoons

honey
Instructions
Start by cleaning your chicken, remove the package of heart/gizzards, liver, etc. and run water through it, until it comes out clean.

In a small bowl, mix garlic, cayenne pepper, smoked paprika, onion, salt and pepper. Transfer mix on the whole chicken with garlic, thyme and oil. Rub and season the chicken on, under the skin and the cavity with the help of your fingers. Place lemon in the cavity.

Pour 1 cup of water into the Ninja Foodi, if it does not have water, it will not come to pressure. Put your chicken into the Ninja Foodi Basket, breast side down, and lock that into the pressure cooker.

Use the Pressure cooker lid, and set the time for 25 minutes. (HIGH) Make sure that the vent is in the sealed position. Press the start button. Let the pressure naturally release, then add more of the rub, the olive oil, and honey to the chicken, and put the air fryer lid on. Set for another 10 minutes. When the chicken is done, remove it and let sit, as the juices will distribute through the chicken, as you allow it to cool down
Nutrition
Serving:
1
g
Calories:
231
kcal
Carbohydrates:
9
g
Protein:
14
g
Fat:
16
g
Saturated Fat:
4
g
Polyunsaturated Fat:
3
g
Monounsaturated Fat:
8
g
Trans Fat:
0.1
g
Cholesterol:
54
mg
Sodium:
440
mg
Potassium:
200
mg
Fiber:
1
g
Sugar:
6
g
Vitamin A:
441
IU
Vitamin C:
12
mg
Calcium:
22
mg
Iron:
1
mg