Can You Put Water In An Air Fryer? Over the years, I have been asked if you can make tea, coffee, and even hot chocolate in the air fryer! Today, I am here to answer the simple question of putting water in the air fryer!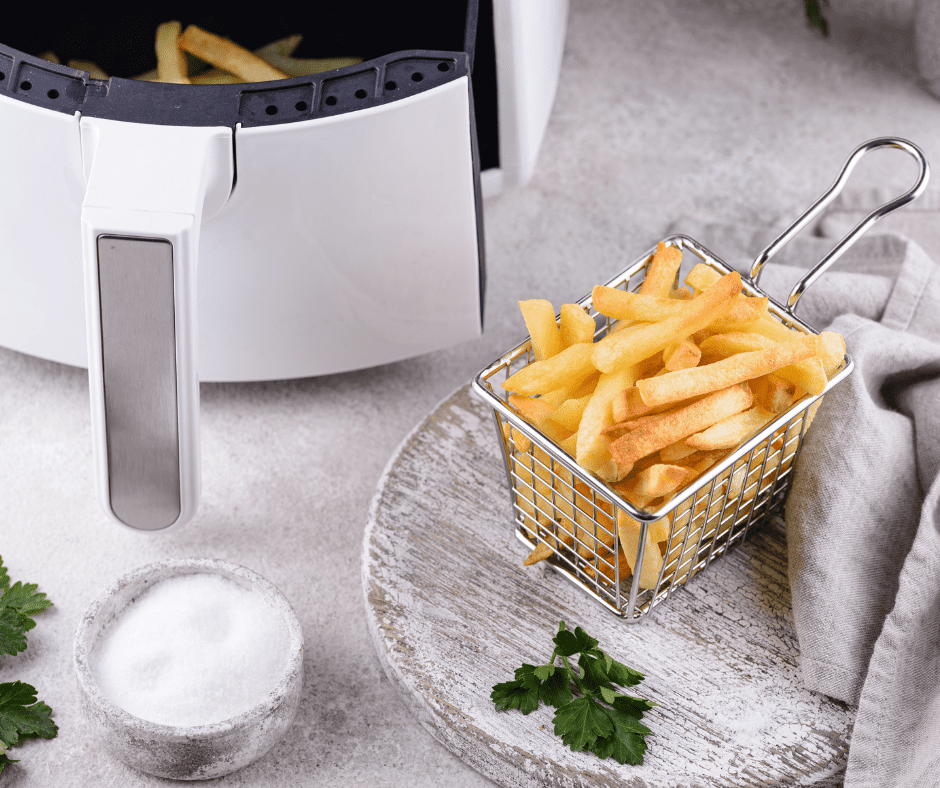 Can you put water in an air fryer? If you're not sure, you're not alone. Many people aren't clear on what goes into an air fryer or how it works.
Today, I will try to answer some questions about putting liquid into the air fryer and the latest trend on TikTok of cleaning your basket with boiling water and adding dish soap to it!
How Does Adding Water Help in an Air Fryer?
I have been air frying since 2017, and the only time I added water to the air fryer was when I was cooking up bacon.
The basket's water helps absorb the grease and helps it not smoke as much. Remember to check your owner's manual to make sure that this is recommended, as I am not looking or encouraging anyone to ruin their air fryer!
Can You Boil Water In An Air Fryer?
Technically you can. I have done this several times. But, it will depend on the model you use and what the owner's manual suggests.
But in most basket air fryer models, you can boil water.
So, while putting water in the air fryer to clean, remember to be careful. You may ruin your air fryer!
Can Using Water Break/Damage the Air Fryer?
Yes! This is where it helps that you read your owner's manual. Because all you need to do is have the water hit one of the electrical parts of your air fryer, and your air fryer will stop working!
This is why I do not recommend it. I think that you can quickly boil water without your air fryer!
Remember, the fan is spinning around, so if the water splashes onto the electrical fan or motor, it will stop working. And if you are lucky, a fire will not happen. Way too dangerous to do!
Can You Steam Food in an Air Fryer?
No, since you can not add water to your air fryer, an air fryer is not a great place to steam food. Stick with an Instant Pot, Pressure Cooker, or steamer.
Can you Put Water And Soup In An Air Fryer?
While this has gotten a lot of attention as yet, from some online viral videos, I would not recommend it.
It goes to how safe it is to have water splashing around a machine with lots of electrical parts, and truthfully the air fryer is not that hard to clean. Wash it by hand or throw it into the dishwasher.
It is not the best idea to have water splashing around a machine with lots and lots of electrical parts! Especially since the air fryer needs to be plugged in for this "trick" to work.
Can I put soup in the air fryer?
No, again, you do not want hot liquids flying around the air fryer with the possibility that the hot liquid will hit an electrical piece. This will either start a fire or break your air fryer. Either is not a desirable outcome.
Can you reheat liquids in an air fryer?
No, it's not a great way to reheat your coffee, tea, hot chocolate, soup, broth, or chili at this time!