Are you looking for an easy and delicious dinner option that doesn't take too much effort to prepare? If so, Ninja Foodi Grill Shrimp is a great option! This will be the star of your meal — juicy and flavorful grilled shrimp cooked to perfection with minimal work.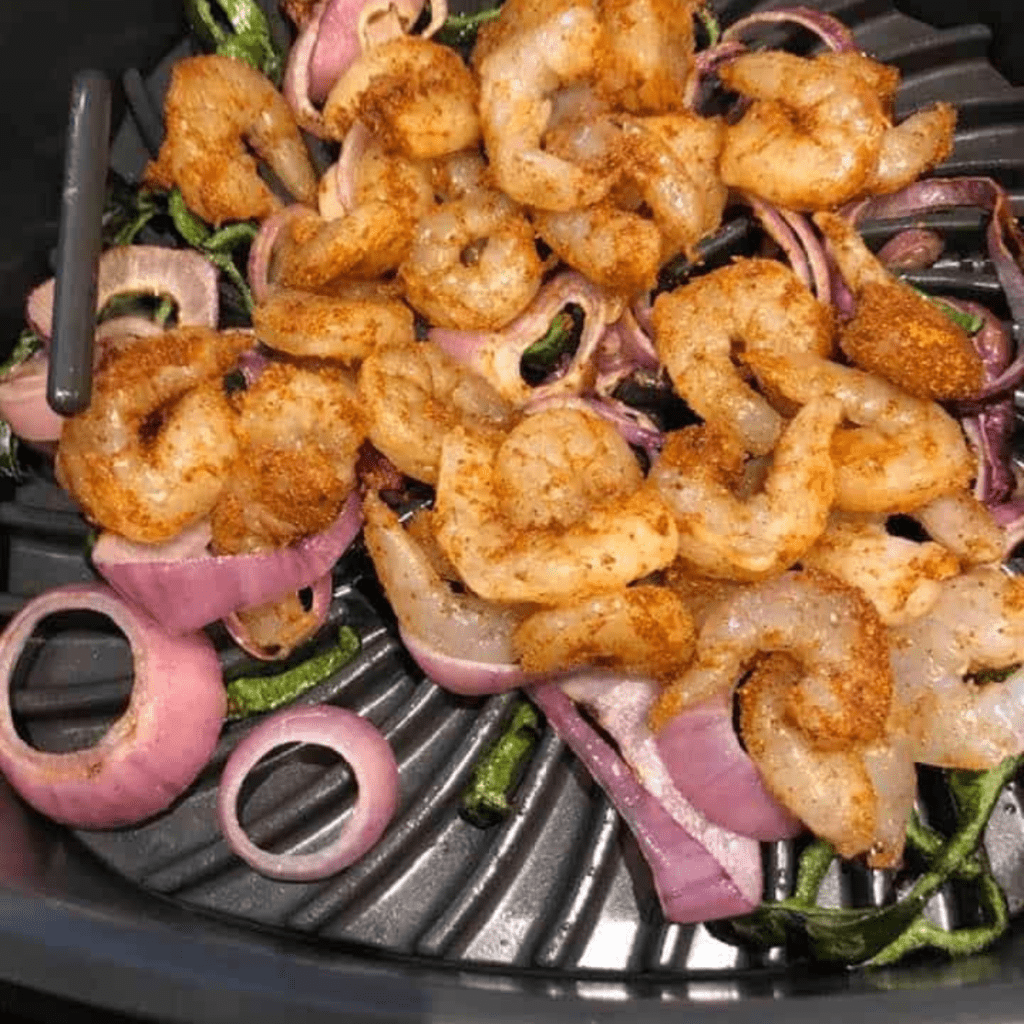 Not only does this dish taste great, but it also looks amazing when served up on your dinner table. Plus, using an electric grill keeps all the flavor from any marinade inside while providing nice searing marks making it look restaurant quality. With just a few simple ingredients and tips, you can have this lip-smacking dish quickly with little cleanup! Let's dive right in and show you how to make it.
What Is The Ninja Foodi Grill?
The Ninja Foodi Grill is a kitchen appliance that combines the functions of a grill, an air fryer, and an oven in one device. It is manufactured by SharkNinja, the company that makes the Ninja brand of blenders, food processors, and other kitchen appliances.
The Ninja Foodi Grill uses a powerful heating element and a specialized air circulation system to cook food quickly and evenly while also giving it a crisp, golden exterior. It has several cooking modes, including grill, air frying, roasting, baking, and dehydrating, allowing you to cook a wide variety of foods easily.
One of the standout features of the Ninja Foodi Grill is its size and versatility. It can fit up to six steaks, six chicken breasts, or four burgers at once, making it perfect for families or entertaining. It also comes with several accessories, including a grilling grate, a crisper basket, and a cooking pot, that allow you to customize your cooking experience even further.
Overall, the Ninja Foodi Grill is a versatile and convenient appliance that can save you time and effort while producing delicious, restaurant-quality results.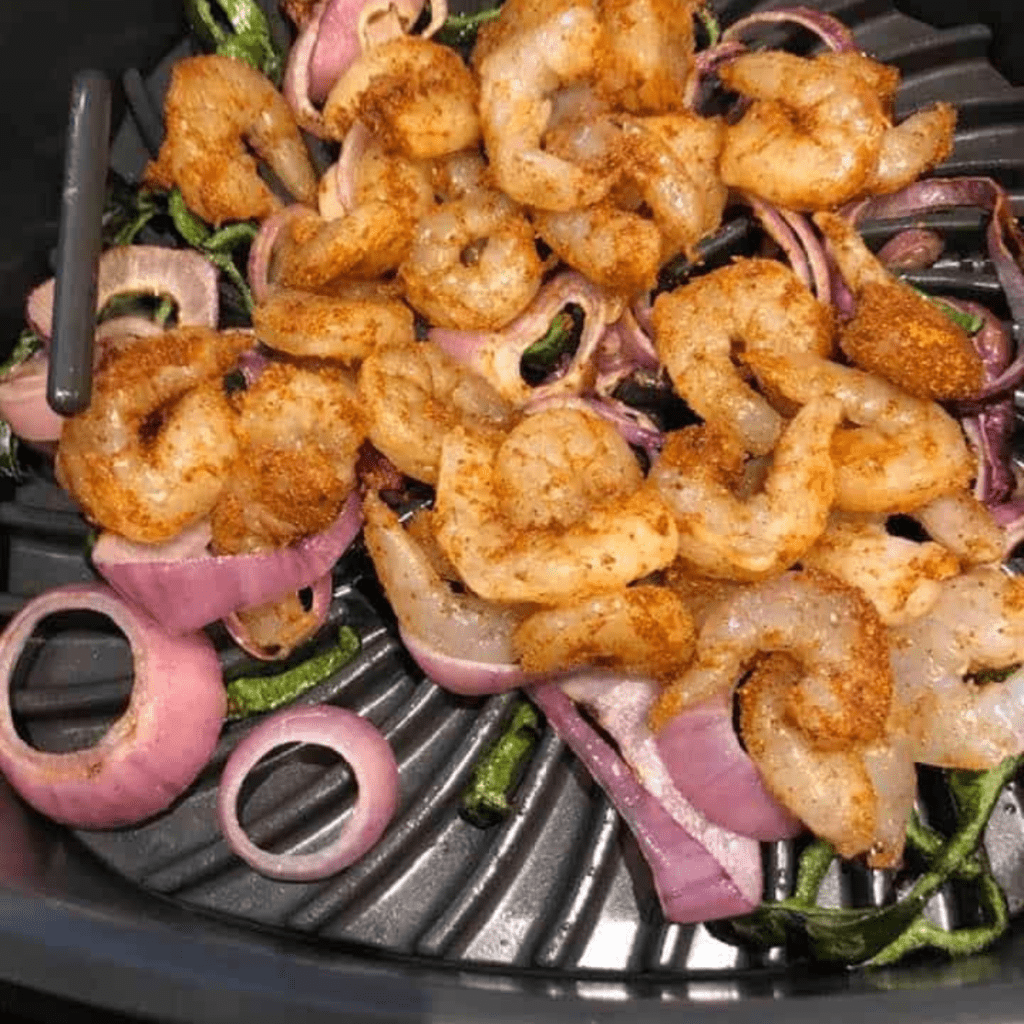 Can You Cook Shrimp On The Ninja Foodi Grill?​
Yes, you can definitely cook shrimp at the Ninja Foodi Grill. The Ninja Foodi Grill is a great appliance for cooking shrimp because it can quickly and evenly cook it while giving it a delicious, golden brown exterior.
Ingredients Needed For Ninja Foodi Grilled Shrimp
If you want to mix up your regular dinner routine, why not try something new and exciting like the Ninja Foodi Grilled Shrimp? This meal will surely be a hit with family or friends due to its worldly flavors, convenience of preparation, and ease of cleanup. All it takes are some simple ingredients for this delicious recipe. Shrimp cooks amazingly at the Ninja Foodi Grill.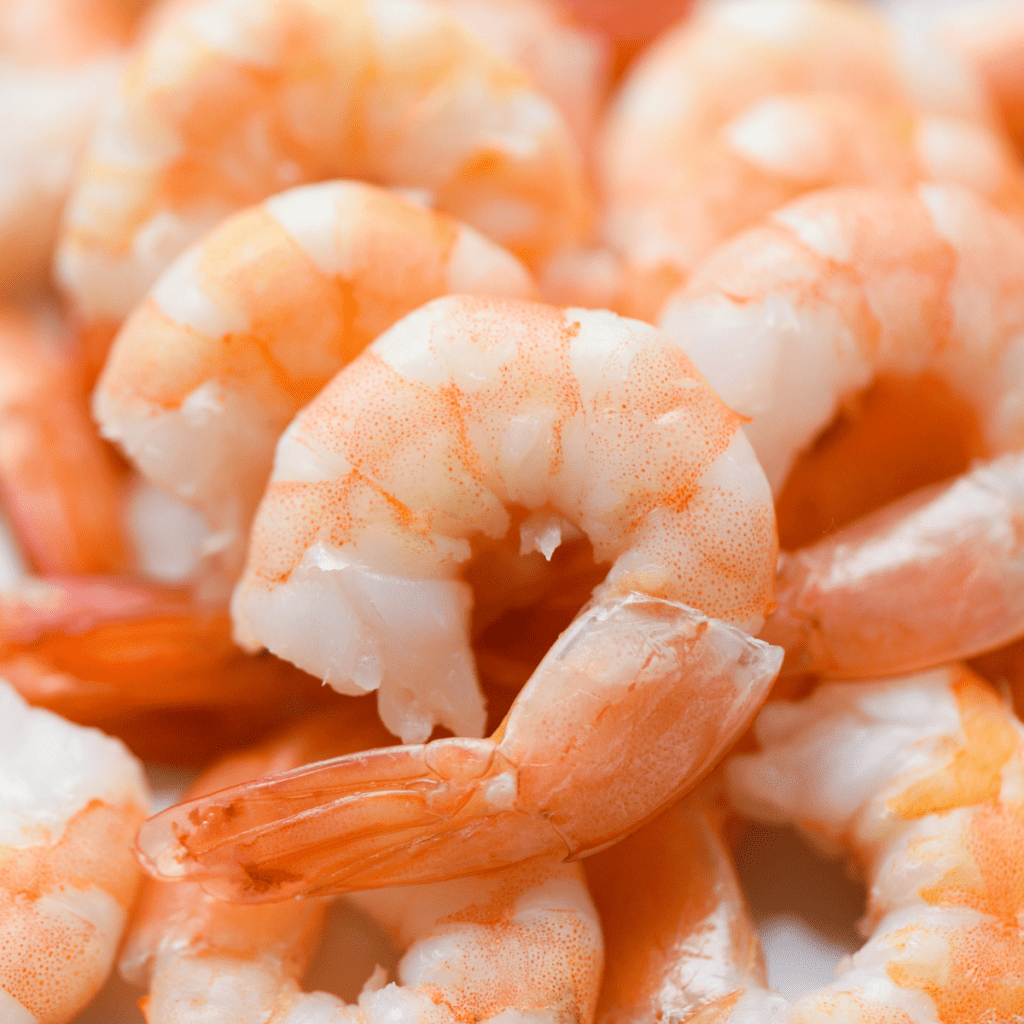 Remember the step-by-step directions are below in the printable recipe card at the bottom of the page, as well as the nutritional information.
​Shrimp: Raw Shrimp or frozen shrimp
Oil: Use high-heat oil, such as olive oil, extra virgin olive oil, avocado oil, or grapeseed oil.
Seasonings and Spices: Sea Salt, Black Pepper, lemon juice, favorite cajun seasoning, or blackening seasoning.
How To Cook Shrimp On The Ninja Foodi Grill
Do you love seafood but don't want to slave over a hot grill or stove? We have the answer: cooking shrimp on your Ninja Foodi Grill! Not only is it quick and easy, but it also tastes delicious. Plus, with simple tricks and helpful tips, you can ensure that your cooked shrimp always comes out perfectly, with grill marks. Keep reading to learn how to make the most of your next grilling session and get juicy, succulent shrimp in no time flat!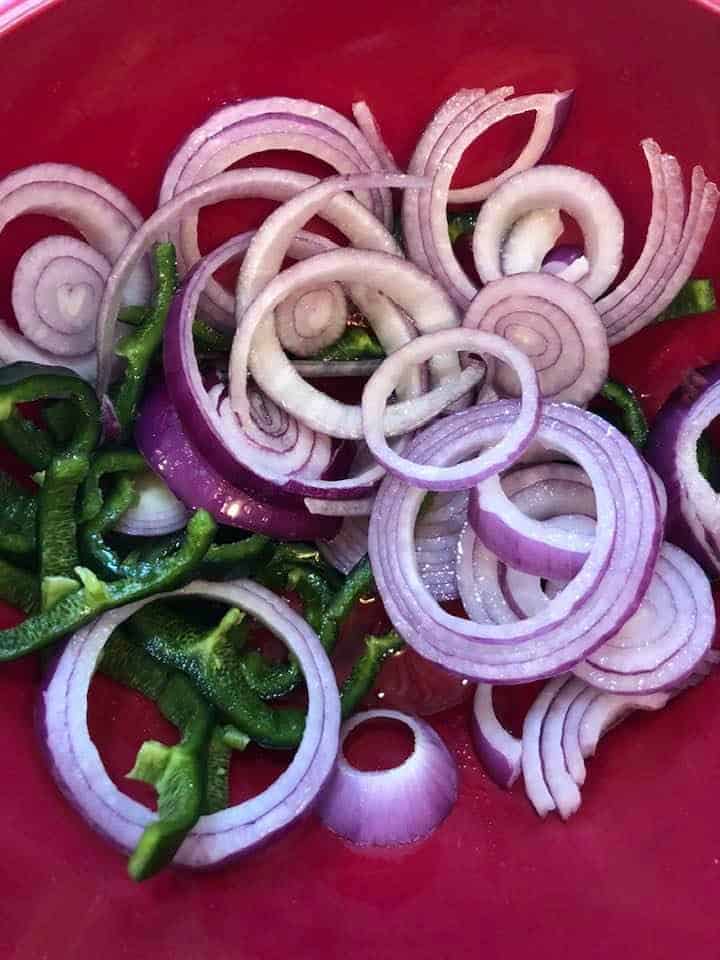 ​
Preheat the Ninja Foodi Grill to the Grill setting for 3-5 minutes. While the grill is heating up, prepare your shrimp. You can use fresh or frozen shrimp, peeled or unpeeled. If using frozen shrimp, make sure to thaw them first.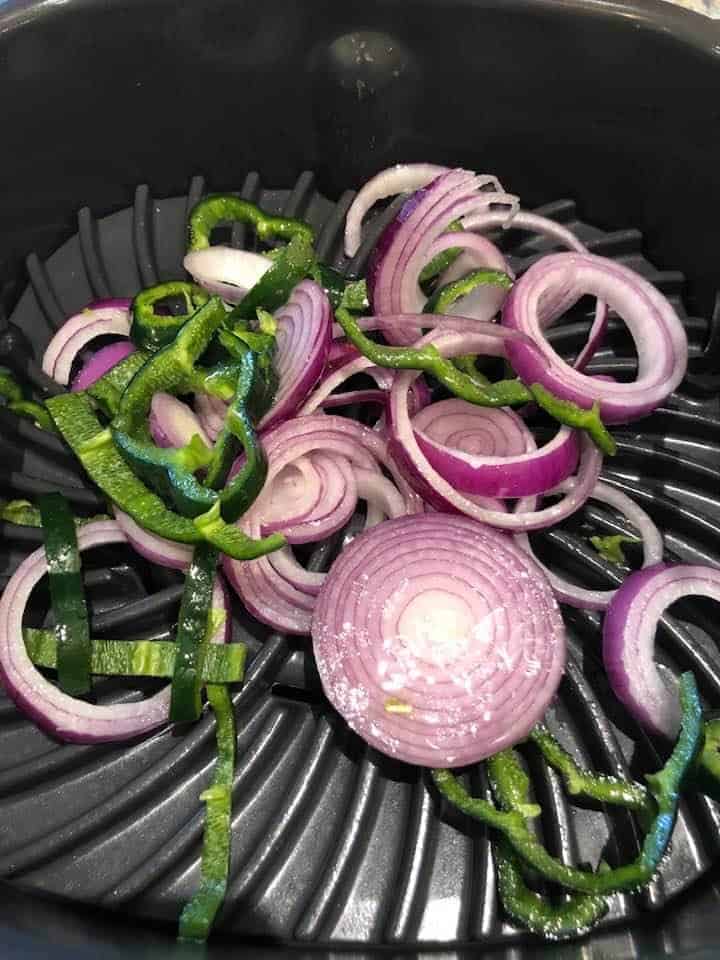 Season the shrimp with your favorite spices and herbs. You can use a simple combination of salt, pepper, and garlic powder or try exotic spices like cumin, paprika, or chili powder.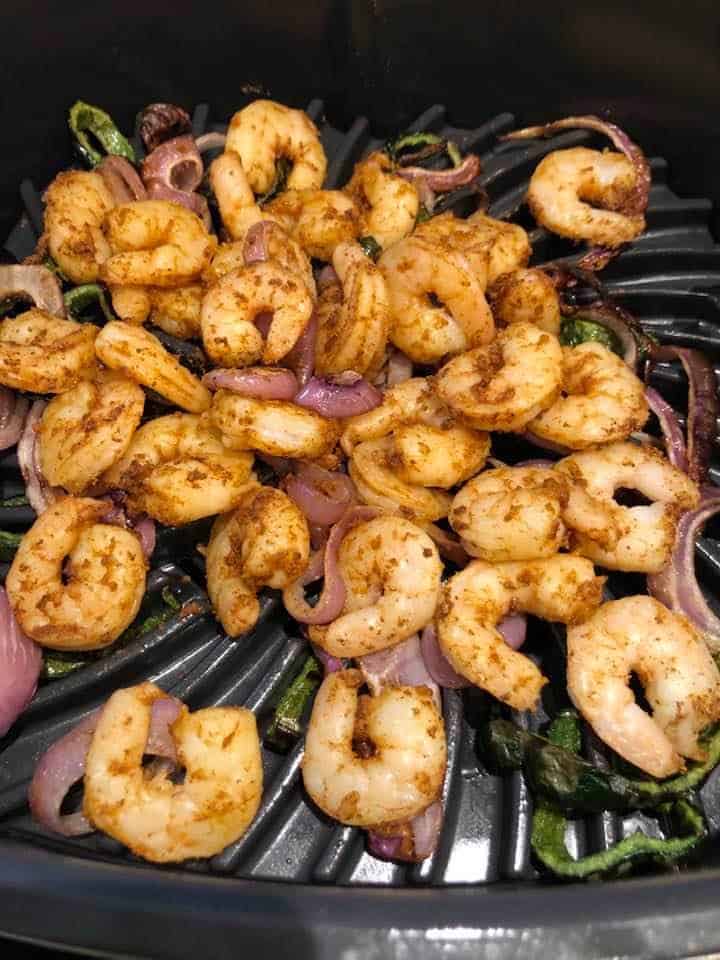 Once the grill is preheated, place the shrimp on the grill grate in a single layer. Make sure to leave some space between the shrimp so that they cook evenly. Close the hood of the Ninja Foodi Grill and cook the shrimp for 2-3 minutes per side or until they are pink and opaque.
Once the shrimp are cooked, remove them from the grill and serve them immediately.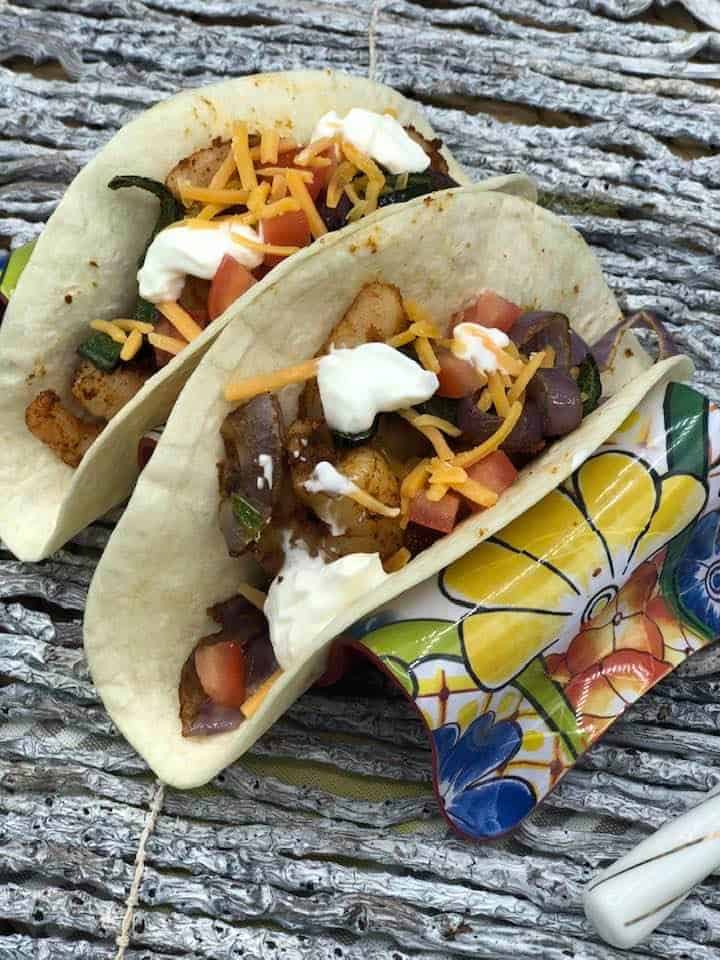 Pro Tips For Cooking Shrimp On The Ninja Foodi Grill
​Here are some pro tips for cooking shrimp on the Ninja Foodi Grill,
Use the right size shrimp: Choose Jumbo Shrimp, large shrimp, or medium-sized shrimp. The size of the shrimp will affect the cooking time
Don't overcrowd the grill: Leave enough space between the shrimp so they cook evenly. If the shrimp are too close together, they may steam instead of a grill, resulting in a rubbery texture.
Use skewers: Thread the shrimp onto metal skewers before grilling to make them easier to handle and flip. If using wooden skewers, make sure to soak them in water for at least 30 minutes before grilling to prevent them from burning.
Add some flavor: Marinate the shrimp in your favorite shrimp marinade for 30 minutes before grilling to add extra flavor. You can also brush the shrimp with butter or olive oil while grilling for a richer, more savory taste.
Be careful not to overcook: Shrimp can become tough and rubbery if overcooked, so keep a close eye on them while grilling. Cook them until they are just pink and opaque, and remove them from the grill immediately.
By following these pro tips, you can ensure that your shrimp turn out perfectly cooked and delicious every time you grill them on the Ninja Foodi Grill.
How To Store Leftover Shrimp
Storing: Allow the shrimp to cool to room temperature before storing. Place the leftover shrimp in an airtight container or resealable plastic bag. Store the shrimp in the refrigerator for up to 3 days. Reheat in the microwave or the air fryer basket.
How To Serve Grilled Shrimp
​Grilled shrimp can be served in various ways, depending on your preference and the occasion. Here are some ideas:
As an appetizer: Grilled shrimp is excellent for parties and gatherings. Serve them with a dipping sauce, such as cocktail sauce or garlic butter, and some lemon wedges on the side.
In a salad: Add grilled shrimp to a salad for a delicious and filling meal. You can use a variety of greens and vegetables and dress the salad with a simple vinaigrette or creamy dressing. For an easy recipe,e make shrimp skewers and serve them over a salad.
In a pasta dish: Toss grilled shrimp with cooked pasta, garlic, olive oil, and your favorite herbs for a simple and flavorful pasta dish. You can add vegetables, such as cherry tomatoes or bell peppers, to the pasta for added nutrition and flavor.
As a taco filling: Grill some shrimp and serve them in soft or crispy shrimp tacos with avocado, salsa, and shredded lettuce for a tasty and easy-to-make meal.
With rice and vegetables: Serve grilled shrimp with steamed rice and sautéed or roasted vegetables, such as asparagus, zucchini, or broccoli, for a healthy and satisfying meal.
No matter how you serve grilled shrimp, make sure to enjoy them while they are still warm and juicy for the best taste and texture.
Frequently Asked Questions​
Can I use frozen shrimp on the Ninja Foodi Grill?
Yes, you can use frozen shrimp on the Ninja Foodi Grill, but make sure to thaw them first. You can thaw shrimp in the refrigerator overnight or run them under cold water for 5-10 minutes.
How do I prevent the shrimp from sticking to the grill?
To prevent the shrimp from sticking to the grill, make sure to preheat the grill and brush the grilling grate with oil before placing the shrimp on it. You can also use non-stick cooking spray to help prevent sticking.
How do I know when the shrimp are done?
Shrimp cook quickly, so keep a close eye on them while grilling. They are done when they turn pink and opaque. You can also check the internal temperature of the shrimp using a meat thermometer; shrimp should reach an internal temperature of 145°F (63°C).
Can I grill shrimp with the shells on?
Yes, you can grill shrimp with the shells on, but they may take longer to cook. Make sure to clean the shrimp thoroughly before grilling, and use kitchen shears to cut down the back of the shell to make it easier to remove before eating.
Can I grill other seafood on the Ninja Foodi Grill?
Yes, the Ninja Foodi Grill is great for grilling other types of seafood, such as scallops, fish fillets, and lobster tails. Adjust the cooking time and temperature according to the type and size of the seafood you are grilling.
​More Ninja Foodi Grill Recipes
NINJA FOODI GRILL BREAKFAST SAUSAGE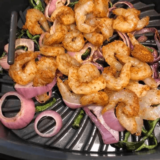 Ninja Foodi Grill Shrimp Recipe
Description
This is a great and easy meal. Today I used my Ninja Foodi Grill and created a great dish, all on the grill. It took less than 20 minutes from start to finish and it's one of my family's favorite meals. Today, my recipe for Air Fryer Southwestern Shrimp Tacos.
Ingredients
1

pound

shrimp

,

raw

1

red onion

,

sliced

1

poblano pepper

,

sliced

2

tablespoon

olive oil

1

teaspoon

seasonings
Instructions
In a large mixing bowl, mix the sliced poblano peppers, diced red onions, and olive oil. Mix well, so all of the peppers/onions are coated.

Turn the Ninja Foodi Grilli on, press the Grill Function, allow the air fryer to preheat, and then add the peppers. Set the timer for 5 minutes, mixing about halfway during the grilling process.

Mix your shrimp with seasonings, and then toss on top of the pepper and onion, grilling for another 5-7 minutes.

Fill your tortilla and top it with your favorite toppings.
Nutrition
Serving:
1
Serving
Calories:
178
kcal
Carbohydrates:
5
g
Protein:
23
g
Fat:
8
g
Saturated Fat:
1
g
Polyunsaturated Fat:
1
g
Monounsaturated Fat:
5
g
Trans Fat:
0.01
g
Cholesterol:
183
mg
Sodium:
137
mg
Potassium:
407
mg
Fiber:
1
g
Sugar:
2
g
Vitamin A:
132
IU
Vitamin C:
26
mg
Calcium:
102
mg
Iron:
1
mg