Air Fryer Copycat Bojangles Chicken Tenders — If you love a great recipe for fried chicken tenders, you will love this recipe.
Crispy breading and tender chicken make for a fantastic lunch or dinner!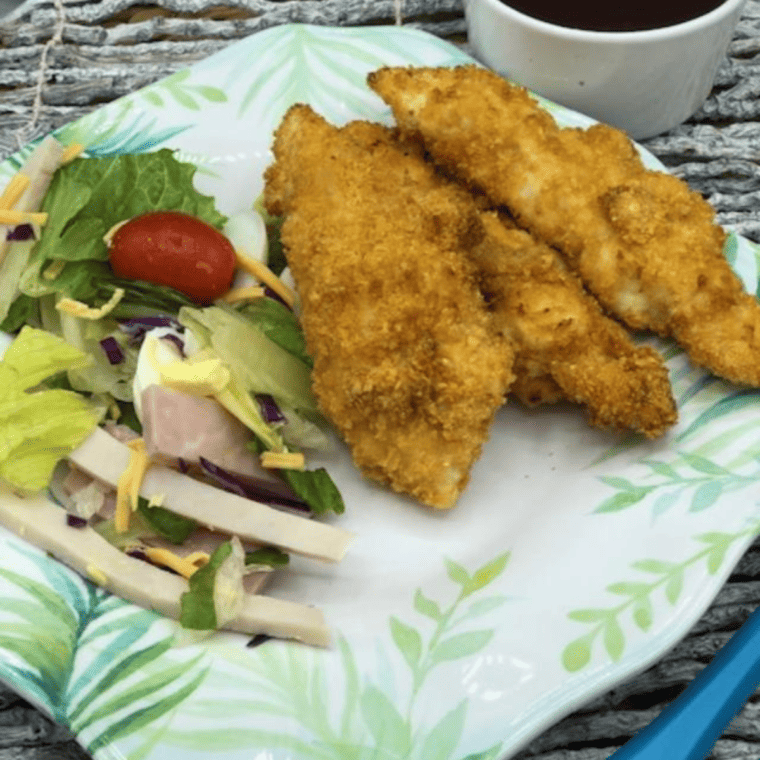 Air Fryer Copycat Bojangles Chicken Tenders
Indulge in the irresistible flavors of Bojangles' renowned chicken tenders without leaving your home! With the magic of the air fryer, you can achieve that perfectly seasoned, crispy-on-the-outside, tender-on-the-inside delicacy in no time.
This Air Fryer Copycat Bojangles Chicken Tenders recipe brings the iconic Southern fast-food flavor to your kitchen, offering a healthier twist without compromising the taste.
Say goodbye to long drive-thru waits and hello to a fresh, homemade delight that's sure to impress!
Ingredients Needed For Air Fryer Copycat Bojangles Chicken Tenders

Get ready to recreate the magic of Bojangles' famed chicken tenders in your kitchen! Here's a list of essential ingredients to bring those tantalizing flavors to life using your trusty air fryer.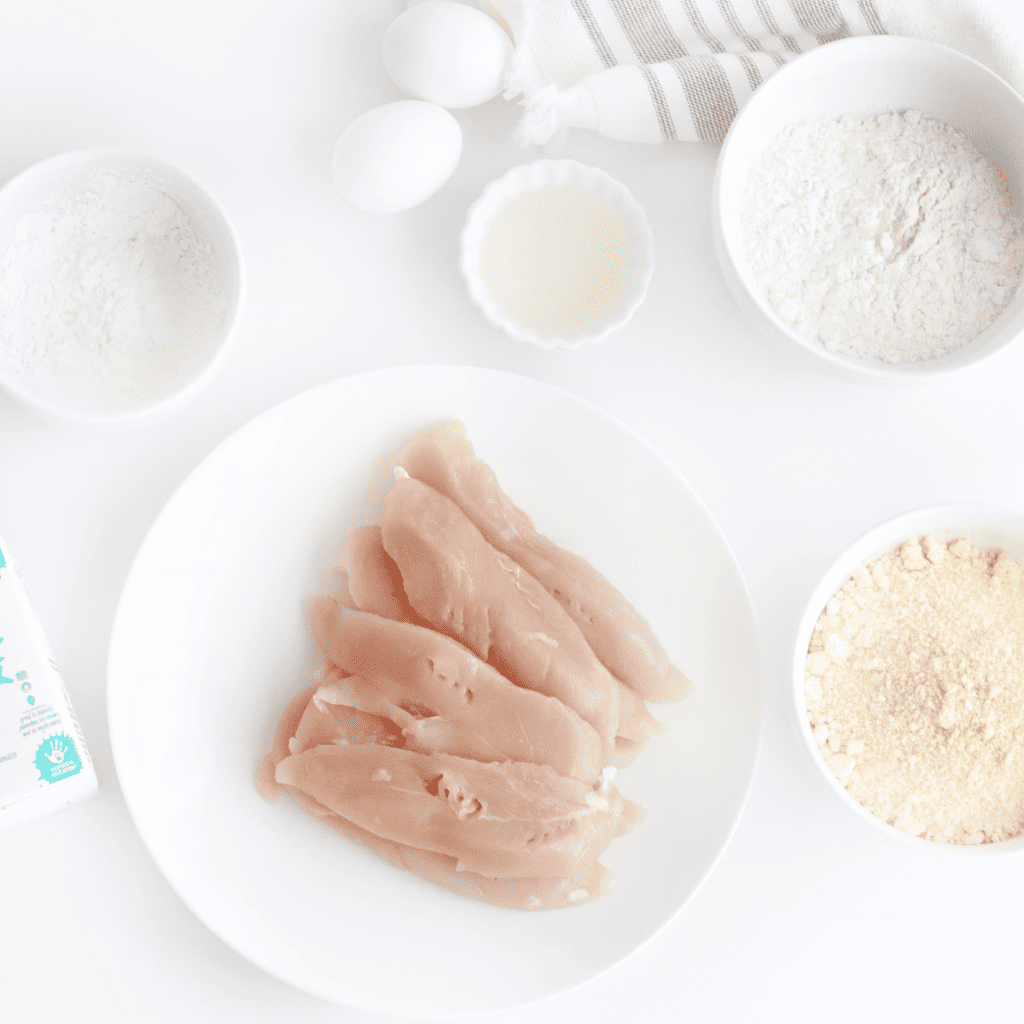 Remember the step by step instructions and detailed ingredient list are below in the printable recipe card at the bottom of the post.
Chicken Tenders: The star of this dish, chicken tenders are lean, juicy, and perfect for a quick cook in the air fryer.
Buttermilk: A classic marinade that tenderizes the chicken while adding a subtle tangy flavor.
Flour: Provides a base for our breading, ensuring a crispy exterior once air-fried.
Seasoning Mix: A blend of spices that replicates the signature Bojangles flavor. Think paprika, garlic powder, onion powder, and a hint of cayenne for that spicy kick.
Panko: Use regular or panko breadcrumbs.
Eggs: Help bind the breading to the chicken for a uniform, golden crust.
Baking Powder: A little secret to puff up the breading, making it even crispier.
Kosher Salt: Enhances all the other flavors and is essential in achieving that restaurant-quality taste.
Black Pepper: Adds a slight heat and a depth of flavor to our breading.
How To Cook Copycat Bojangles Chicken Tenders In Air Fryer
One of life's simple pleasures is indulging in a plate of crispy, flavorful chicken tenders. If you're a fan of Bojangles' renowned chicken tenders, you're in for a treat! With the wonders of air frying technology, you can recreate this beloved classic right in your kitchen, minus the excess oil and guilt.
This step-by-step guide on How To Cook Copycat Bojangles Chicken Tenders In an Air Fryer will walk you through each step, ensuring you achieve that perfect golden crunch and juicy interior every time. Let's bring that Bojangles magic home!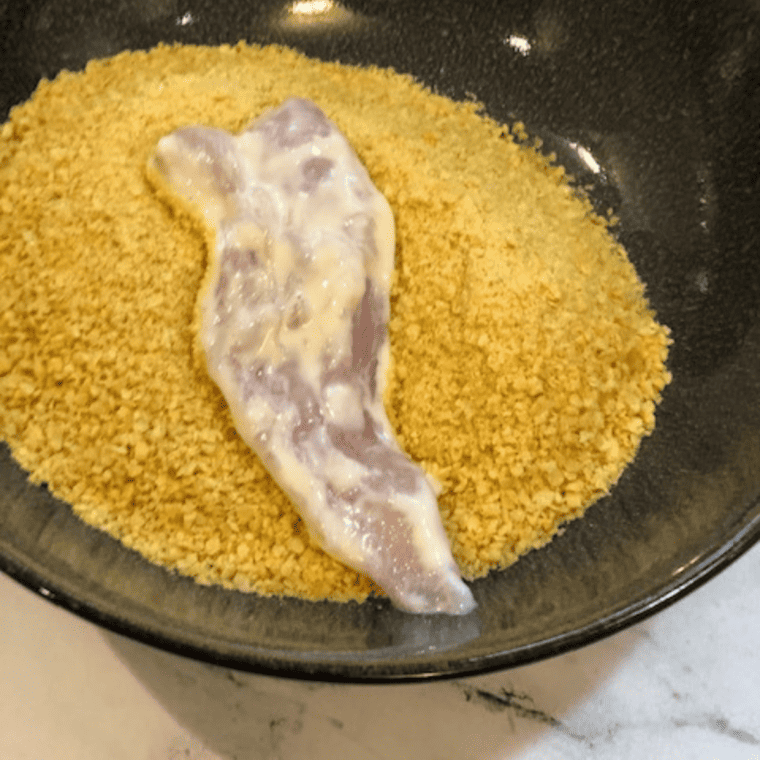 Marinating: Begin by marinating the chicken tenders in buttermilk for at least an hour, but overnight is best for maximum flavor infusion.
Panko Mixture: In a separate bowl, combine panko breadcrumbs, a reduced amount of flour (since we're using panko), paprika, garlic powder, onion powder, cayenne pepper, salt, and pepper. Mix thoroughly.
Dredging: Remove the chicken tenders from the buttermilk, allowing the excess to drip off. First, lightly dredge each tender in plain flour (this helps the wet batter adhere). Then, dip it back into the buttermilk and coat it generously with the panko mixture. Ensure each tender is well-coated and shake off any excess.
Preheat: Set your air fryer to 375°F (190°C) and let it warm up for a few minutes.
Placement: Lay the chicken tenders in the air fryer basket in one layer, ensuring they do not touch. Depending on the size of your air fryer, you might have to cook in batches.
Air Frying: Fry the tenders for 10-12 minutes, turning them midway, until they take on a golden brown hue and are cooked thoroughly.
Temperature Check: Always check the internal temperature at the thickest part of a chicken tender; it should register 165°F (74°C).
Serving: Transfer the tenders to a plate with paper towels to drain any residual oil. Serve immediately with your preferred dipping sauce.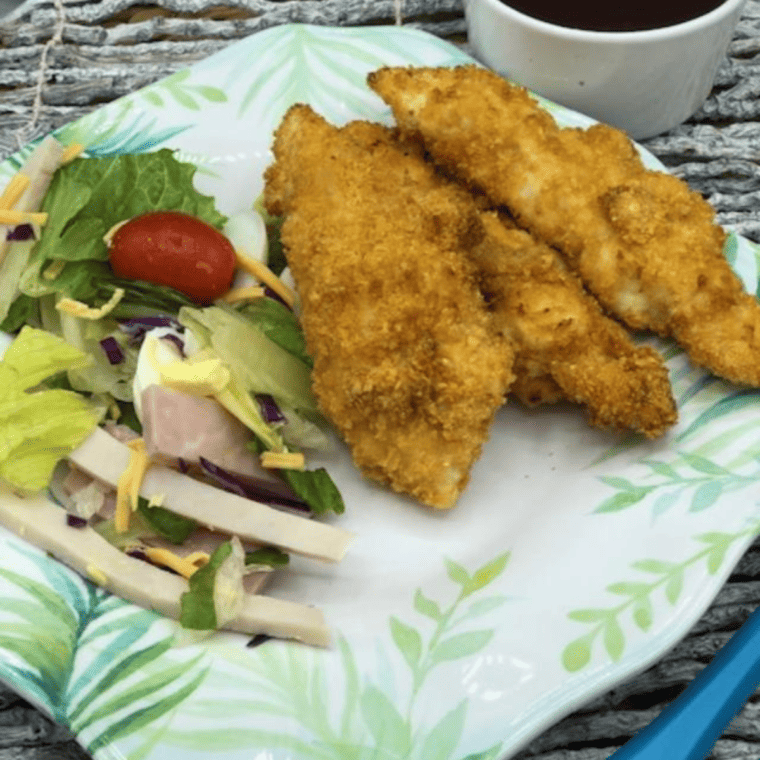 Pro Tips For Making Copycat Bojangles Chicken Tenders In Air Fryer
Marination Magic: Marinate the chicken tenders in buttermilk for as long as possible, preferably overnight. The buttermilk's acidity imparts flavor and helps tenderize the chicken, ensuring a juicier result.
Panko Perfection: If using panko breadcrumbs for an extra crunch, remember they brown faster than regular breadcrumbs. Keep a close eye to avoid over-browning or burning.
Single Layer: Don't overcrowd the air fryer basket. Cook the chicken tenders in a single layer without them touching to ensure even cooking and to achieve that perfect golden-brown crust.
Preheat the Fryer: Just like an oven, always preheat your air fryer for a few minutes before cooking. This ensures the chicken tenders start cooking immediately and evenly.
Temperature Check: Always use a meat thermometer to ensure your chicken tenders are fully cooked. The internal temperature should be at least 165°F (74°C).
Shake or Flip: Halfway through the cooking process, shake the basket or use tongs to flip each tender. This ensures an even crispness on all sides.
Spritz of Oil: If you want an even crispier crust, lightly spritz the breaded chicken tenders with cooking oil before placing them in the air fryer.
Experiment with Seasoning: While the suggested seasoning provides a close flavor to Bojangles, feel free to tweak the spices. Experimenting might get you even closer to the taste you love!
Rest Before Eating: After air frying, the chicken tenders rest for a few minutes. This allows the juices to redistribute, ensuring a moist tender when you bite into it.
Sauce It Up: While these tenders are delicious, they are even better when dipped in your favorite sauce. Whether it's Bojangles' inspired sauce, a classic BBQ, or something spicy, the proper sauce can elevate the experience!
Remember, practice makes perfect. You might need a batch or two to get the timing and technique down, but soon, you'll make these beloved chicken tenders like a pro!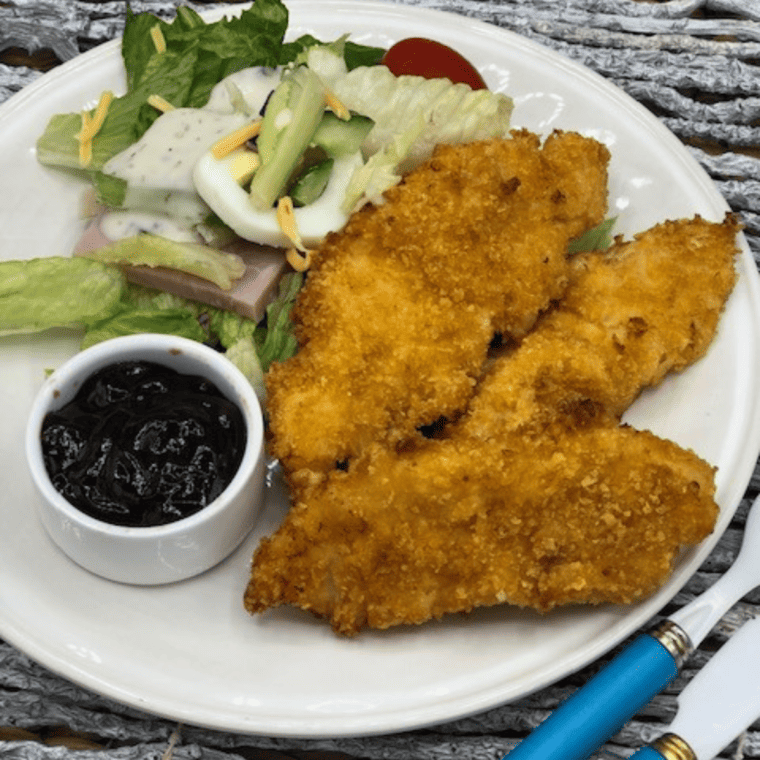 Can I use chicken breasts instead of tenders? Yes, you can. Just cut the chicken breast into thinner strips to mimic the size and thickness of tenders. Adjust the cooking time if needed.
Do I have to marinate the chicken in buttermilk? While marinating in buttermilk adds flavor and tenderness, if you're in a rush, you can skip this step. However, for the best flavor, it's recommended.
Why use panko breadcrumbs? Panko breadcrumbs are lighter, crispier, and airier than traditional breadcrumbs, which can give the chicken tenders a crunchier texture.
What if I don't have an air fryer? You can replicate this recipe in an oven. Place the breaded chicken tenders on a wire rack over a baking sheet and bake at 400°F until cooked through, flipping once.
Are these chicken tenders spicy? The spice level can be adjusted based on your preference. Reduce the amount of cayenne pepper or omit it altogether if you prefer a milder taste.
How do I prevent the breading from falling off? Make sure to press the breadcrumbs onto the chicken firmly. Also, avoid overcrowding the air fryer, which can cause the tenders to touch and stick together.
Can I freeze the breaded chicken tenders and cook them later? Yes, after breading, place them on a baking sheet in a single layer and freeze. Once frozen, transfer to a zip-top bag and store. When ready to cook, you can air fry them straight from the freezer, adding a few extra minutes to the cooking time.
What other dips pair well with these chicken tenders? Honey mustard, ranch dressing, blue cheese, and spicy mayo are all excellent choices. Experiment to find your favorite combination!
Can I double the recipe? Absolutely! However, remember to cook the chicken tenders in batches to avoid overcrowding the air fryer.
Are these chicken tenders gluten-free? This recipe, as written, is not gluten-free due to the use of regular breadcrumbs. If you need a gluten-free version, use gluten-free breadcrumbs and ensure all other ingredients are gluten-free.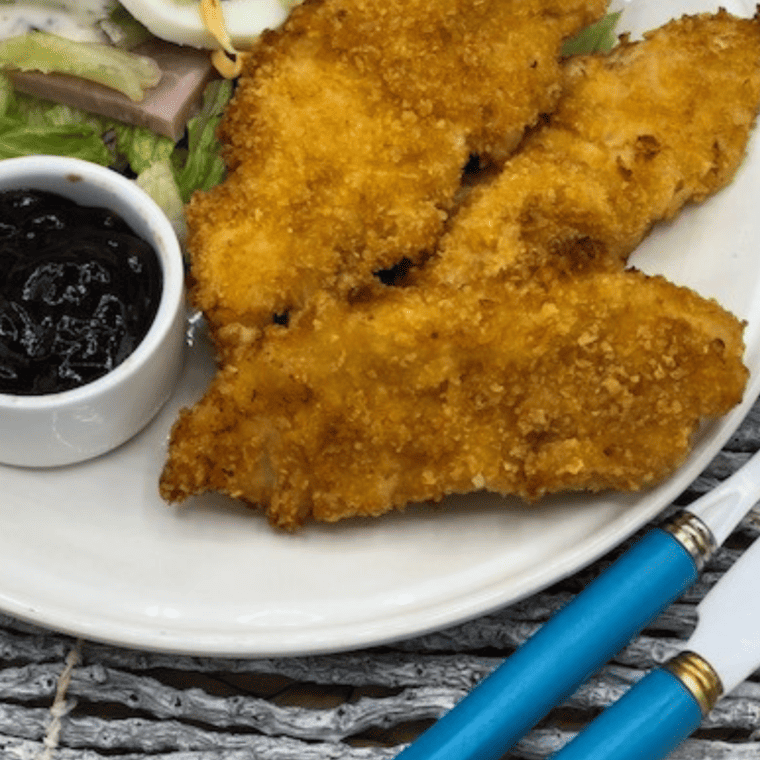 More Air Fryer Recipes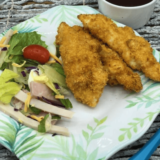 Air Fryer Copycat Bojangles Chicken Tenders
Description
Crisp, tender, and seasoned to perfection, these Copycat Bojangles Chicken Tenders will satisfy your fast-food cravings without ever leaving your home. Using the air fryer, you'll achieve the golden-brown crust and juicy interior that you love, all with a fraction of the oil. These tenders are perfect for a quick dinner, game day snack, or whenever you're in the mood for some finger-licking goodness. Let's dive into how to recreate this classic in your air fryer!
Ingredients
1

lb

chicken tenders

1

cup

buttermilk

1

tsp

garlic powder

1

tsp

onion powder

1

tsp

paprika

1/2

tsp

cayenne pepper

,

adjust to taste

Salt and pepper to taste

1.5

cups

panko breadcrumbs

Cooking spray
Instructions
Marinate Chicken: In a large mixing bowl, combine chicken tenders and buttermilk. Ensure all pieces are submerged. Allow to marinate for at least 30 minutes (longer for more flavor).

Prepare Breadcrumbs: In another bowl, combine panko breadcrumbs, garlic powder, onion powder, paprika, cayenne pepper, salt, and pepper.

Preheat Air Fryer: Set the air fryer to 400°F and let it preheat for about 5 minutes.

Bread Chicken: Remove each chicken tender from the buttermilk, letting the excess drip off. Dredge each piece through the breadcrumb mixture, pressing firmly to adhere. Lay breaded tenders on a tray.

Air Fry: Place chicken tenders in a single layer in the air fryer basket, ensuring they are not touching. Lightly spray the tops with cooking spray.

Cook: Air fry at 400°F for 10-12 minutes, flipping halfway through, until golden brown and cooked through.

Serve: Remove from air fryer and let them rest for a couple of minutes on a cooling rack. Serve hot with your choice of dipping sauce.
Equipment
Air Fryer

Cooking Spray

Parchment Paper,

optional
Notes
Notes:
For best results, do not overcrowd the air fryer. Cook in batches if necessary.
Adjust cayenne pepper for desired spice level.
Can be paired with a variety of dipping sauces like honey mustard, BBQ sauce, or ranch dressing.
---
Storage:
Store any leftovers in an airtight container in the refrigerator for up to 3 days.
To reheat, air fry at 375°F for 3-4 minutes or until heated through.
Nutrition
Serving:
1
Serving
Calories:
261
kcal
Carbohydrates:
20
g
Protein:
29
g
Fat:
6
g
Saturated Fat:
2
g
Polyunsaturated Fat:
1
g
Monounsaturated Fat:
2
g
Trans Fat:
0.01
g
Cholesterol:
79
mg
Sodium:
360
mg
Potassium:
566
mg
Fiber:
1
g
Sugar:
4
g
Vitamin A:
276
IU
Vitamin C:
3
mg
Calcium:
119
mg
Iron:
2
mg