Do you love mozzarella balls? Looking for a cheesy recipe, or just an easy air fryer appetizers? for game day? Tired of homemade mozzarella sticks? If so, you'll love this air fryer recipe! These delicious little snacks are easy to make and perfect for a party. Plus, they're healthier than traditional mozzarella balls because they're baked instead of fried. So give them a try today! You won't be disappointed.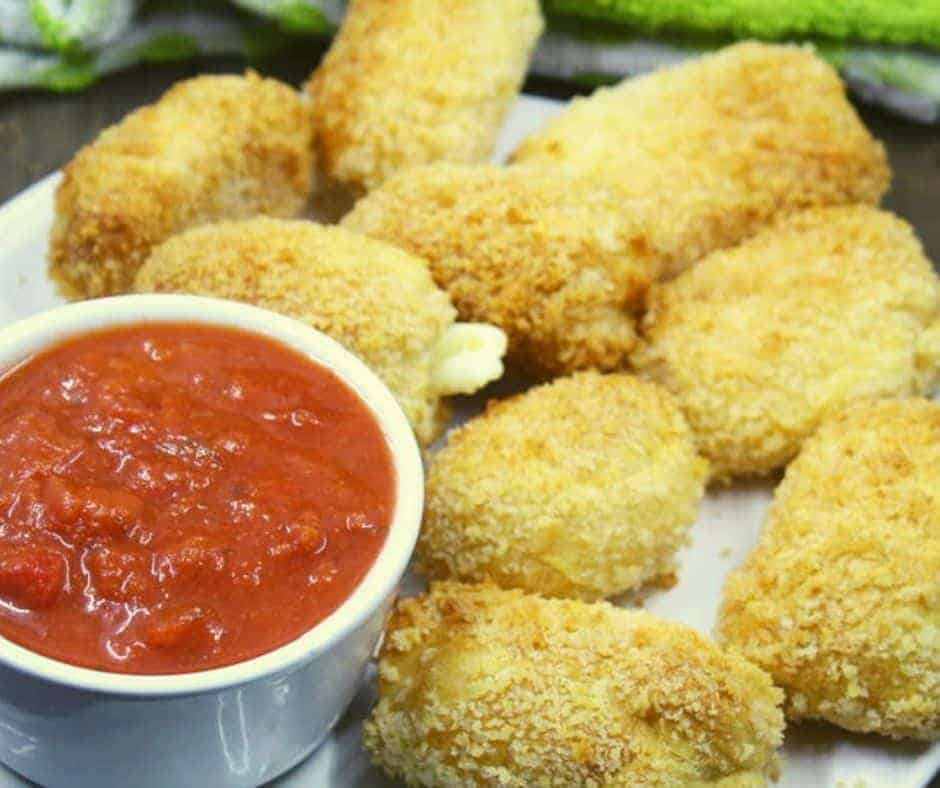 Looking for a delicious and easy appetizer? Look no further than these air fryer mozzarella balls! Made with just a few simple ingredients, these cheese balls are perfect for any occasion. Serve them as an appetizer at your next party or take them to a potluck – you'll be sure to hear compliments galore!
Air Fryer Mozzarella Balls
These Air Fryer Mozzarella Balls are a delicious and easy snack or appetizer. Made with just four ingredients – mozzarella cheese, bread crumbs, crescent dough, and butter – they can be ready in under ten minutes
Serve them as is, or dip them in marinara sauce for an extra burst of flavor. Try experimenting with different types of cheese or breadcrumbs for a unique twist on this classic dish.
So, if you have been looking for easy air fryer recipes, for cheese sticks, this is one of the easiest! And you will love fried chees sticks, perfected to be golden brown. They make for a great air fryer appetizer, game day snack, and everyone loves the taste of deep frying, and today thanks to the air fryer you can this is the best way to make air fryer mozzarella sticks that the whole family will love!
Ingredients Needed For Air Fryer Fried Mozzarella Balls
When you think of cheese balls, what comes to mind? There are many variations of this appetizer, but they all have one common ingredient: mozzarella string cheese.
Making fried mozzarella balls in the air fryer is a breeze! The best part is that there are only a few ingredients needed, and they are all easy to find. In just minutes, you'll have a delicious appetizer that everyone will love. Plus, it's a great way to use up any leftover cheese you might have. So, what are you waiting for? Experiment with different flavors and see which ones are your favorites. Then, share them with your friends and family! They're sure to be impressed.
Remember: The full recipe, for air fryer mozzarella bites, is below in the printable recipe card.
Mozzarella Cheese Sticks: Use your favorite string cheese, you can use mozzarella or any of your favorite string cheese, or fresh mozzarella. There are so many different brands that you can use.
Bread Crumbs: You can also use panko bread crumbs or pork rinds
Crescent Sheets: Use can either ruse crescent rolls or crescent sheets.
Butter: use unwanted, melted butter
Seasonings: Use any of your favorite seasonings for added flavor, some of my favorites are cayenne pepper, garlic powder, Italian seasoning, or fresh minced garlic.
How to Cook Air Fried Mozzarella Balls
Start by separating your dough, you want to separate it into sheets, so it's a full sheet.
Then cut the cheese sticks into 1-inch cubes, 1 cheese stick will get you 3 pieces. Wrap your cheese stick up using the dough, and make sure that the edges are well sealed. Use your fingers to seal them and roll them so all of the dough is whole; you don't want any places for the cheese to escape.
Dip the cheese packages into the melted butter, in a shallow bowl.. Then into the breadcrumb mixture. As you dip them into the butter and then panko, place them into a greased air fryer basket. (Sprayed with cooking spray) Set the air fryer temperature to 370 degrees F, air fryer setting, for 5 minutes, after 5 minutes look at them, are they golden brown? I flipped mine and did another 3 minutes.
There is nothing better than Fried Cheese, and the Air Fryer Does an amazing job at making light, crispy, and delicious fried cheese sticks! 
Some Pro Tips For Cheesy Mozzarella Sticks
Use Your Hands and close the seams of the crescent dough. This way, the cheese does not leak through.
You can use biscuit dough, or pizza dough, although it's thicker. The cooking time will need to be increased.
Spray your air fryer basket with olive oil spray, so the mozzarella bites do not stick to the air fryer basket, you can also use parchment paper, tin foil, or aluminum foil.
Flip the mozzarella bites halfway during the cooking process, so both sides cook evenly and properly.
For best results, cook in an even layer. If you stack them, they will not cook properly.
How long do you cook mozzarella bites in an air fryer?
Place the frozen mozzarella sticks into the air fryer basket or in the air fryer tray, and spread them out evenly in a single layer.
Air Fry at 390 degrees F, air fryer setting for 5-10 minutes.
How To Store Mozzarella Medallions
Looking to impress your friends and family with an amazing cheese dish? Look no further than mozzarella medallions! These little guys are easy to make and always a crowd pleaser. But, before you can wow them with your culinary skills, you need to know how to store mozzarella medallions properly. Read on for all the info!
Refrigerator: One option for storing mozzarella medallions is to wrap them tightly in plastic wrap or place them in an airtight container before placing them in the refrigerator. This will help to keep moisture and prevent them from drying out.
Freezer: Medallions can also be frozen for up to three months. Place the prepared mozzarella cheese bites on a parchment-lined baking sheet, and then place the baking sheet into the freezer. Freeze until the cheese bites are frozen solid. Remove and place them into a freezer bag. The freezer time will vary from 30 minutes to one hour.
They will last in the freezer for about 2 to 4 months. Then the next time you want a cheesy snack, place the frozen mozzarella bites into the air fryer and cook time for 6-8 minutes, at 400 degrees F.
What Type of Dip Can You Serve With These Fried Mozzarella Bites
There are so many dips that pair well with these, today I went with a simple marinara sauce, but so many other options work with this perfect snack. Some of my favorites to serve with this tasty appetizer recipe are:
Hot Sauce
Pizza Sauce
Ranch
Blue Cheese Dip
Honey Mustard Sauce
BBQ Sauce
Parmesan Cheese
Air Fryer Mozzarella Balls
Everyone who air fries loves a quick and easy recipe. And a lot of people who have tried my air fryer mozzarella sticks absolutely love them, but they really don't like the long process of freezing them, and waiting, Because when a mozzarella craving hits, you want the dish now, not in two hours. So, after trying, trying, and trying some more, I got a dish for you. Here are my Easy Air Fryer Mozzarella Bites.
Keyword:
Air Fryer Mozzarella Balls, Air Fryer Mozzarella Bites
Ingredients
1

package

crescent sheets

8

mozzarella sticks

2

teaspoons

butter

unsalted, and melted

1

cup

panko breadcrumbs
Instructions
Layout the crescent dough on a flat surface.

Cut your mozzarella sticks into thirds.

Figure out how big you need to cut your dough based on the mozzarella stick's size.

Wrap the Dough around the cut mozzarella stick. Press the ends really hard so they don't fall apart.

Dip the wrapped mozzarella stick in melted butter.

Then dip the coated mozzarella stick in the panko breadcrumbs.

Set the mozzarella bites into your air fryer basket, and set the temperature to 320 degrees F, air fryer setting, for about 5-8 minutes.
Nutrition Facts
Air Fryer Mozzarella Balls
Amount Per Serving (1 g)
Calories 288
Calories from Fat 99
% Daily Value*
Fat 11g17%
Cholesterol 18mg6%
Sodium 557mg24%
Potassium 57mg2%
Carbohydrates 36g12%
Protein 11g22%
Vitamin A 35IU1%
Calcium 40mg4%
Iron 2mg11%
* Percent Daily Values are based on a 2000 calorie diet.