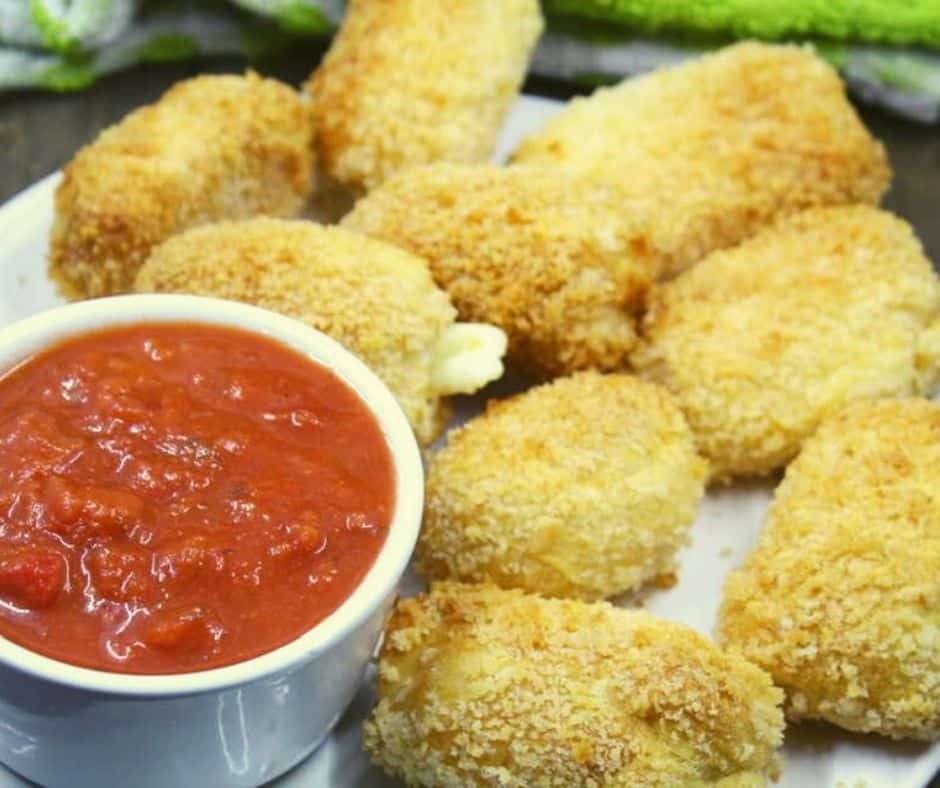 Air Fryer Mozzarella Bites — If you have failed at air fryer mozzarella sticks or hate waiting for the cheese to freeze, this is the perfect recipe for you!
This was my kid's favorite lunch this year. Not only did we have Air Fryer Mozzarella Bites, but we also had Instant Pot Potato Skins, so it was like an appetizer day. And, who doesn't love appetizers?
I have been using my air fryer and experiment with different foods. So this is what I came up with.
If you are looking for some great snacks or appetizers that the entire family can enjoy, some of my favorites are AIR FRYER COPYCAT MCDONALD'S FRENCH FRIES; AIR FRYER WEIGHT WATCHERS STUFFED JALAPENOS, AIR FRYER CHEESEBURGER SLIDERS, and AIR FRYER SALAMI BOATS.
Ingredients Needed For Air Fryer Mozzarella Bites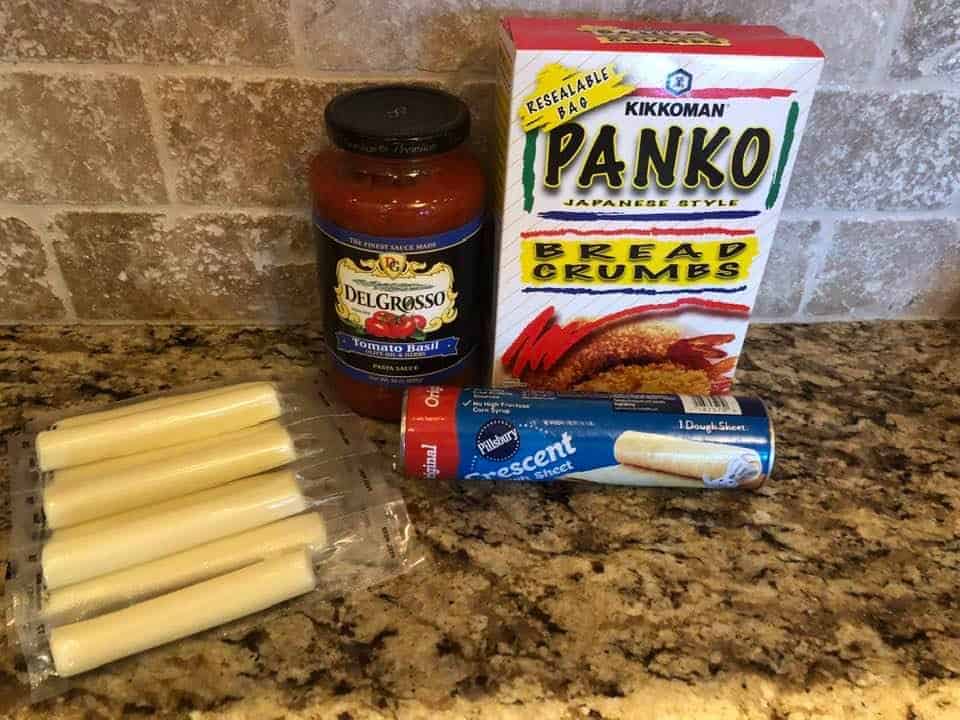 Crescent Dough
Mozzarella Sticks
Butter
Bread Crumbs
Cooking Spray
Optional:  Sauce for Dipping
How To Make Air Fryer Mozzarella Bites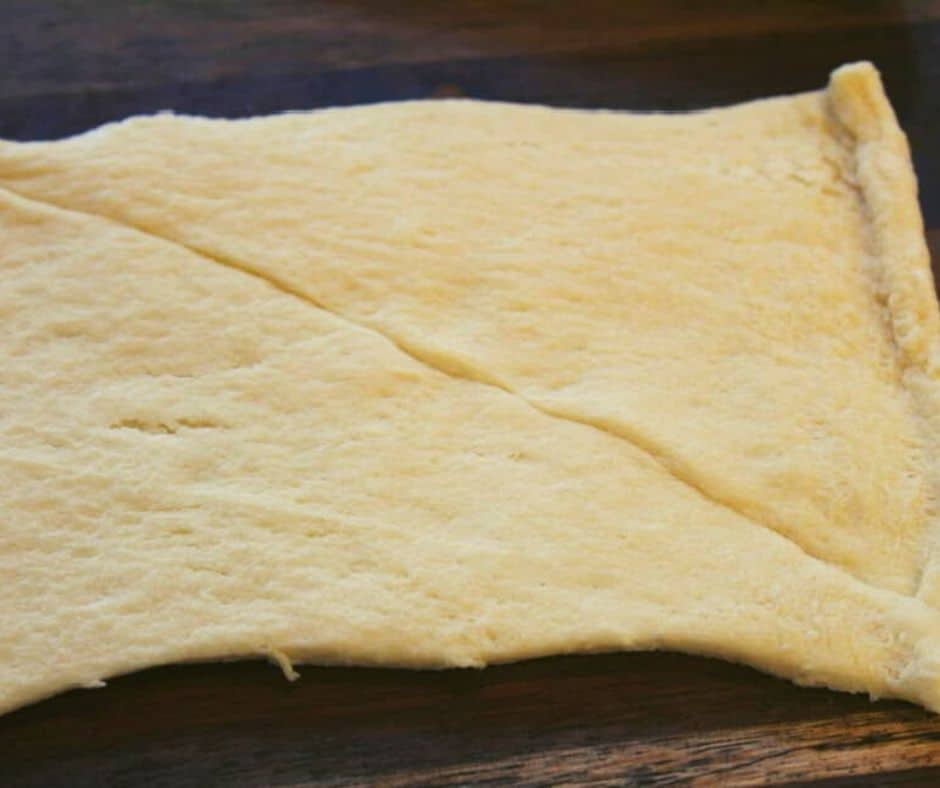 Start by separating your dough, you want to separate it into sheets, so it's a full sheet.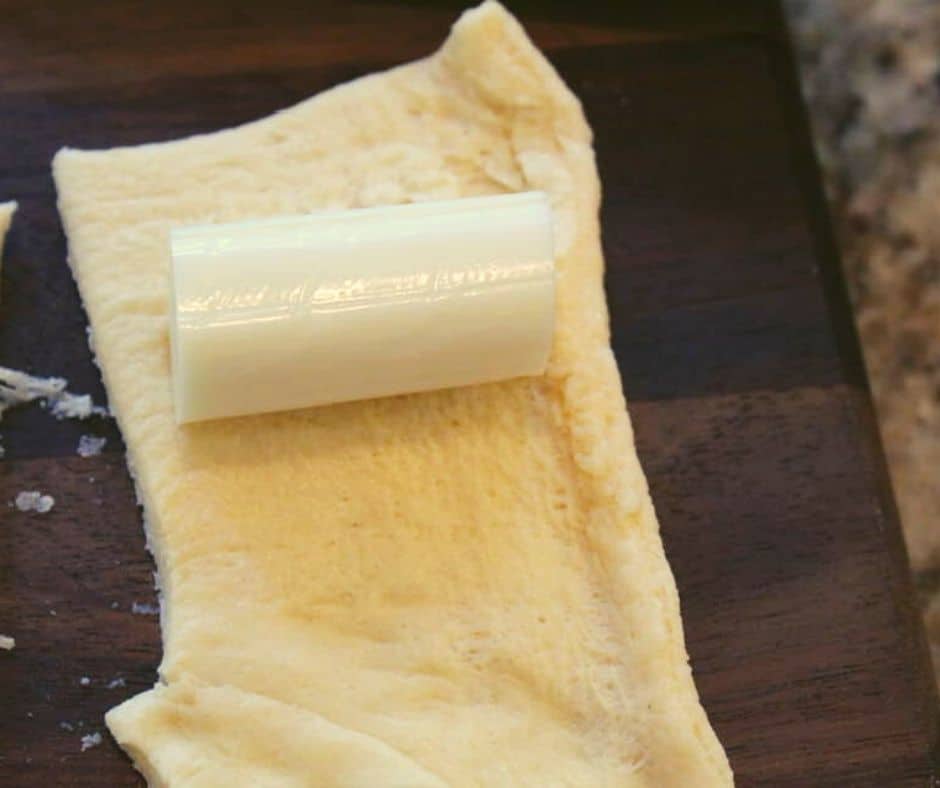 Then cut the cheese sticks into 3 pieces; 1 cheese stick will get you 3 pieces. Wrap your cheese stick up using the dough, and make sure that the edges are well sealed. Use your fingers to seal them and roll them so all of the dough is whole; you don't want any places for the cheese to escape.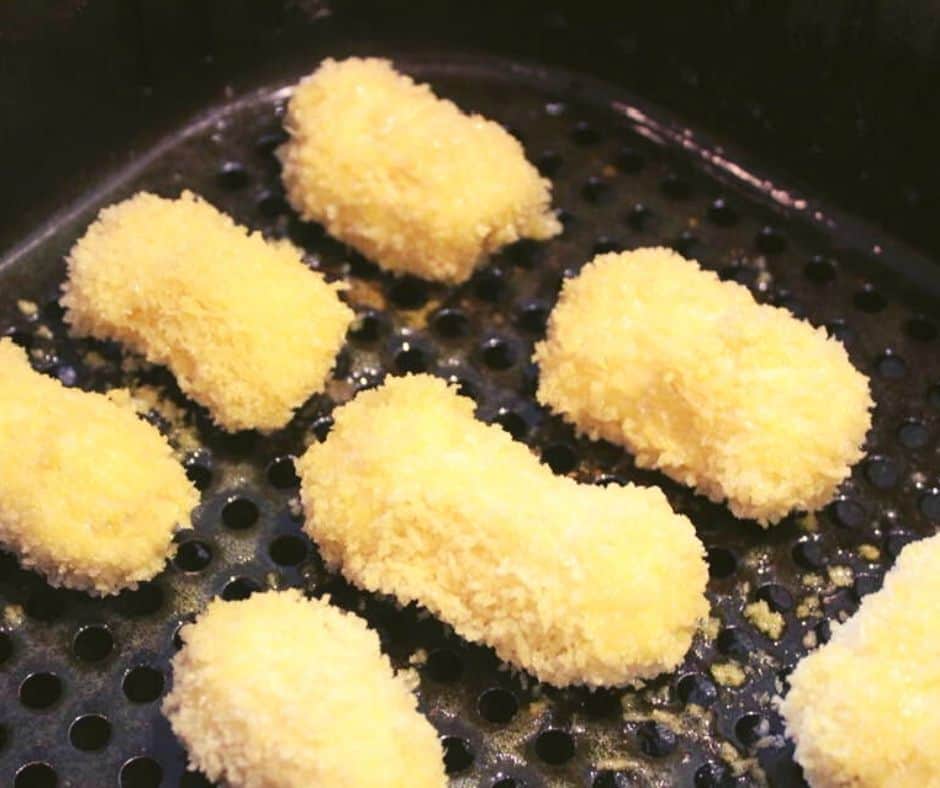 Dip the cheese packages into the melted butter. Then into the panko breadcrumbs. As you dip them into the butter and then panko, place them into a greased air fryer basket. Set the air fryer temperature to 370 degrees F, air fryer setting, for 5 minutes, after 5 minutes look at them, are they golden brown? I flipped mine and did another 3 minutes.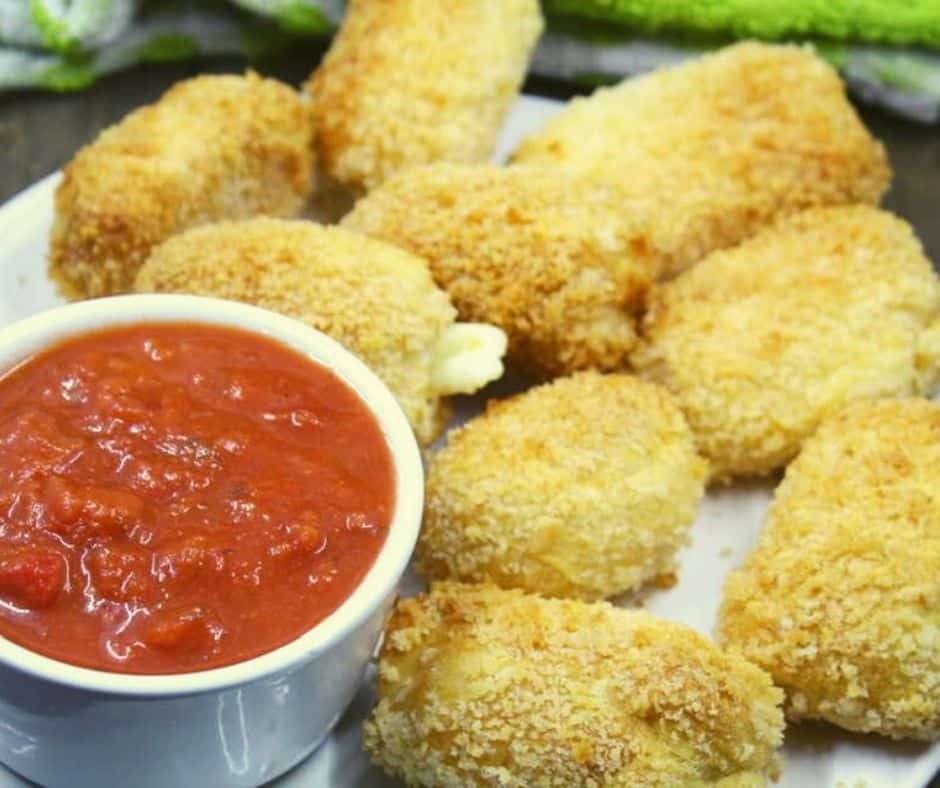 There is nothing better than Fried Cheese, and the Air Fryer Does an amazing job at making light, crispy and delicious fried cheese sticks! 


Some Pro Tips:
Use Your Hands and close the seams of the crescent dough. This way, the cheese does not leak through.
You can use biscuit dough, although it's thicker.
Spray your air fryer basket with cooking spray so the mozzarella bites do not stick to the air fryer basket.
Flip the mozzarella bites halfway during the cooking process, so both sides cook evenly and properly.
Cook in an even layer. If you stack them, they will not cook properly.
How long do you cook mozzarella bites in an air fryer?
Place the frozen mozzarella sticks into the air fryer basket or in the air fryer tray, and spread them out evenly in a single layer. 
Air Fry at 390 degrees F, air fryer setting for 5-10 minutes.
What Type of Dip Can You Serve With These Cheese Sticks?
There are so many dips that pair well with these, today I went with a simple marinara sauce, but so many other options work with this recipe. Some of my favorites are:
Hot Sauce
Ranch
Blue Cheese Dip
Honey Mustard Sauce
BBQ Sauce
Some Other Great Air Fryer Snack Recipes
Don't Forget To Pin-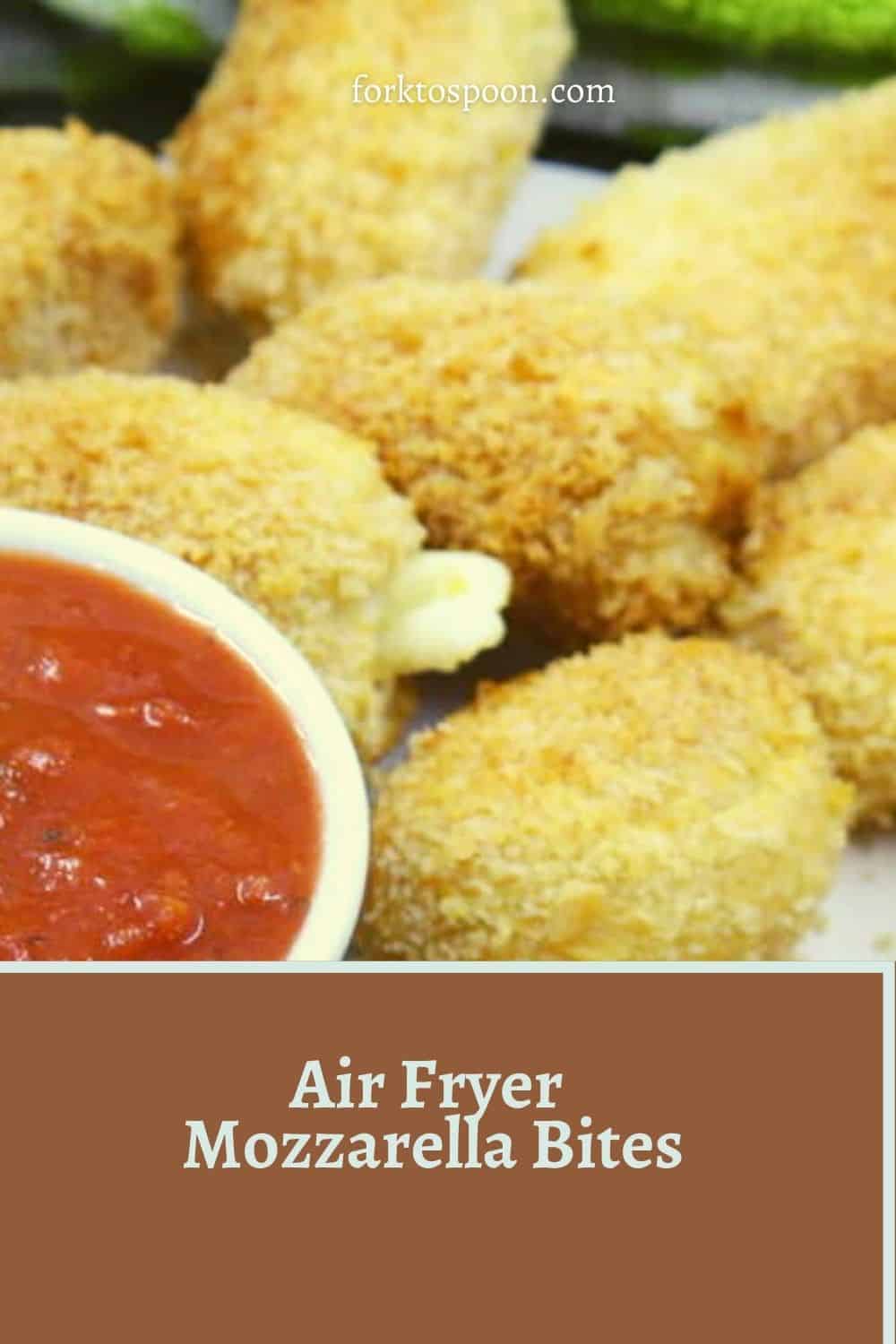 Yield: 15 Servings
Air Fryer Mozzarella Bites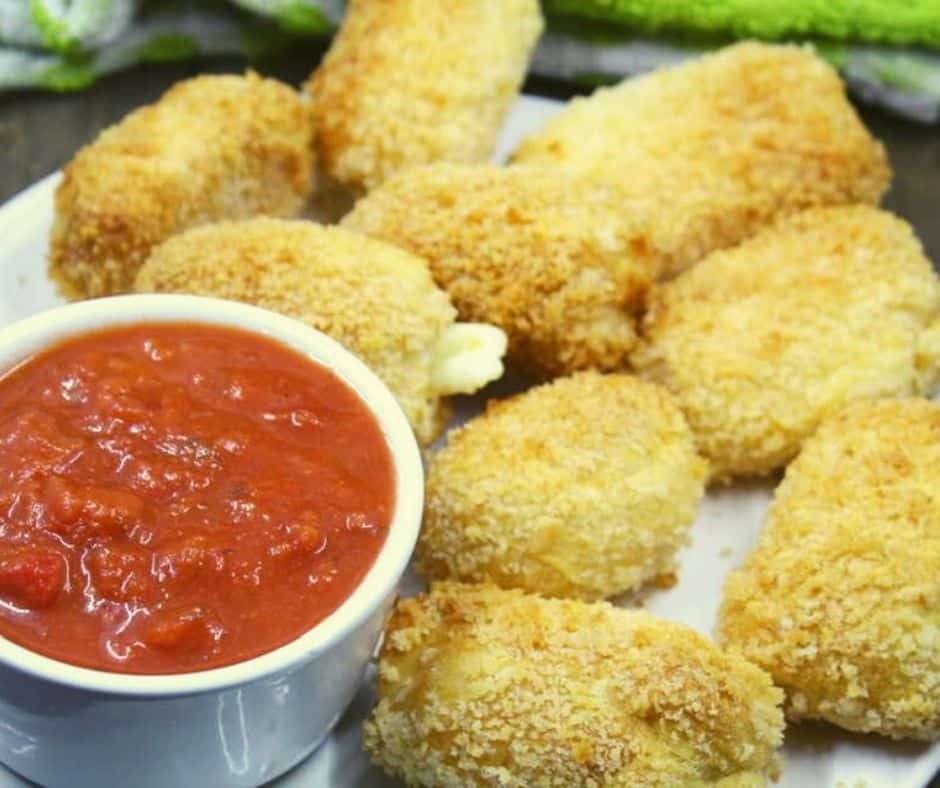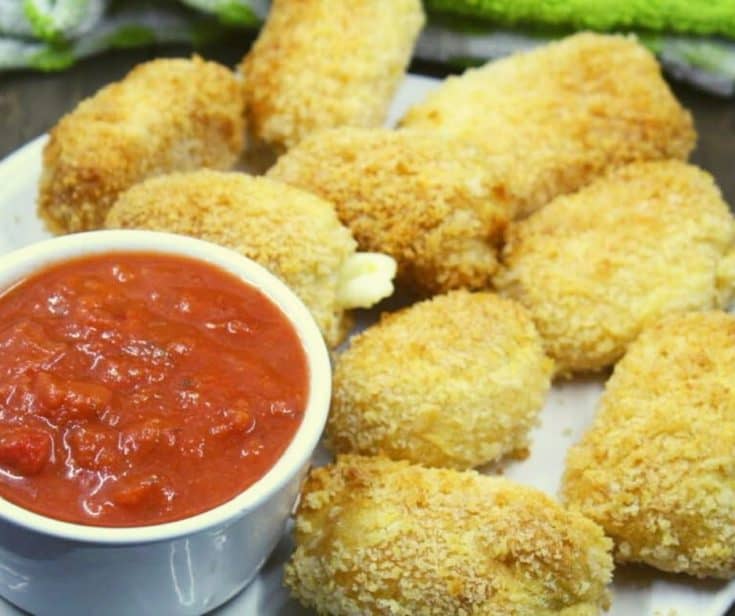 Everyone who air fries loves a quick and easy recipe. And a lot of people who have tried my air fryer mozzarella sticks absolutely love them, but they really don't like the long process of freezing them, and waiting, Because when a mozzarella craving hits, you want the dish now, not in two hours. So, after trying, trying, and trying some more, I got a dish for you. Here are my Easy Air Fryer Mozzarella Bites.
Ingredients
1 package crescent sheets
1 package mozzarella sticks, 8 count
2 teaspoons melted butter
1 cup panko bread crumbs
Instructions
Layout the crescent dough on a flat surface.
Cut your mozzarella sticks into thirds.
Figure out how big you need to cut your dough based on the mozzarella stick's size.
Cut the crescent dough.
Wrap the Dough around the cut mozzarella stick. Press the ends really hard so they don't fall apart.
Dip the wrapped mozzarella stick in melted butter.
Then dip the coated mozzarella stick in the panko breadcrumbs.
Set the mozzarella bites into your air fryer basket, and set the temperature to 320 degrees F, air fryer setting, for about 5-8 minutes.
Plate, serve, and enjoy!
Nutrition Information:
Yield:
15
Serving Size:
1
Amount Per Serving:
Calories:

46
Total Fat:

2g
Saturated Fat:

1g
Trans Fat:

0g
Unsaturated Fat:

1g
Cholesterol:

3mg
Sodium:

82mg
Carbohydrates:

6g
Fiber:

0g
Sugar:

1g
Protein:

1g