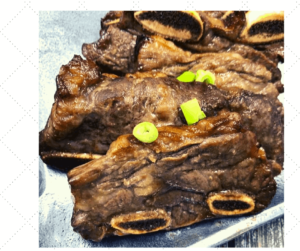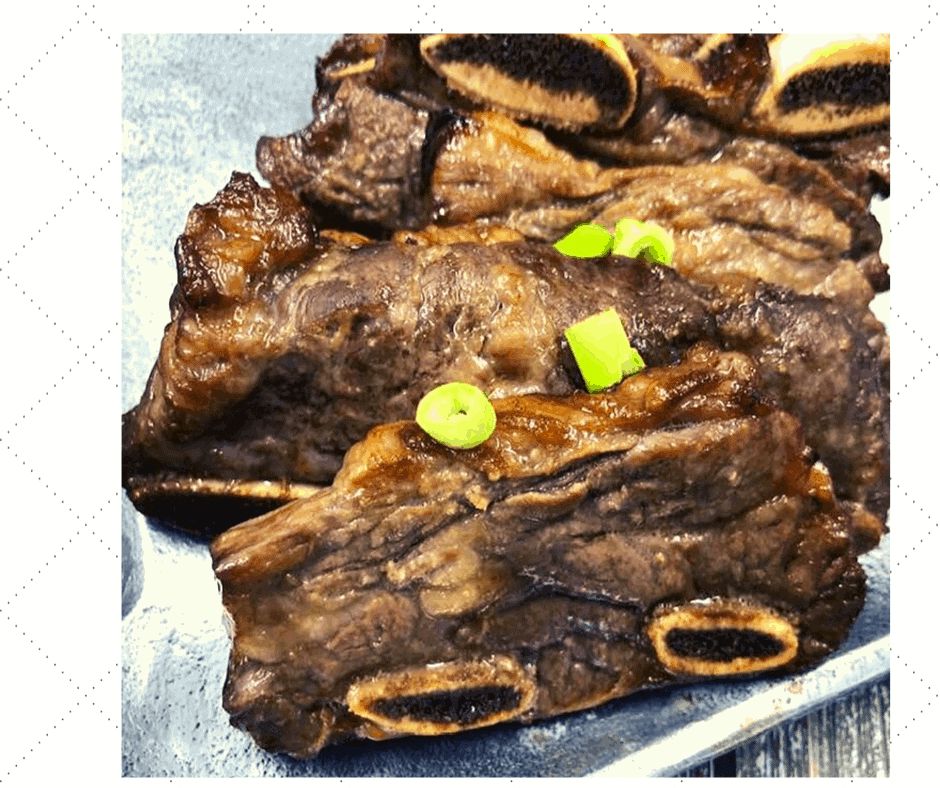 Korean short ribs are some of the best-tasting ribs I have ever cooked. They are easy to find in the grocery store and can be easily flavored.
What Are Korean Short Ribs?
Korean short ribs are usually found in the Asian market, but in recent years they have been creeping up in the regular grocery stores. So, check the beef section of your grocery store, you may be able to grab a package. If not ask your butcher.
There are two types of Korean Short Ribs, the first is called Kalbi, Galbi or just Korean Barbecue Short Ribs, and they are the flank style of meat. This piece of meat is thin and usually contains a bone in each piece of rib.
The second kind of Korean Short Rib is where they cut the one in between the bones, much like a regular rib.
Unlike regular old ribs this meat is beef, rather than pork.
Short ribs are generally very short, only about 2 to 4 inches.
Today, I made a basic Korean Short Rib Marinade using–
2

pounds beef short ribs

1/2 cup

soy sauce

1/2 cup

brown sugar

1 teaspoon

minced garlic

1 tablespoon

ground ginger

1/2 teaspoon

red pepper flakes
Here are the Simple Steps I Used in Preparing the Short Ribs today in my Air Fryer–
These are the ribs I used in this recipe.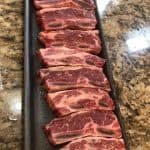 In a large ziplock bag, place the meat, then pour in the soy sauce, brown sugar, minced garlic, ground ginger, and red pepper flakes. (You may add some salt and pepper in to)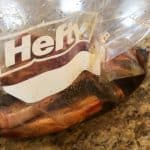 Place in the refrigerator to marinate for at least an hour.
Then place the ribs on an air fryer tray or basket. Set the temperature for 400 degrees F, for 6 minutes, after 3 minutes flip and then baste with the marinade, cook for another 3 minutes (total cook time 6 minutes, 3 minutes cook, then flip and then another 3 minutes)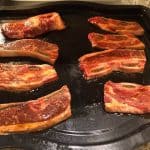 Plate, serve, and enjoy!

Don't Forget to Pin: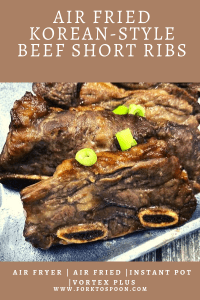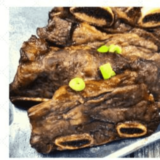 Air Fryer Korean-Style Beef Short Ribs
Description
These are so easy to make, my kids gobbled them up. They were done in less than 5 minutes.
Ingredients
2

pounds

beef short ribs

1/2

cup

soy sauce

1/2

cup

brown sugar

1

teaspoon

garlic

,

minced

1

tablespoon

ground ginger

1/2

teaspoon

red pepper flakes
Instructions
In a large ziplock bag, place the meat, then pour int eh soy sauce, brown sugar, minced garlic, ground ginger, and red pepper flakes. (You may add some salt and pepper in to)

Place in the refrigerator to marinate for at least an hour.

Then place the ribs on an air fryer tray or basket. Set the temperature for 400 degrees F, for 6 minutes, after 3 minutes flip and then baste with the marinade, cook for another 3 minutes (total cook time 6 minutes, 3 minutes cook, then flip and then another 3 minutes)
Equipment
Air Fryer,

Air Fryer Basket or Air Fryer Oven
Nutrition
Serving:
1
g
Calories:
414
kcal
Carbohydrates:
30
g
Protein:
35
g
Fat:
17
g
Saturated Fat:
7
g
Polyunsaturated Fat:
1
g
Monounsaturated Fat:
7
g
Cholesterol:
98
mg
Sodium:
1740
mg
Potassium:
713
mg
Fiber:
1
g
Sugar:
27
g
Vitamin A:
75
IU
Vitamin C:
0.2
mg
Calcium:
45
mg
Iron:
5
mg