These Counter Protectors From Heat will keep your countertops protected and looking beautiful. Air fryers can do some damage if you don't properly protect them.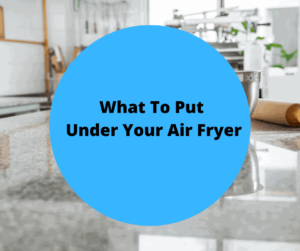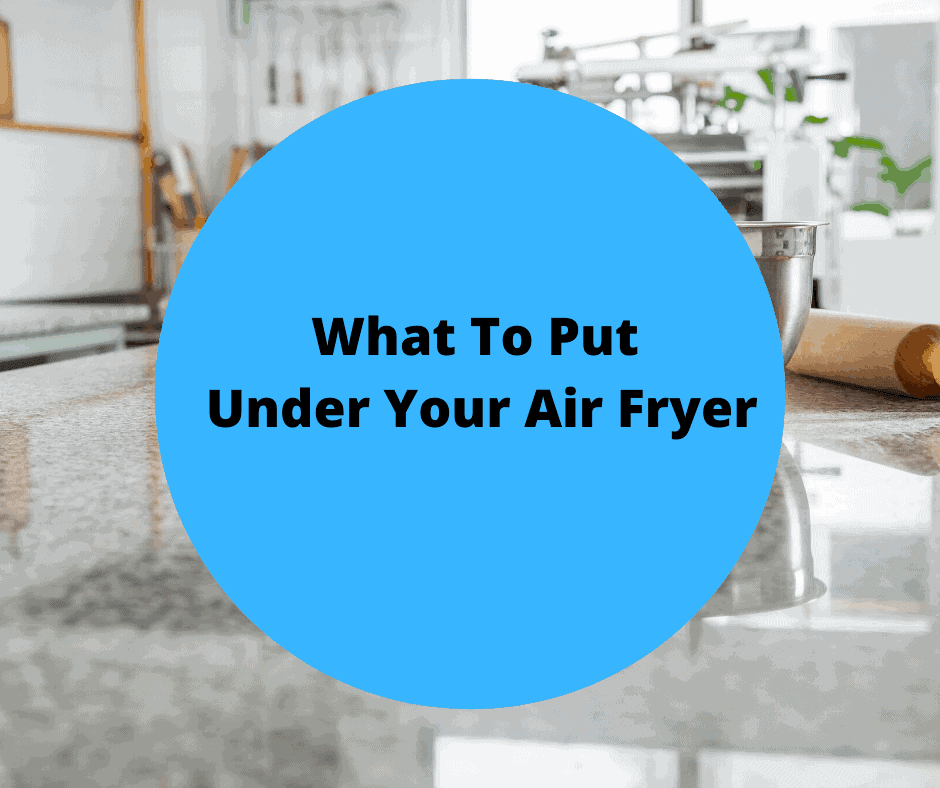 Heat Protector For Countertop
I have been air frying since 2017, so throughout the years I have witnessed several horror stories and pictures of granite countertops cracking, counters buckling, and fires, so I am here to give you some solid advice about choosing a heat protector for your countertop, whether you think it gets hot or not.
Remember to read your manual first because some fans are underneath the air fryer, and blocking the fan, could cause the air fryer to overheat.
WARNING:
DO NOT PLACE YOUR AIR FRYER DIRECTLY ON THE STOVE AND, ALWAYS UNPLUG IT WHEN YOU ARE NOT USING IT.
The best silicone mats for countertops

Extra Large Multipurpose Silicone Pastry Mat
This is one of my favorite silicone mats for countertops. It's what I use under my Omni, and it was only $15.99, so I considered it as safety insurance against cracking my expensive granite countertops, and it has served me well. I have replaced my silicone mats for countertops twice in my 3 years of air frying because they were getting ratty. This is heat resistant until 482 degrees F.
Here are some solid suggestions, and a couple down below, if you are lacking space in your kitchen:
Depending on the size of your air fryer, this is heat resistant up to 480 degrees F.
Insulated Non-Skid Counter Protection Mat/Liners
This is another favorite counter heat protector because they are really designed for hot pans. If you get a couple, you can put one under the air fryer, and have a second on the side to remove the hot dishes from and put them there.


Super Kitchen Large Multipurpose Silicone Nonstick Heat Protector for Your Countertop
This is a perfect counter protector for large air fryer models like the Omni's and Vortexes.
Again, perfect for any air fryer, large or small. I like the size of these so that you can have extra space. The only problem is that it is only heat resistant under 390 degrees F,
What else can be used as a heat protector for your countertop?

Farberware Glass Cutting Board
This model does not list how heat resistant it is, but it's tempered glass. Always check any glass product you are purchasing before placing it under the air fryer. You can also use a counter protector against acidic foods like lemons and oranges too. They aren't just for heat.
This is a really inexpensive way, but the only problem readers have is you have to keep on shifting them unless you can find a large enough tile at Home Depot or Lowes, but remember to check the heat-resistant level before putting it under your air fryer.
Farmhouse Noodle Board Stove Cover
Tempered Glass Stove Burner Cover
Counter Protectors From Heat FAQS
Some of you have reached out with some more questions so I would like to help answer them all.
Can I put my air fryer on a granite countertop?
I would NOT recommend this! Air fryers are a very intense way of cooking, and some granite countertops have cracked and even melted under the extreme heat. it's best to find some silicone mats for countertops to protect them properly.
Can I put my air fryer in a cabinet?
You can absolutely store your air fryer here when it is not in use; always unplug it when you are finished. It's not a good idea to use the air fryer in a cabinet. Instead, place it on your heat protector for your countertop. Then you can safely cook with it.
Where should I put my air fryer in my kitchen?
You can use the air fryer anywhere in your kitchen that is well-ventilated and away from items that could burn or catch fire.
Other Safety Tips
When it comes to laying something underneath your food in your air fryer, you want to make sure you are doing it safely.
Parchment paper can be used, but make sure the food is heavy enough to weigh it down, or the paper will fly around, and the food will not cook evenly, you can read more tips on using parchment paper in an air fryer here.
Aluminium foil is a topic that SO many of you have asked me about; there is no quick answer to explain this as you can use it, but you need to be very careful to do it correctly. Find out all my tips on using aluminum in the air fryer here.
The other important thing you do to keep your kitchen and yourself safe when using your air fryer is to make sure you clean your air fryer. This step is vital, as a buildup of grease under extreme heat is not a good idea and is a fire hazard. Do not worry, though, as I have got all the tips on how to clean your air fryer effectively and quickly.
Pin for reference later