Any good cook knows that the key to great leftovers is reheating them properly. Reheating leftover ham in the air fryer is a quick and easy way to get perfectly cooked ham every time.
Can you use your air fryer to reheat leftover ham?
Many people are wondering if they can use their air fryer to reheat ham. The answer is yes! You can use your air fryer to reheat ham, and it will taste just as good as if you had made it fresh.
Why reheat your leftover holiday ham in the air fryer
The air fryer is a healthier alternative to the oven because it circulates hot air around the food, rather than using oil to cook the food. This makes the air fryer a healthier option because it uses less fat and there is no risk of the food becoming greasy.
Additionally, the air fryer cooks food faster than the oven, so you can save time by reheating your holiday ham in the air fryer.
Finally, the air fryer gives food a crispy texture that you cannot achieve with the oven. This means that your reheated holiday ham will be even more delicious than it was originally. So, if you are looking for a healthier, faster, and tastier way to reheat your leftover holiday ham, then consider using an air fryer.
How To Reheat Leftover Ham Slices In The Air Fryer
Step One: Preheat your air fryer to 360F.
Step Two: Spread out the ham slices in a single layer on the air fry basket, or tray.
Step Three: Cook for 3-4 minutes, flipping the ham halfway through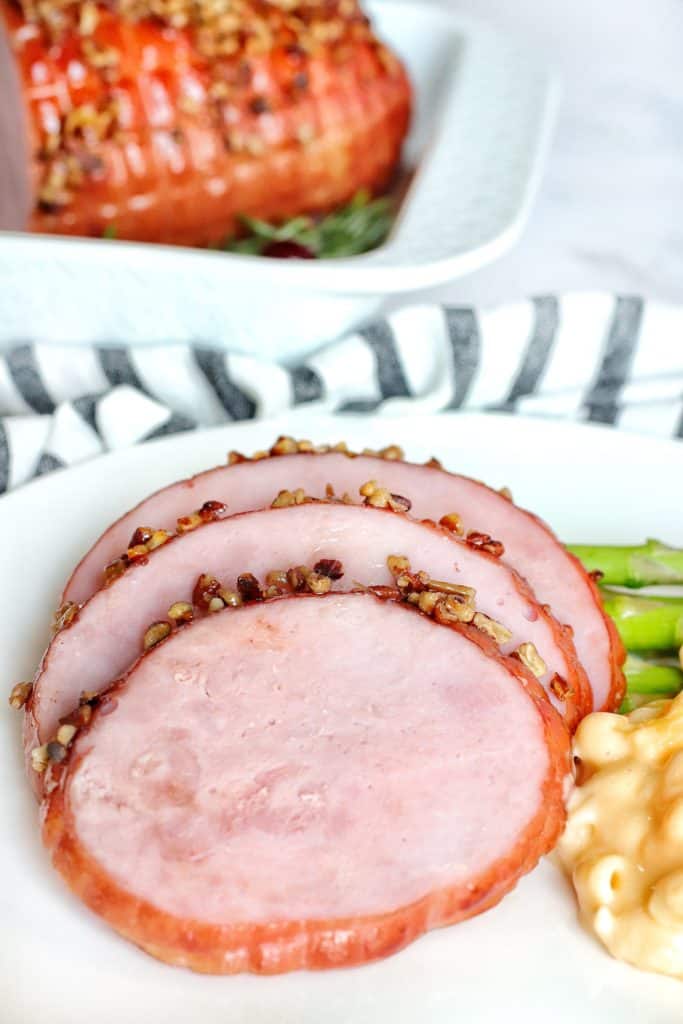 How To Reheat Whole Ham In The Air Fryer
Most people think that reheating a whole ham is difficult, but it's actually quite easy to do in the air fryer. Just follow these simple steps and you'll have a delicious and moist ham in no time.
Step One: First, preheat your air fryer to 350 degrees Fahrenheit.
Step Two: Place the ham in the air fryer basket, cut side down
Step Three: Cook for 10 minutes, then flip the ham over and cook for an additional 10 minutes.
Step Four: Once the ham is heated through, remove it from the air fryer and let it rest for a few minutes before slicing and serving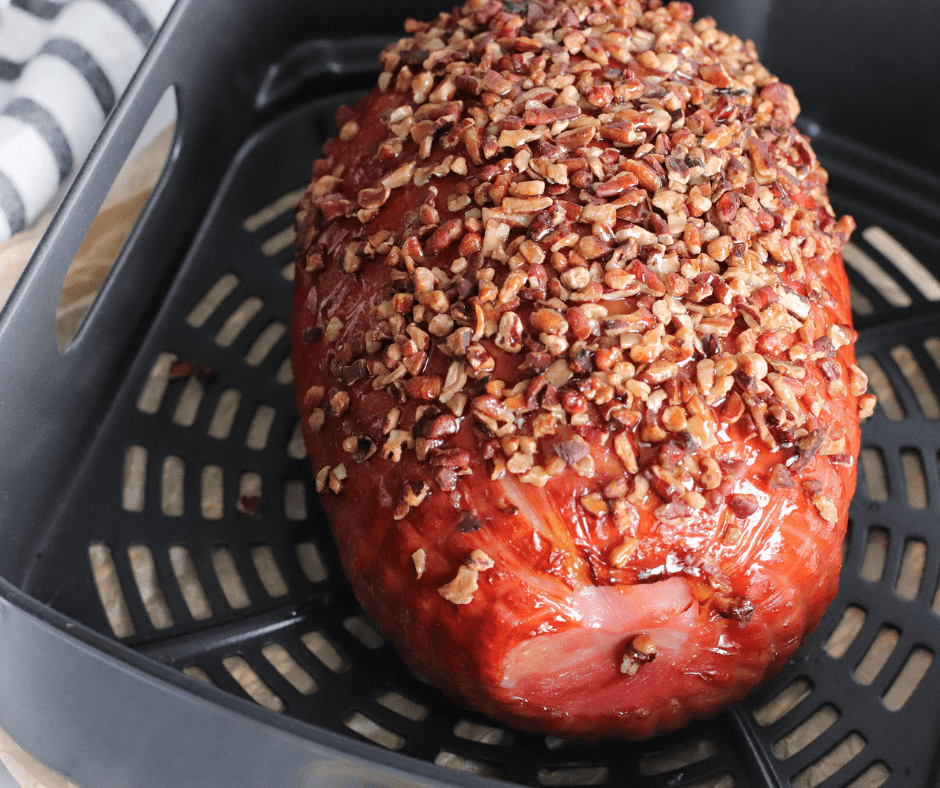 Pro Tips For Reheating Ham in The Air Fryer
There are few things more disappointing than dry, overcooked ham. If you're reheating ham in the air fryer, there are a few pro tips you can follow to make sure your ham turns out moist, tender, and delicious.
Start with a preheated air fryer. This will help to ensure that your ham heats evenly.
Be sure to add a little bit of liquid to the bottom of the air fryer pan. This will help to keep the ham from drying out. I would recommend about 2 tablespoons of water.
Cook the ham on a low setting. This will prevent it from drying out or becoming tough.
Frequently Asked Questions About How To Heat Ham
How to cook spiral ham without drying it out
A spiral ham is a great choice for a holiday meal, but it can be tricky to cook without drying it out. The key is to start with a high-quality ham and cook it slowly and evenly.
Before cooking, make sure to remove the ham from the fridge and allow it to come to room temperature. This will help to prevent the ham from overcooking on the outside while remaining raw in the center. When you're ready to cook,
Preheat your oven to 325 degrees Fahrenheit and place the ham on a rack over a roasting pan. Cook for about 10 minutes per pound, basting occasionally with pan juices or a light glaze. Avoid opening the oven door too often, as this can cause the heat to escape and dry out the ham. When the ham is cooked through, remove it from the oven and let it rest for 10-15 minutes before carving. By following these simple tips, you can enjoy a delicious spiral ham that is perfectly cooked and moist.
Side dishes for ham
As any cook knows, side dishes can make or break a meal. This is especially true when it comes to ham, which is often the centerpiece of a holiday feast. While there are many delicious side dishes that can be served with ham, some are better than others. Here are a few of the best side dishes for ham:
Roasted potatoes are a classic side dish that pairs well with ham. They can be roasted in the oven with a little bit of oil and seasoning, or boiled and mashed for a more comfortable food-style meal. Green beans are another excellent side dish for ham. They can be cooked simply with butter and salt, or seasoned with garlic and lemon for a more flavorful dish.
For a truly indulgent side dish, try serving ham with creamy mashed potatoes and gravy. This rich and hearty dish is sure to please even the most discerning palate. No matter what side dishes you choose, they're sure to complement the flavors of your ham perfectly.
Don't Forget To Pin: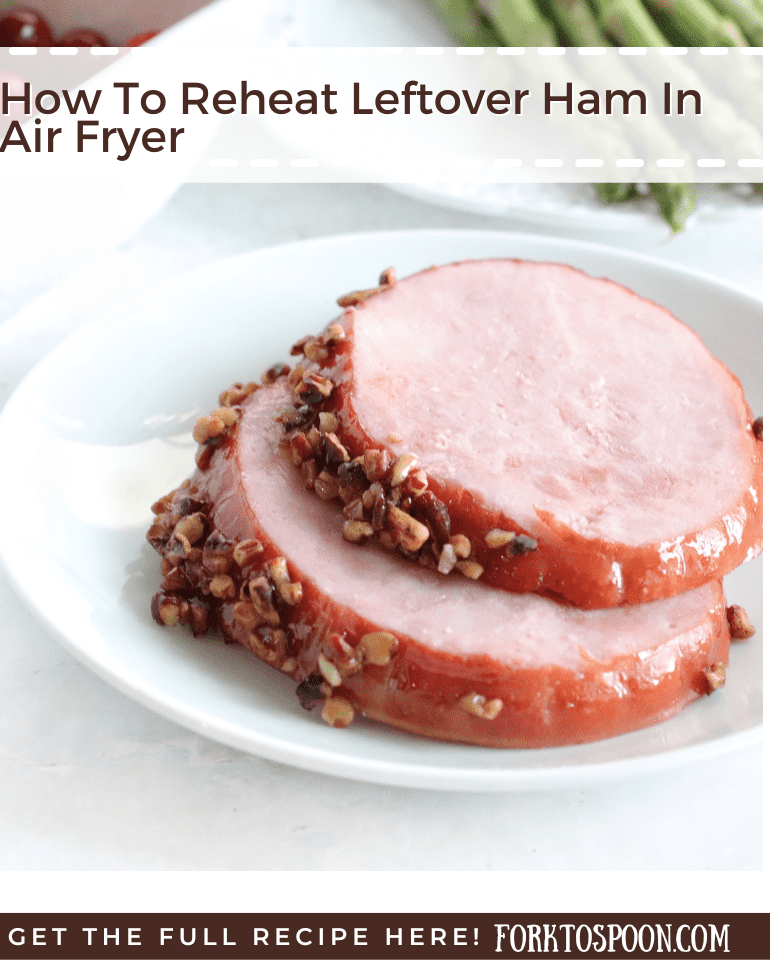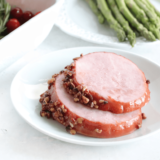 How To Reheat Leftover Ham In Air Fryer
Description
Do you have leftover ham from the holidays? Don't throw it away! You can easily reheat it in your air fryer.
Instructions
How To Reheat Whole Ham In The Air Fryer
First, preheat your air fryer to 350 degrees Fahrenheit.

Place the ham in the air fryer basket, cut side down

Cook for 10 minutes, then flip the ham over and cook for an additional 10 minutes.

Once the ham is heated through, remove it from the air fryer and let it rest for a few minutes before slicing and serving
How To Reheat Leftover Ham Slices In The Air Fryer
Preheat your air fryer to 360F.

Spread out the ham slices in a single layer on the air fry basket, or tray.

Cook for 3-4 minutes, flipping the ham halfway through
Nutrition
Serving:
1
g
Calories:
276
kcal
Protein:
24
g
Fat:
19
g
Saturated Fat:
7
g
Polyunsaturated Fat:
2
g
Monounsaturated Fat:
9
g
Cholesterol:
70
mg
Sodium:
1346
mg
Potassium:
324
mg
Calcium:
8
mg
Iron:
1
mg