Air Fryer Margherita Pizza — With an air fryer, you can make Margherita pizza in minutes. This classic Italian pizza is easy to make and delicious. The perfect meal for a busy night!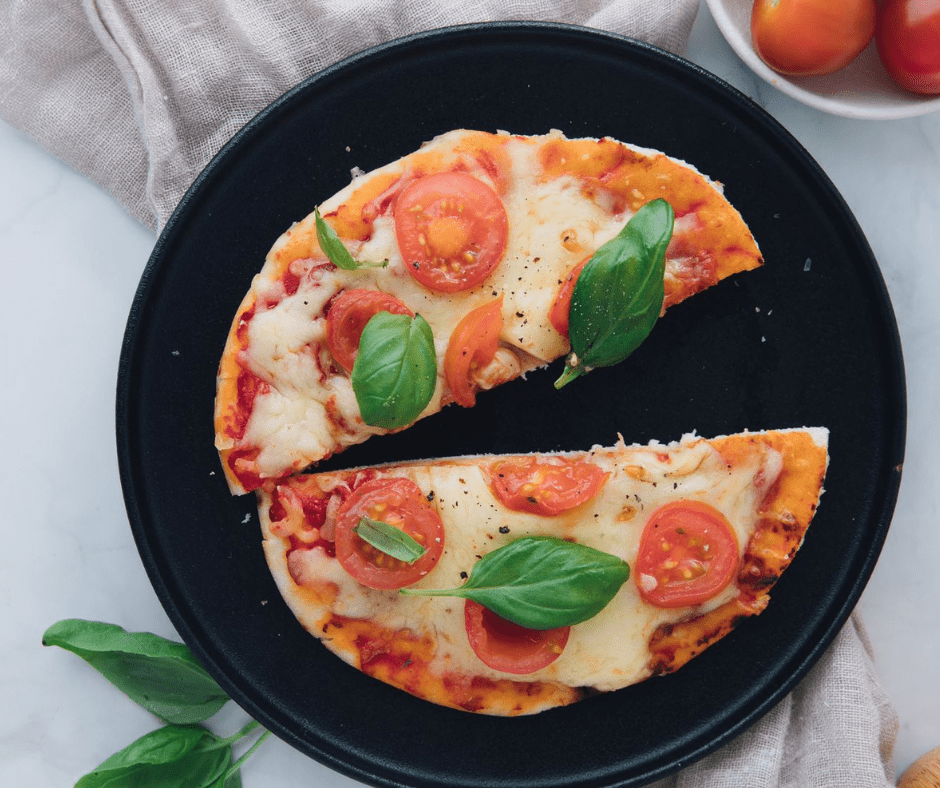 Who doesn't love pizza? It's the perfect food for any occasion. Whether you're throwing a party or just want a quick and easy dinner, pizza is always a hit.
And now there's a new way to make your favorite dish: with an air fryer! Air fryers are all the rage right now, and for good reason. They're small, portable, and can do so much more than just fry food. You can use them to bake, roast, or even grill foods. So why not try making pizza in your air fryer? It's simple, fun, and sure to be a hit with your family and friends. Ready to get started? Keep reading for recipes and tips on how to make the best air fryer Margherita pizzas ever!
What Is Margherita Pizza?
Margherita pizza is a classic Italian dish that's simple, yet delicious. It consists of just a few ingredients – tomatoes, mozzarella cheese, and basil – but it's packed with flavor. If you're looking for an easy weeknight dinner idea, this is it! Plus, it's always a crowd pleaser. Whether you're hosting a party or just feeding your family, everyone will love Margherita pizza. So what are you waiting for? Give it a try!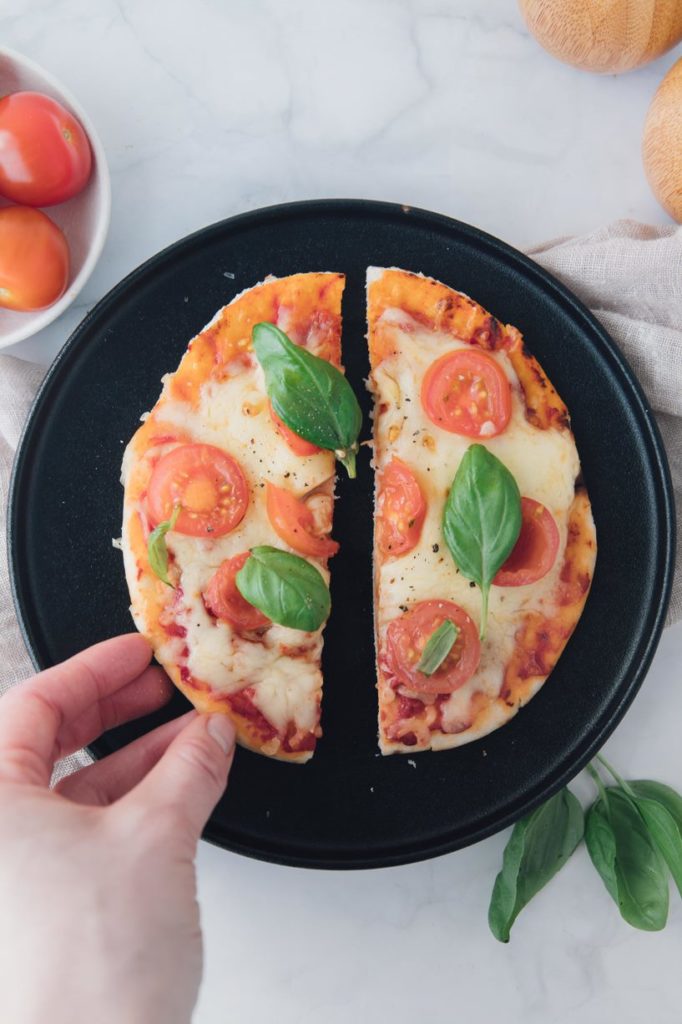 Why Make Margherita Pizza In The Air Fryer?
There's no need to heat up the oven to make a delicious Margherita pizza. In fact, you can make one in your air fryer! Find out why this is the perfect option for a quick and easy dinner.
Did you know that you can make Margherita pizza in your air fryer? It's true! By using an air fryer, you can cook the pizza quickly and easily with little to no mess. Plus, it doesn't heat up your kitchen as an oven does. So why not give it a try? You might be surprised at how delicious the results are.
In case you're wondering what makes an air fryer so great for making pizza, here are a few reasons:
An air fryer cooks food quickly and evenly, which means your pizza will come out perfectly every time.
Air fryers don't produce much heat, so they're perfect for cooking delicate foods like pizzas without drying them out or burning them.
They're also very easy to use – all you have to do is set the timer and let the machine do its thing!
So if you're looking for a quick and easy way to make Margherita pizza at home, an air fryer is definitely worth considering. Trust me – once you try it, you'll be hooked!
Ingredients Needed For Air Fryer Margherita Pizza
Are you looking for an easy and delicious way to make pizza? If so, then you need to try out this Air Fryer Margherita Pizza recipe! It only requires a few simple ingredients, and it cooks up quickly in the air fryer. So, what are you waiting for? Get started on this tasty pizza today!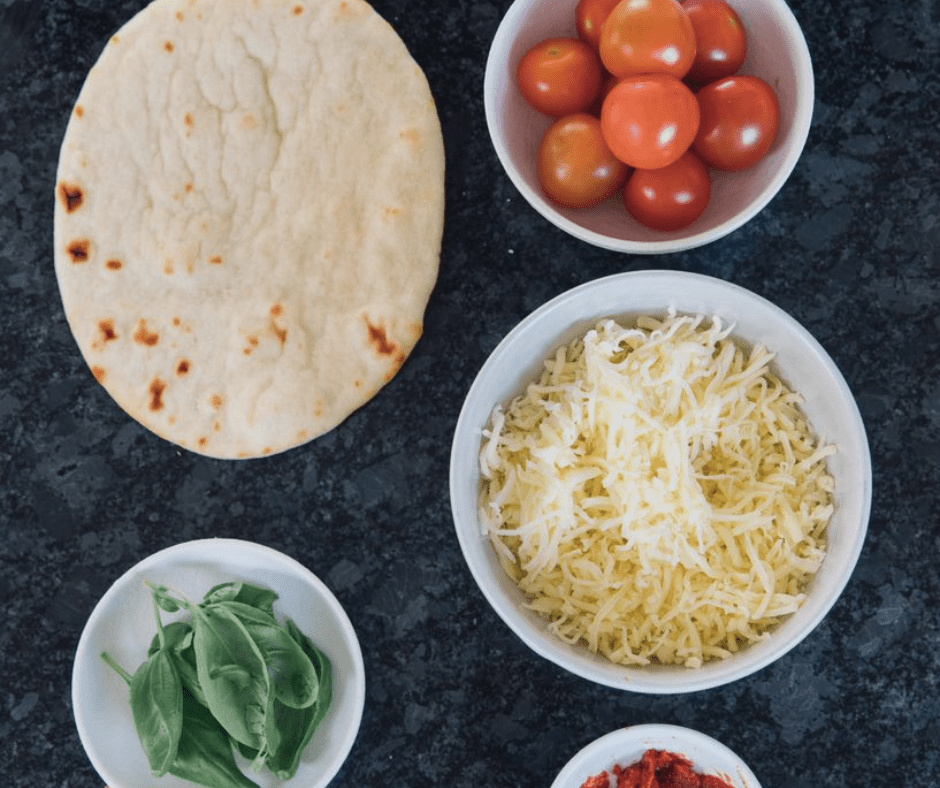 Naan: Use either gluten-free naan, low-carb and keto-friendly naan, or whole wheat naan. The recipe will work the same.
Tomato Sauce: Use either homemade tomato sauce or canned tomato sauce.
Mozzarella Cheese: Use freshly shredded mozzarella cheese, or use small mozzarella balls.
Cherry Tomatoes: This is a great recipe to use your garden ripe cherry tomatoes! You can also use sliced tomatoes, either Roma tomatoes or Beefsteak Tomatoes.
Fresh Basil: Fresh basil is the key to a great pizza! Use fresh leaves!
Seasoning/Spice: Salt, and Balck Pepper
How To Cook Margherita Pizza In The Air Fryer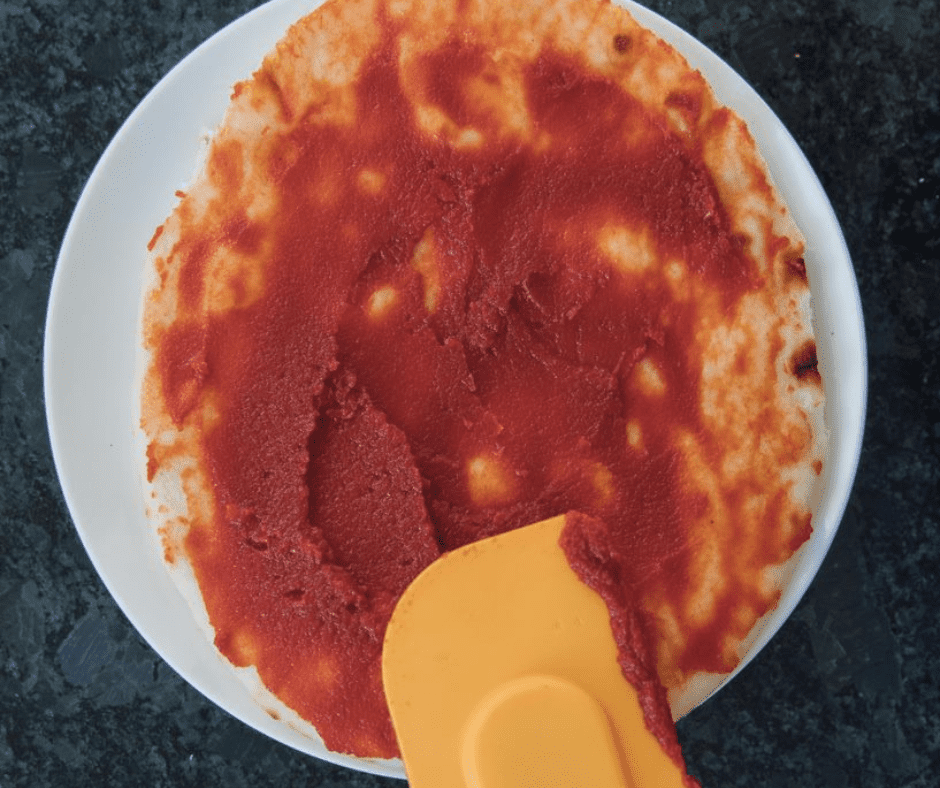 Spread base with tomato sauce.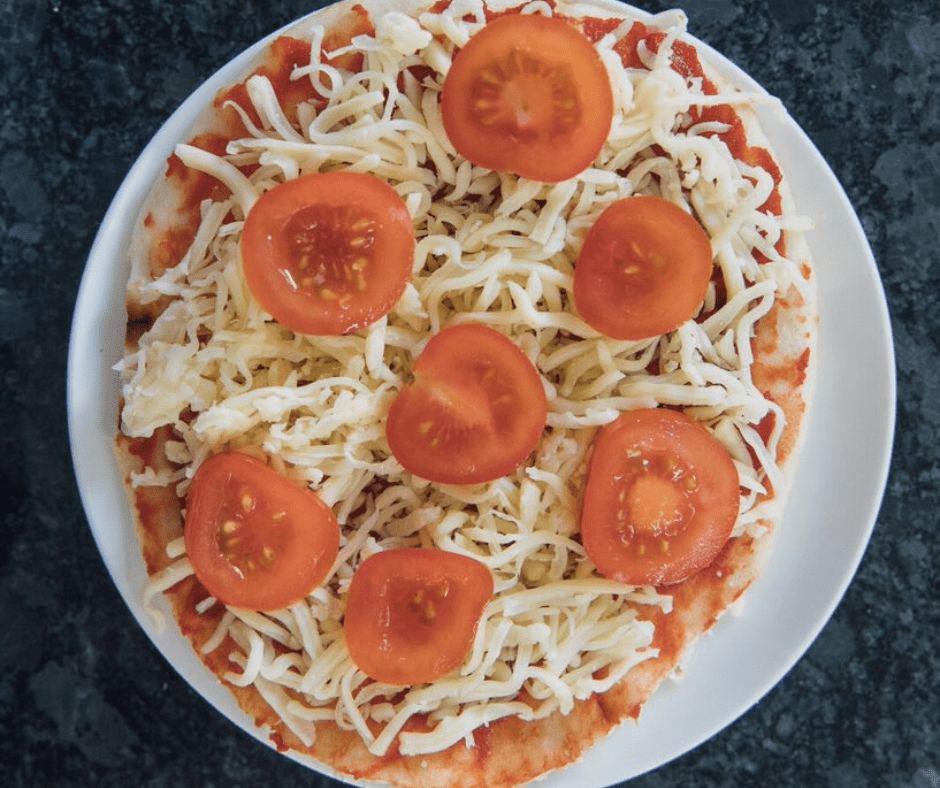 Sprinkle grated mozzarella cheese on top, then scatter with sliced cherry tomatoes.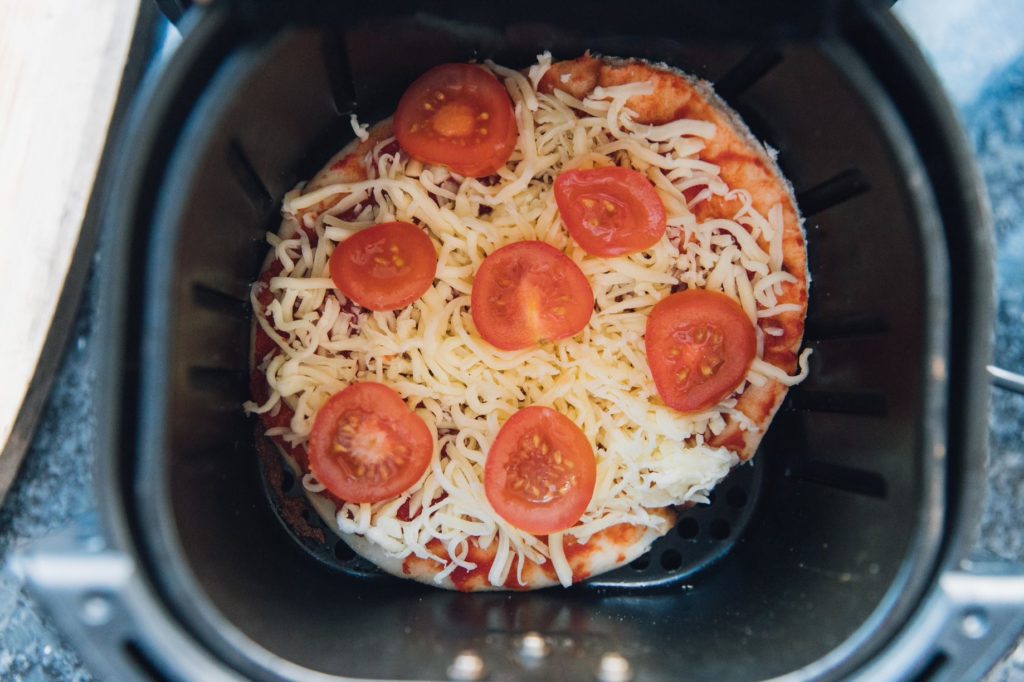 Preheat the air fryer to 400˚F. Put flatbread into an air fryer basket and cook for 4 minutes or until cheese has completely melted.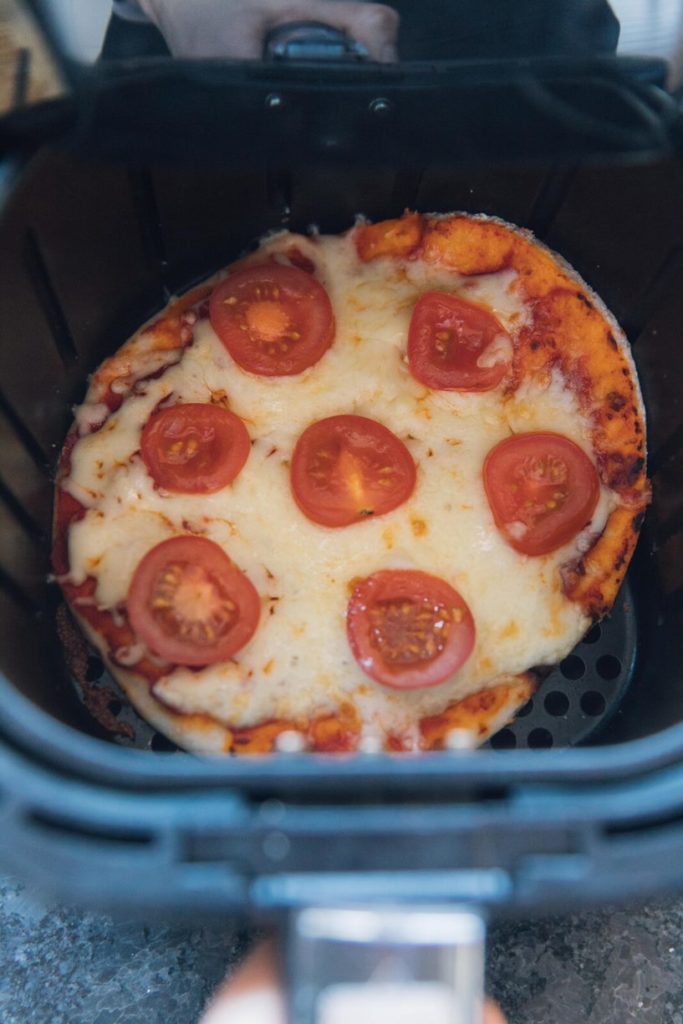 Remove flatbread from the basket, and top with fresh basil and salt and pepper to taste. Serve hot.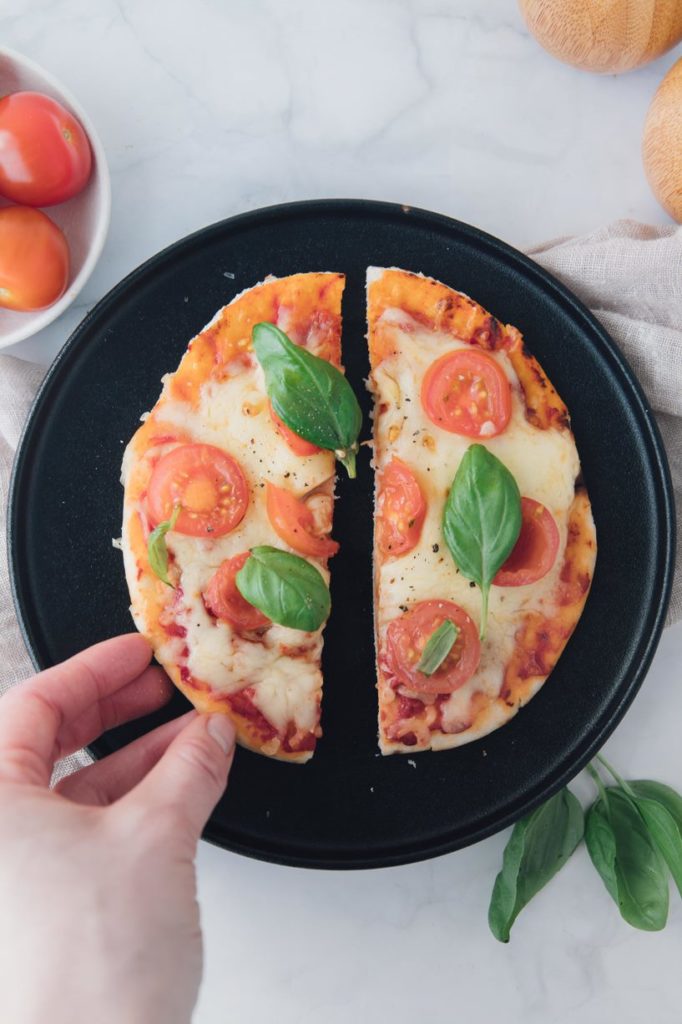 Recipe Notes:
Crispy Naan Crust: Experience the crispiness of a well-made pizza crust with this simple trick. Preheat the air fryer to 400 degrees Fahrenheit. Cook the nana for 2 to 3 minutes.
Make It Healthier: Use a whole wheat naan, low-carb, or keto-friendly option. Naan is also sold in a gluten-free option, for great gluten-free naan.
Pizza Sauce: You can use homemade pizza sauce, bottled pizza sauce, marinara sauce, or fire-roasted crushed tomatoes! This will add so much flavor to your naan pizza!
Frequently Asked Questions:
What tomatoes do I use?
You can use either Cherry Tomatoes or Campari tomatoes. Sive you are making an air fryer pizzaz, your pizza will be smaller than an oven pizza. So, the air fryer won't be able to hold larger-sized tomatoes.
Adding the Basil
Since the basil might fly around in the air fryer, either place it into the pizza sauce, by pressing, or add it after you have cooked the pizza.
Storing Air Fryer Margherita Pizza
To save money and eat fresh pizza at home, just store the leftovers in an airtight container for up to 3 days. The best way is with a quick warm-up before eating!
How To Reheat Pizza In The Air Fryer
Whether you're reheating leftover pizza or making a fresh one just for yourself, the air fryer is a great option for cooking it up. With just a few minutes of cook time, your pizza will be hot and crispy – perfect! Keep reading to learn how to reheat pizza in the air fryer.
Place your pizza into the air fryer basket.
Set the temperature to 330 degrees F, using the air fryer setting.
Heat until the pizza is warmed through!
More Air Fryer Lunch Recipes:
AIR FRYER MONTE CRISTO SANDWICH: Are you looking for a new and exciting way to prepare your Monte Cristo sandwich? Then look no further than the air fryer! The air fryer is a great way to cook your sandwich without using too much oil, and the end result is a crispy, delicious sandwich that you will love. So give it a try today!
AIR FRYER SPANISH MANCHEGO GRILLED CHEESE: Are you looking for an easy and delicious appetizer or main course? If so, you have to try this air fryer Spanish Manchego grilled cheese! It's the perfect dish for a busy weeknight. Plus, it's a great way to use up any leftover Manchego cheese you may have. So what are you waiting for? Give this recipe a try today!
AIR FRYER BURGERS: Do you love burgers but don't love the calories? Then you need to try air fryer burgers! Air fryers use little or no oil, so your burger will be healthier and still taste delicious. Plus, they are a breeze to make – just pop them in the air fryer and you're good to go! Give this healthy alternative a try and see for yourself how good they are.
Don't Forget To Pin: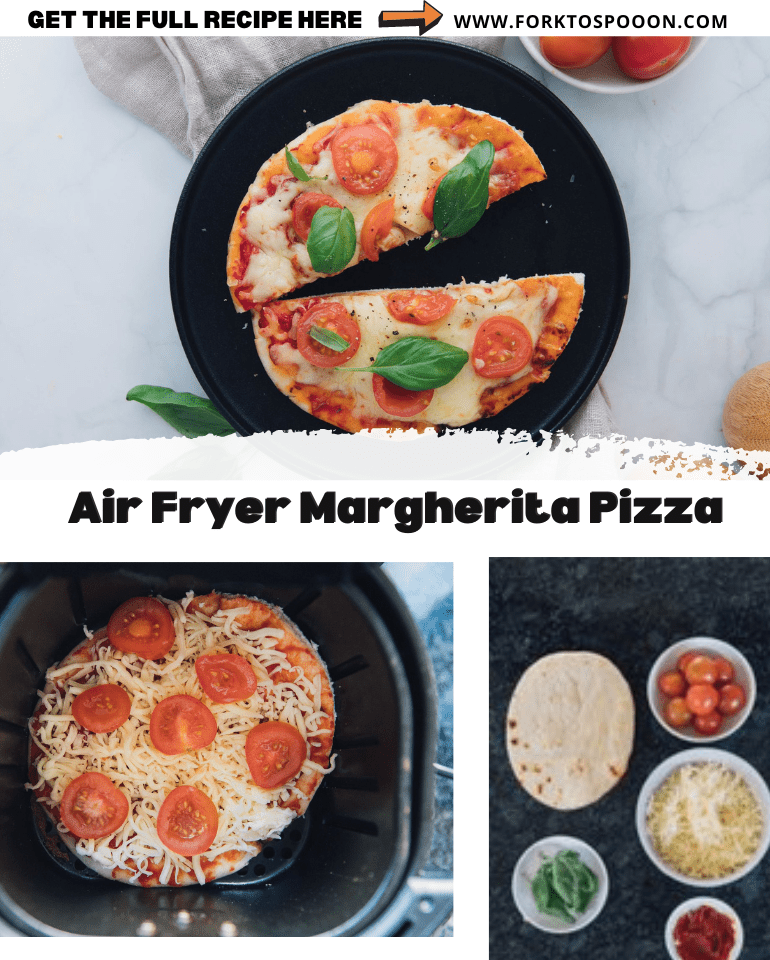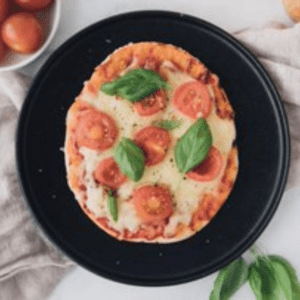 Air Fryer Margherita Pizza
Description
If you're anything like me, pizza is a regular part of your diet. But sometimes I get tired of the same old toppings. That's when I turn to my air fryer to make some Margherita pizza. The results are delicious and always satisfying! Trust me, this is one dish you'll want to add to your regular rotation!
Ingredients
1

piece

naan

,

any type

2

tablsepoons

tomato sauce

1/4

cup

mozzarella cheese

,

shredded

2

cherry tomatoes

,

sliced

2

leaves

basil

,

fresh

salt and pepper to taste
Instructions
Spread base with tomato sauce.

Sprinkle grated mozzarella cheese on top, then scatter with sliced cherry tomatoes.

Preheat airfryer to 400˚F. Put flatbread into airfryer basket and cook for 4 minutes or until cheese has completely melted.

Remove flatbread from basket, top with fresh basil and salt and pepper to taste. Serve hot
Nutrition
Serving:
1
g
Calories:
465
kcal
Carbohydrates:
61
g
Protein:
16
g
Fat:
16
g
Saturated Fat:
6
g
Polyunsaturated Fat:
0.2
g
Monounsaturated Fat:
2
g
Cholesterol:
32
mg
Sodium:
1036
mg
Potassium:
104
mg
Fiber:
2
g
Sugar:
5
g
Vitamin A:
417
IU
Vitamin C:
8
mg
Calcium:
226
mg
Iron:
0.4
mg