Air Fryer Trader Joe's Gyoza — Are you looking for an easy, delicious way to make gyoza? Trader Joe's has the perfect solution – air fryer gyoza! These little guys are crispy and full of flavor, and they're so much easier to make than traditional gyoza. Plus, they're perfect for a quick snack or a light dinner. Keep reading for the recipe…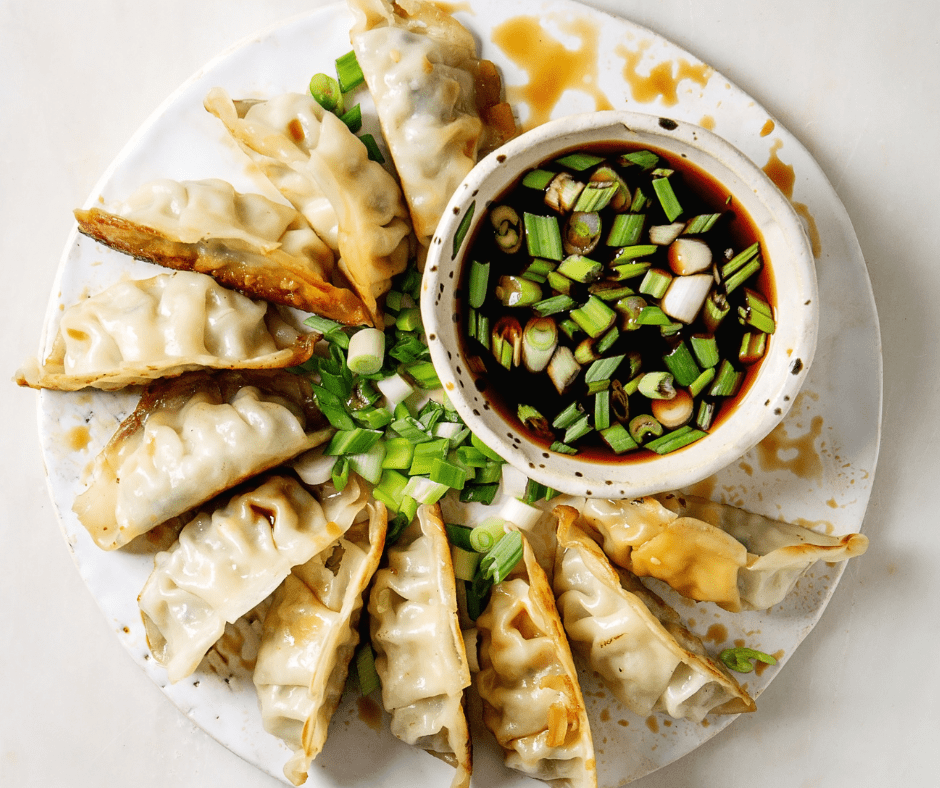 When I moved out on my own, the Trader Joe's frozen gyoza were some of the first items I stocked up on. They're an easy and affordable way to get a delicious home-cooked meal without too much effort. But now that I have an air fryer, I've been experimenting with cooking them in there, and the results have been fantastic! If you're looking for a new and easy way to make your favorite gyoza, definitely give this a try.
What Are Trader Joe's Gyoza?
Trader Joe's Gyoza is Japanese-style dumplings that are made with delicate wrappers and filled with a savory filling. These dumplings are usually pan-fried to perfection, creating a crispy exterior that contrasts nicely with the soft and cooked.
But today, we air-fried this gyoza. and the result is a delicious and easy-to-eat appetizer that can be enjoyed on its own or as part of a larger meal.
Trader Joe's Gyoza is available in both chicken and vegetable varieties, so there's something for everyone to enjoy. And at only $4.99 for a package of 20, they're an affordable way to add a little variety to your next gathering. So next time you're looking for an appetizer that's sure to please, reach for a package of Trader Joe's Gyoza. You won't be disappointed.
Can You Air Fry Trader Joe's Gyoza?
Can You Air Fry Trader Joe's Gyoza? is a popular question on the internet, with many people wondering if they can cook their gyoza in an air fryer. The answer is yes!
Air frying is a great way to cook gyoza, and it gives them a crispy texture that you can't get from pan frying.
Trader Joe's Vegetable Gyoza Air Fryer
Trader Joe's Vegetable Gyoza are a delicious and easy way to make a quick and healthy meal. The Gyoza is filled with veggies and has a light and crispy shell.
They can be cooked in the air fryer in just a few minutes, making them a perfect weeknight dinner option. The Trader Joe's Vegetable Gyoza is also affordable and can be found at most Trader Joe's locations.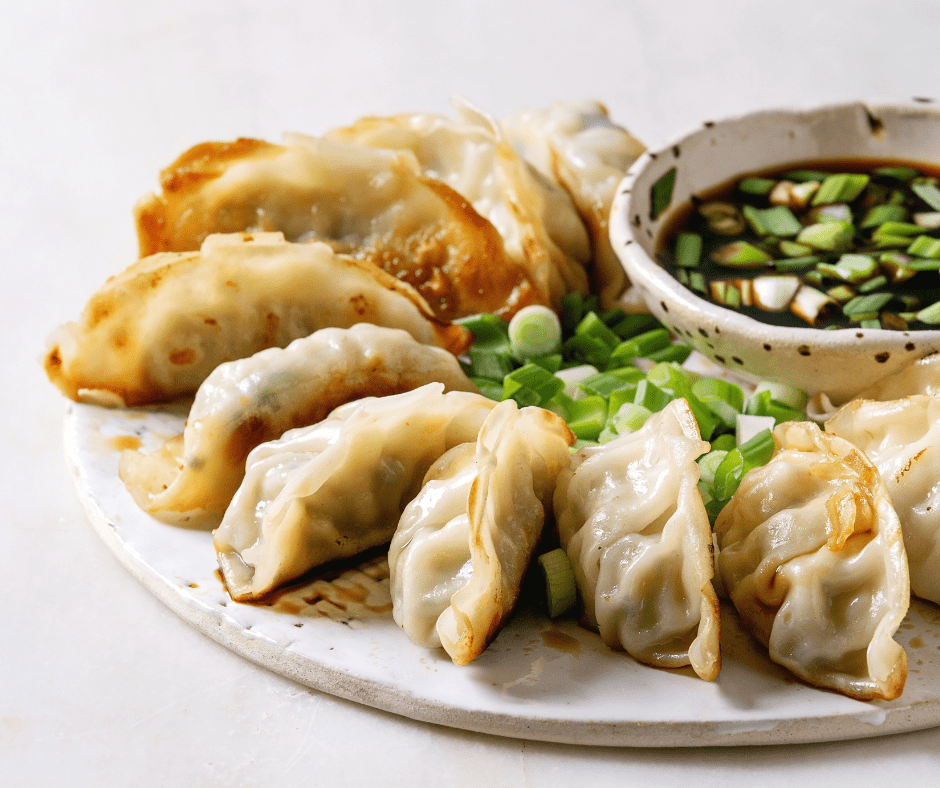 Frozen Gyoza Air Fryer
Frozen gyoza is a delicious and easy-to-prepare Asian-inspired dish that can be cooked in an air fryer. Simply place the frozen gyoza in the basket of your air fryer and cook according to the instructions on the package. In just a few minutes, you'll have hot and crispy gyoza that are perfect for dipping in soy sauce or your favorite Asian-style dipping sauce. For an added touch of flavor, you can sprinkle the gyoza with sesame seeds or green onions before serving. Whether you're looking for a quick and easy weeknight meal or a fun appetizer for your next party, frozen gyoza cooked in an air fryer is sure to please.
Tips For Making Frozen Gyoza In The Air Fryer
Tips For Making Frozen Gyoza In The Air Fryer If you're like me, then you love gyoza. But, let's be honest, they can be a bit of a pain to make. First, you have to wrap each one individually. Then, you have to cook them in batches in a frying pan. It's all very time-consuming. But what if I told you that there was a better way?
Enter the air fryer. Yes, that's right, you can now cook your gyoza in the air fryer! And it's really quite simple. Just follow these steps and you'll be enjoying delicious gyoza in no time:
Preheat the air fryer before adding the gyoza. This will help ensure that they cook evenly.
Cook the gyoza in batches if necessary. You don't want to overcrowd the air fryer, as this can make it harder to achieve crispiness.
Use a little oil on the gyoza to help them brown and crisp up nicely. Just a light coating will do.
Serve the gyoza with dipping sauce and enjoy!
What Is The Best Gyoza Dipping Sauce Recipe
Gyoza is a Japanese dish that typically consists of small dumplings filled with meat and vegetables. While the filling can vary, the most common gyoza dipping sauce is a soy-based sauce. This dipping sauce is simple to make and only requires a few ingredients.
To make the soy-based dipping sauce, you will need:
-1/4 cup soy sauce
-1/4 cup rice vinegar
-1 tablespoon honey
-1/2 teaspoon sesame oil
-1 clove of garlic, minced
Simply whisk all of the ingredients together in a bowl and enjoy with your gyoza. If you want a little bit of heat, you can also add a pinch of red pepper flakes to the sauce. This dipping sauce is the perfect balance of salty, sweet, and acidic, and it really brings out the flavor of the gyoza. Give it a try the next time you make this Japanese dish!
Want To Make Homemade Gyoza Wrapper Recipe
Gyoza, also known as pot stickers, are a delicious type of Dumpling that is popular in Japanese cuisine. While they can be bought pre-made at the store, it is also possible to make them at home. The wrapper is the most important part of the gyoza, and it is what gives the dumpling its distinctive shape. The dough is made from flour, water, and salt, and it is rolled out into thin sheets. Then, the sheets are cut into small circles and filled with a variety of fillings including meat, vegetables, or tofu. Finally, the gyoza is cooked in a pan until they are crispy and golden brown. Making homemade gyoza wrappers is a simple process that only requires a few ingredients and a little bit of time. The result is delicious and authentic-tasting dumplings that will be sure to impress your family and friends.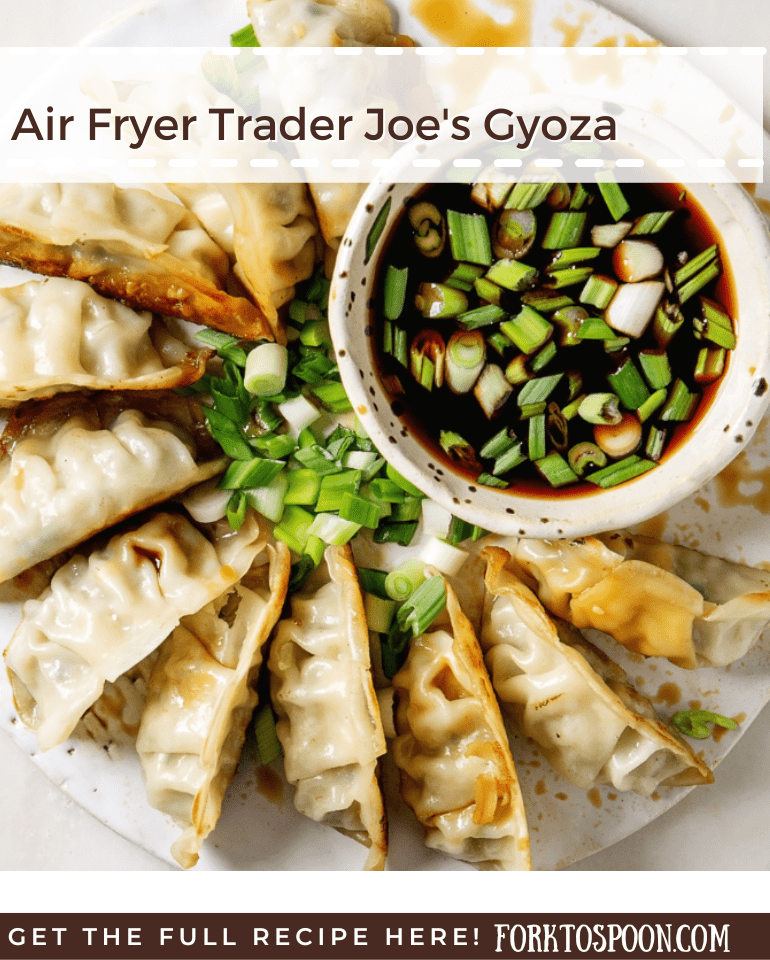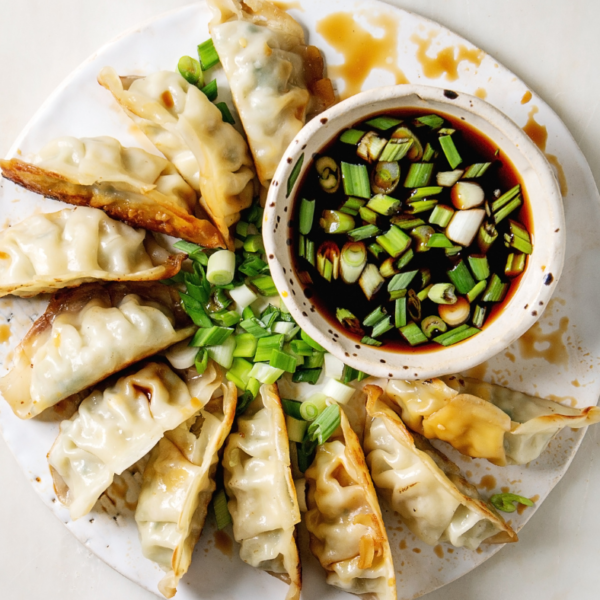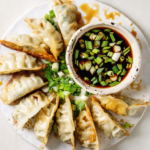 Air Fryer Trader Joe's Gyoza
Have you ever cooked gyoza before? They are a delicious dumpling-style dish that can be made in so many different ways. Today, we're going to show you how to make them in your air fryer! Gyoza are perfect for a quick and easy meal, and they're always a hit with guests. So, let's get started!
Course:
Appetizer, Dinner, Lunch, Snack
Keyword:
Air Fryer Trader Joe's Gyoza
Ingredients
1

package

frozen vegetable or chicken Trader Joe's Gyoza
Instructions
Set the temperature to 400 degrees F, and air fry for 5 to 8 minutes, until fully cooked.
Nutrition Facts
Air Fryer Trader Joe's Gyoza
Amount Per Serving (1 g)
Calories 274
Calories from Fat 72
% Daily Value*
Fat 8g12%
Cholesterol 5mg2%
Sodium 527mg23%
Carbohydrates 46g15%
Protein 7g14%
Vitamin C 12mg15%
Calcium 41mg4%
Iron 2mg11%
* Percent Daily Values are based on a 2000 calorie diet.