Air Fryer Frozen Stuffed Chicken Breast With Broccoli And Cheese -I am so excited to share this recipe with you today! The other day I was craving some chicken but didn't have any fresh ingredients on hand. What's a girl to do? I had an idea for frozen stuffed chicken breasts that would turn out just as good, if not better than what I could have made from scratch. And guess what?! It turned out great! Now, instead of having the same old boring meal every night, we're all about variety and new flavors- like stuffing our air fryer frozen stuffed chicken breast with broccoli and cheese!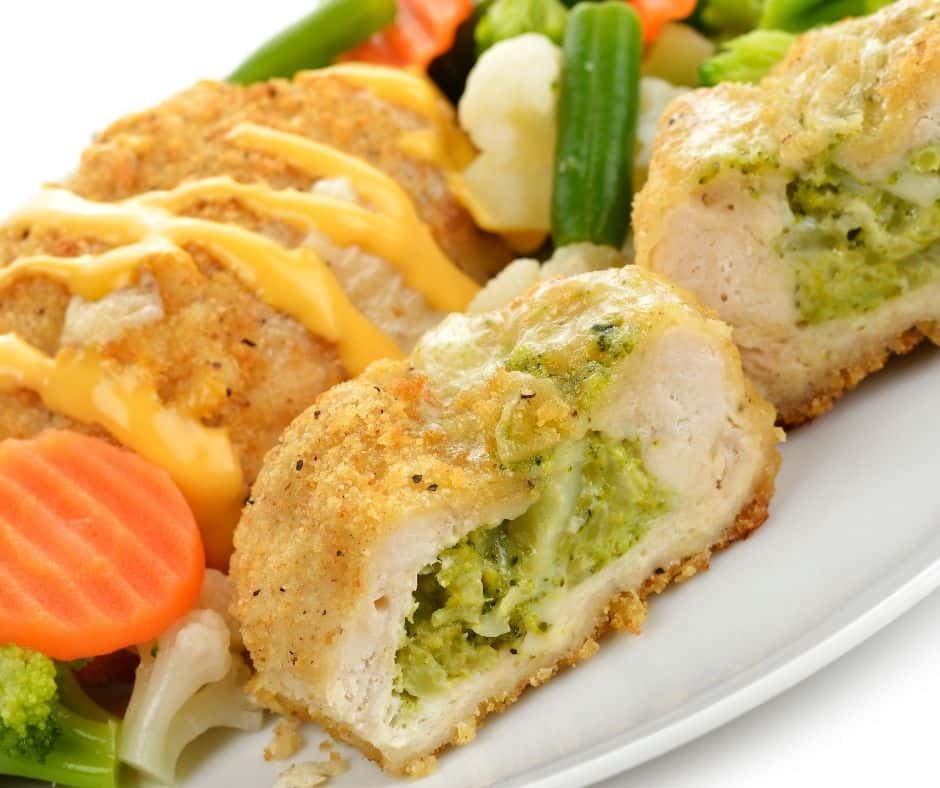 No need to turn on your oven, and no more wasting money by burning dinner! Make this Air Fryer Frozen Stuffed Chicken Breast with Broccoli and Cheese in just 15 minutes.
This makes for an excellent option for dinner or lunch! My kids love these! And they cook up perfectly in the Air Fryer!
Tender, succulent breast meat makes for an unforgettable dinner. Moist and tender chicken stuffed with broccoli and cheese make it ForkToSpoon approved!
Tips For Making Air Fryer Frozen Stuffed Chicken Breasts
This is a great way to make frozen stuffed chicken breasts, and it's so easy, you might start having these every night of the week!
For best results:
Spray your basket with cooking spray, or line it with a reusable silicone liner. This way, as the chicken cooks up, the chicken will not stick to the basket.
Do not crowd the basket. Otherwise, your chicken will not cook up evenly. If the food is touching, you will often find that it's raw in some spots. So leave space around the chicken to let the air fryer work its magic.
Starting from frozen, you do not need to defrost first. Frozen foods do much better when they start from frozen.
Check on your chicken frequently while it cooks up to make sure it's perfectly cooked. Always use a meat thermometer, and you should take the internal temperature in the thickest part of the chicken. You are looking for an internal temperature of 165 degrees F.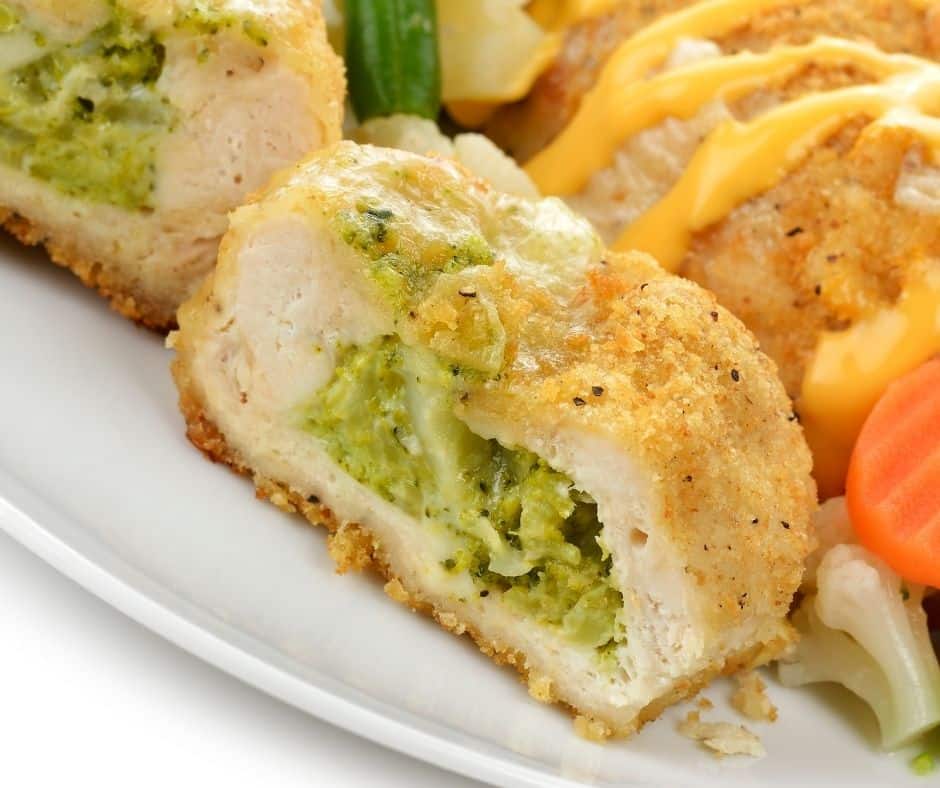 How to Make Air Fryer Frozen Stuffed Chicken Breast with Broccoli and Cheese
Line your basket with an air fryer reusable silicone liner or spray it with cooking spray. Spray your chicken with cooking spray. Set your chicken into the basket, and set the temperature to 400 degrees F, air fryer setting, for 12 to 15 minutes. Using a pair of tongs, flip your chicken halfway during the cooking process.
Check the internal temperature of the chicken, which should reach 165 degrees F, before removing the chicken.
What To Serve With Your Chicken Dinner: