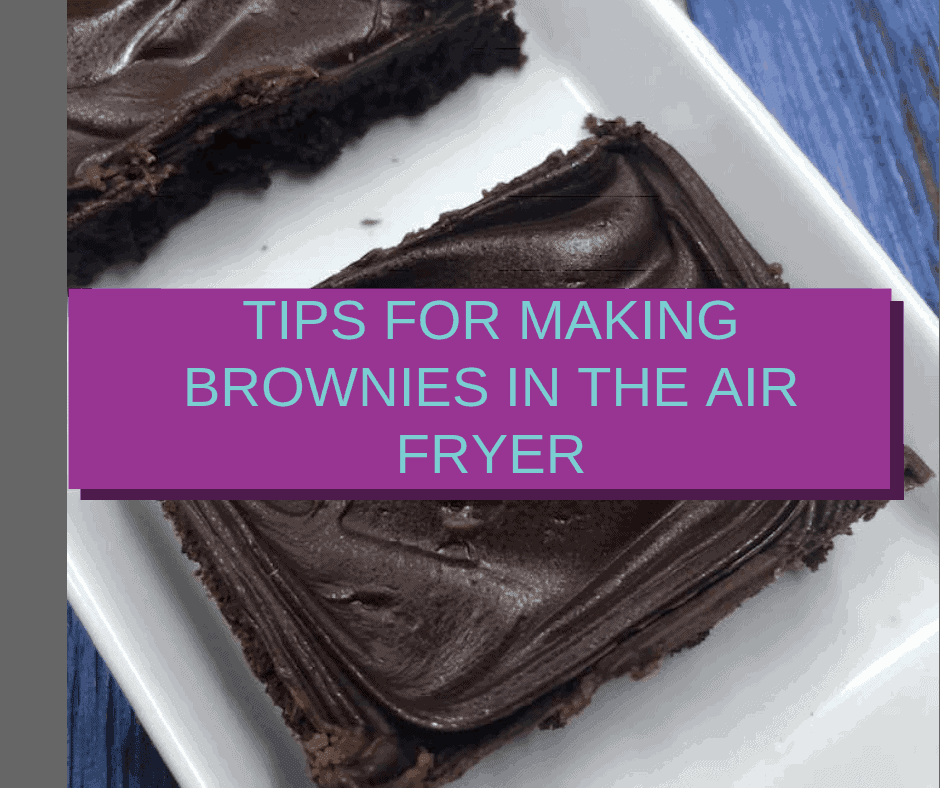 Here are some Tips For Making Brownies in The Air Fryer  All brownie recipes are easy to make, but I wanted to give some essential tips to use when making any brownies.
Tips for Making Brownies!
Before you start any baking recipe (or any recipe), remember to read the entire recipe. Otherwise, you may run into the common problem of not having some of the ingredients or tools called for in the recipe.

As with most baking, always measure dry goods with dry measuring cups. Then use the back of a knife to eliminate excess in the measuring cup. But first, continuously stir the flour and make it light and fluffy before you scoop it. Never pack the flour into a measuring cup, or the measurements will be off.

Brown sugar, however, should be packed tightly into a measuring cup. So, pat it down and try to get as much as you can into the measuring cup.

Invest in a good spatula to pour the prepared batter into the pan.

For a well-prepared batch of brownies, remember to line your pan with aluminum foil and then spray the foil with non-stick cooking spray. When the brownies are done cooking, you lift the foil, place the entire batch of brownies using the foil, and put them in the refrigerator.

Chill the brownies before cutting. They only need about two hours to cool and be refrigerated before cutting and serving.
The Right Pan Is Essential If You Want the Brownies to Fully Cook, if you use too thick of a pan, they will never cook–
Disclosure: Some of the links below are affiliate links. At no cost to you, I will earn a commission if you click through and make a purchase.
Some of my Suggestions–
Here Are Some of My Favorite Air Fryer Brownie Recipes–