I love air frying. If you are in my group, you know the story about my struggles, when I first launched onto the scene in 2016, with my first air fryer, and I ordered lots and lots of cookbooks and none of them had recipes, neither I or my family would enjoy. I had two picky, picky (I could add picky, but you get the point), boys.
I struggled to figure out how to use my air fryer. I started off small, and I mean small, my first trial and error were cinnamon rolls, remember this was 2016, the rage was the Instant Pot, which I loved, but making cinnamon rolls in the air fryer and Instant Pot are two different animals. So, I struggled, at that time I had a family blog about our lives as homeschoolers, InspiringNHKids.com, so as I tested recipes, instead of putting them on scraps of paper, I typed them into the website, nothing fancy, sort of an online cookbook for myself. Then I joined the FB group which had 73 people who were air frying and one day I shared my link with a young woman from Minnesota, and ForkToSpoon.com was born.
Now, I am the only administrator for the FB group that has over half a million people, and it appears that air frying is the rage.
So, I was contacted 3 times about writing a cookbook, the first one, was just bad timing, as my father was quite ill, and I didn't like the theme of the book, they wanted me to do a beginners cookbook with recipes such as duck confit. Embarrassingly, I didn't know what duck confit was, so I googled it (please don't laugh, I'm always truthful). I didn't understand how that could be a beginner's cookbook, but they told me it was, I felt uncomfortable and therefore I passe don the deal. The publisher then contacted someone else, and that cookbook was published and is doing well.
Then my publisher contacted me and told me I could write the index of the beginner recipes, I was still unsure,  I didn't want any duck confit or beef wellington in my beginner's cookbook, because that is not what people start with, or at least they really shouldn't. And, I have been an advocate of these recipes for years, and like to stay true to myself.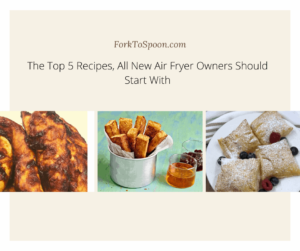 Here is a preview of the book, and a sample of a recipe!