Getting Christmas or Hannukah gifts for kids is hard. Especially since science kids usually like things that aren't in stores, therefore you have to start planning and ordering early,
Here are my top gifts for STEAM/STEM science kids: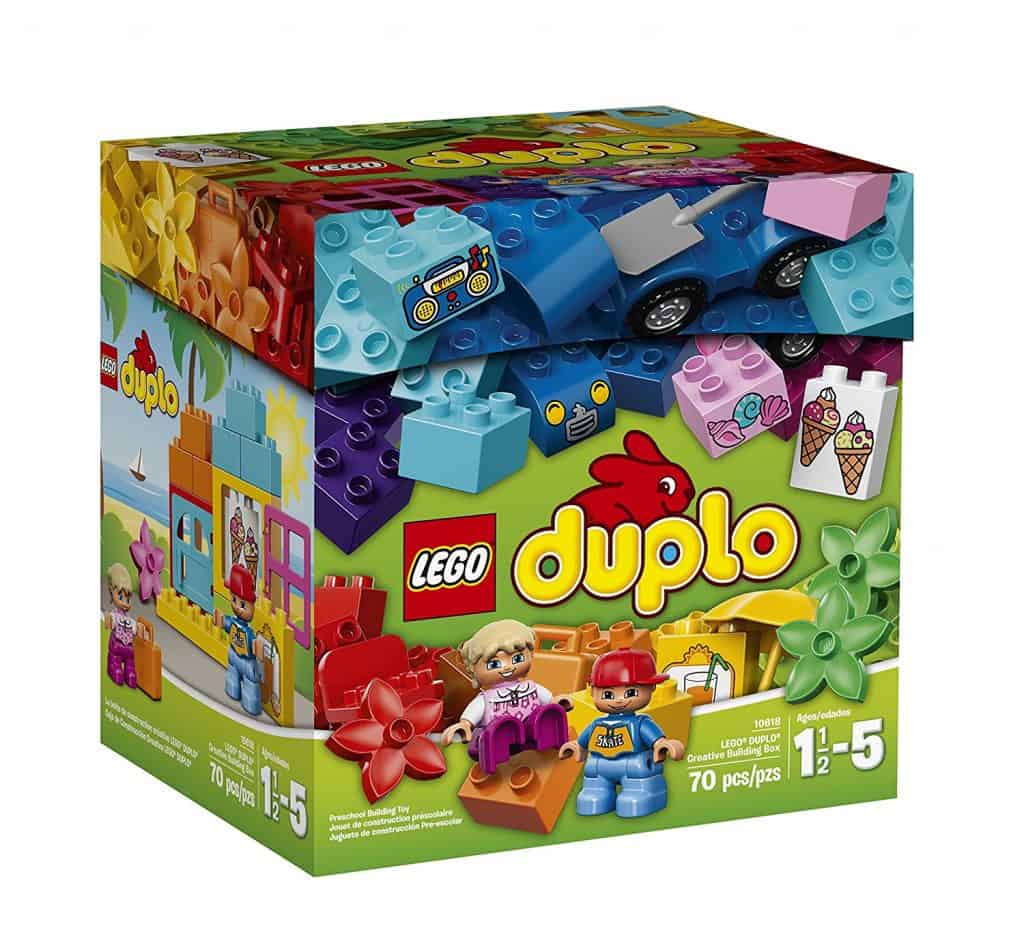 This is a great gift for any curious child.
Features a buildable car with separate wheelbase and an opening door; accessories include a parasol, suitcase, chairs, and flowers
Includes bricks decorated with ice-cream, sea shells, and more; let your toddler get inspired and spark their creativity with the vacation-themed bricks
Start your stories by building a sand castle, an ice-cream van, etc.; create fun role play scenarios with the LEGO DUPLO figures
Innovative Kids Green Start Busy Bus Wooden Toy Shape Sorter Puzzle Stacker
A shape sorter, a puzzle, real rolling wheels, and 8 chunky wooden play pieces, there are so many ways to play with this Earth-friendly shape-sorter toy!
Kids will find endless ways to stay busy with this VERY busy bus!
Next stop – fun and learning for babies and toddlers!
As they fit the play pieces through the shape sorter holes, put the puzzle pieces in the shaped wells at the top, rotate the driver from one character to another
And discover all the different passengers in the windows, and use the real rolling wheels to move it
SmartMax Start X (Basic 42) Set
Build endless structures with strong, large pieces
Safe for kids as young as one year old
High-quality, sonically-welded bars
Includes colorful guide to building with SmartMax
All SmartMax sets are compatible with each other
Tiggy Shapes: Educational Toys and Learning Games For Kids
Tiggly Shapes is the premier educational iPad toy for toddlers – named one of TIME Magazine's "toys that will make your kids smarter"

Learn French, Spanish, Italian and more! Tiggly launch apps come in 7 different languages

Durable enough for toddler play and gentle enough for iPad screens

Comes with 3 free learning apps (Tiggly Safari, Tiggly Stamp & Tiggly Draw) — others available in the App Store

Four elegantly designed rubberized shapes (circle, square, star, triangle) that interact with iPad apps
Emido 40 Piece Jumbo Nuts Bolts, Toy, Stem Toy
The preschooler learns how to match shapes & colors and start to develop those fine motor skills as they twist and screw each matching shape of the nut and bolt together. This construction toy set also encourages stacking and building which is also a part of the learning process. Matching each shape and color to the pattern card also comes into play at this stage of development!

Complete fine motor skills toy inspired by Montessori learning. Improves memory, concentration, manual dexterity, hand-eye coordination, color recognition, pairing, shape sorting, increases attention and focus. Build those fine motor skills – hand eye coordination – motor control – visual perception – cognitive thinking – problem-solving and more! This is a great interactive toy for toddlers to Alzheimer's patients.
Magnetic Blocks STEM Educational Toys Magnet Block Tiles-24 Pieces
Could develop children's fine motor development, cognitive development of color, teamwork ability, artistic cognitive, sensory, cognitive ability, practical ability, imagination, and creativity.
3d Creative Builder (280 pieces) Educational Kids Engineering Construction Building Toy With Power Drill
STEM learning fun for little ones! With the kid-friendly power drill, kids can drill and construct their own custom designs

PLAY and LEARN: Helps build coordination, creative thinking skills, and fine motor skills—a critical pre-handwriting skill.
Blagoo Building Blocks, 45 Plastic Construction Learning Set In Car-Toy Case
With our 45 pcs EDUCATIONAL BUILDING BLOCKS PLASTIC TOY SET boys and girls 3, 4, 5, 6 years old learn to build many shapes in a creative way (see pictures)

STACKING building blocks of 5 bright colors with prints to create numerous shapes and sculptures. ORIGINAL 3-IN-1 BIRTHDAY PRESENT for creative kids 3+ years old. You get STEM toy building set + car toy + surprise inside.

CLICK ON BLAGOO seller profile to SEE ALL our amazing Building Blocks toys

ORIGINAL CAR-SHAPED PACKAGING on wheels with rope leash can be used as a SEPARATE CAR TOY. No more toy mess around your house – kids love to pack building blocks back to our car-shaped pack

DURABLE PLASTIC CONSTRUCTION blocks are made of non-toxic materials for safe playing process. Safe toys are our priority.
Peradix Brainflakes Building Toy 
SUPER QUALITY: Environmental non-toxic ABS material and all around arc design, is suitable for children's little hands. Children aged 3 years and up is suggested

EYECATCHING DESIGN: Mixed randomly by 8 different colors of snowflakes, the vivid shapes and dedicated workmanship will easily catch children's eyes

DELUXE SET OF 250 PCS: With the large amount of 250 PCS in total, this Peradix snowflakes building blocks can be freely built into various shapes. Easily interlocking characteristic makes it perfect for children to have fun with peers or family

VERSATILE DEVELOPMENT: Motivate children's creative imagination and creativity to create more diverse models, motor development and practical ability as well as eye-hand cooperative ability

CONVENIENT FOR STORAGE: Contained in a transparent plastic barrel, children can clean up and store the snowflakes themselves after playing
Guidecraft Grippies Builder's Set (20 Pieces)
2017 toy of the year finalist (toy)! Open-ended soft magnetic stem building toy for toddlers, ages 18 mos. +.

20 piece set includes over-sized soft plastic rods and balls, with 4 unique soft-touch textures.

Provides an introduction to engineering.

Combines tactile exploration with magnetic play.

Material: soft plastic over-molded abs plastic rods and metal balls.
Drop a colorful rock into the top of this cheerful dump truck toy and watch it tumble into the bucket to learn numbers

Once the rocks are in the bucket, the push toy or pull toy can be moved along to see the rocks rumble around inside

Learning toy develops motor skills by lifting the hinged bucket to unload the rocks and start again; a great early education toy for toddlers

Toddler toy truck includes 3 colorful buttons that play melodies, phrases and teach tools and colors

Construction toy is intended for toddlers ages 6 months to 3 years old; 2 AAA batteries are included for demo, use new batteries for regular use
It's easy to create colorful, 3-d constructions–with our bright, slot-together builders.

Translucent builders connect on every side for endless building possibilities.

Children explore colors and shapes–as they build fine motor control.
Mega Bloks 80 Piece Big Building Bag, Classic
80 building blocks for hours of play

Blocks are big and easy for little fingers to assemble

Encourages hands-on exploration as children imagine and create

Compatible with all Mega Bloks sets for endless building possibilities

Great gift for Mega Bloks fans! Packaging may vary
Tot Tube Playset-Toy Car and Ball Tunnel Ramp Race Track 
Children will love racing cars and balls down the tunnel track of the unique Tot Tube. Hours of fun!

Fits almost any brand of toy car (Matchbox, Hot wheels, Little People, etc) or small ball (Note: Cars and balls are not included with purchase)

Prop up against a couch or chair. The transparent middle piece to watch the cars race through. Comes apart in three pieces for easy storage. Put together, it is 45 in long.

Sets up in a flash! No screws or tools needed or complicated instructions. No batteries required, no flashing lights, or annoying sound effects.

Buy 2 sets and race side-by-side, or put them together to make one extra long race tube.
Enhances dexterity And handling.

Encourages communication.

Cute graphics And frog characters.
Melissa and Doug Rainbow Caterpillar Gear Toy With Interchangeable Gears
Turn the gears slowly and watch each interlocking segment move the next, or see how fast your child can make the caterpillar "crawl" on the wooden base. This rainbow-colored gear toy is hands-on fun at any speed! With their bulky, notched shape, the colorful gears are easy for children to fit onto the color-coordinated pegs . . . then rotate, remove and rearrange. Toddlers will be fascinated by the colors and movement of this charming toy.
Sands Alive! is the most amazing and unique learning and play compound to enter the market in years. Mold it into hard durable shapes, and with a soft touch, it will break apart and appear to move, almost as if it were alive!
Melissa and Doug Lace and Trace Farm
With charming farm-animal art on both sides, it's fun to practice lacing and tracing skills with this wooden set. Contains five sturdy, double-sided lacing panels, plus five color-coordinated laces! Develop hand-eye coordination and attention skills with this great activity.
Melissa and Doug Geometric Stacker
Match and sort these 25 colorful wooden pieces, and skill-building is just part of the fun. Rings, octagons, and rectangles can be slotted onto the three rods, stacked on top of each other, or lined up to compare shapes, sizes, and colors. This first-concepts set is a manipulatives all-star!