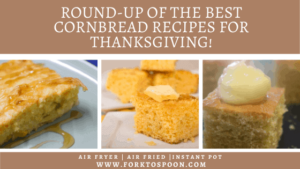 My kids love cornbread, they love it when we are at a restaurant and a basket of the cornbread comes out, before the meal. It might be the best part of the meal for them.
I grew up in Boston, and the only time we ever had cornbread was with BBQs in the summer. So, I was missing out.
I did a great cornbread recipe a few months ago, in the Air Fryer, and I will be honest with you, I have an obsession with muffins, just ask my husband, I am always experimenting with muffins.  I think all of his breakfasts last week had a muffin, he actually brought a bag of them into work for his co-workers. Who raved about them.
 Cornbread if you are not familiar with it, is a typical northern United States recipe, but has long roots in the southern part of the United States and Mexico. It was originally served by both Native American Indians, Mayans and Aztec. Given that one of the most common crops in the United States at the time, which I am sure you all heard the story of planting corn, was corn. It was also known as hoecake. Probably cooked over an open fire or over rocks. (If I remember my US History correct)
These cornbread recipes are a collection of our favorites.
Enjoy!