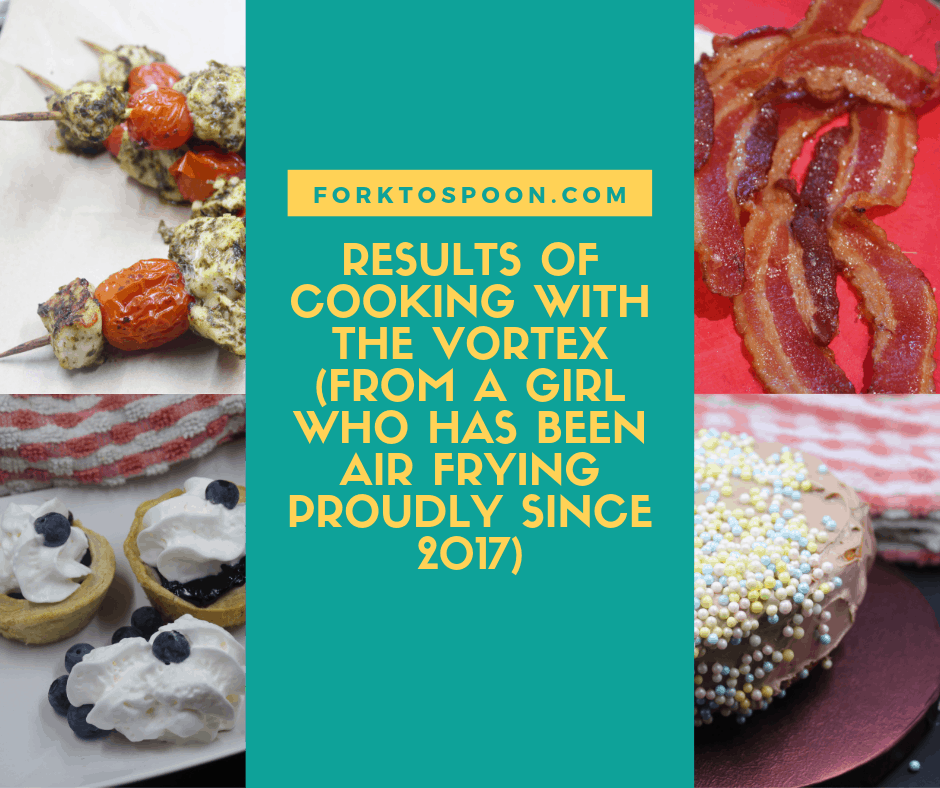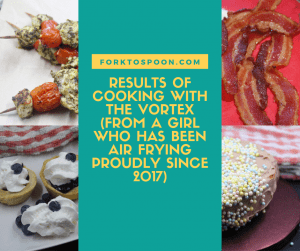 I might not have a degree in cooking, I don't have an internship at a culinary institute. But, I have been air frying proudly since 2017, long when it was considered second cooking to the Instant Pot. I had to figure out recipes, I had to work with other people in our group, which was a mere, 300 people at the time, now it's proudly at 374,000.
I was embarrassed to ask other people questions, I worked so, so, so, hard on one recipe. This was the one recipe, that I kept on trying and failing at, and it was so easy, so I couldn't grasp, why I was failing at it.  Which is now ironic since every Food Blogger has used it since.
Why you ask, because I knew it could be done, and it was simple, it was too simple for me to give up on. So, my kids, who are always my testers, ate hundreds and hundreds. They didn't complain, they loved it.
This is the recipe that started my love of air frying. Why do you ask? It's a simple recipe, couldn't you just do it on the stove, my friends, when I told them about my problem would just shake their heads.  Truth be told. I am a mom, on top of that, I'm a hockey mom. I used to be a  homeschool mom. I like to learn, I like to experiment. But, I'm real, probably too real for the blogging world. My kids eat all of the food you see on my blog, my husband brings in the leftovers baked goods to his office.  I don't have anyone to pay me to make food.
If I had to rename my blog, I would call it Real Mom, cause I'm proud of being real. If you join my air fryer group, and someone asks me a question, I answer the question, I follow up on the question. When we first started our air frying group, this lovely lady asked if I ever see a red one on sale text her, one day, I got so excited it was on sale, I texted her and she sent me a picture of it at her house, I was so excited, as it if was a friend of mine. If you email me I answer, if you want clarification, I work on you, because if you have a question, chances are someone else does too.
So, I got made fun of a lot, probably more than you would imagine. The blogging world is cruel, my kids wouldn't eat the meat in the Instant Pot, I'm sorry, they wouldn't. They are children, they noticed it had a stringy texture. They weren't wrong. The Instant Pot is great for soups, stews, sauces, rice, and other things. Those I will stick to.
Meat everyone can agree on tastes great grilled, I don't think anyone would say, no boil my meat, I prefer it boiled over grilled.  So, I played, played and came up with some really good recipes.
They are found here. I made them, I made them again, and I listened and read the feedback, I got some great reviews, I got some upsetting reviews, but I kept on going. I realized that everyone's air fryer is different. The wattage matters, but remember back in 2017, it was not talked about, we all assumed wrongly that an air fryer is an air fryer. When someone tried my recipe and it failed, I went out and bought the ingredients again and tried it again, better yet I had my 14 year old try it. I worked so hard with one reader, you wouldn't believe me, I sent her step by step pictures, and we came to find out that she was cooking on low wattage, she just had to flip the switch.
Why do I tell you this? To impress you, no, I'm real. My recipes, speak for themselves. I don't try to sell you anything. I love cooking and love the air fryer.
So, I was no different when the Vortex came out, I bought one. I had a list of tests, I wanted to give it, myself.
What did I cook?
Well, if you have been following me along, for a while, I LOVE to bake in the air fryer. Yes, I do, people said it couldn't be done, I took that on as a challenge, you can bake, you can fry, you can do anything you want to, it's about finding the right recipe.
I'm extremely proud of my baking recipes, I hope you do check those out—https://forktospoon.com/air-fryer-baked-goods
So, my first test was a cake, of course, it came from a box: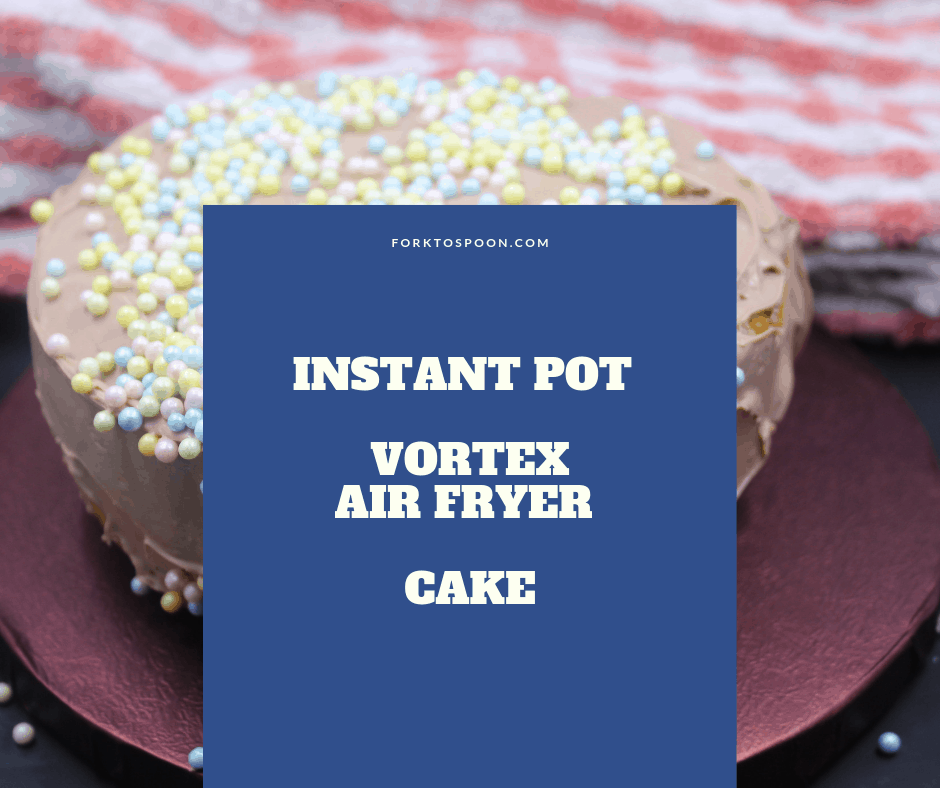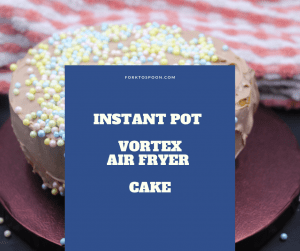 Hmm. It worked. It was moist, light and delicious. Took less time than my Secura, GoWise or another air fryer. (If you want to see my stash there is a picture on About Me) Trust, me I own a lot of different air fryers.
Then I wanted to see how it did on grilling, so I tried this awesome chicken recipe.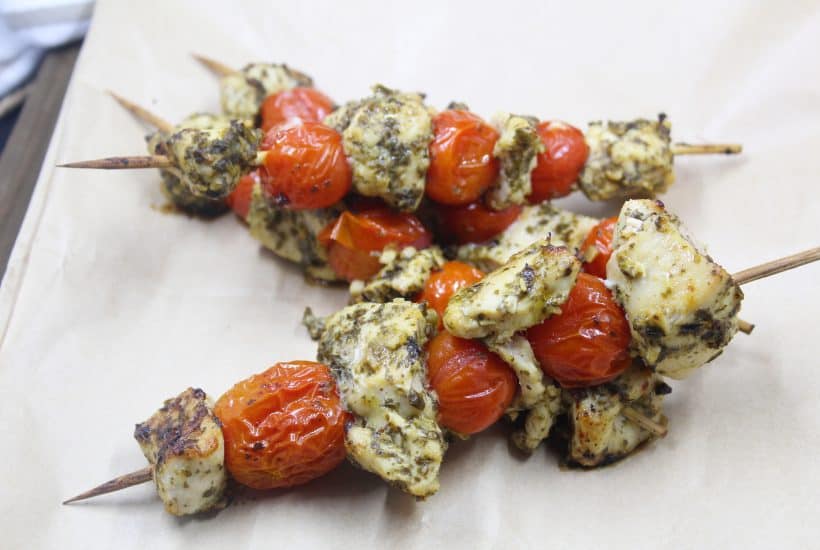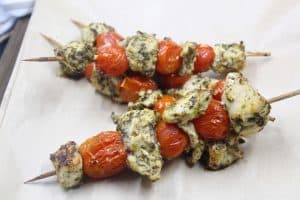 It can grill.
What would I suggest? If you are buying an air fryer, or want something that you can use for a long time, want to grow with. Get a Vortex.
Why you say?
Can you name another type of pressure cooker?
No… The Vortex is here to stay, and I'm so betting my money that it's going to outpace any of the other air fryers.