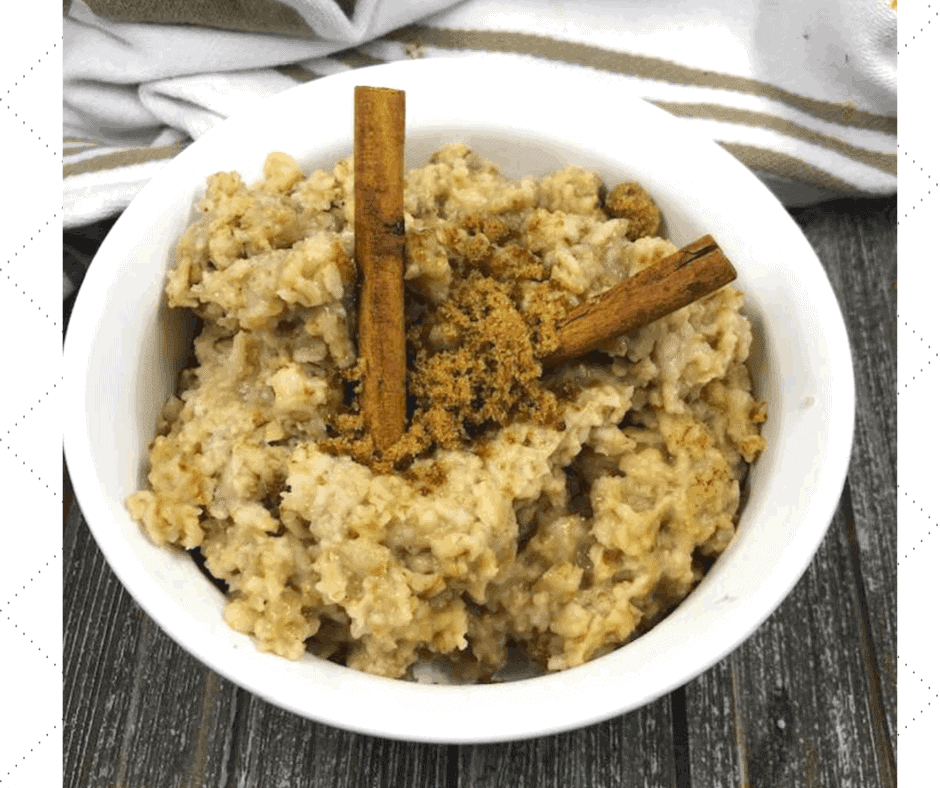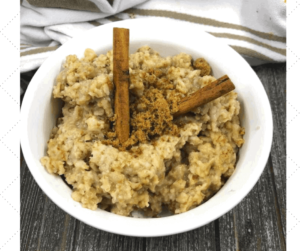 This is the recipe for the Instant Pot Users, who are looking for easy breakfast recipes.  I have been working on making more and more in my Instant Pot.
If you aren't following me. I'm at Fork to Spoon, and I usually do a recipe for the Instant Pot every day.  So, if you are looking for more recipes, make sure to check back.
I also started a new Facebook group, for everyone to share recipes and talk about their Instant Pot
This is one of the easiest breakfast ideas, and it's so quick, it's perfect for those busy mornings. My youngest son has never met a cup of steel-cut oatmeal that he hasn't liked, so this breakfast is perfect for him, and the use of cinnamon and brown sugar, makes it sweet, but not unhealthy, which is a great balance.
What really works well in this recipe is the use of rolled oats.
If you aren't familiar with oats, there are three main types, steel-cut, rolled and instant oats. The main difference in all three types is really just the level of processing each oat has gone through. The result of how much the food company has processed your food affects the cooking time of each oat.
Steel-cut oats take the longest to cook, that is because they have been chopped from the whole oat. It has the texture uncooked of being similar to rice. It is a very hearty oat. I haven't experienced much with cooking steel oats in the Air Fryer, but they do wonderfully in the Instant Pot.
The second type of oat that is the type we are using today is rolled oats, they are the ones that you probably grew up eating.  They are processed until they are soft. They require a shorter cooking time than steel oats, and they are traditionally served in oatmeal, cookies, granola bars, and other common breakfast foods. Since they start off soft, they are perfect, for cooking oatmeal in the air fryer. As they require less cooking time.
The third type of oats is quick or instant oats. These are the ones that are already precooked and dried, they are the ones you ate, that came in packages, ready to eat, that you just added water to. Do you remember those? I think I had those almost every day as a child.
This recipe that I am showing you today, is easily changed out for other fruits, especially as the summer is coming, and your choice of fresh fruits, will increase.
Don't Forget To Pin—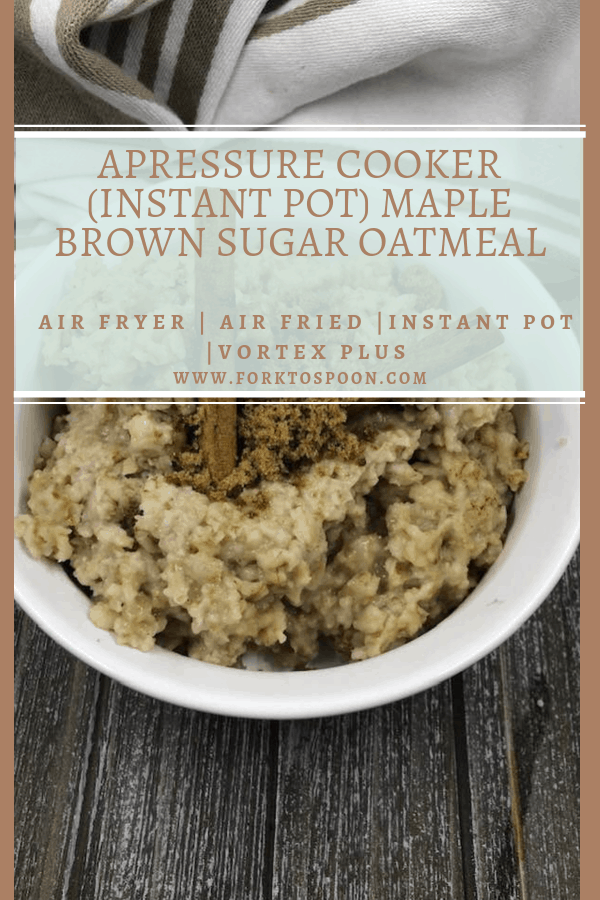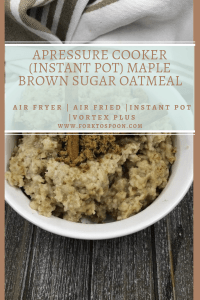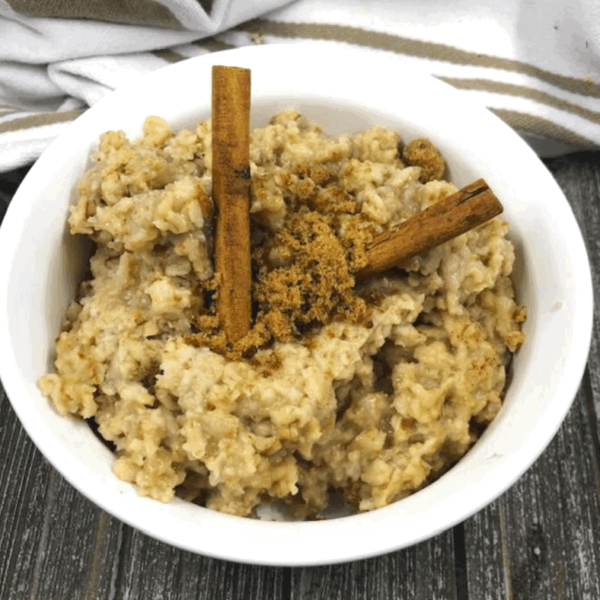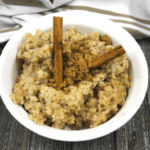 Pressure Cooker (Instant Pot) Maple Brown Sugar Oatmeal
This is a very easy meal, I made my batch in the 3 Quart Mini Instant pot, but this can be made in any size. Easy to prepare and a great start for a cold wintery morning.
Ingredients
2

cups

rolled oats

3 1/2

cups

water

1

teaspoon

salt

1

teaspoon

ground cinnamon

1/3

cup

brown sugar

1/3

cup

maple syrup
Garnish: Garnish with extra maple syrup, brown sugar, fruit, etc.
Instructions
Start by adding all of your ingredients, except for the garnishings to the Instant Pot.

Place the lid on the Instant Pot, and make sure the vent is on sealing. Then set the manual high pressure for 6 minutes. When the time is up, do a natural release.

When all of the pressure has been released, open the Instant Pot, stir.

Garnish, plate, serve and enjoy!