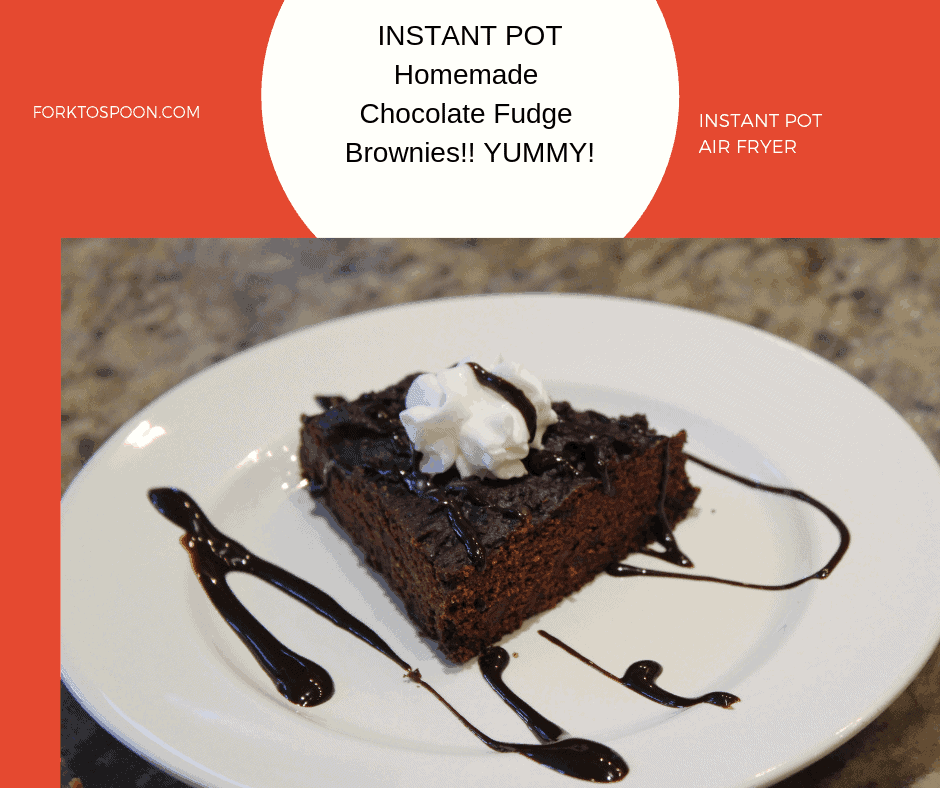 This is a great recipe for a really chocolate brownie. I got the inspiration at my local Starbucks, where there are so many chocolate chunks on top, that it looks almost sinful.
My family loves brownies, which is excellent because since I'm a food blogger, I get to generate lots of different combination of brownies and they attack them all up.
Believe it or not, brownies are one of the hardest desserts to get to perfection, because everyone in my household likes brownies different ways, my husband likes them hard, my son's like them gooey. So, striking the correct balance, where everybody is content is an enigma.
I have used many brownie mixes, scratch recipes, made frosted brownies, plain brownies, brownies with nuts, fudge brownies, and the list goes on and on…
The history of brownies, according to Wikipedia originated in 1897 by the very famous Sears, Roebuck Catalog, it was a brownie cookie bar. Which, were perhaps simpler to produce in masses, than rolling out the dough and pressing them. (You know what I am talking about right)
Here are some other brownie recipes;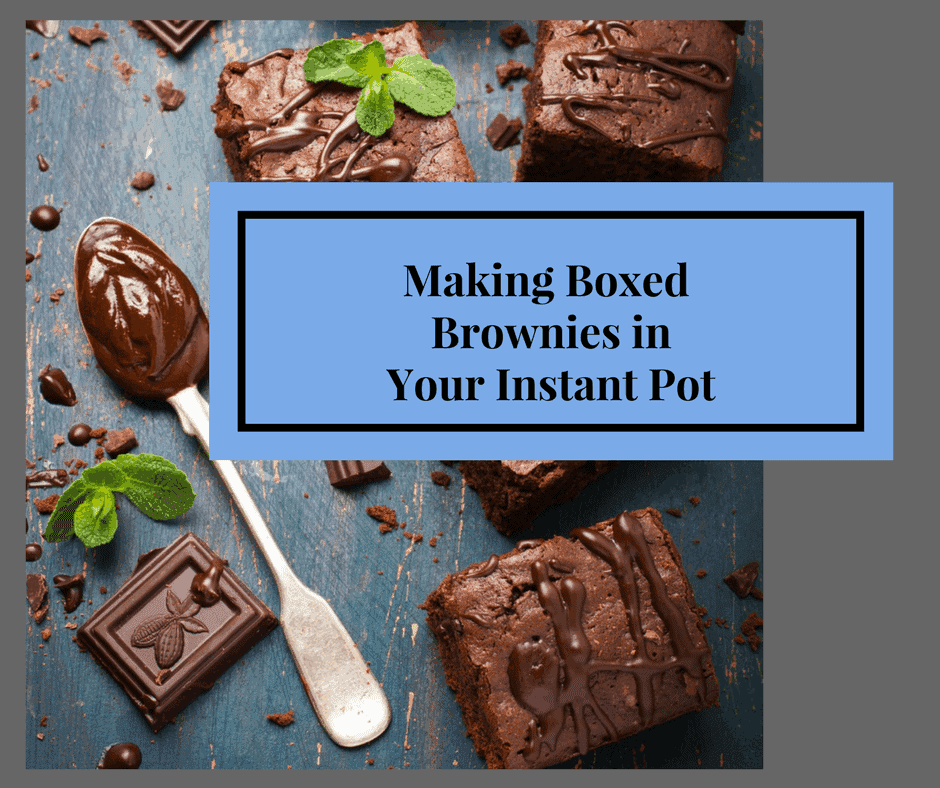 How To Make Brownies (From a Box Mix) in the Instant Pot
Here are great tips for making the perfect brownies:
Determine which type of brownie you would prefer to produce since they are all different. If you would prefer a cake brownie, you need to reduce your flour to about 1/2 cup, you also use none baking powder.  If you prefer a chewier brownie, just leave the sugar and butter separate, rather than cream them, as you do.
To get cake-like brownies to add more flour and you use baking powder, you also cream the sugar and butter together.
If you like your brownies chewy, use a bit more egg, it will make it chewier since it will be moister.
For the best brownies use a metal pan as they conduct heat evenly if you use a glass pan it will cause the edges to burn.
If you would like for easy cleanup, line your pan with parchment or aluminum foil, and create a slight overhang to create handles, this will allow you to remove the brownies, with little trouble, when they cool down. It will make it easier to cut into squares, and they look much better when you go to serve them.
Do not mix in the flour; if you keep on mixing your batter until all the flour is mixed in, you will over stir the batter, which leaves you with dense brownies.
Always use room temperature eggs, just leave them up for 30 minutes before baking, cold eggs make your batter denser.
Always check your brownies about 10 minutes before your recipe calls for, since all the air fryers are different, this will lead to less burnt brownies, and more brownies to eat.
Here are the items used in the recipe:
Items Used in this Recipe:
Kitchen Items Used: (* Note: Affiliate links are included)
Instant Pot Smart Du060 (I also made this in my mini, to make sure it works)
J.A. Henckels 6-Inch High Carbon Stainless Steel Chef's Kitchen Knife
Stainless Steel Measuring Cups, 5 Piece Set
Hudson Essentials Stainless Steel Measuring Cups Set-6 Piece Stackable Set with Spout
Anchor Glass Measuring Set–This is one of the handiest tools in the Kitchen 
Italian Olive Wood Spatula (I LOVE THis for my IP)
OXO Good Grips 12 Inch Stainless-Steel Locking Tongs
Silicone Pot Holders, made just for the IP (If you don't have a pair, get a pair, because they prevent burns)
Don't Forget to Pin: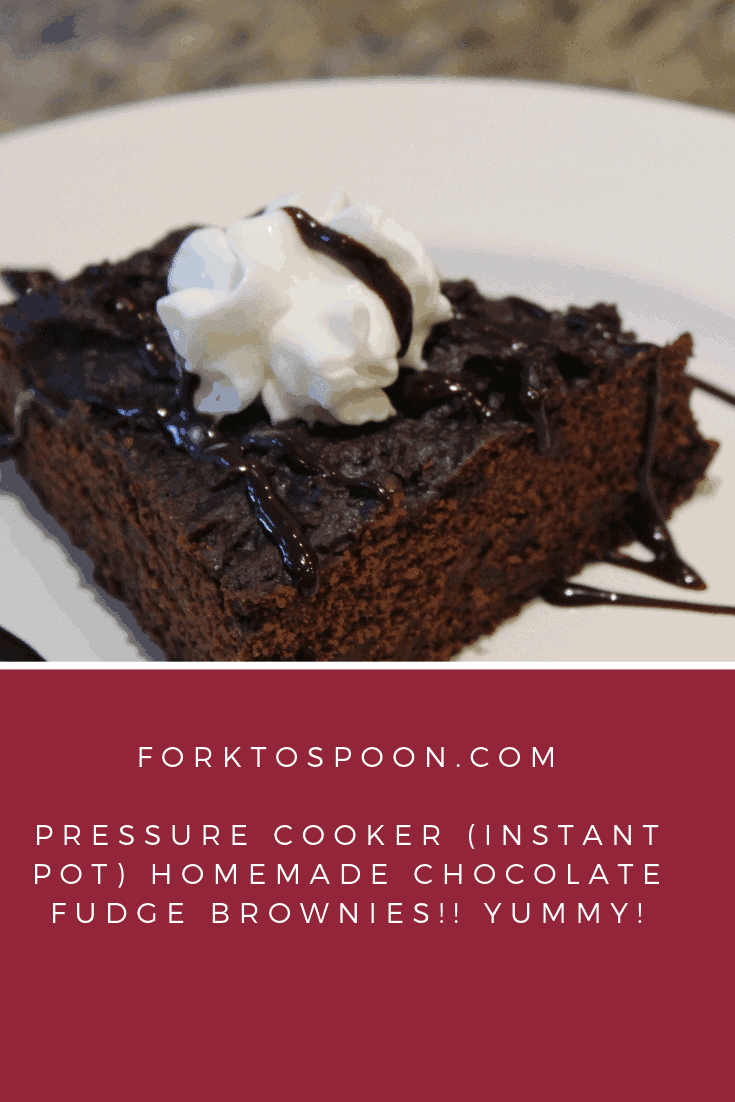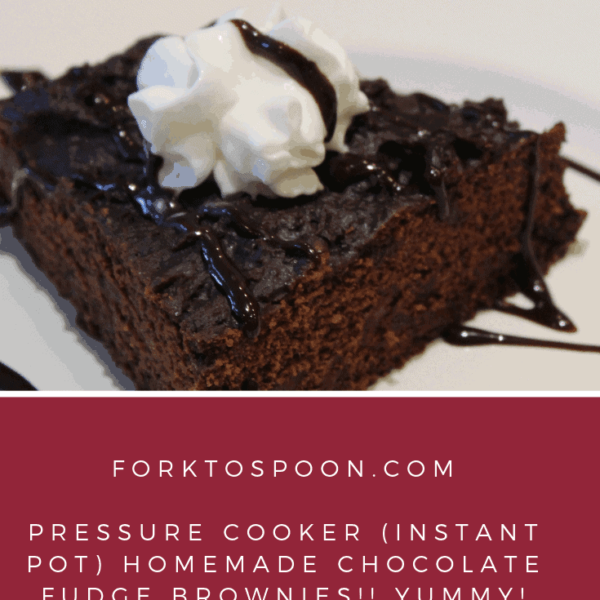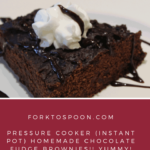 Pressure Cooker (Instant Pot) Homemade Chocolate Fudge Brownies!! YUMMY!
Ingredients
1/2

cup

butter, room temperature

1

cup

sugar

2

large

eggs

3/4

cup

flour

1/2

cup

cocoa powder

1

teaspoon

baking powder

1

cup

chocolate chips (semisweet)
Instructions
Start by creaming the sugar and butter together.

Add the flour, cocoa powder, baking powder, and salt.

Mix in the chocolate chips.

Add your trivet to the Instant Pot on the bottom and add 1 1/2 cups of water.

Spray an Instant Pot safe pan with non-stick cooking spray.




Then pour the batter in, cover the pan loosely with foil.

Add the lid, make sure it's on sealing. And set the manual high pressure for 50 minutes.

Let the pressure naturally release.

When all of the pressure has been released and you can easily remove the lid. Remove the pan from the Instant Pot.