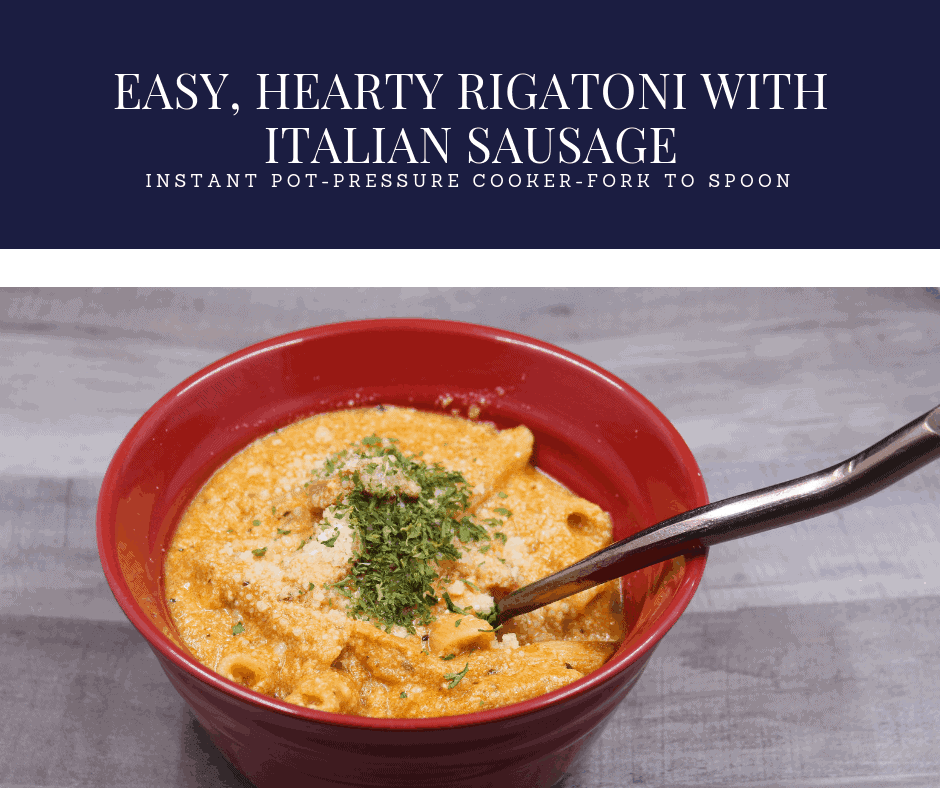 This is a great meal for any time, this is one of my kid's favorite meals, and since it has a great source of protein, it's a complete one-pot meal. It is especially great if you are looking for meals that you can cook ahead of time, because once the fall comes, with the return of school and hockey, I have such little time, to whip up hearty meals. This meal is a lifesaver.
This meal also can be made ahead of time, so if you are looking for a way to save your Monday, what do I eat, just make a batch on Sunday and refrigerate it until Monday, and you will have an easy Monday menu planning. (I hate the what, am I going to eat? Those are the days, that I usually find myself heading to fast food, rather than home)
This also makes a great comfort food, the perfect dish for a long day, and with the Instant Pot (or Pressure Cooker) you can make it in less time than ordering from your favorite Italian Restaurant. There is something comforting about grabbing a hot plate of pasta and meat in a large bowl, top it off with some grated parmesan cheese.
This dish is slightly changed out from the hearty Spaghetti and Meatballs, I find that spaghetti doesn't hold up as well in the Instant Pot, as thicker pasta. So, I changed my grandmother's original recipe out for ziti and changed out the meat from ground meat to sausage. The thicker pasta also allows you to get more sauce in the pasta, as it sticks better, because of the thicker pasta.
If you are looking for ways to add additionals spice, change out the Italian Sausage from sweet to hot, my kids are not big fans, so I used the sweet Italian sausage in this recipe. But, the hot Italian sausages add a layer of flavor and spices. Sauting the sausage, also brings out another level of flavor. Nowadays, you can go to any Trader Joes or specialty shop and pick up a wide variety of sausages, each with their unique flavors.
Start by placing your sausages and 1/2 cup of water, into the Instant Pot.
Set the manual high pressure for 10 minutes. Let it naturally release, when the time is done.
When they are done, and all of the pressure is released, remove the lid, remove the sausage and drain the liquid.
Cut the sausage (notice they are not fully cooked)
Add the cut sausaages to the Instant Pot.
Then add the dried pasta.
Then add the chicken broth or stock.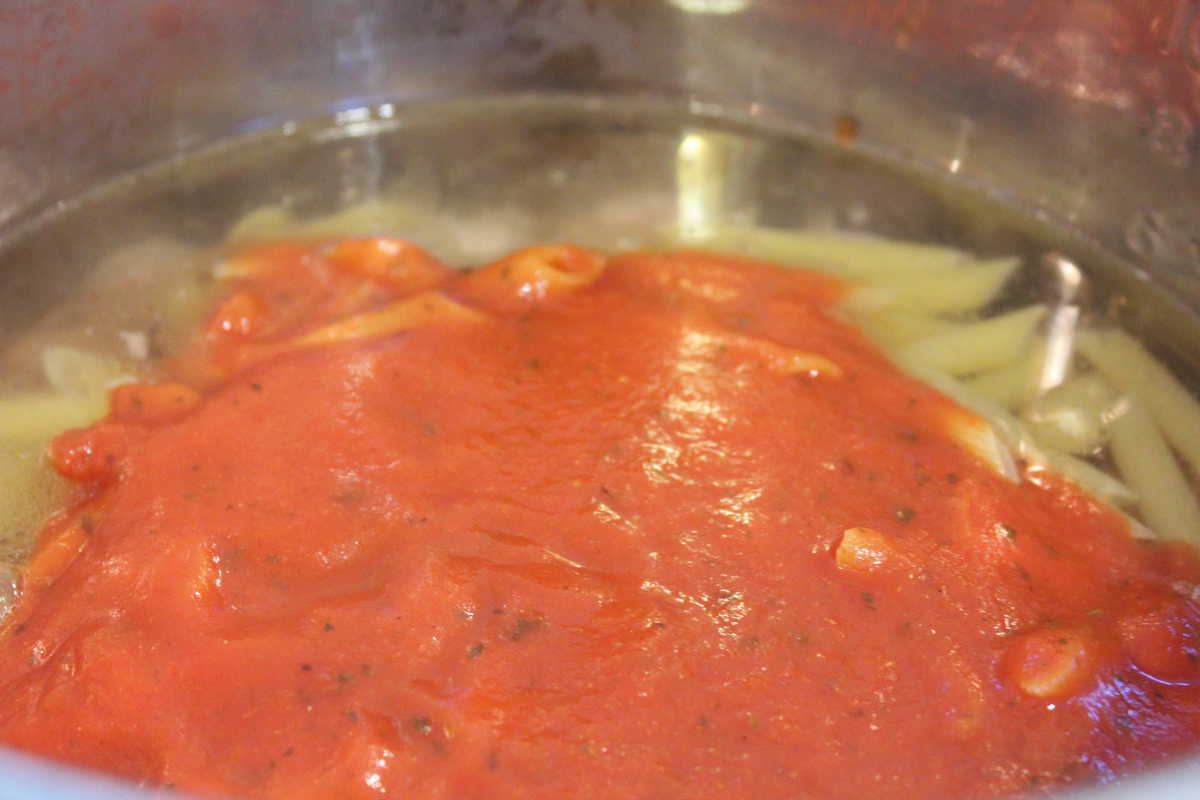 Then add the ricotta cheese.
Then add the mozzeralla cheese.
Add your spices (for complete directions see the printable recipe)
Make sure the vent is sealed.
Set the timer (high pressure) 12 minutes. Then after the time is done, let the pressure naturally release.
Mix when ready to be opened.
**Always consult your owner's guide for complete instructions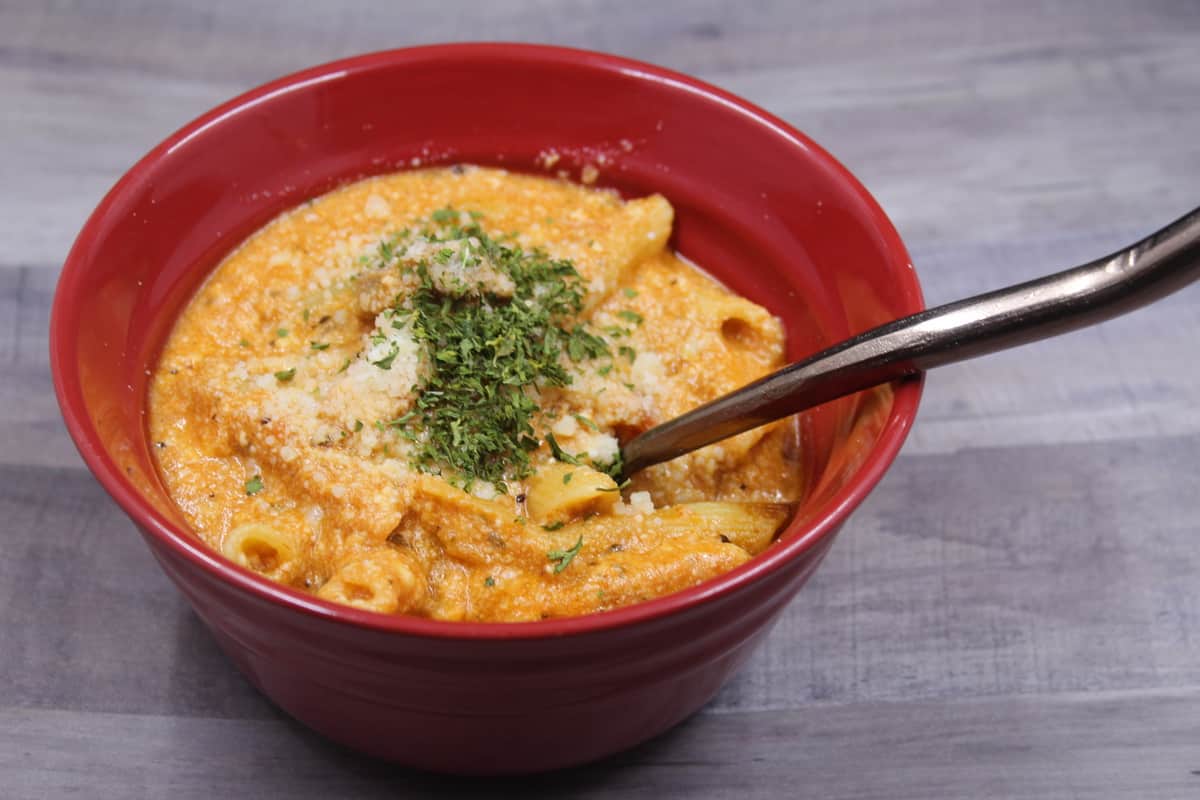 Kitchen Items Used: (* Note: Affiliate links are included)
J.A. Henckels 6-Inch High Carbon Stainless Steel Chef's Kitchen Knife
Stainless Steel Measuring Cups, 5 Piece Set
Hudson Essentials Stainless Steel Measuring Cups Set-6 Piece Stackable Set with Spout
Anchor Glass Measuring Set–This is one of the handiest tools in the Kitchen 
Italian Olive Wood Spatula (I LOVE THis for my IP)
OXO Good Grips 12 Inch Stainless-Steel Locking Tongs
Silicone Pot Holders, made just for the IP (If you don't have a pair, get a pair, because they prevent burns)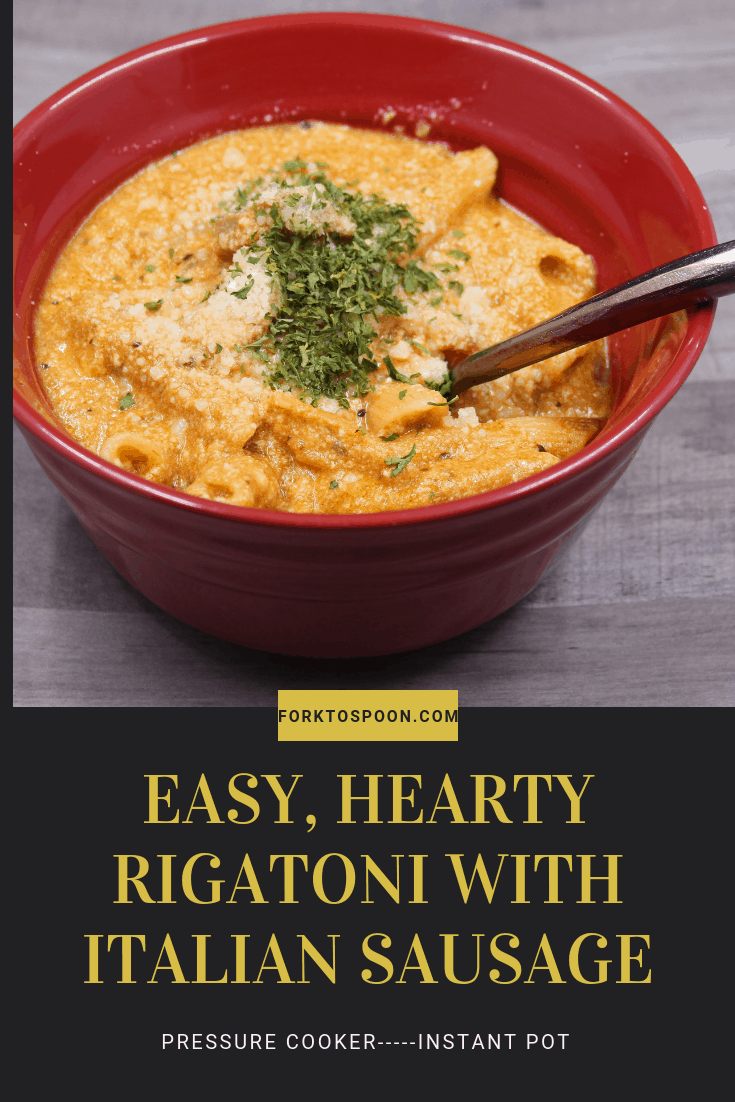 Pressure Cooker (Instant Pot) Easy, Hearty and One Pot Meal--Sausage Rigatoni
Ingredients
1 1/2

pounds

Italian Sausage (any flavor)

1/2

cup

water

2

cups

pasta (any type)

3

cups

chicken stock

3

cups

pasta sauce

2

cups

ricotta cheese

2

cups

shredded mozzarella cheese

1

teaspoon

dried oregano

1/2

teaspoon

red pepper flakes

1 1/2

teaspoon

salt

1/2

teaspoon

pepper
Optional: Parmesan, parsley or basil for topping
Instructions
Start by adding the sausage (uncooked) and water to the Instant Pot.

Then add your lid, making sure that the lid vent is closed.

Set the manual high pressure for 10 minutes.

Let it naturally release.

When all of the pressure has been released and the pin has dropped, open up your lid (remember, never force the lid to open)

Remove the sausages, drain the liquid in the Instant Pot.

Place them on a cutting board or cutting surface.

Then place the sliced sausage, pasta, chicken broth, pasta sauce, ricotta, mozzarella, and spices to the Instant Pot.

Set the manual high pressure for 12 minutes. Making sure that the vent is closed.

When the time is up, let the pressure naturally release.

Remove the lid, stir and garnish if desired with Parmesan cheese, parsley or basil.