This is my son's favorite meal, and it is quickly becoming mine since it requires very few ingredients and takes such little time, that it's a perfect weeknight dish. I actually made it right before my son's hockey game. So, if your kids are in sports, pin this for later, and better yet you can keep a stock of the ingredients on hand since there are so few of them. And you can always freeze the cheese.  It would be so much cheaper than grabbing dinner out.
There are hundreds of recipes for macaroni and cheese for the Instant Pot, and I try to avoid the ones with tons of ingredients. This is a great starter or beginner recipe for the Instant Pot.
This is a great recipe to make for potlucks, family reunions, BBQ's, graduation parties and this is one of my kid's favorite for Easter dinner.  This recipe is a copycat recipe from one of my favorite restaurants Cracker Barrel.  They make a mean mac & cheese.
Once I got my Instant Pot, I never purchased the Kraft Mac & Cheese again, with that distinctive yellow cheese packet.
Here are some tips on making pasta in the Instant Pot or your Pressure Cooker:
Calculating your cook time-The easiest way to tell you how long to cook your pasta is to read your box. Pressure Cookers or Instant Pots, will reduce your cooking time by 1/2. So if the box says 10 minutes, only set your Instant Pot for 5 minutes.
The above calculation makes for a softer pasta so if you like al dente pasta, divide the boxes cooking time, and divide by 2 and subtract one minute.
Use a quick release. Since pasta is a high starch food, it will foam during the cooking process. All of the pasta needs to be done as a quick release, which will immediately stop the cooking process, if you left it for another 10 minutes, while the pressure naturally releases, you would have pasta that is mush.
To reduce the foam, which is really not a big deal, you can add about 2 teaspoons of olive oil to the pasta. I usually add a pat of butter to the Instant Pot, when I am making cream sauces, or Mac and Cheese. Since most macaroni and cheese have some sort of butter in the recipe, I just add it, because in my opinion mac and cheese taste better with butter, rather than olive oil. But since everyone's taste buds are different, experiment, and see what you like better.
I usually use elbow macaroni in all of my macaroni and cheese dishes, if you use another pasta, which is fine, remember that shorter noodles tend to do better in the Instant Pot, than longer noodles.
I have great success with gluten-free pasta, I have not had great success with chickpea pasta. But, I will continue to experiment.
The key to cooking any great pasta dish in the Instant Pot (or any other Pressure cooker) is that the water line needs to be slightly above the pasta, otherwise you will get dried out pasta. So, if your recipe calls for 2 cups of water, and you see that it will take 2 1/2 cups of water to have the water line above the pasta, just add the 1/2 cup. You can always drain the pasta if you have extra water when the time is done.
Don't Forget to Pin: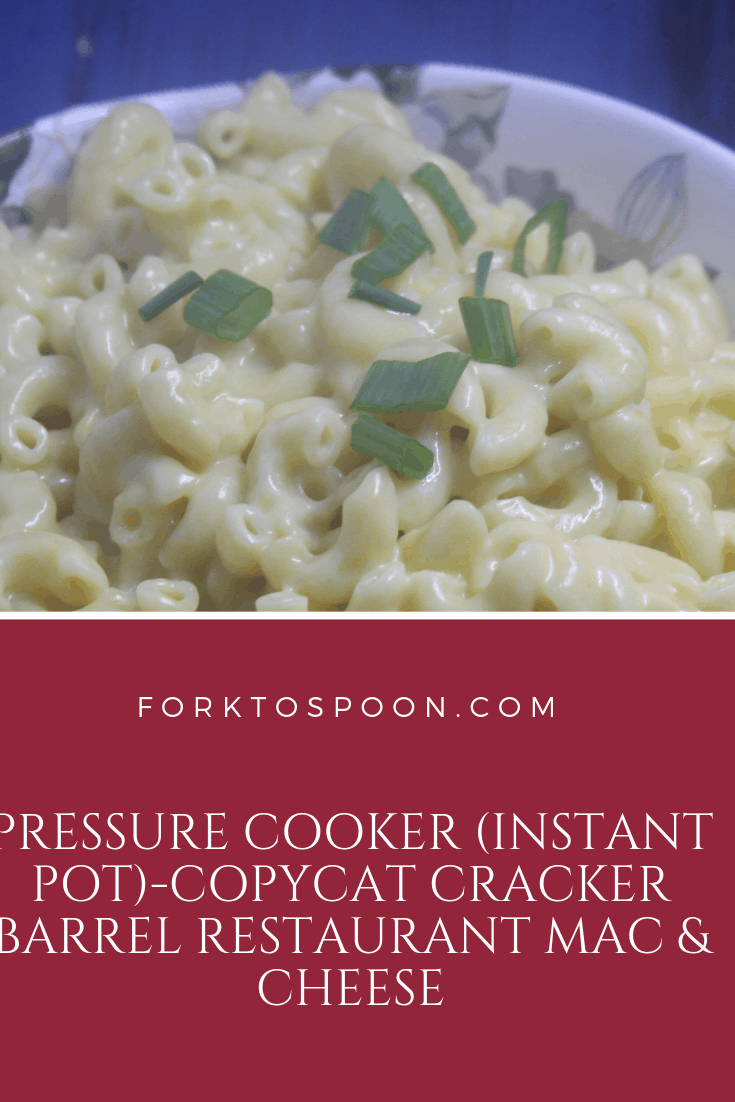 Item's Used in This Recipe:
Kitchen Items Used: (* Note: Affiliate links are included)
Instant Pot Smart Du060 (I also made this in my mini, to make sure it works)
J.A. Henckels 6-Inch High Carbon Stainless Steel Chef's Kitchen Knife
Stainless Steel Measuring Cups, 5 Piece Set
Hudson Essentials Stainless Steel Measuring Cups Set-6 Piece Stackable Set with Spout
Anchor Glass Measuring Set–This is one of the handiest tools in the Kitchen 
Italian Olive Wood Spatula (I LOVE THis for my IP)
OXO Good Grips 12 Inch Stainless-Steel Locking Tongs
Silicone Pot Holders, made just for the IP (If you don't have a pair, get a pair, because they prevent burns)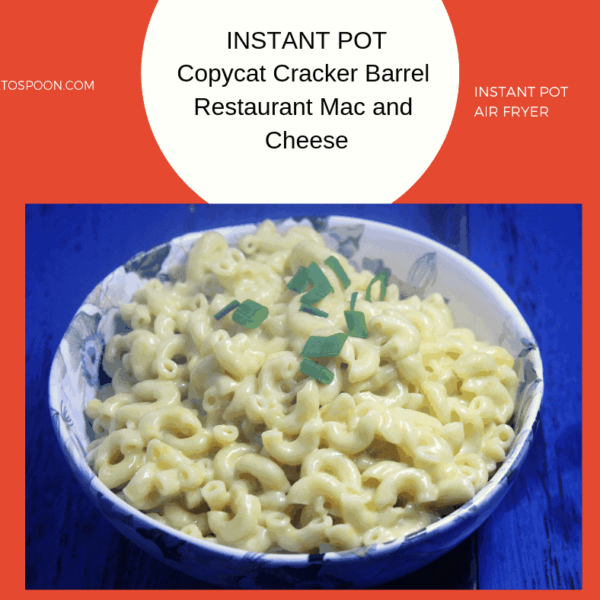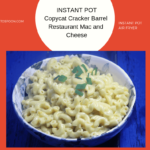 Pressure Cooker (Instant Pot)-Copycat Cracker Barrel Restaurant Mac & Cheese
This is a great copycat of the famous Cracker Barrel Restaurant Mac & Cheese it is adapted for a pressure cooker or Instant Pot. This can also be made Gluten Free, by switching out the pasta.
Ingredients
16

ounces

elbow macaroni

4

cups

water or chicken broth

2

tablespoons

butter

1

teaspoon

garlic powder

1/2

teaspoon

salt

1/2

teaspoon

pepper

1

cup

milk

16

ounces

Colby Jack Shredded Cheese
Instructions
Add your elbow macaroni to the Instant Pot.

Add your water. (Remember if the line is not above your macaroni in the Instant Pot) add more water so it's slightly above. This will result in tender pasta.

Add either olive oil or butter. I choose butter because it is typically found in all macaroni and cheese dishes.

Set your Instant Pot for 5 minutes on manual high pressure. Make sure that the vent is set on sealing.

After do a quick release.

Remove the lid, I had no water left, if you have some, drain the pasta.

Another look at the pasta.

Add your cheese, Cracker Barrel typically uses Coly Jack Cheese, so I bought a couple of packages at the supermarket in the dairy section.

Mix in the salt, pepper, garlic powder

Add the milk and mix well.

Mix until your macaroni and cheese is nice and smooth.

Scoop to a serving bowl, or serve out of the Instant Pot bowl.

Makes a great meal by itself or serve it with some Air Fryer pork chops) my kids favorite.