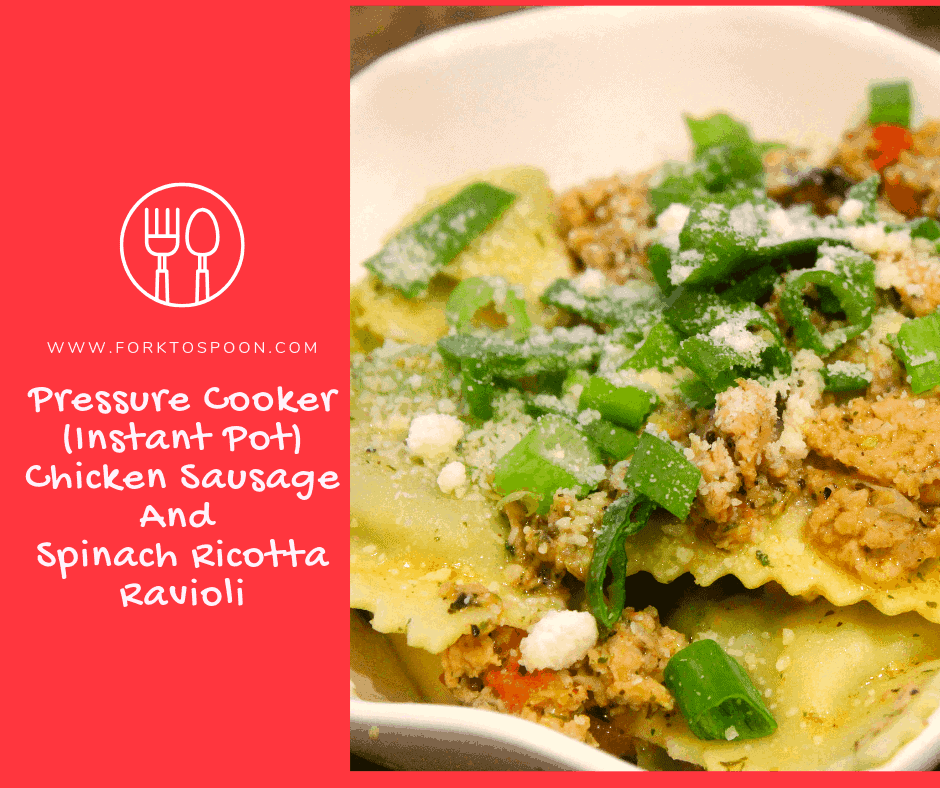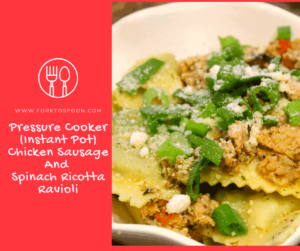 My family loves pasta, my kids eat it by the plateful. Any type of pasta makes a perfect dinner or lunch, or even a snack.
But, I get tired of making regular old pasta sauce. Pasta is one of the most budget-friendly and versatile meals that you can serve to a hungry army or just to a family. (I have two teenage boys, so sometimes it feels like an army, especially, when their friends are over)
So, today I sat down and wrote down a few varieties, that I would try in my new Instant Pot. I am not one of those moms that can stir a sauce all day, I am a real mom, and I am a hockey mom on top of it, and I work full time, so as much as I like to make a homemade Italian Sunday Gravy, which takes all day, it doesn't exactly fit into my schedule. Hence, when I heard about the Instant Pot, I was all over it, before that, like all moms, I was an avid crockpot/slow cooker user.
Now, the Instant Pot is perfect for quick pasta sauces (as well as a million other uses) it gives you the all-day flavor without being in the kitchen all day, which is probably why it's one of the most popular kitchen appliances manufactured in the past decade. The air fryer is fast becoming a fierce competitor.
You can also make plain pasta in the Instant Pot, which my kids love because they can not wait for the water to boil, true story. My son also has a gluten allergy, so I found that if you make Gluten Free Pasta in the Instant Pot, it comes out softer, and tastes better. So, if you haven't tried it, give it a whirl.
One of the biggest secrets or tips that I can give you about making pasta in the Instant Pot, is to make sure that the water line, is slightly above the pasta.
Meat sauces come in all different varieties from meat, poultry, seafood, fish sauces, creamy, cheese, and vegetable sauces.
I hope that you try a few varieties of my pasta sauces and find a new one for you and your family.
Here are some of my favorite pasta sauces, I have made thus far with the Instant Pot—
Kitchen Items Used: (Note: Affiliate links are included in this post)
Instant Pot Smart Du060 (I also made this in my mini, to make sure it works)
J.A. Henckels 6-Inch High Carbon Stainless Steel Chef's Kitchen Knife
Stainless Steel Measuring Cups, 5 Piece Set
Hudson Essentials Stainless Steel Measuring Cups Set-6 Piece Stackable Set with Spout
Anchor Glass Measuring Set–This is one of the handiest tools in the Kitchen 
Italian Olive Wood Spatula (I LOVE THis for my IP)
Don't Forget To Pin: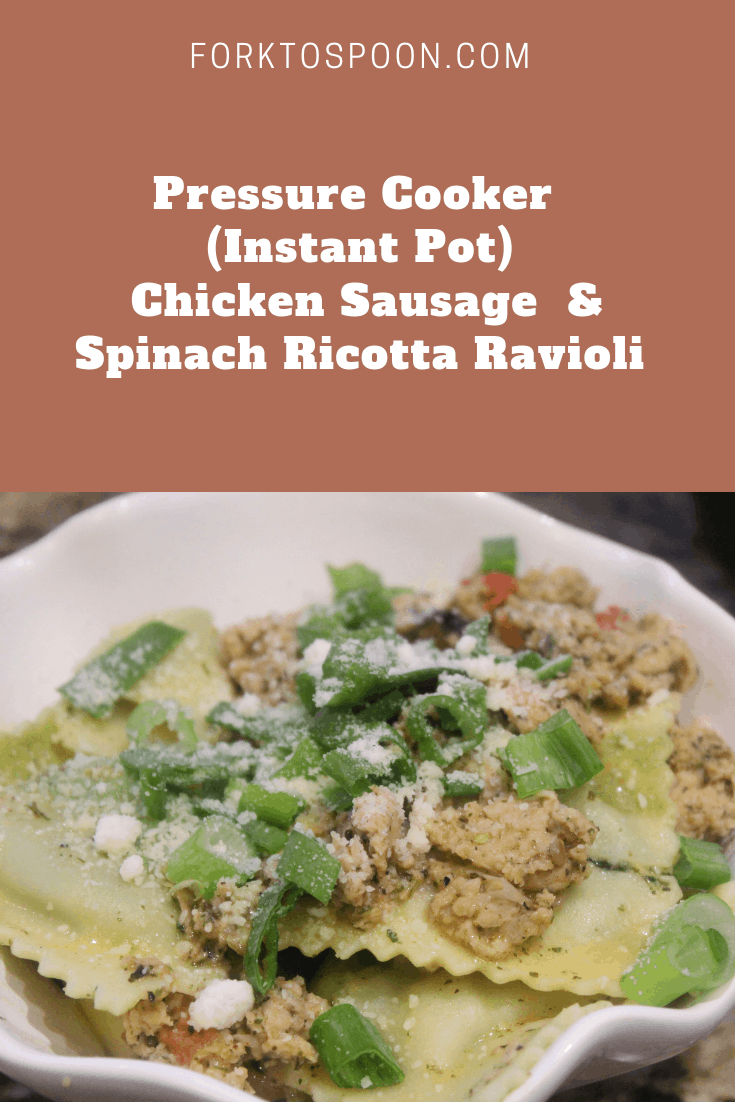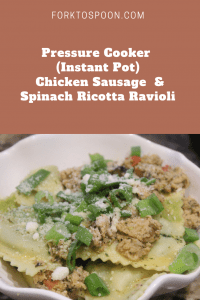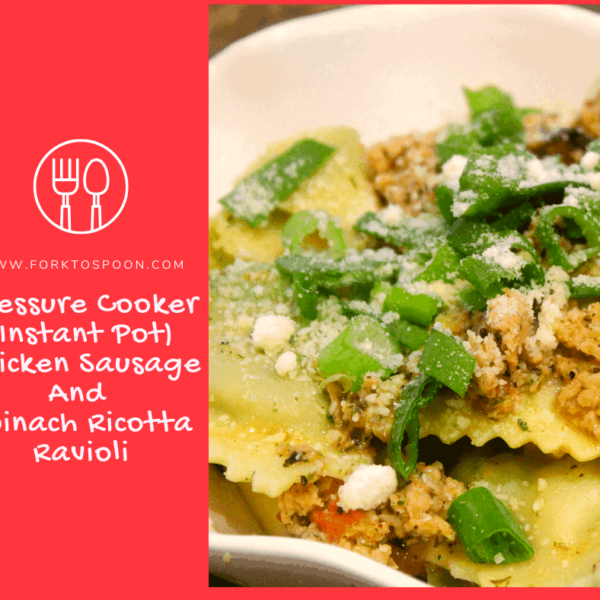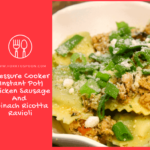 Pressure Cooker (Instant Pot) Chicken Sausage & Spinach Ricotta Ravioli
Ingredients
2

pounds

Chicken Sausage

2

tablespoons

olive oil

1/2

cup

diced scallions-white part only

2

teaspoons

Italian Seasoning

2

large

tomatoes, chopped

1

cup

chicken broth/stock

2

tablespoons

sour cream

2

tablespoons

butter

2

pounds

ravioli (any type will do)
Garnish with sliced green scallions and or Parmesan cheese.
Instructions
Start by filling a large saucepan full of water, for cooking your ravioli. You will be cooking the pasta for about 5 minutes, just enough to get it cooked al dente, as you will be finishing it off in the sauce.

Start by adding your olive oil to the Instant Pot.

Then press the saute button, give it about 30 seconds, for the oil to heat up.

Then add in the chicken sausage, scallion whites, and Italian Seasoning. Use a wooden spatula, see my suggestions in the items used in this recipe. Continue to break up the sausage as it cooks, so it doesn't stick.

Continue to cook until the chicken sausage is brown, then mix in the diced tomato, mix well. Give it about a minute until the tomato softens.

Then add 1 cup of chicken stock to your Instant Pot, mix in the sour cream, and butter, mix well.

Pour in the drained ravioli into the Instant Pot, and mix everything together.

Plate, serve and garnish with diced green scallions or parmesan cheese.