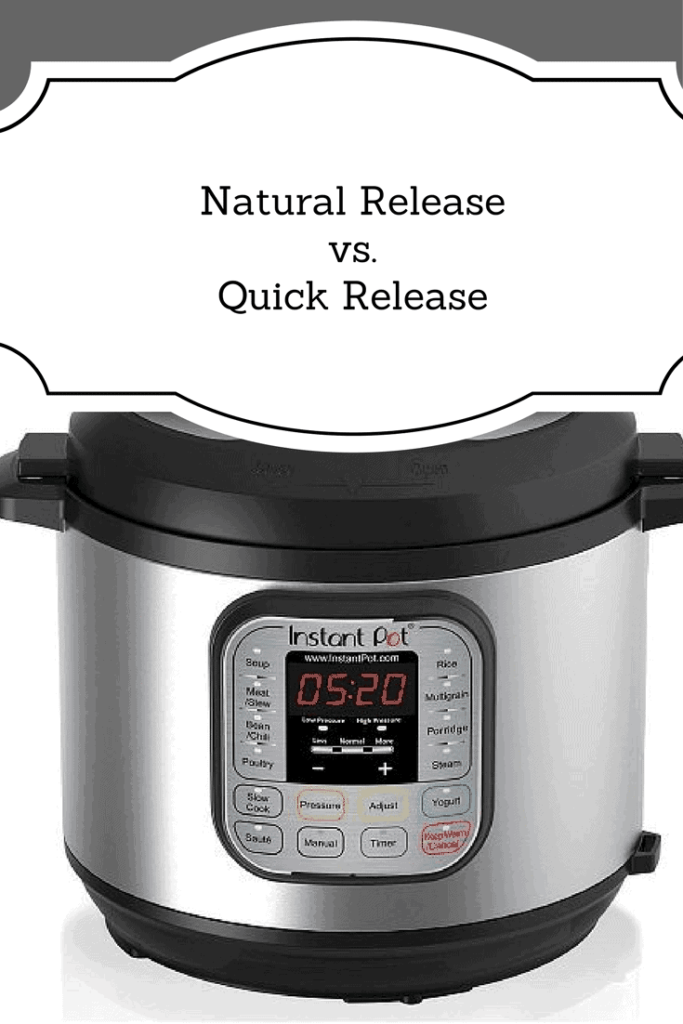 Note: Affiliate links are included in this post
Natural Release vs. Quick Release
One of the most common questions asked in Instant Pot Forums. It was also ranked as one of July's most ranked google questions.
So, you bought a new Instant Pot, on Prime Day or Black Friday, or you received one as a gift. (The make wonderful gifts for new moms or engaged folks)
True Story-The first time I used my Instant Pot, I brought it outside to open, because  I was so afraid that it would explode into the ceiling. My husband was laughing so hard at me. While I was like, could you just open the door, for me?  Have you ever had one of those moments? If you have been married for long
time, chances are you know exactly what I am talking about.
Here are definitions-
Quick Pressure Release
This is used to quickly stop the cooking process. It prevents the continuing cooking that comes when you naturally release something.
It is primarily used for vegetables, seafood, and items that don't require a lot of time.
But be warned it's extremely messy, (in my case scary).
If you are going to do a lot of recipes, that require Quick Release, invest in a pair of gloves. They are made just for the Instant Pot, they are currently $6.70. You will save yourself a lot of burns (I actually use them all the time, no matter what the cooking method).
You also might want to get a few extra silicone rings, that you can change out and wash in between. 
Warning: If you use quick pressure release a lot, you will need to clean your Instant Pot more. Because of the high degree of pressure given out during this method, it might also get in the inner pot. Which, means you need to clean that.
Natural Pressure Release
This is used for about 90% of your recipes. Unless, you only use the Instant Pot for making vegetables, or seafood. Everything else requires National Pressure Release. It gradually brings down the pressure. It is ideal for soups, meats, and heavy liquid items.
If the recipe calls for Natual Pressure Release, and you do Quick Release, you will have a HUGE mess on your hands. Becuase liquids will explode.