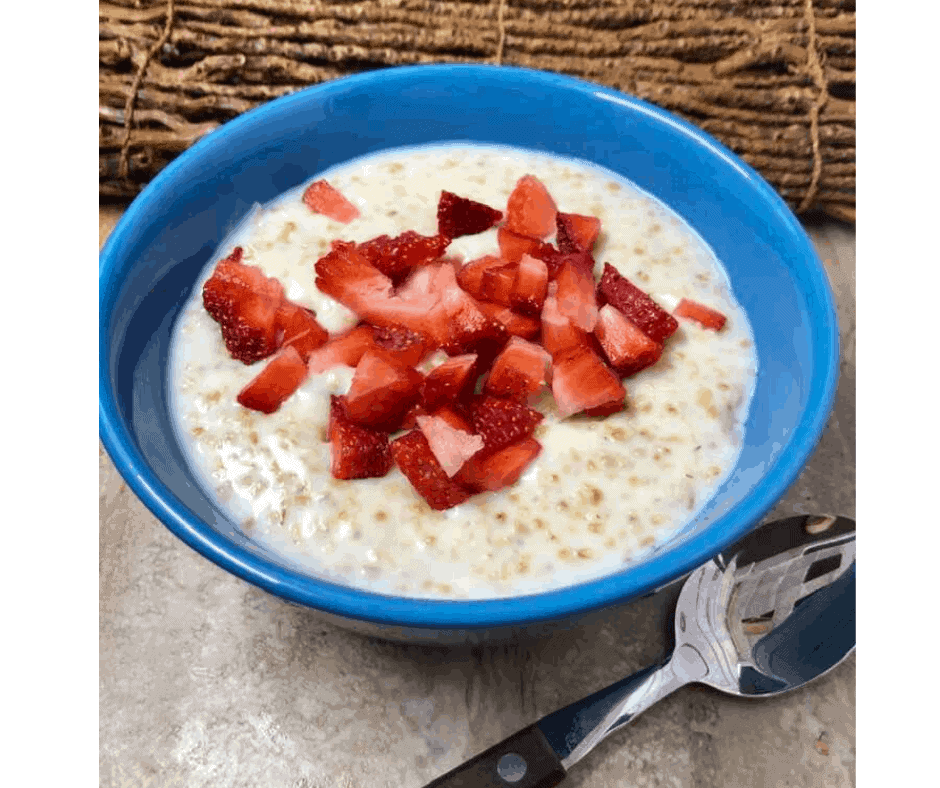 This is an amazing and quick breakfast, for any fall or winter morning.
If you are like me, you mostly grew up eating Quaker Oats, Instant oatmeal, I remember that my favorite, was raisins and spice. On the weekends my mother would make a huge batch of old-fashioned oatmeal, usually in a crockpot. When I had my own family, I continued the tradition of buying the Quaker Oats packages, and my kids enjoyed making their own cereal, and by the time I had them, they simply used the Kuerig to boil the water, so it truly was a VERY easy breakfast for them to make.
Today, I wanted to show you a foolproof way to make steel-cut oatmeal in the Instant Pot. The best thing about this recipe is that you can change it out, with almost anything, from nuts, fruits, (fresh and dried) spices, etc.
As most of you know, I have two teenage boys, who love to eat, and now that I have the Instant Pots, I have mostly transitioned our oatmeal from Old-fashioned oatmeal to Steel-Cut oatmeal, as they are healthy and they cook up really well in the Instant Pot.
I love making oatmeal in the Instant Pot, for the simple reason, I do not have to watch it, I usually set it, after I get up, and when I am done getting ready, I am ready to serve my family a great and healthy breakfast, with hardly any prep time.   Talk about a win-win, I usually make a HUGE batch on Sunday and then keep it the refrigerator and the kids can heat it up in the microwave and ate their own fixings.
Now, if you are not familiar with steel-cut oats, and how much the Instant Pot has changed the cooking time. Traditional steel-cut oats, take about 30 to 40 minutes of cooking time, but with the Instant Pot, the cooking time is cut down to 15 minutes, which includes the time for the pressure cooker to get to pressure and the natural release. So, not only are you saving time, you are saving yourself from watching the stove.
Health Benefits From Eating Steel-Cut Oats or Old-Fashioned Oatmeal-
High in insoluble fiber, which keeps you feeling full, helps with lowering cholesterol and stabiles blood glucose.
Low in calories, usually only have about 74 calories, per 1/2 cup serving, but 3 grams of protein and 2 grams of fiber. (this will depend on the brand you purchase)
Both high in vitamin E, B-1, and B-2
Studies have shown that eating 3 servings of whole grains, including steel-cut oats or quick oats, reduces the risk of heart disease, by about 30%.
High in beta-glucan which helps lower cholesterol
What Are Oats?
Both steel-cut oats, quick oats, and old-fashioned oatmeal all start out as oat (kernels) groats, which they only remove the outer husk.  The difference between steel-cut oats and quick oats is only due to the processing technique.  Steel-cut oast are oat groats that have been cut into 2-3 pieces and are really not processed.  Rolled or Old-Fashioned Oats are further processed by steaming and rolling oat groats, which make for quicker cooking time, for you in the kitchen.
The texture of the steel-cut oats vs the quick oats is very different.  I find that steel-cuts are chewier, while quick oats cook down into a creamy dish.
How To Cook Oatmeal In the Instant Pot
For steel-cut oats, I have found to get the best flavor of the oats and to really make a great aroma in your kitchen, is to saute the steel-cut oats in about 2 tablespoons of butter, this does add a few minutes of stirring for you, but the results really are worth it.
To cook regular, or Old-Fashioned oatmeal in the Instant Pot, simply add all of your ingredients to the Instant Pot, and then press the manual setting and cook per the recipes instructions.
Once the cooking time is done, simply let the oatmeal, naturally release.
Ratios Oatmeal to Water–
With all things related to the Instant Pot, the ratios are usually standardized.
Steel Cut Oats: 3 to 1, which means that 1 cup of steel-cut oats, to 3 cups of liquid (water, milk or a combination of the two)
Rolled Oats:  2 to 1, which means that 1 cup of rolled oats to 2 cups of liquid (water, milk or a combination of the two)
Common Questions:
Can I double the recipe? Yes, all you need to do is to double the ingredients, the cooking time does not change.
How Long Will the Oatmeal Keep? I suggest between 3 to 4 days, in the refrigerator. You can actually freeze the oatmeal, in individual portions, and simply reheat in the microwave.
How Do I Reheat From the Refrigerator? Simply pour the refrigerated oatmeal in a microwave-safe container, add about 2 tablespoons of milk or water, mix well, then place in the microwave, until hot.
How Do I Reheat From the Freezer? The best suggestion is to pull your oatmeal from the freezer and let it defrost in the refrigerator and then follow the above steps, for reheating.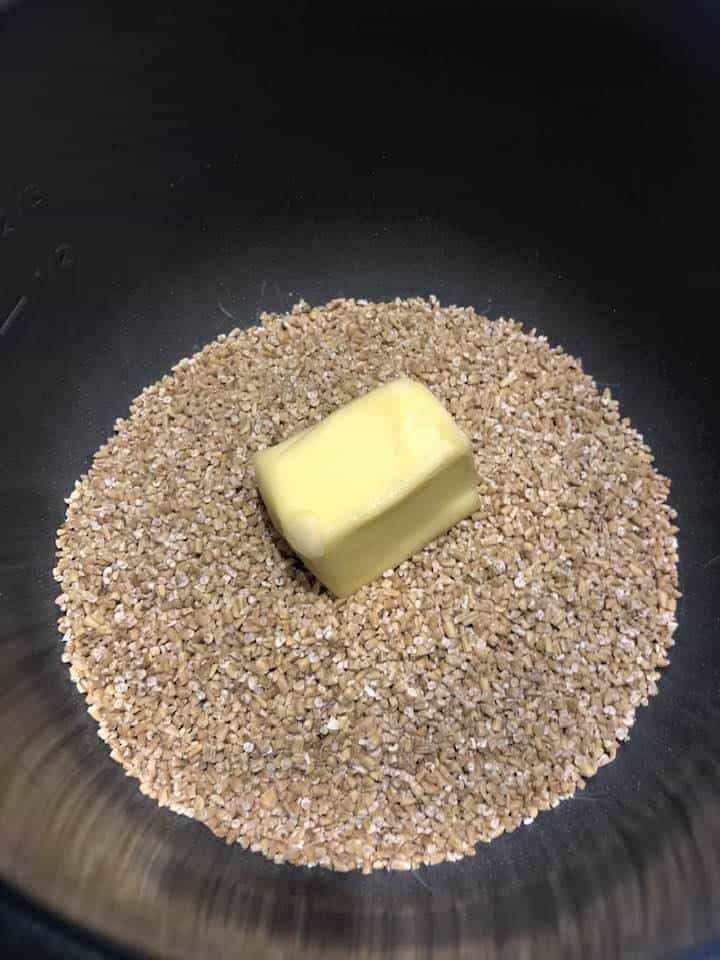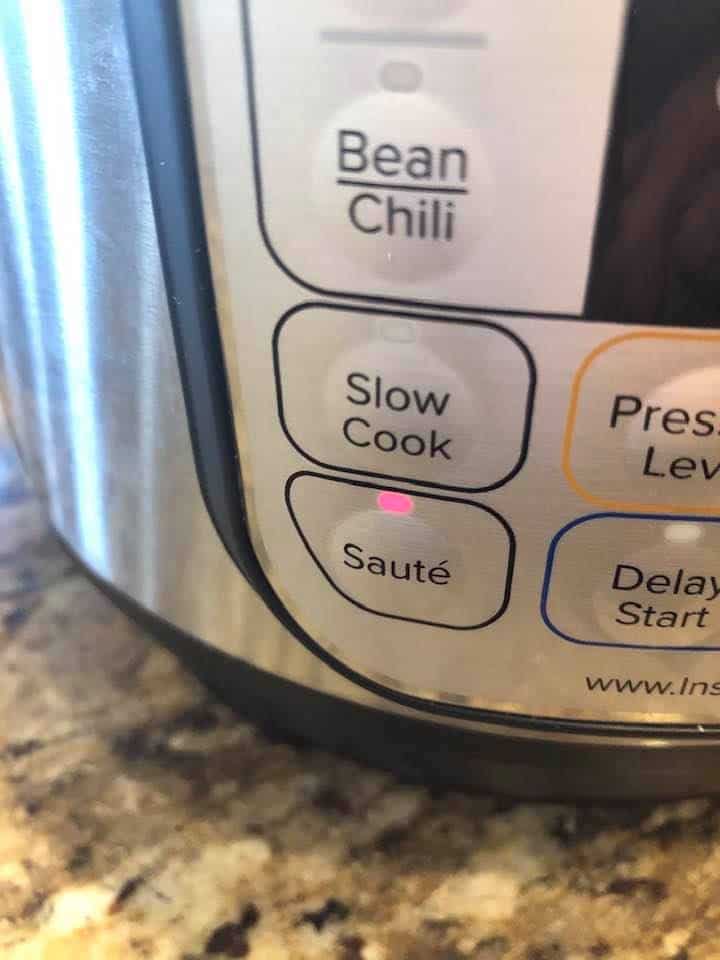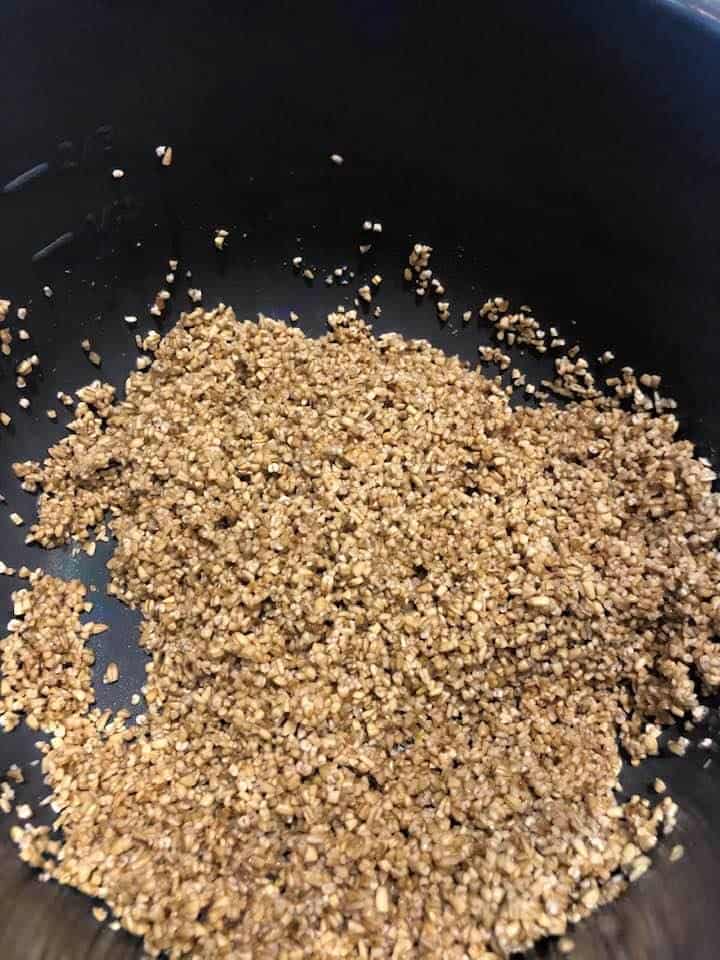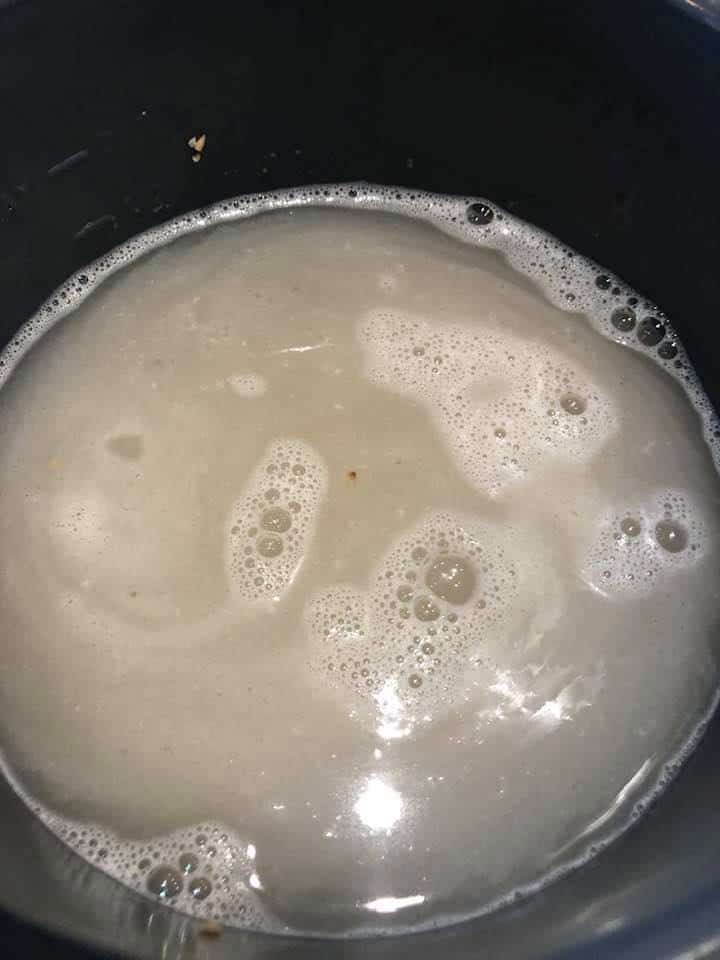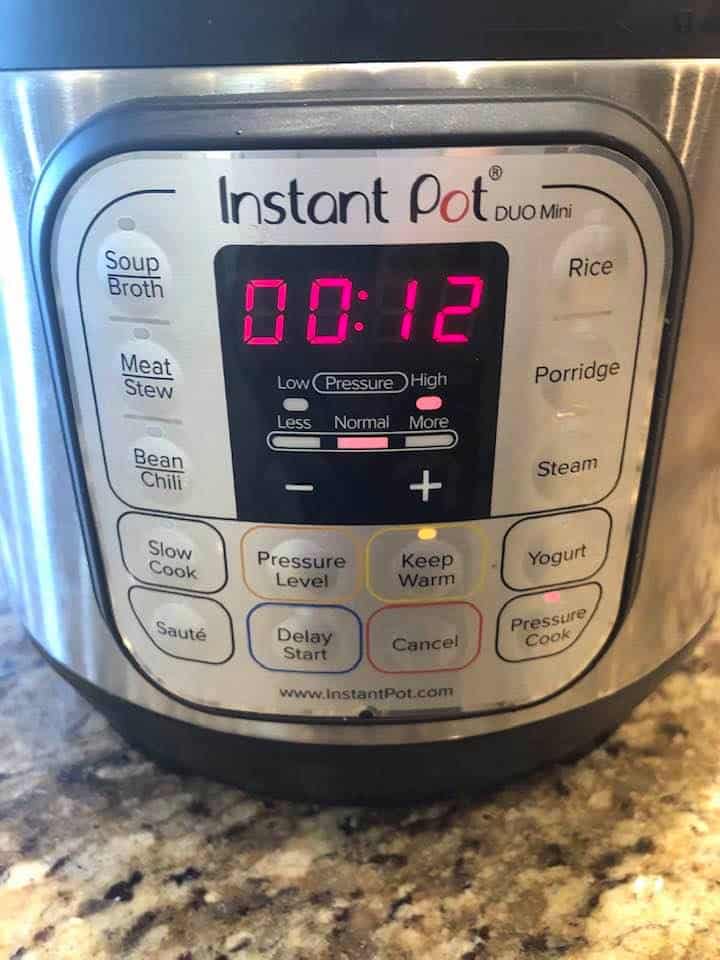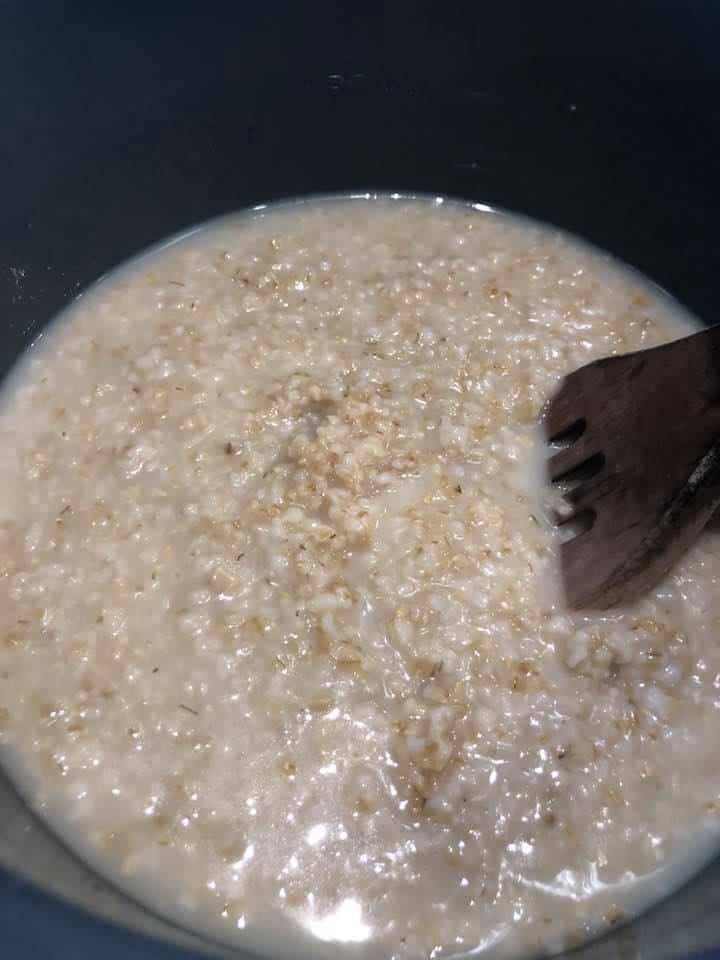 DON'T FORGET TO PIN—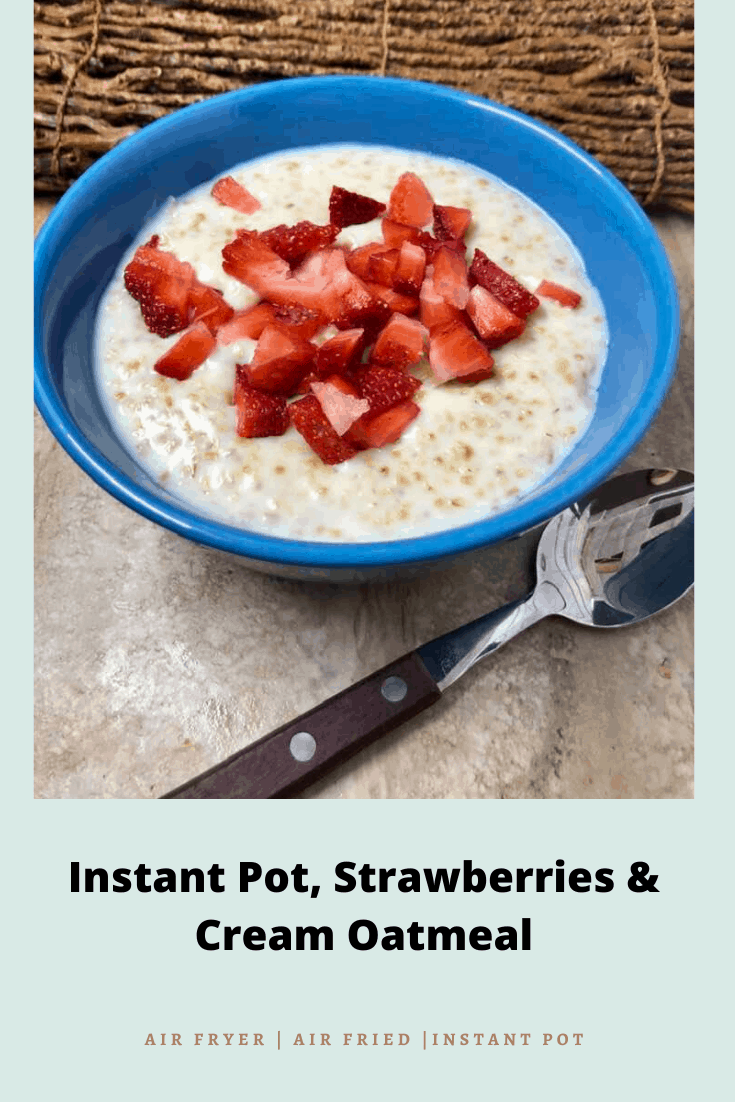 Print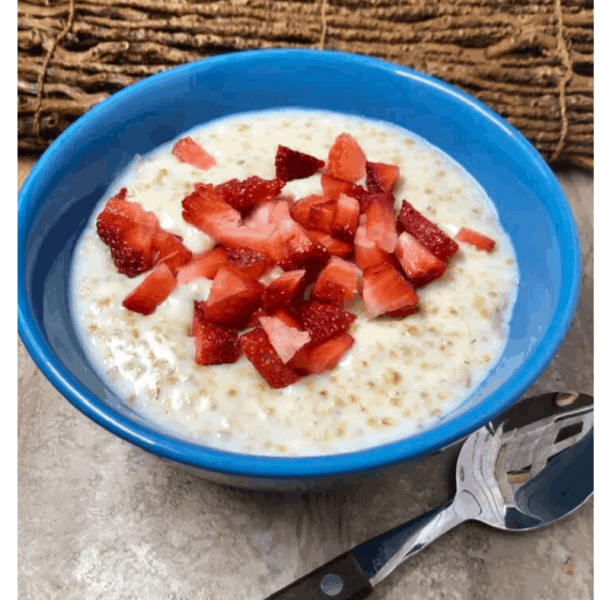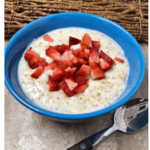 Instant Pot, Strawberries & Cream Oatmeal
Author:

ForkToSpoon.com

Prep Time:

5

Cook Time:

12

Total Time:

17

Yield:

4

servings

1

x

Category:

Breakfast

Method:

Instant Pot

Cuisine:

American
---
Description
This is a really healthy breakfast, that is done in less than 20 minutes. My kids love that they can add their own toppings.
---
1 cup

steel-cut oats

2 tablespoons

butter

1 1/2 cups

of water

1 1/2 cup

of milk
diced strawberries for serving
---
Instructions
In your Instant Pot bowl add the steel-cut oats and butter.
Then press the saute button, and saute (and stir) until the butter is melted and the steel-cut oats have a nice toast on them.
Then pour in the water and milk in the pot, mix well.
Set 12 minutes on manual high pressure. (add the lid and make sure the vent is in the sealed position)
Do a natural release, and then when the pin has dropped (and it is safe to open the Instant Pot) open the lid and mix.
Sprinkle some diced strawberries on top.
Plate, serve and enjoy!
---
Keywords: instant pot strawberry shortcake oatmeal instant pot oatmeal strawberries and cream steel cut oats instant pot breakfast porridge instant pot oatmeal for one instant pot porridge uk instant pot oatmeal delay start blueberry steel cut oats instant pot