Note: Affiliate links are included in  this post
You can not get more traditional, for St. Patrick's Day than corned beef and cabbage. I always serve it on St. Patrick's Day. I should try and remember to add it to my menu when it is not St. Patrick's Day because my family loves it.  I have been working on finding the perfect balance for making it in the Instant Pot.
My husband who grew up in a Jewish household ate a lot of beef brisket, which I will be working on shortly.
Here is a great recipe for
Corned Beef and Cabbage, I hope you and your family enjoy it!
And, enjoy your St. Patrick's Day!!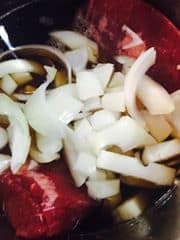 Instant Pot-Perfectly Cooked Corned Beef and Cabbage
Ingredients
3 to 4 pound of corned beef brisket
5 cups of beef broth
1 large onion, peeled and diced
2 pound of red potatoes, cut into 1 inch pieces
3 large carrots, peeled and sliced
1 small cabbage, cut into wedges
Instructions
In the Instant Pot, place the beef brisket, broth, onion
Put the lid back on, now press high pressure and add 90 minutes to the time
Let the timer go, and then when it beeps to signal it is done, let it naturally release
Remove the brisket (it will be hot, so be careful)
Add the potatoes, carrots and cabbage and put the lid back on.
Set the High Pressure on for 3 minutes, when it beeps do a natural release and return the brisket, to the Instant Pot.
Serve and Enjoy!
https://forktospoon.com/instant-pot-perfectly-cooked-corned-beef-cabbage/