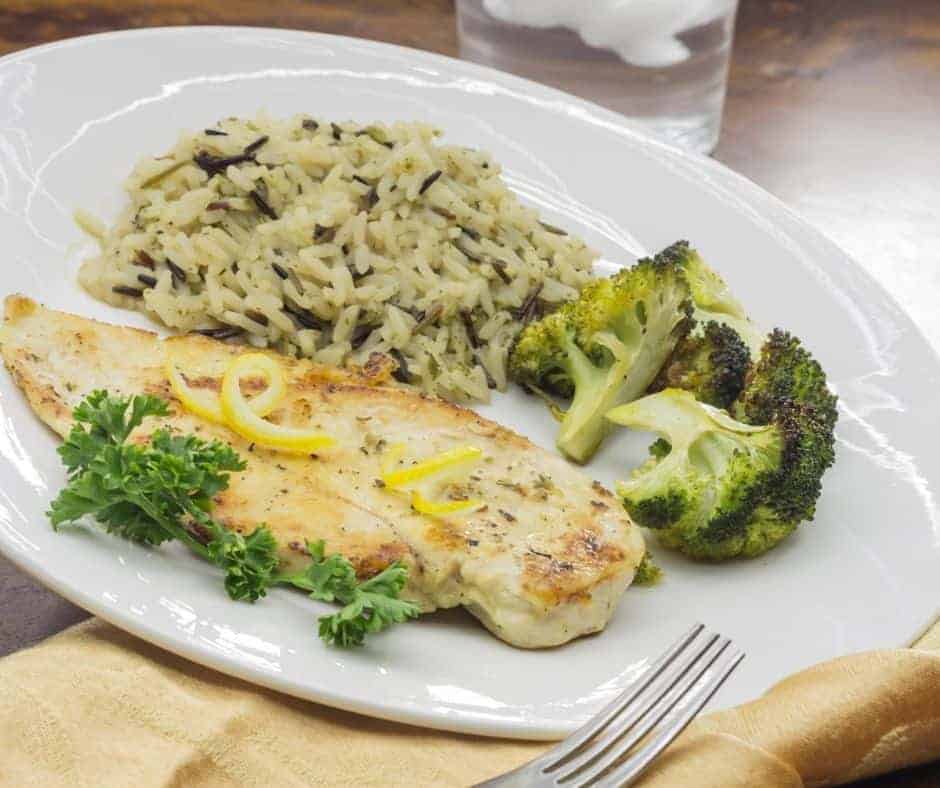 Air Fryer Lemon Grilled Chicken is cooked in your Instant Pot Air Fryer. It gives you that delicious lemon flavor to your chicken while giving it that grilled texture on the outside. Whip this up and pair it with noodles, rice, or any other of your favorite side dishes.
Here is a great recipe, which is a twist on a basic air fried chicken dish, last year, I used the grill to make this chicken dish, and my kids loved it so, I decided to try it in the air fryer.
Air Fryer Lemon Grilled Chicken
The sauce adds a great flavor to the chicken, along with the rub. My kids love it because it reminds them of chicken orange chicken, but better because they can have it at home. This chicken is moist, flavorful, and has a great texture as well. My entire family ate it, and it can be made ahead of time. Just cover it with aluminum foil and keep it in the refrigerator until ready to eat.
I purchased our air fryer last April, and then I purchased another air fryer in December, yet I just ordered another one this week. It has quickly become one of our favorite kitchen appliances, and it replaced my oven. The other day, I was dusting my oven, and I thought, when was the last time I used this?
The air fryer is nice and light, and with very little oil, you too can get healthy, crisped dinners (chicken, etc.). And, it saves you a ton of time because it doesn't require you to wait for the oven to preheat, and the dishes quickly cook, compared to the oven.
HERE ARE SOME OF MY MOST POPULAR CHICKEN RECIPES—

• Breaded Air Fryer Chicken | One of my top posts ever. This chicken is crispy on the outside and super juicy as you bite into it! Give this air fryer breaded chicken a try!
• Nashville Hot Chicken Tenders | Amp up the heat with these Nashville tenders. These are flavorful, delicious, and so tasty. You will enjoy this recipe.
• Bang Bang Chicken | If you have tried bang bang shrimp, you might enjoy this chicken version. Breaded chicken, creamy and spice sauce, all waiting for you to dive in.
• Copycat Chilis Cajun Chicken Pasta | Skip dining out and try this Chili's inspired cajun chicken pasta. This recipe is one of my favorites and so popular.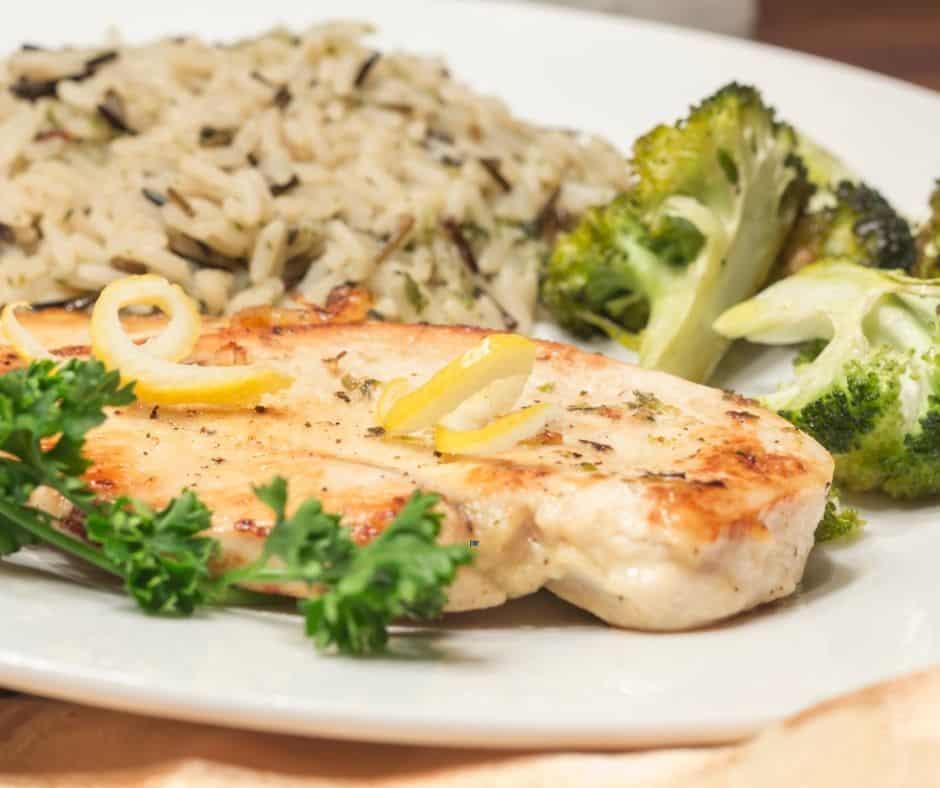 Here are some tips for air frying chicken:
Seasoning your chicken is important. Make sure to season the chicken liberally.
Most chicken dishes can be rubbed and then set into the refrigerator ahead of time. So, when you come home from work/errands/kids, etc., you can place it in the air fryer, spray it with olive oil spray and air fryer.
Spraying the chicken with olive oil spray is one of the keys. I spray the heck out of it and always get no white spots and tender (way juicy) chicken.
Always flip the chicken halfway, and then spray again. This way, both sides are nice, light, and tender.
Because eating uncooked chicken is unhealthy and can you sick, invest in a meat thermometer.
What Internal Temperature Does Chicken Need To Be
The internal temperature of the chicken needs to reach 165 degrees. Then you will find allowing your chicken to rest at least 5-10 minutes once you pull it from the air fryer. This will help ensure the chicken offers a moist chicken.
Do you need to Flip the Chicken in Air Fryer
It is recommended to flip chicken halfway through cooking. Or you can give your chicken a shake to help ensure it is not sticking to the tray. Flipping the chicken allows you to visually see how the chicken is cooking and even cook on both sides of your chicken.
Depending on the brand and style of your air fryer, know the cooking time varies. So being able to check on your chicken ensures you won't accidentally overcook your chicken. No one wants dried out chicken.
What To Serve With Lemon Chicken
Rice | Rice is a great option. Whether it is plain rice, pilaf style, or cauliflower rice, you can easily cook up rice and pair it on the side, depending on what you want.
Cold Sides | Cucumber and onions, pasta salad, broccoli salad, and more. All of these are great cold side dishes to pair next to your chicken. This is a great way to give it that summer feels.
Salad or Vegetables | A crisp salad or roasted or air fried vegetables. Either way, vegetables always go great next to the chicken. I love well-roasted broccoli, and it always hits the spot.
Storing Leftover Lemon Grilled Chicken
Suppose you have leftover chicken go right ahead and let it cool a bit. Then transfer to an airtight container and store for a few days in the fridge. Toss on top of a salad for a quick lunch or microwave for a quick lunch or dinner! The chicken reheats pretty well. It will be a bit drier once reheated, but the flavor is still delicious.
HERE ARE SOME HELPFUL PRODUCTS TO HELP YOU MAKE THIS RECIPE-
Disclosure: Some of the links below are affiliate links. At no cost to you, I will earn a commission if you click through and make a purchase.
DON'T FORGET TO PIN-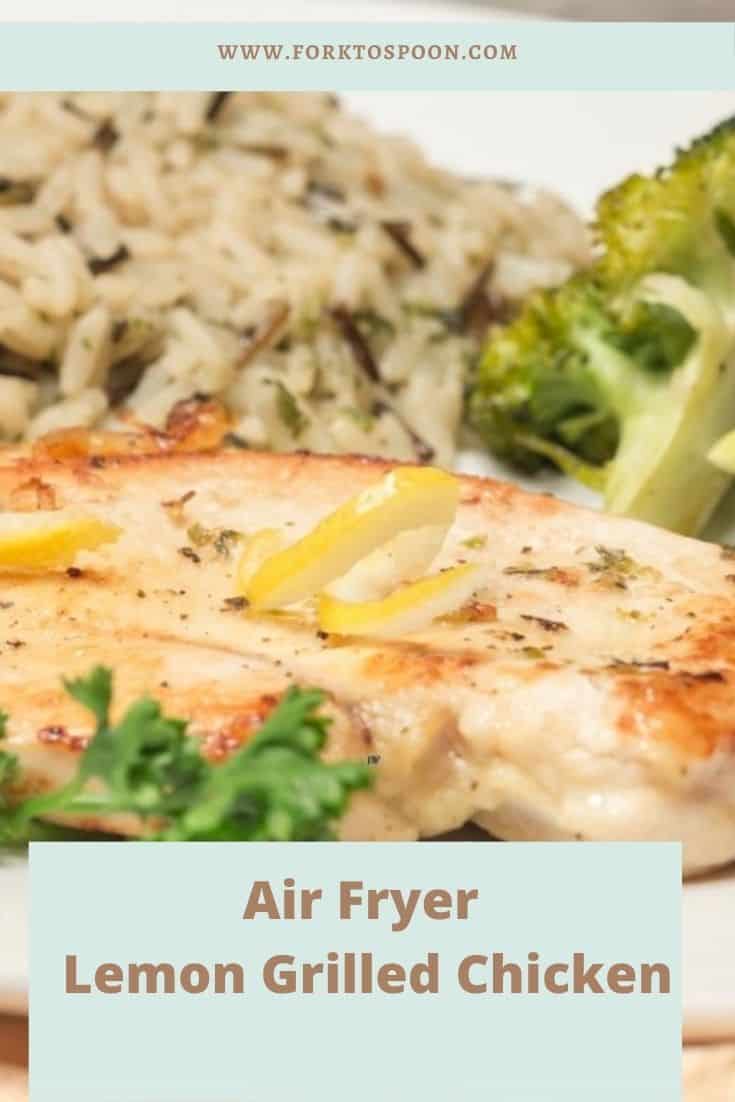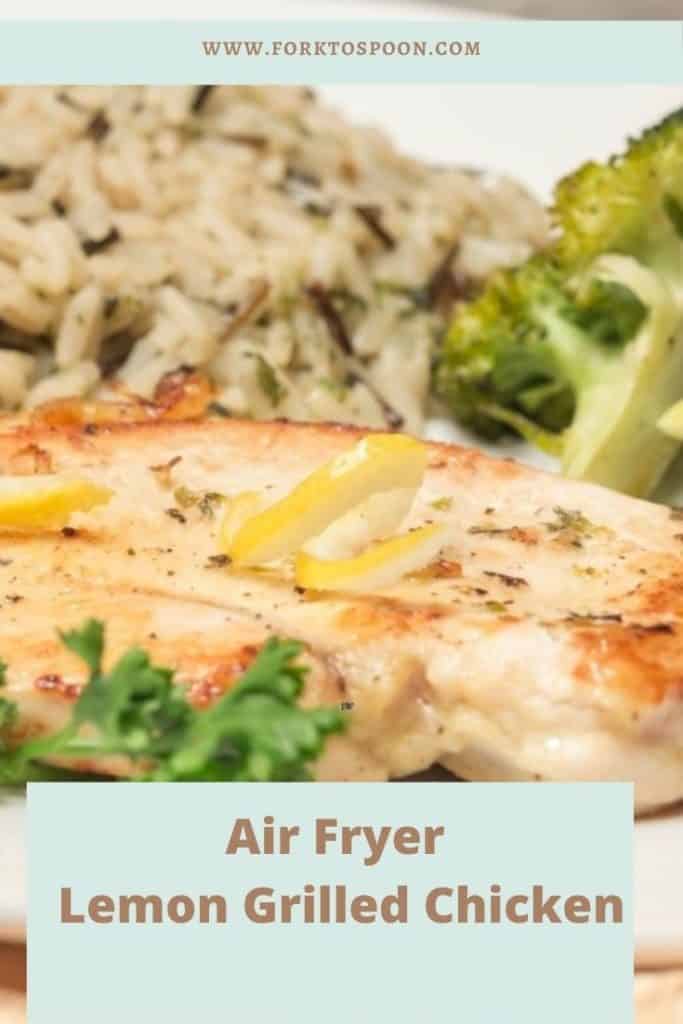 Print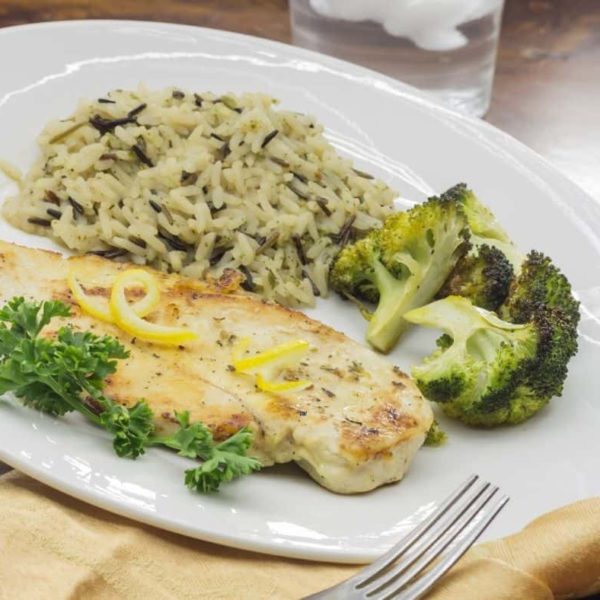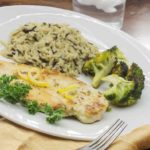 Air Fryer Lemon Grilled Chicken
Author:

ForkToSpoon.com

Prep Time:

10

Cook Time:

15

Total Time:

25

Yield:

4

Servings

1

x

Category:

Main Course

Method:

Air Fryer

Cuisine:

American
---
Description
Air Fryer Lemon Grilled Chicken is cooked in your Instant Pot Air Fryer. It gives you that delicious lemon flavor to your chicken while giving it that grilled texture on the outside. Whip this up and pair it with noodles, rice, or any other of your favorite side dishes.
---
4

boneless, skinless chicken breast

2 tablespoons

olive oil

2 tablespoons

lemon juice

1 tablespoon

Italian Seasoning

1 teaspoon

salt

1/2 teaspoon

black pepper

1

lemon, sliced
---
Instructions
Start by adding all of the ingredients, except for the lemon, to a Ziploc bag.
Place into the refrigerator for about 30 minutes before air frying.
Set the marinated chicken into the air fryer basket, set the temperature to 350 degrees F, air fryer steering for 10-15 minutes, flipping halfway. 
Check the internal temperature, which should be 165 degrees, before removing it from the basket.
Plate, serve, and enjoy!
---
Keywords: Air Fryer Lemon Grilled Chicken