Easy & Delicious (My Two Favorite Words!!)
Sheet Pan Meals For the Air Fryer
This is one of the easiest meals to make for you and your family. I love the act of being a simple dinner. My mother was the queen of the sheet pan meals, way before I knew what they were. I didn't even know that they had a name, I just thought that she was fantastic at cooking things together and they always came out great.
Now, that I'm older and I have my own family. I know the importance of getting dinner on the table in a hurry and the desire not to be in the kitchen for longer than I need to. And, now that I am equipped with my air fryer, I have a new set of challenges (mostly for myself).
One of the greatest advantages of a sheet pan meal is an easy cleanup. Just think, one sheet pan for the entire dinner prep, which will save you hours of cleaning, which you can spend your time more enjoyable somewhere else.
I have also hosted dinner parties, where I prepared sheet pan dinners, this way you can actually enjoy your company.  So, whether you are looking for a seasonal sheet pan meal, i.e., fall sheet pan dinner, winter sheet pan dinner or even a summer sheet pan meal, I will give you a new idea each week! So, I hope you continue to follow along with my cooking, air fryer adventures. And best yet, any new air fryer or cook any easy oven recipes for beginners can follow along with me. As I will give you and show you step by step how to get the most bang out of your sheet pan dinners.
What Is A Sheet Pan Meal?
With the broadest terminology, they are a complete meal on one sheet pan. Now, I would say that this will challenge the basket type of air fryer, but I wouldn't say impossible. It would depend on how many people you are cooking for.
A sheet pan meal usually includes.
Protein
Starch (Usually a potato)
Vegetable
The hard thing with cooking sheet pan meals is that you need to find ingredients, from each of the above categories that cook well together, air fry at about the same time and those that actually can be eaten together. The meal itself needs to make sense.
Tips For Cooking With Sheet Pans?
I always spray my sheet pan with olive oil spray, since I do not use any non-stick cooking sprays in my air fryers, as you can read about here. 
You can also use aluminum foil to line the sheet pan, for really easy cleanup.
For fish, other seafood and vegetables I usually line my sheet pan with parchment paper. Which I always have on hand, since it's a MUST have for all air fryer users.
One of the most important tips I can give you is to cut the food into even pieces, which you should always do when you are cooking with an air fryer since you want all the food cooked at about the same time.
Please use tongs to remove, flip or turn over your with a pair of tongs. Remember the food in your air fryer is HOT, you will burn yourself.
Please use a thermometer to make sure that your meat is completely done, here is one of my favorites.
If you are cooking chicken in the air fryer, (especially breaded chicken) remember to GENEROUSLY coat the breaded chicken (or any other breaded me) with olive oil. This will prevent your meat from drying out.
What Pans Can I Use?
This will depend on which air fryer you have. If you have an Omni or Vortex, (the oven style) you already have a built-in sheet pan. If you have a basket type of air fryer, you will need to do either find a pan that fits or use foil.
Yes, you can use foil in your air fryer, this is a very popular question that I am asked.
This is a very common pan that will fit in most. Although it's not a typical shape of a sheet pan, you use the round pen for your sheet pan. This will fit any air fryer that is sized 3.2 to 5.8 quart, the pan is deep so that you can get the most food in your air fryer.
Don't Forget To Pin—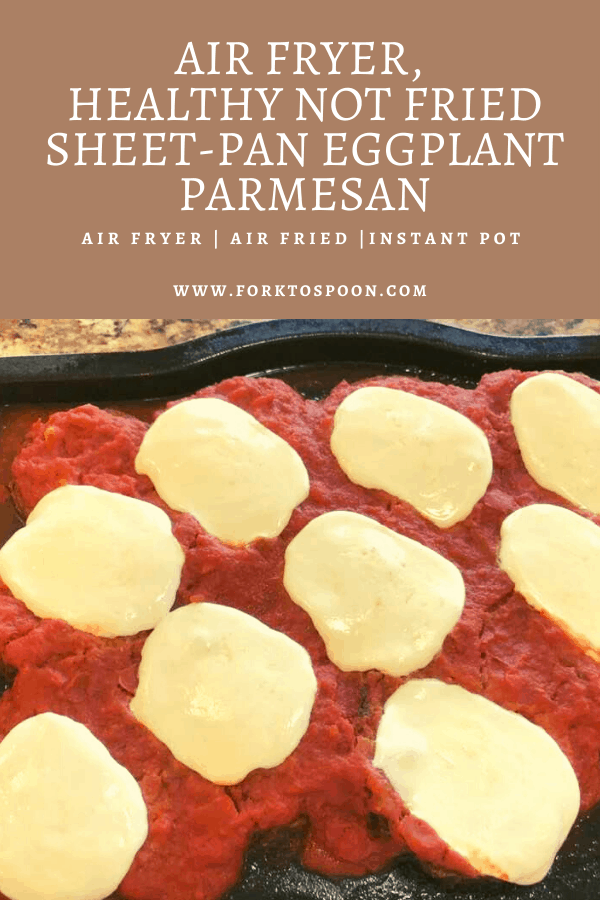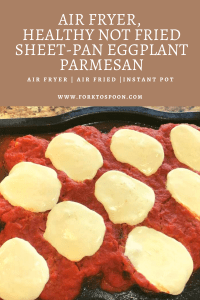 Print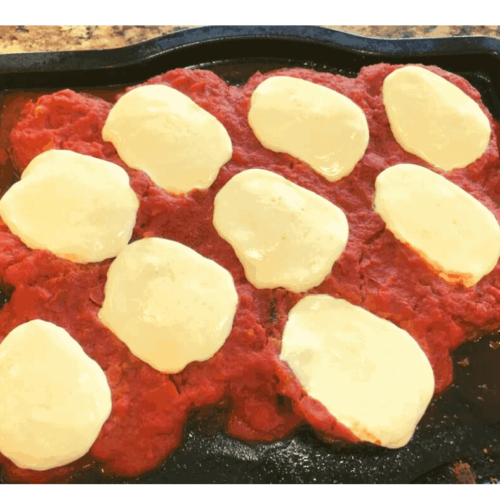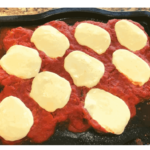 Air Fryer, Healthy Not Fried Sheet-Pan Eggplant Parmesan
Author:

ForkToSpoon.com

Prep Time:

5 minutes

Cook Time:

15 minutes

Total Time:

20 minutes

Yield:

6

servings

1

x

Category:

Vegetable

Method:

Air Fryer

Cuisine:

American, Italian
---
Description
Nothing like a homemade Italian Eggplant Parmesan, except for all of the oil. Today we replaced all of the oil of frying the eggplant, but still came up with a delicious main dish.  This might be the best air fried eggplant recipe.
---
1

large eggplant

28 ounces

tomato sauce

2 tablespoons

minced garlic

3 tablespoons

olive oil

1 teaspoon

sugar

1 teaspoon

Italian Seasonings

1/2 cup

all purpose flour

3

large eggs

1 cup

Italian breadcrumbs

1

pound sliced mozzarella cheese
---
Instructions
Start by cutting the eggplant into about 1-inch slices.

Then lay them out on a cutting board.

Then dash each eggplant slice with salt, this will draw the moisture out, let the salt sit for about 5 minutes and then flip and add more salt let sit 5 minutes.

While the eggplant is sitting, I made a quick sauce (you can easily use jarred). In a small saucepan heat up the garlic and olive about 3 minutes, you don't want the garlic to burn,.

Then add the sauce, sugar, Italian seasoning and mix. Continue to simmer, for about 5-7 minutes. Then turn off the burner, and let it rest.

Then bread the eggplant, add the flour to a bowl, that's your first step, for breading the eggplant.

Then beat the eggs and place in another bowl, that your second step for breading the eggplant.

Then add the breadcrumbs to another bowl, this is the last step for your breading the eggplant.

As you bread them place them on a greased air fryer pan or directly on the tray.

Now here is the key, you must spray olive oil on the eggplant slices, so that the breading is covered, so you get juicy slices.

Then place the tray with the eggplant on it, into the air fryer.

Set the temperature to 320 degrees F, for air fryer mode. and set the timer for 10 minutes.

This is just a picture of the eggplant, so you can see the lovely color

Then spread the sauce over the eggplant, completely covering them.

Then scatter the mozzarella cheese over the top of the sauce.

Then low heat 200 degrees F, for 5 minutes, just until the cheese melts.

Then just plate, serve and enjoy!

---
Keywords: eggplant in air fryer no breading keto air fryer eggplant parmesan no fry eggplant parmesan washington post air fryer eggplant parmesan recipe air fryer eggplant cutlets best air fried eggplant no fry eggplant parmesan food network baked eggplant parmesan no breading