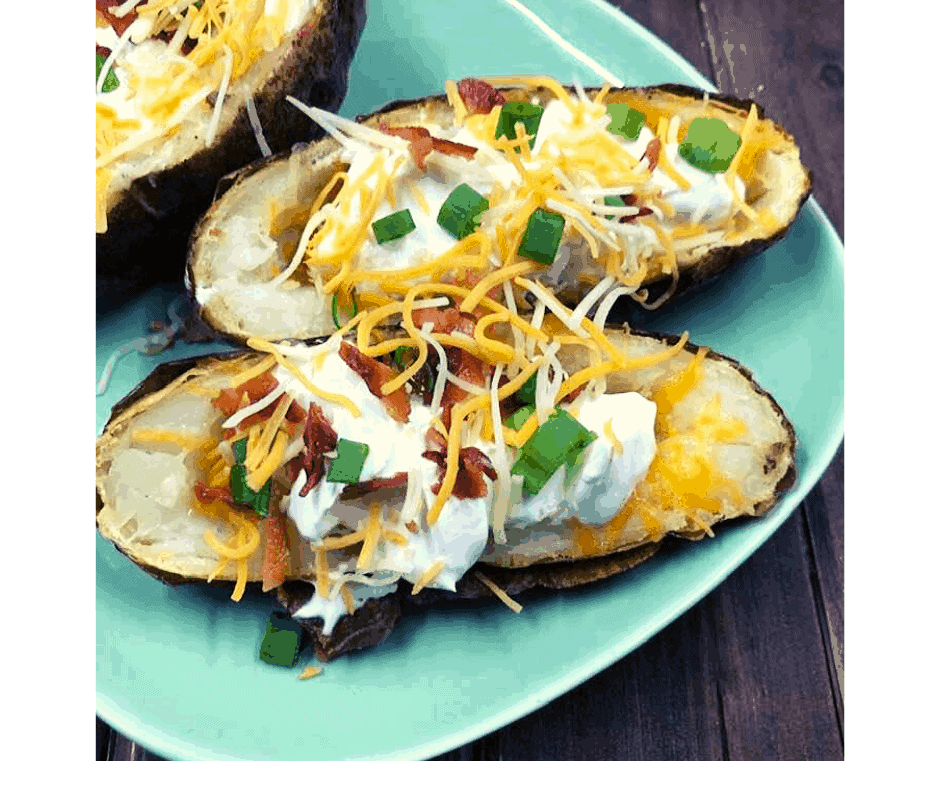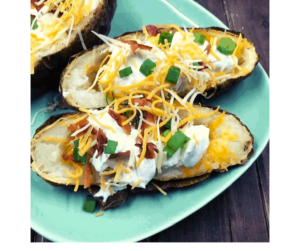 There is nothing quite like a meat and potato meal. It is one of the most classic meals, you have in America.
Everyone loves potatoes! And good to know that there are hundreds of ways to cook them. Whether you want to use the Instant Pot (Pressure Cooker), air fryer or just make them in your oven, they all full of flavor. The key to a great dish is spices, you need to use lots of different spices in your potato dish until you find one that you really like on potatoes. I used to hate salt on my potatoes, but my son loves them, so one day, I let him season them. I realize that good old salt and pepper, applied in LARGE quantities, really seasoned the potatoes well, so after that, I used to add more than I usually did, and everyone complimented me on my potato dishes. So, experiment, find out what spice you like and adapt it to any potato recipe.
Another great reason for using potatoes as your side dish is that they are so budget-friendly, these are usually on sale at the grocery store, at least twice a month, so take that time and grab yourself a package/bundle. You can literally turn one package of potatoes for about $3.00 for a 5-pound bag, into about 3 dishes. So, that's a real budget saver.
Potatoes are used around the world for dishes, in Italy, they use potatoes to make gnocchi, in Africa, they make North African potato soup. They are able to be stored for a long time, which is why, before refrigeration, they used tons of them.
Different Types of Potatoes:
Russet- Sometimes, this also goes by the name of Idaho Potato. The most common potato in America, if you go to the grocery store, they are typically sold in 5 and 10-pound bags. They are great for baking, fried and mashed because they are really starchy potatoes.
Sweet Potatoes–In America, when you actually purchase a sweet potato, it is really a yam. They are great baked or roasted, my favorite, of course, is the sweet potato french fry.
Red Potatoes-When we talk about red potatoes, my mind automatically goes to roasted red potatoes. They have very low starch and moisture content, which makes them perfect for roasting, steaming, and are typically used as the choice potato for potato salad.
Fingerling Potatoes- These are characterized by having a thin, and long shape. They are great in roasted dishes, as they give the aroma and taste of a nutty dish. One of the nicest features of them is that they come in a variety of colors, including purple, red, orange, yellow, white and they make any potato dish look fancy, without doing anything.
New Potatoes-The only difference between these and other potatoes is that they were picked early in harvesting, so they are smaller.
Tips For Storing Potatoes:
Store potatoes in a cold, well-ventilated area.
Never store potatoes in the refrigerator, any temperature lower than 50 degrees F, changes the texture of the potato and will affect the taste of the potato dish.
If you do choose to store potatoes in the refrigerator, let them slowly come to room temperature, before you cook the potatoes.
Paper bags work amazingly when you are storing potatoes
Do not wash potatoes, before storing them.
If your potatoes have started to sprout, do not despair, just simply cut the sprout off, they are still safe to eat.
If your potatoes have turned green, this is due to a chemical called Solanine, which means that the potato should be discarded, note: eating them in large quantities can cause you to get ill, so it's best to throw away.
Today, I am showing you one of my classic potato dishes, that my mother used to make when I was a child, she would be one of the best foil meal makers, I later found out that this is a style of campfire cooking.
I cut the potatoes into dices, leaving them about 1 to 2-inch chunks because I find them easier to eat.
Dice Cut: They are perfect for the air fryer, since making sure that all the potatoes are uniformed, allows them to cook all the way through and the entire potato dish will be ready at the same time.
To Dice: A Potato: Simply, slice the potato in half, then cut that half again into half, and then cut into about 1-inch pieces.
My Recommendations for Air Fryers, which is a very common question, I receive. Here are my three favorites, at the time of the post.
GoWise Air Fryer, I think this is the best model to get you into the air fryer world, it doesn't mean that you are going to stick with it, but it's a solid machine, large enough for a chicken and inexpensive enough that you can upgrade later, and use it for sides.

Secura Air Fryer: This is MY first air fryer, I have had it since (Amazon tells me I ordered it on August 23, 2017), It is a fabulous machine, and I always recommend it to my Facebook group, when they are on sale because it works. And to be honest, once you get into the air fryer world, you want another one for side dishes (and, I'm so hoping that is true and not just me)

Omni Air Fryer, By Instant Pot:
This is my newest addition and I am in love. There are a lot of things I love about this, but the main ones are that I can make a LOT of food for my family, and since I have 2 teenage boys, I really need the same. Also, this was my first air fryer oven, so I am loving making cookies, pancakes and other food that needed a flat surface.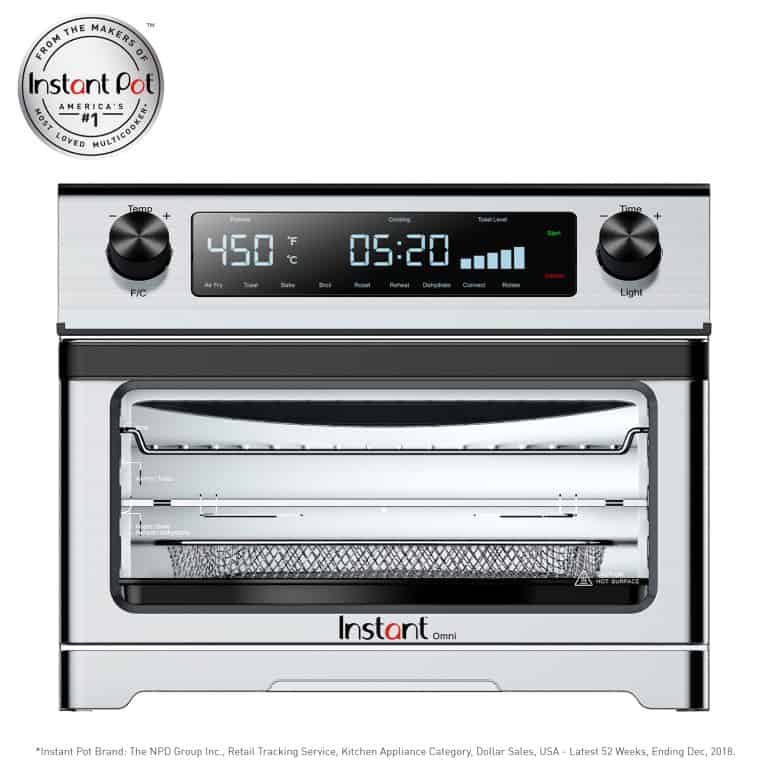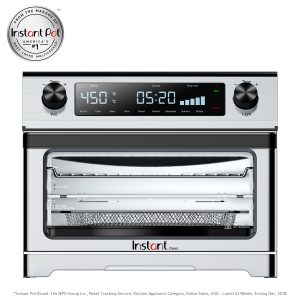 Hasselback Potato Slicing Rack, make perfect potatoes.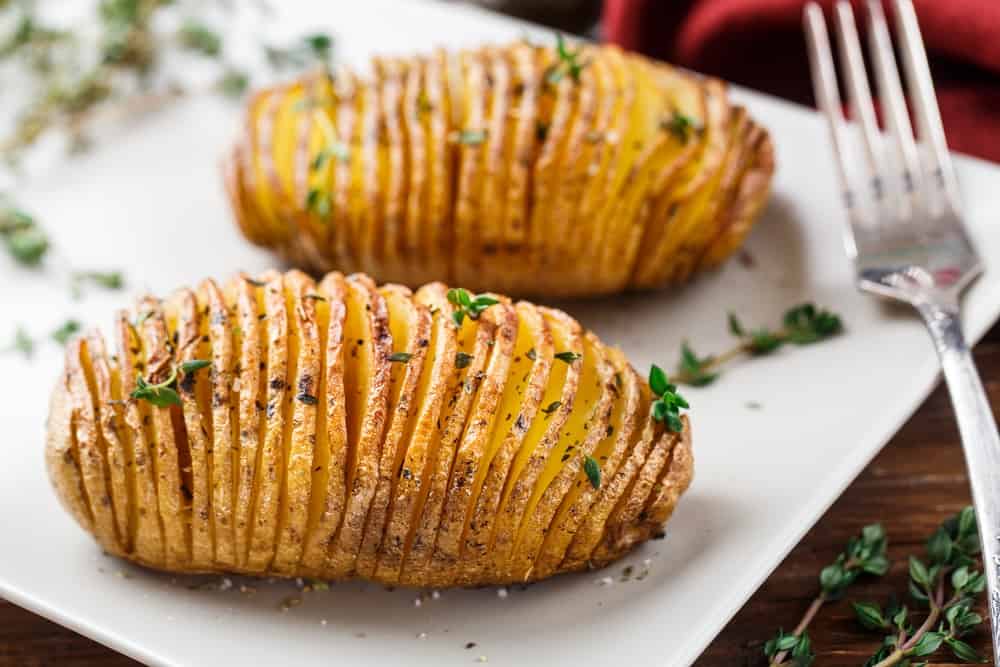 Great for making sure all of the food you prepare is safe.
This is my favorite thing, I have purchased since, I have had my air fryer. It has saved me tons of money.
Don't Forget To Pin–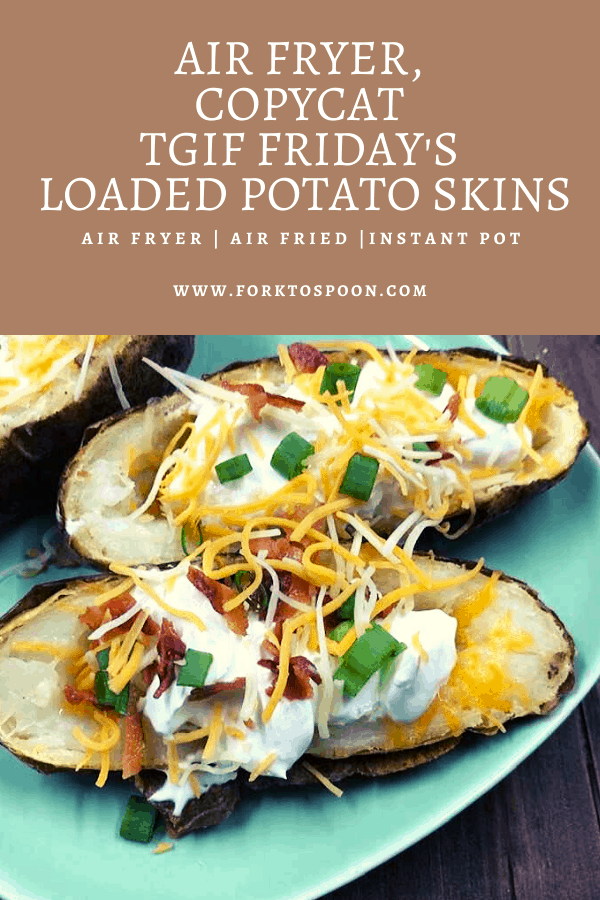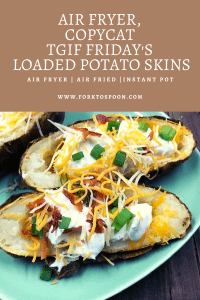 Print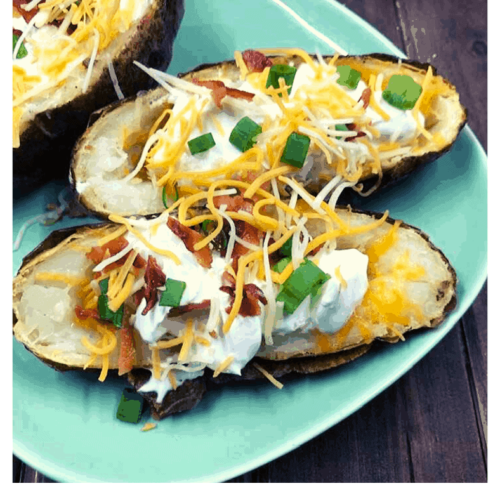 Air Fryer, Copycat TGIF Friday's Loaded Potato Skins
Author:

ForkToSpoon.com

Prep Time:

5 minutes

Cook Time:

50 minutes

Total Time:

55 minutes

Yield:

4

servings

1

x

Category:

Side Dish

Cuisine:

Potato
---
Description
These are the copycat version of TGI Friday's Loaded Potato Skin. It starts off with a perfectly baked potato and then it takes on a new life from there.
---
4

large baking potatoes

2 tablespoons

olive oil

2 teaspoons

salt

1 cup

shredded cheddar cheese

8

slices of bacon cooked

1 cup

sour cream

2 tablespoons

diced scallions
---
Instructions
Start by rubbing your baking potatoes with olive oil, season with some salt and pepper.
Set in the air fryer for 400 degrees F, for 35-40 minutes, as soon as they are fork-tender, remove.

Let cool slightly, enough that you can touch them, and you cut them in half.

Cut them in half, scooping out the inside and saving for another recipe.

Leave a small strip of potato, so that the potatoes don't fall apart.

Then return them to the air fryer, face down, as shown in the picture, and air fry at 400 degrees F, for 5 minutes.

Then fill the cavity up with grated cheese.

Return to the air fryer, and air fry 200 degrees, just long enough for the cheese to melt.

Then just plate, top with sour cream, crumble some bacon on top and garnish with sliced scallions.
Plate, serve and enjoy!

---