French Toast, one of America's Favorite Breakfasts.
When finding out where the origin of French Toast comes from I was surprised by finding out that it also had different names, eggy bread, Bombay toast, German toast, gypsy toast, poor knights (or Winsor) and Torrija (Thanks to Wikipedia)
I have been loving my new Instant Pot Vortex Plus, now on sale at Amazon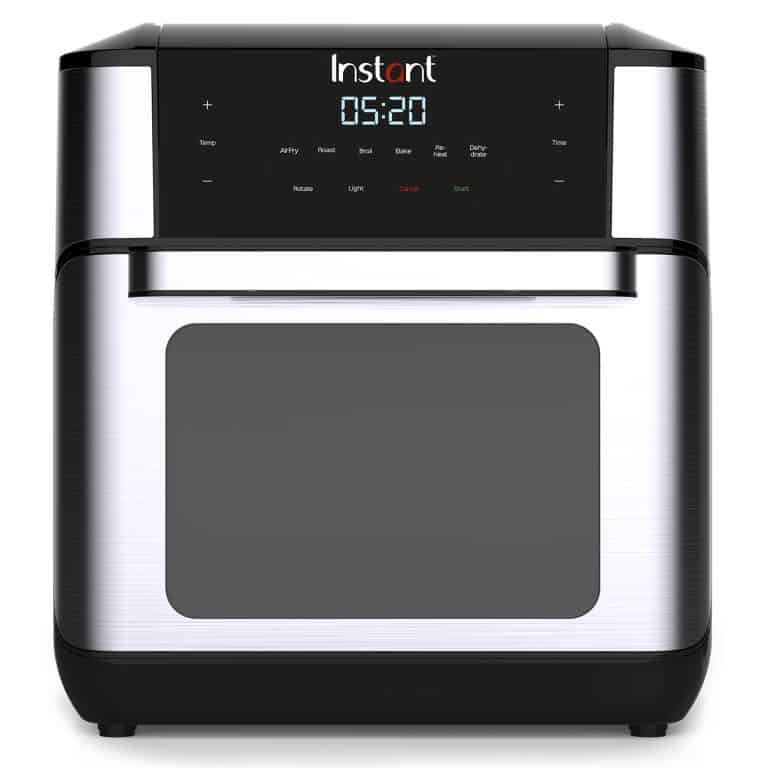 This is one of the most popular recipes in American when ordering at a restaurant, in France, they serve it for dessert, which is called "Lost Bread" or Pain Perdu.
The French are mainly credited with creating French Toast, but upon further research, it was really created in Belgium.
Back in medieval times the soldiers would take the old bread and soak it in egg and milk, to make it edible.
Before preservatives in America and around the world, the bread did not say long, it was a great way to use up day-old bread.
This is also a great way to use your imagination, as everything goes with French Toast, berries, stuffed, etc..
Any type of bread works for french toast, you can use white bread, whole wheat, rye bread, French Bread, brioche, and croissants.
Here are some tips for getting perfect French Toast every time:
The perfect thickness of the bread you will be using for your French Toast, the thickness should be between 1/2″ and 1″ thick.
As mentioned above, you can use any type of bread, but the dried the bread the better, this is why day-old bread really works, it soaks up the liquid perfectly.
All french toast batter includes eggs and milk, whole milk works best, as it is thicker.
Remember to season the batter, so grab your favorite spice and mix it in.
Tips for Air Frying French Toast in the Air Fryer:
Make sure that the entire piece of bread has liquid on it, aka the batter.
Spray the soaked bread with non-stick cooking spray. The more spray you put on the less it will stick.
I use a pan, only because I can spray the pan, with non-stick cooking spray, this way, you put the soaked bread on top of a greased pan, it is easier to flip and it does not stick to the air fryer basket.
Don't forget to use tongs to flip the French Toast, halfway through.
I hardly preheat the oven but, for French Toast, I preheat the air fryer to 350 degrees F. (but check each recipe, as they are all different)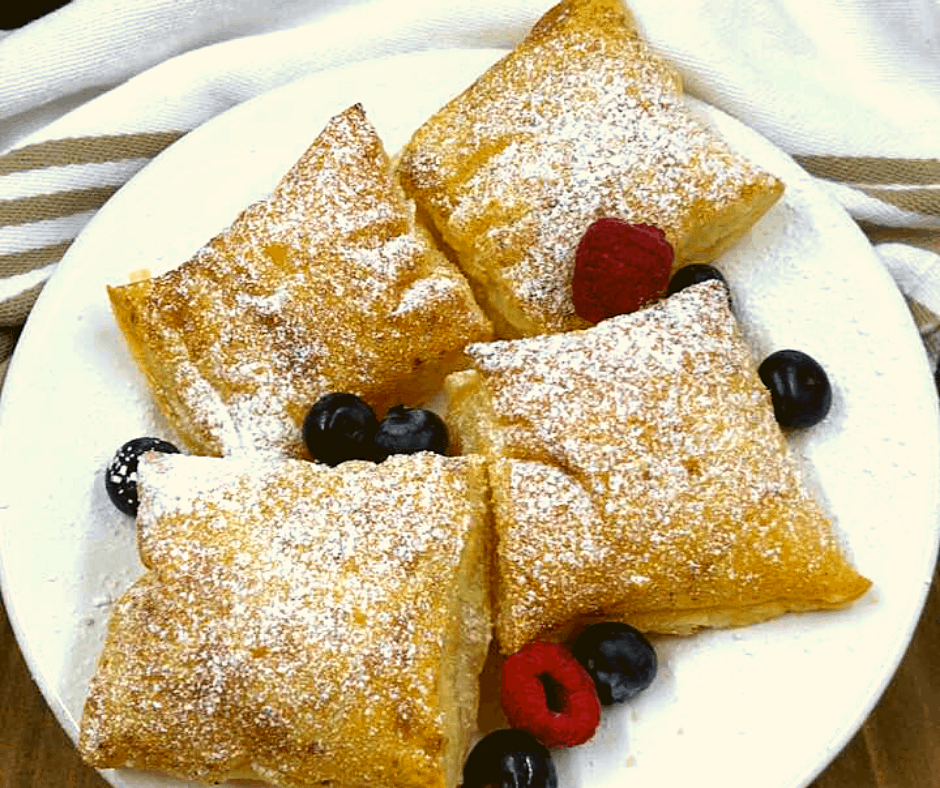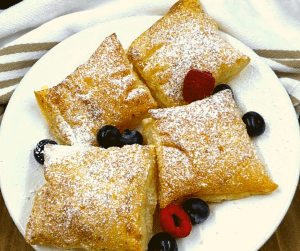 Beignet Air Fryer, French Toast Squares (made with puff pastry)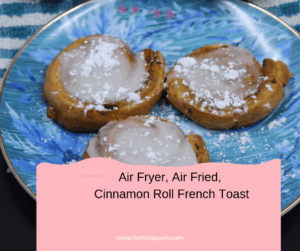 Cinnamon Roll French Toast (Made of course in the air fryer)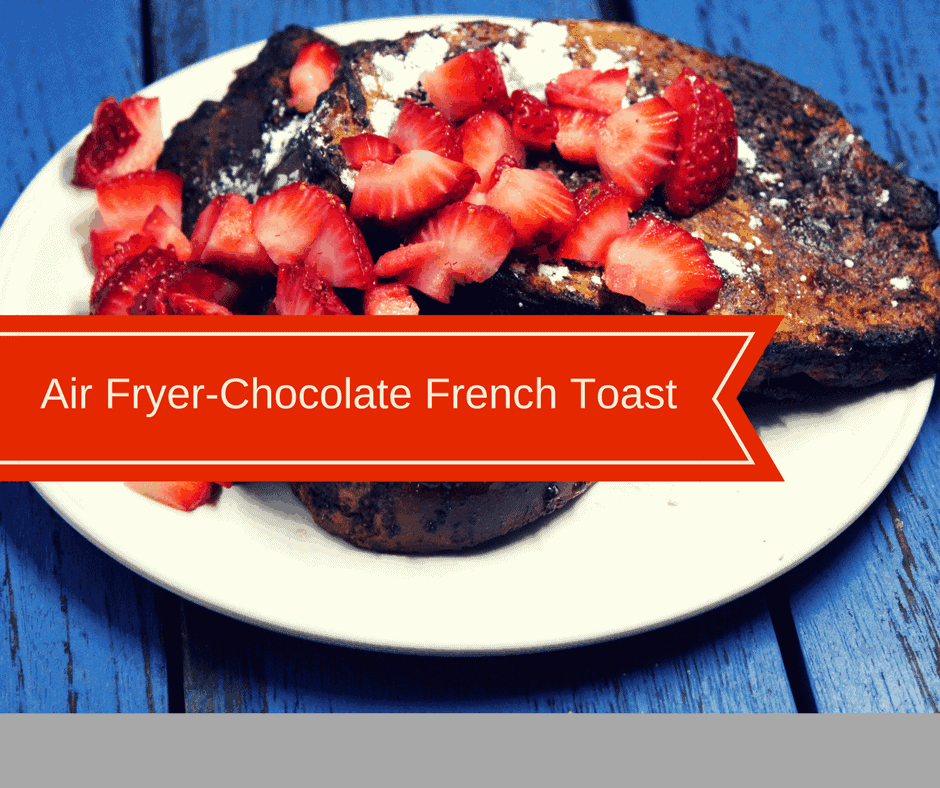 Homemade Chocolate French Toast with Whipped Cream and Strawberries (YUMMY!)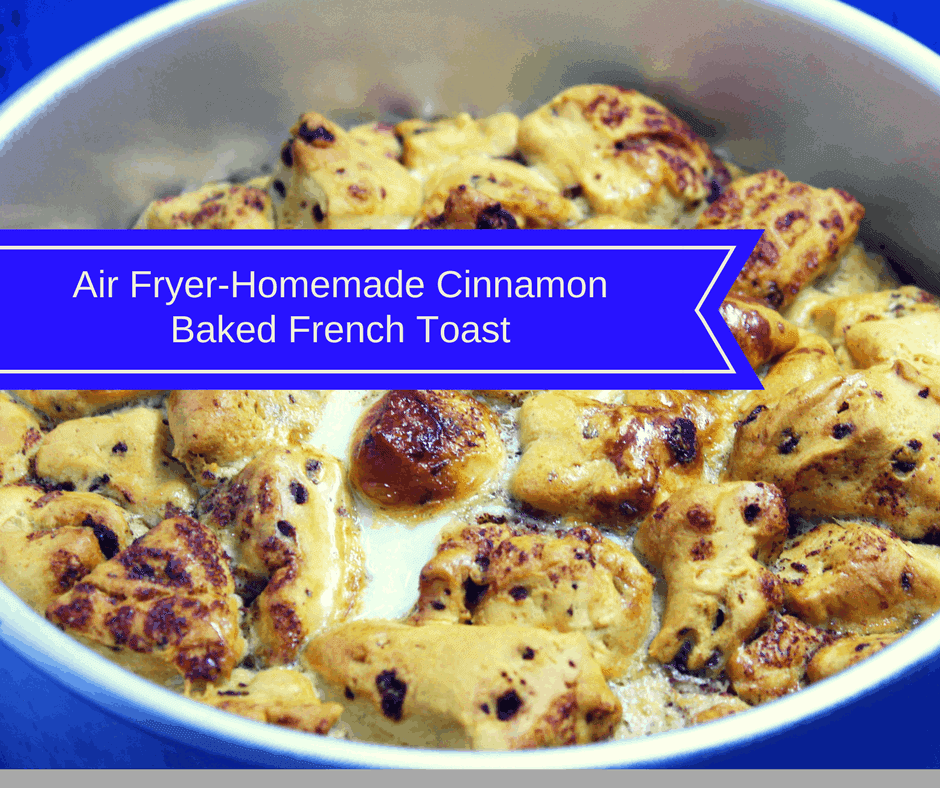 Cinnamon Baked French Toast Casserole, made of course in the air fryer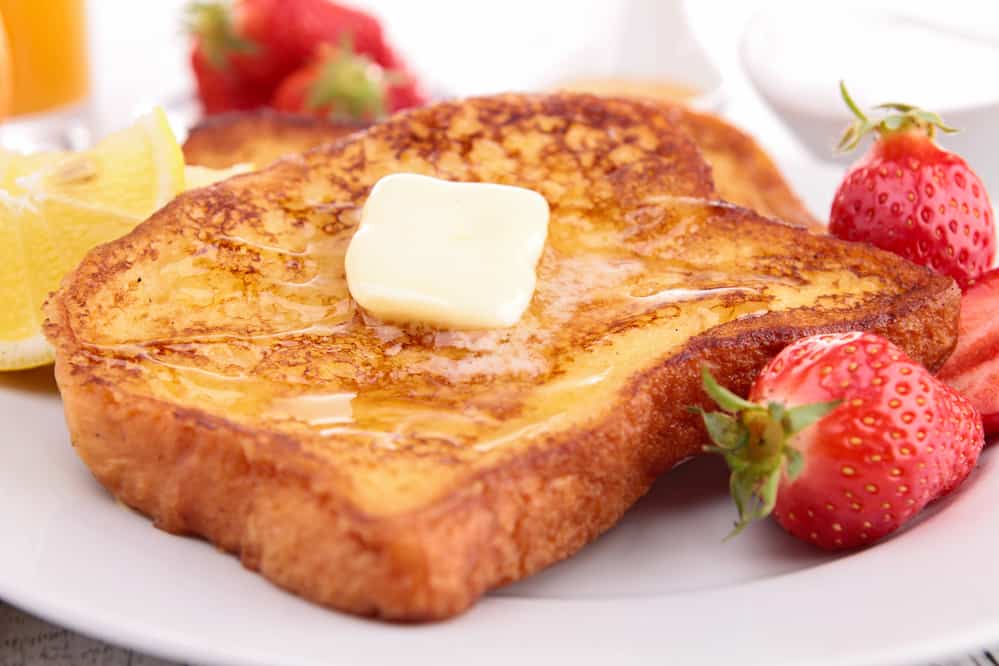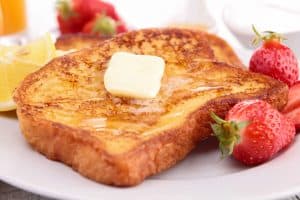 Classic French Toast, Perfectly Cooked in the Air Fryer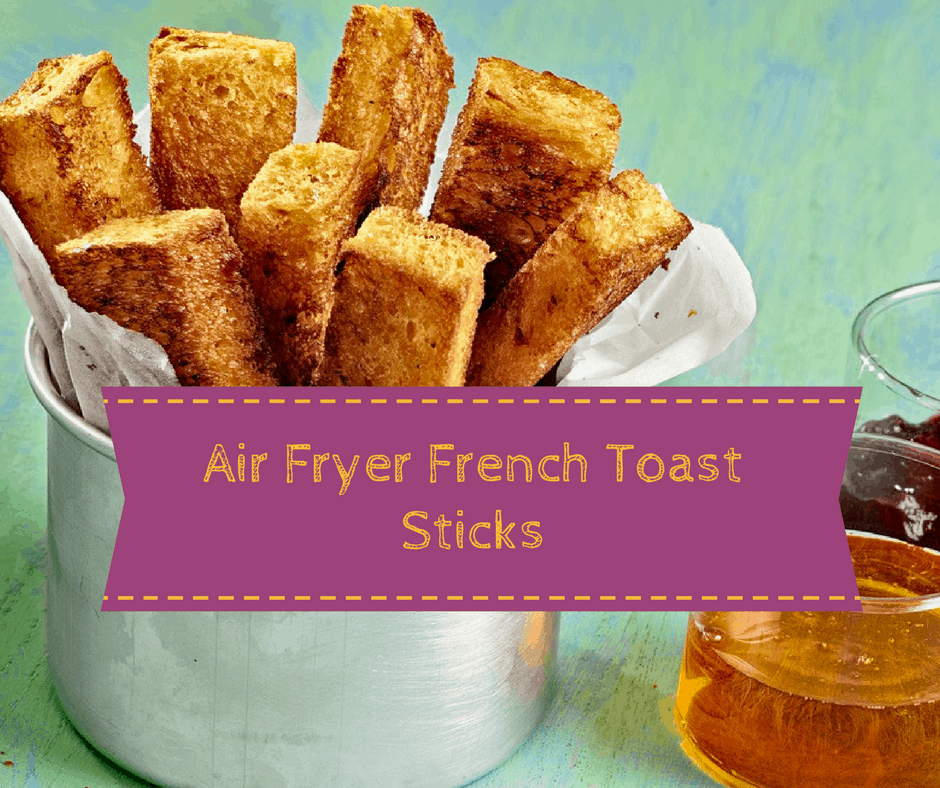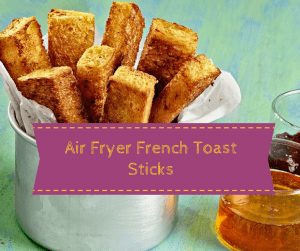 Homemade French Toast Sticks, Made in the Air Fryer
Don't Forget To Pin—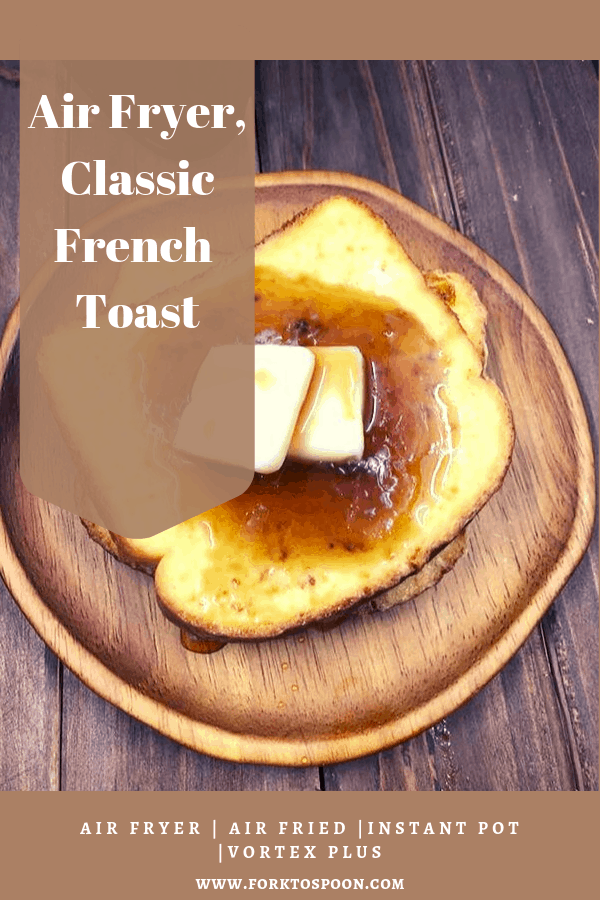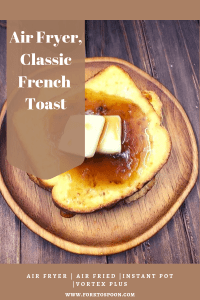 Print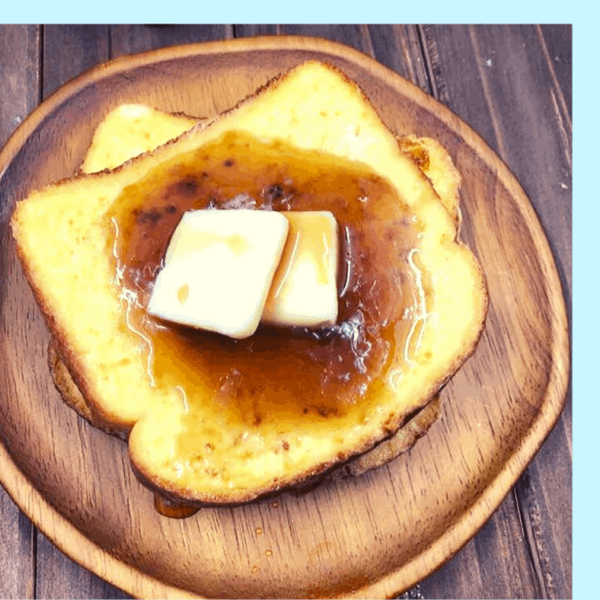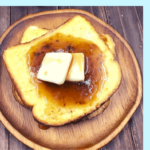 Air Fryer, Classic French Toast
Author:

ForkToSpoon.com

Prep Time:

5

Cook Time:

6

Total Time:

11

Yield:

8

servings

1

x

Category:

Breakfast

Method:

Air Fryer

Cuisine:

American
---
Description
This is a classic french toast recipe. You can change it out, however you like, my kids absolutely love this with a pat of butter and some maple syrup. It also is great when you want to serve fresh fruit and berries to the kids. This would be easy enough to make a casserole, or french toast sticks, the flavor has a nice crunch to it.  Feel free to switch out the milk to Almond Milk.
---
1 cup

milk

1/4 cup

flour (any type)

3

large eggs

2 teaspoons

vanilla extract

1 teaspoon

salt

8

slices white bread (firm is best)
Optional: Butter, maple syrup, fresh berries, etc.
---
Instructions
Start by mixing the milk and flour in a small mixing bowl.

Then mix in the eggs, vanilla extract and salt, mix well.

Soak your bread into the mixture.

Flip your bread so both sides absorb the mixture.

Spray your air fryer basket or the tray with olive oil spray.

Place your prepared bread on the tray or in the basket.

Set in the air fryer oven or in the basket, and set the temperature for 350 F for 3 minutes, after 3 minutes flip and air fry for another 3 minutes.

Remove from the air fryer when crispy. Serve with maple syrup, butter, or fresh fruit or berries.

Plate, serve and enjoy!

---
Keywords: frozen french toast in air fryer air fryer french toast casserole frozen french toast sticks in air fryer how to make frozen french toast sticks in air fryer cooking frozen french toast sticks in air fryer how long to cook frozen french toast sticks in air fryer how long do you cook frozen french toast sticks in an air fryer air fryer french toast bites