Continuing our series for the best stocking stuffer ideas, if you have missed any, here are the ones that have been posted.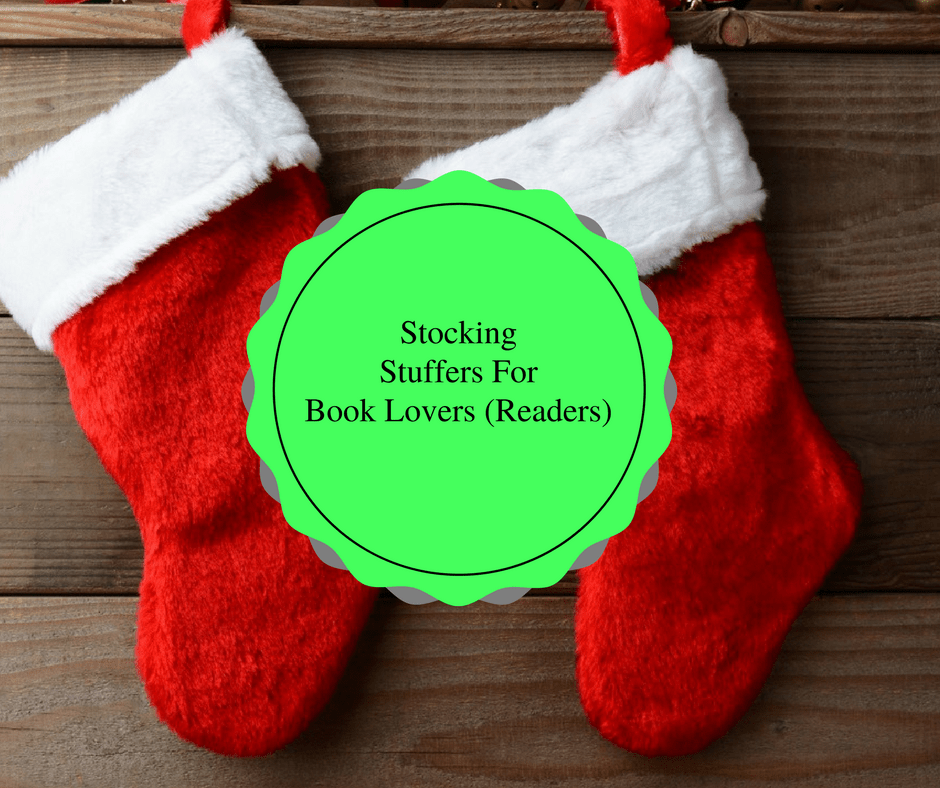 Minecraft Stocking Stuffers
Dr. Who Stocking Stuffers
One Diretion Stocking Stuffers
Here are some great ideas for Book Readers
(Aff Link)

1. Amazon Gift Card – Email

2. Gift Card to Barnes & Noble (New) (Barnes & Noble)

3. LED Flex Neck Reading Book Light Huglight (Black 4 Modes)

4. Actto Green Portable Reading Stand/Book stand Document Holder (180 angle adjustable)

5. I LOVE READING Mug Cup – 11 ounces

6. Reading Is My Super Power White Coffee or Tea Mug – Funny coffee mug, unique coffee mugs, coffee love, coffee lover gift

7. Thumb Thing (a reading ring) Pageholder & Bookmark LARGE (set of 3-assorted colors)

8. Mark my time Camoflauge bookmark time with reading light – BLUE Camo

9. I'd Rather be Reading – Book Lover Quote Jewelry, Necklace with Chain

10. 1PC New Full Page Reading Aid Lens Magnifier Sheet Magnifying Glass

11. Snatch word game

12. Appletters

13. Educational Insights Rockin' Reading Comprehension Game

14. Learning Resources Reading Comprehension Cubes

15. Learning Resources Reading Rods Word For Word Game

16. LeapFrog TAG Reading System, Green

17. Mark My Time Book Mark and Digital Timer (2 pack)

18. 12 Reading Rubber Ducks

19. My Reading Tutor – Nintendo DS

20. Funny Mix Superhero Phonics Learn to Read Card Game Prek-2nd Grade

21. Rosallini 15X Lighted Magnifying Glass Hand Held Reading Map Magnifier

22. Peaceable Kingdom / Race to the Treasure! Award Winning Cooperative Board Game

23. Shirt.Woot – Men's Reading Rambo T-Shirt – Slate

24. "Banned Books" and "Library Card" Literary Socks – Purchase Donates a Book (Large 10-13, Library Card)

25. MY HEART BELONGS TO READING AND STUDY SKILLS Unisex T-shirt

26. Richard Steele T-shirts – Reading is to – Dramatist Tshirts Unisex

27. Nightshirt Says Go Away I'm Reading 100% Cotton

28. Friendly Oak Women's I'd Rather be Reading Lightweight Raglan Pullover

29. DD2 Autumn and Winter Cute Carton Cotton Long-sleeved Pajama Set (M-XL, Reading Girl)

30. RZF Ladies's Keep Calm Read Books T-Shirt- Gold

31. Shirt.Woot – Kids Reading Rocket Ship T-Shirt – Silver

32. The Book Was Better Funny Reading Novelty – Youth T-Shirt

33. I'd Rather Be Reading Grey Kids Hoodie

34. I'm a Reading Beast Youth T-Shirt

35. Fairway 92619 Baby Quilt, Reading Stork Design, 36 by 50-Inch, White

36. Melissa & Doug Bookmark Scratch Art Party Pack

37. Snowman Clip Bookmark Craft Kit (12 count)

38. Artterro Creativity Kit

39. Despicable Me 2 Movie Dave Pop! Vinyl Bookmark

40. Melissa & Doug Decorate-Your-Own Bookmark

41. Create Your own 3 bitty books

42. Lulu Jr. My Comic Book – Create Your Own Comic

43. Bright Starts Teethe and Read Teether Book

44. White Mountain Puzzles Best Sellers – 1000 Piece Jigsaw Puzzle

45. Mini Logic Puzzles by Miles Kimball

46. Richards Homewares 6 Pocket Bedside Storage Mattress Book Remote Caddy

47. Life Savers Hard Candy Sweet Storybook & Crafts, 6.8 oz Packages in a Gift Box (Pack of 6)

48. Archie McPhee Edgar Allan Poe Candy Book

49. Batman Caped Crusader Holiday Book Of Candy

50. Mickey Mouse & Friends Hard Candy Christmas Storybook Box

51. Stocking Stuffers: Santa's Christmas Word Search Book!

52. Old Book Scented Candle

53. Personal Library Book Embosser – ExcelMark

54. Personal Library Kit

55. Reading Journal: For Book Lovers

56. Antiquarian Bookplates

57. Book Lover's Memory

58. Novel Teas contains 25 teabags individually tagged with literary quotes from the world over, made with the finest English Breakfast tea.

59. Bookopoly Board Game

60. Book Lover's Scrabble

61. The Book Lover's 2014 Page-A-Day Calendar

62. Shakespeare Insults Mug

63. Great First Lines of Literature Mug

64. The Book Lover's Cookbook: Recipes Inspired by Celebrated Works of Literature, and the Passages That Feature Them

65. A Book Lover's Diary

66. Bookworm Journal: A Reading Log for Kids (and Their Parents)

67. Books Make Me Happy: My First Reading Log

68. The Book Whisperer: Awakening the Inner Reader in Every Child

69. The Book Lady Earrings Teacher Reading Reader

70. Sterling Silver Charm Somebody in Reading Loves me, Pennsylvania – Bead Fit All European Bracelets , Neonblond

71.Pandora Study Books Charm in Sterling Silver 925, 790536

72. "Banned Books" Literary Tote Bag – Made in the USA

73. Out of Print Pouch – Yellow Library Card

74. Lego 71001 Series 10 Minifigure Librarian

75.Old World Christmas Stack Of Books Christmas Ornament