Head over to Ebates, and if you haven't sign up yet, sign up and please pick out what free Gift Card you would like, I picked out the $10 Gift Card to Barnes and Noble.
You will also get 3% back on the total purchase price of the items, making this a major money maker!!
And since there is free shipping, it's pretty awesome!!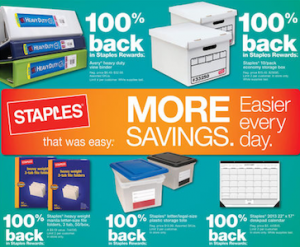 Staples Deals 12/30 – 1/5/13
Staples has some great FREE after Staples Rewards deals this week just in time to get you organized for the New Year and restock those school supplies. The 100% Staples Rewards on Avery Binders are also available online with FREE shipping on $20+.
REMEMBER that Staples Rewards are delivered quarterly for use in the store – I use mine for ink. Easy Rebates come back in a check and are a fixed price.